Having checked in at the Four Points by Sheraton Richmond, Shae, Truffles and I headed over to Belle Isle.
This is a small island in the James River that's only minutes from downtown Richmond. We've visited a couple of times before and have always enjoyed ourselves, so we decided to head back.
One of the best parts of Belle Isle is that the length of it is graced by large rocks and shallow pools. It's therefore a perfect place to walk around, sit and chill, sunbathe, have a picnic or swim – or all of those!
There are many shallow pool areas, so it's also perfect for families with small kids.
Here's how to get to Belle Isle in Richmond VA, as well as some photos of our time there.
To get to Belle Isle, we use the parking lot at Brown's Island Way and Tredegar St. As you walk down to the river from there, you'll see both the vehicle bridge that goes all the way across the James River and the suspension bridge for pedestrians that takes you to Belle Isle.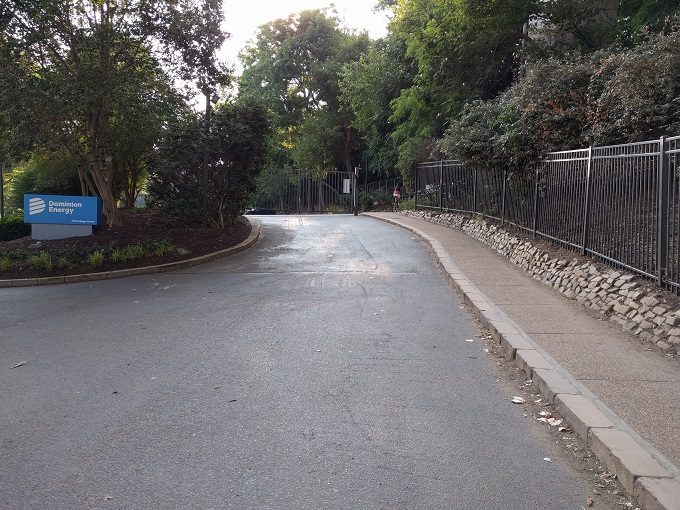 To get to the suspension bridge, walk down Tredegar St to the right until you get to the Dominion Energy sign. Walk towards the gate and then turn right to double back on yourself (where the cyclist is turning in the above photo.)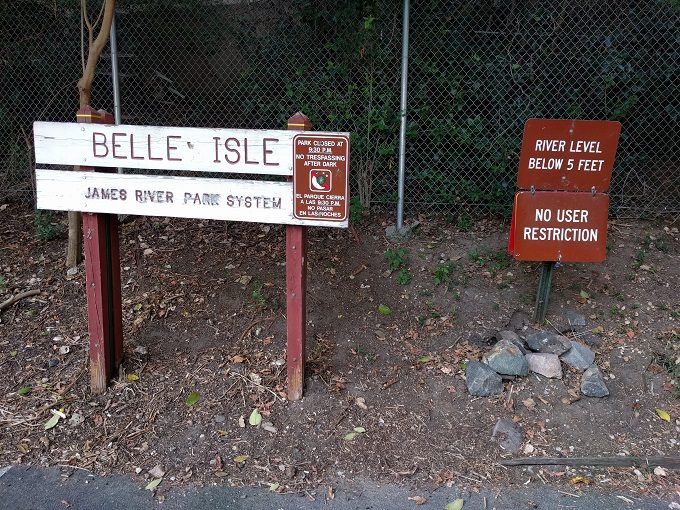 You'll see the above sign that'll warn you if the water level's high and if there are any restrictions.
You'll be greeted by this sign as you head up the path to the bridge.
Keep walking up the path – cyclists are allowed but pedestrians have the right of way.
At the top, you'll walk through a gate to get on to the bridge across to the isle. The bridge can sway a little when there's a lot of people on it – it's perfectly safe, although it can feel a little disconcerting at first if you're not expecting it.
It was fairly quiet the night we visited though, so it didn't sway at all.
You get some good views of the James River from the bridge. This is the view to the left…
…and this is the view to the right.
It also provides a great view of downtown Richmond.
It only takes a few minutes to cross the Belle Isle suspension bridge.
Although it's only a small isle, there's plenty of space to walk around and explore.
One of the first things you'll see on Belle Isle is this sign.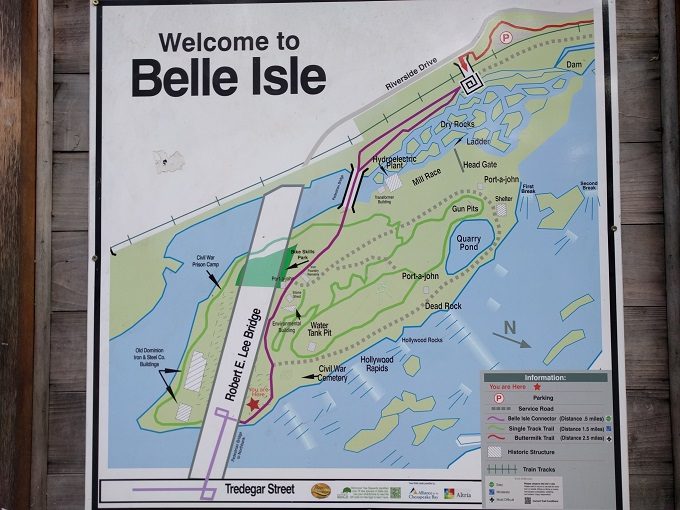 There's also this helpful map to show where everything is. Knowing where the port-a-johns are will be helpful if you're planning on spending the entire day here.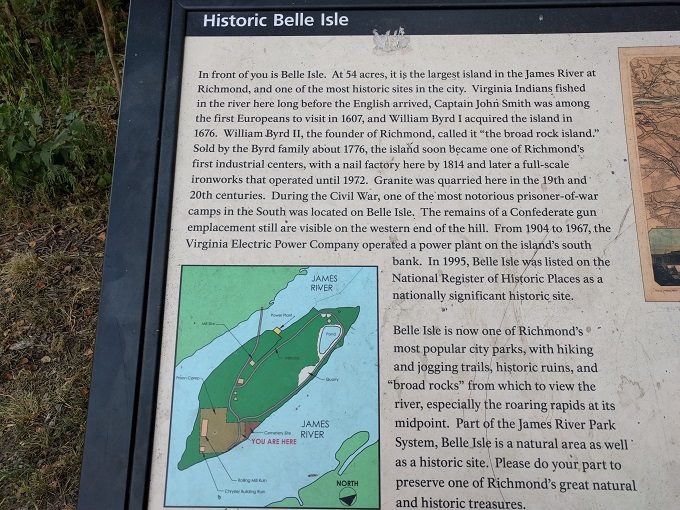 There are several of these information boards which are worth checking out. There's another one with more detailed information about Belle Isle's history as a POW camp during the Civil War.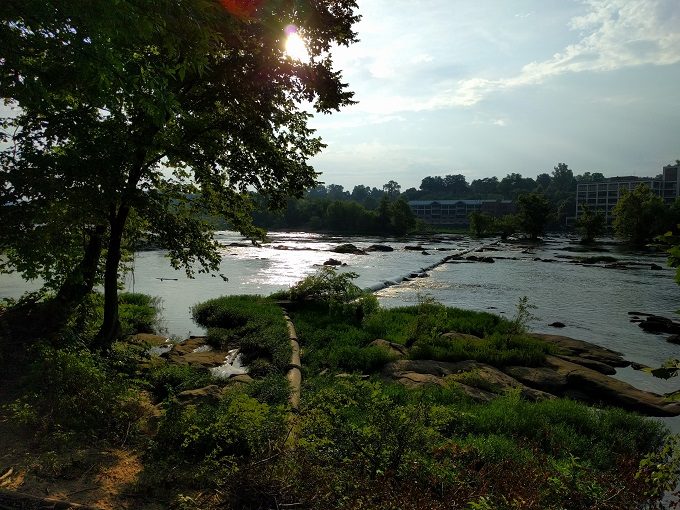 As you walk along the path, you'll start to see outcrops like this.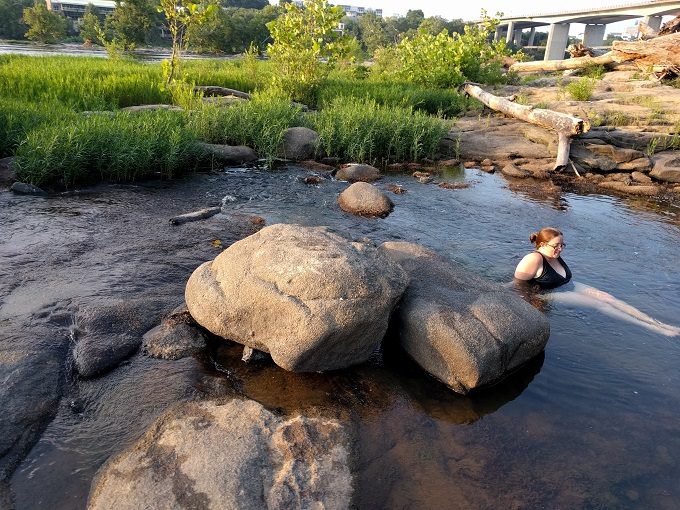 Fairly early on, we found the perfect spot – plenty of flat rocks, secluded and shallow warm pools. Shae quickly made herself at home.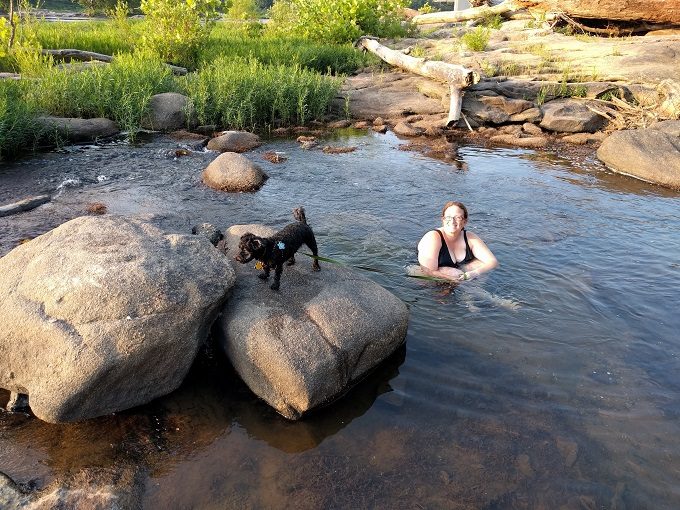 Truffles wanted to explore a little first…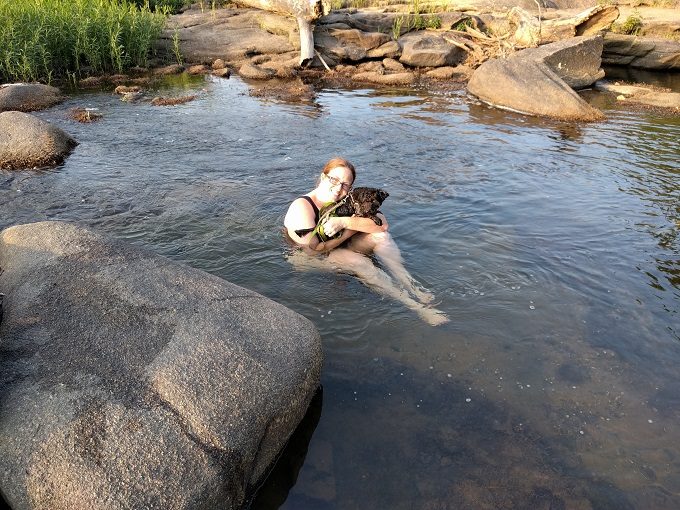 …but she was soon (somewhat reluctantly) joining Shae for a swim.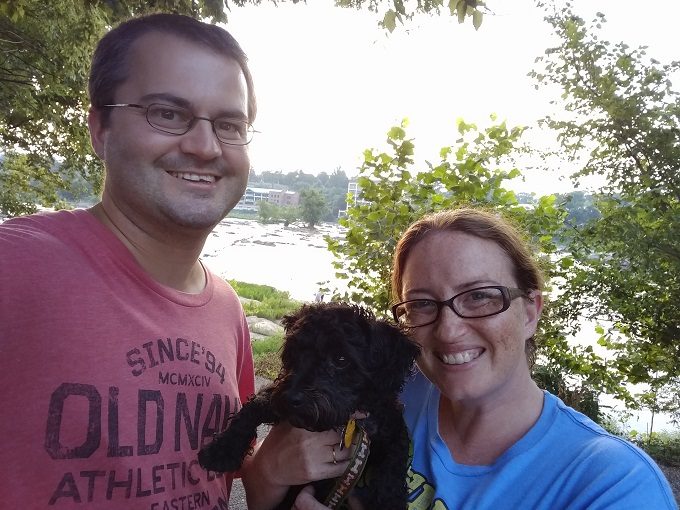 After spending an hour or so in the river, we all got dried off and made our way back.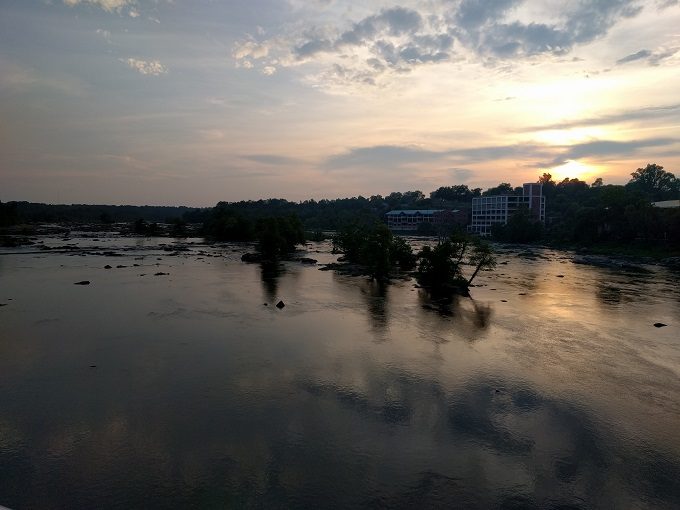 Heading back over the suspension bridge, we got to enjoy a nice sunset view over Richmond.
Summary
If you find yourself in Richmond VA, we highly recommend spending some time over on Belle Isle.
It's a perfect spot to relax, especially because the shallow water means it stays warm throughout the summer and fall.