Having picked up our rental car, we headed out on the M4 towards Athlone – a town on the River Shannon in central Ireland.
Our flight landed at Dublin Airport in the morning, so we reached Athlone by about 11am. That meant we had almost 24 hours to enjoy the town, so off we went to explore.
Athlone's not really a vacation destination, but it's well worth a visit as there's loads of great history, food, views and more. Being located in the center of the country, it's also only a 2-3 hour drive from most other towns and cities in Ireland.
Here's our list of all the best things to do in Athlone, Ireland.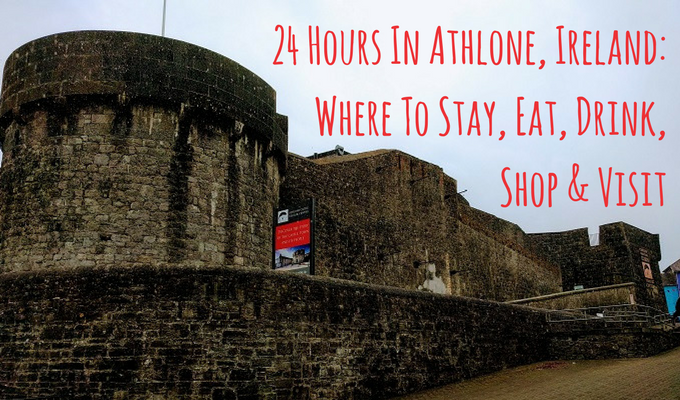 Where To Stay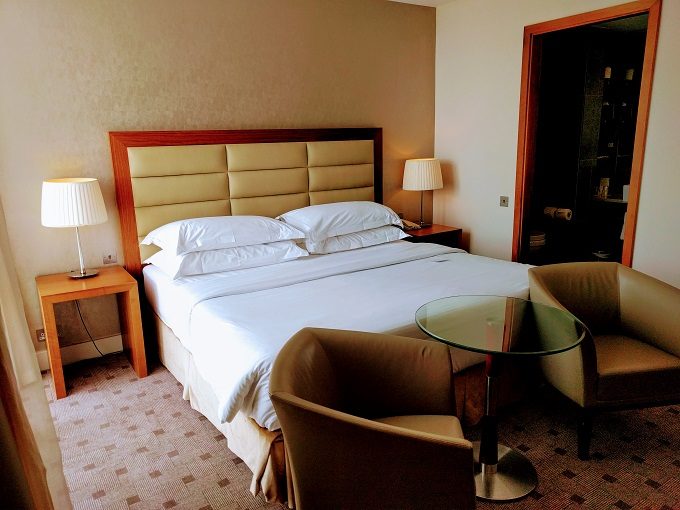 We stayed for one night at the Sheraton Athlone hotel which ended up being an excellent choice. It's a category 2 SPG hotel, so it only costs 3,000 points at the weekend or 4,000 points on a weeknight (which is when we were staying). The rooms were a decent size, the bed was extremely comfortable and the bathroom had a wonderfully warm and powerful shower.
Both Shae and I have the SPG Business American Express credit card which provides free lounge access at Sheratons. We'd arrived at the hotel early and so our rooms weren't available, but they gave us a separate key to let us into the lounge which was greatly appreciated.
Breakfast isn't served in the lounge, but the lounge access meant that we were able to get a free buffet breakfast in the main restaurant in the morning. This included sausages, bacon, potatoes, smoked salmon and much more, so getting it for free was awesome.
The service was also top-notch – the front desk agents and the employees in the restaurant were all extremely friendly, helpful and accommodating.
Where To Drink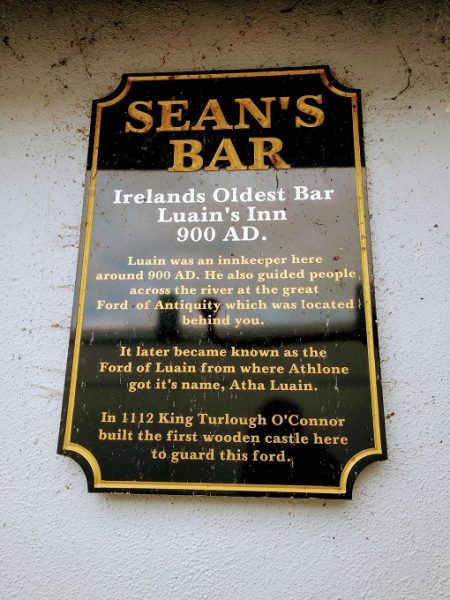 Athlone has Ireland's (and apparently Europe's) oldest bar. It was once Luain's Inn and is now called Sean's Bar and has been around since 900 A.D.
Seeing as we'd just landed in Ireland I felt like I had to get a pint of Guinness, but they also have their own beer called 900 AD.
Sean's Bar didn't feel like a tourist trap, presumably because Athlone isn't a touristy area. It was pretty busy when we were there on a Wednesday though, so it seems to be popular with locals – always a good sign.
Where To Eat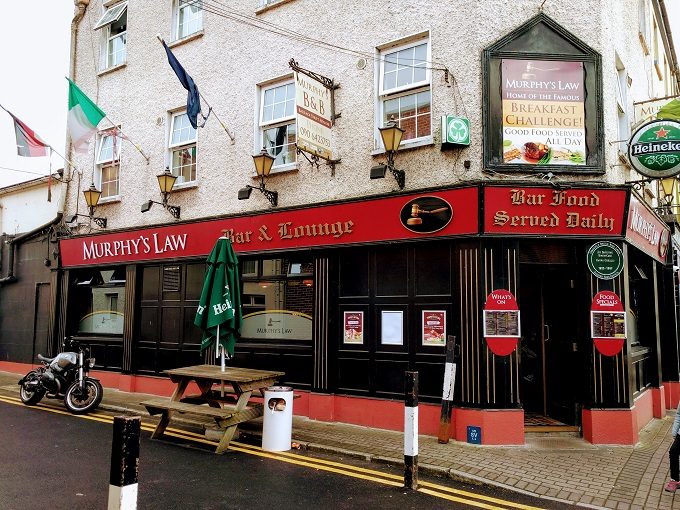 Sean's Bar didn't offer food, so we asked if they had any recommendations and they suggested Murphy's Law pub.
We therefore decided to have dinner at Murphy's Law as that's also somewhere our hotel recommended. And I have to say – it was an excellent recommendation.
I got the doner kebabs with curry chips (i.e. fries) which was delicious. For any fellow Brits reading this, don't roll your eyes at me – trips back across the Atlantic are the only time I get to have a doner kebab!
Shae ordered their burger which was one of the best-tasting burgers I've ever had (I had a bite). Megan ordered the seafood chowder which came in an enormous bowl full of seafood and she loved it. Mark ordered the fish and chips which he thought was delicious too. You therefore can't seem to go wrong with anything on the menu.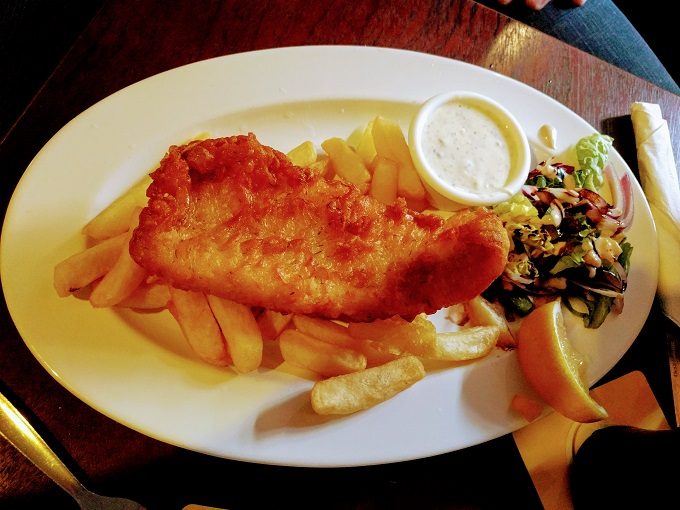 If you're feeling hungry in the morning, Murphy's Law also has a breakfast challenge. Within 30 minutes, you have to eat four sausages, four rashers of bacon, four fried eggs, four hash browns, four tomato halves, four slices of black and white pudding, beans, toast, chips, mushrooms and some tea.
And a heart attack. I'm pretty sure it comes served with that too.
Where To Visit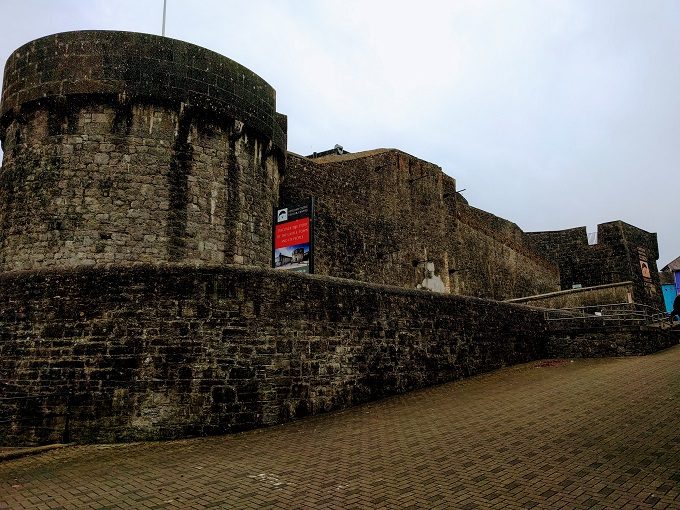 Just round the corner from Sean's Bar, you'll find Athlone Castle. This is a castle dating back to 1129, although the current building was "only" built in 1210.
We only walked around the outside, but you can also go inside which costs just €8 per adult. If we'd been staying in Athlone for longer, we'd have probably looked around inside.
Where To Drive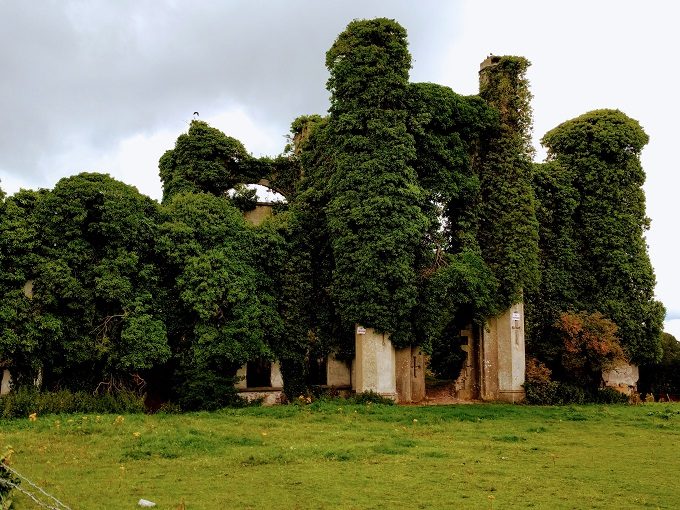 If you're staying at the Sheraton Athlone, most parts of the town will be within walking distance. If you have a car though, it's definitely worth taking the short drive to Moydrum.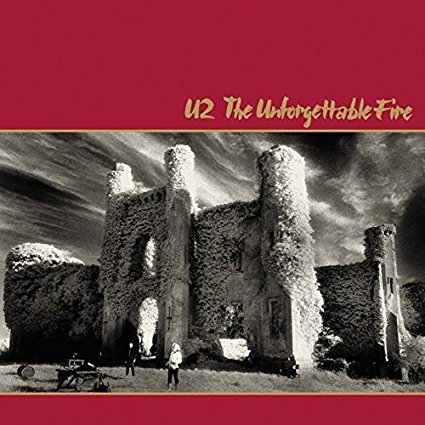 At the side of a narrow country road, you'll find the ruined Moydrum Castle. Unfortunately you can't get too close as there are several 'No Trespassing' signs.
There's a chance that Moydrum Castle may look familiar. That's because it was on the cover of U2's album The Unforgettable Fire. That album was released over 30 years ago, so the castle has become a little more overgrown since 😉
Where To Walk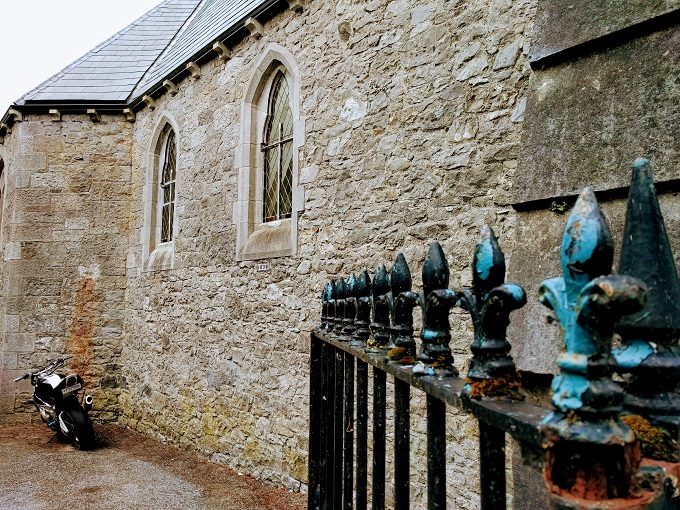 If you're interested in historical buildings, just take a wander around the town as there are loads of old churches and other buildings dotted around.
You can also get some great views walking along the banks of the River Shannon.
Where To Peruse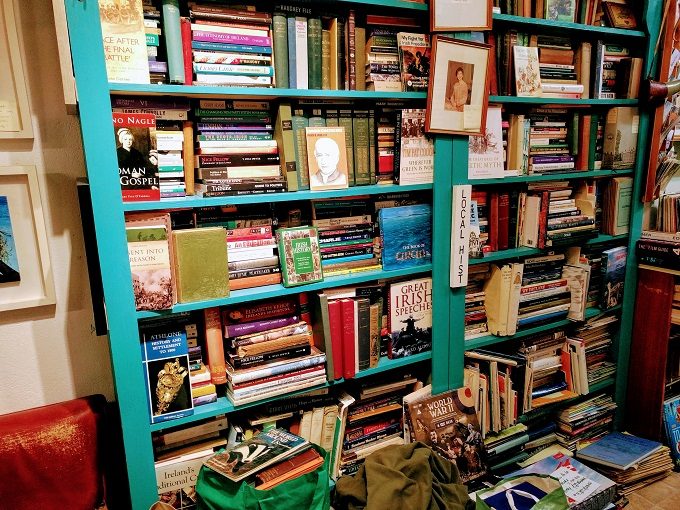 Next to Sean's Bar is John's Bookshop. We stopped inside for a few minutes to look round and Shae got chatting to the owner.
He was extremely friendly and seemed to take a shine to Shae (who wouldn't 😉 ), and he also helped answer some of our questions about the area.
What To Watch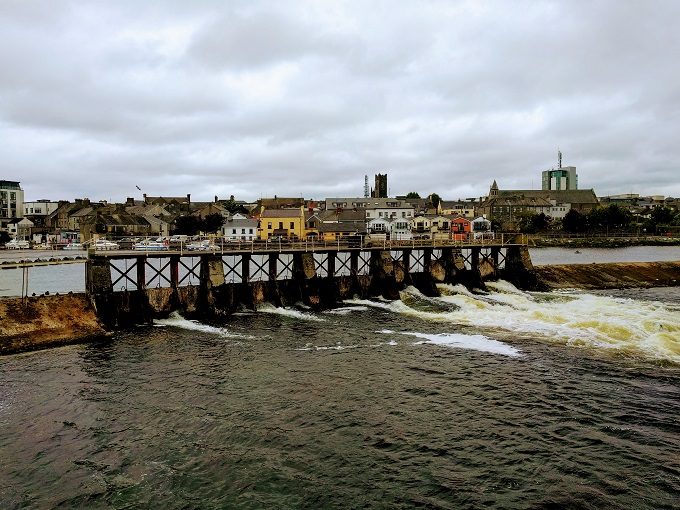 Athlone has a weir spanning almost the entire width of the River Shannon. That means boats would be unable to pass through that section without assistance.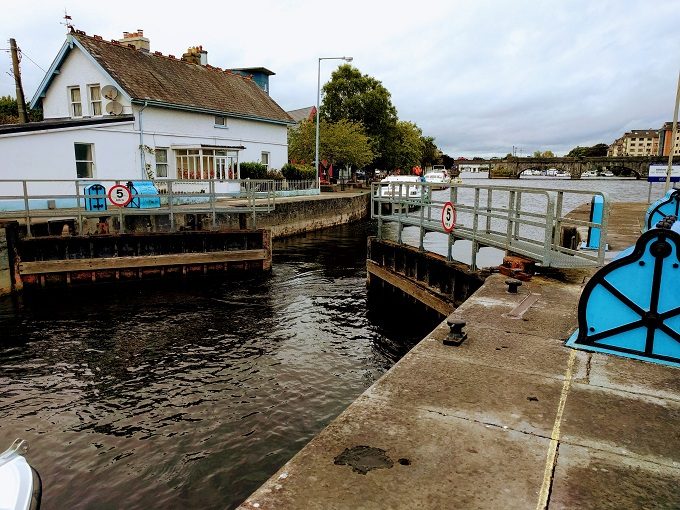 As a result, there's a lock which raises or lowers boats depending on which direction they want to travel. We happened to be taking some photos of the lock just as they were about to let some boats through, so it was fun getting to see that process.
Where To Shop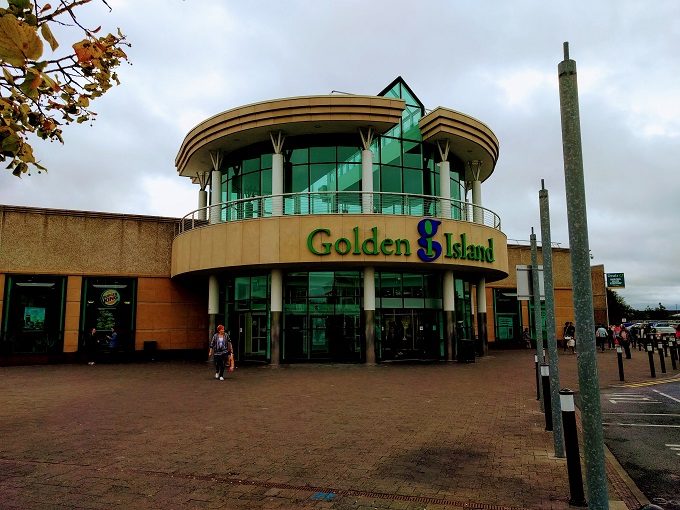 Athlone doesn't seem to be a hotbed for shopping, although there are two shopping centers. There's Golden Shopping which has stores like Tesco, Boots and Penneys (the Irish version of Primark).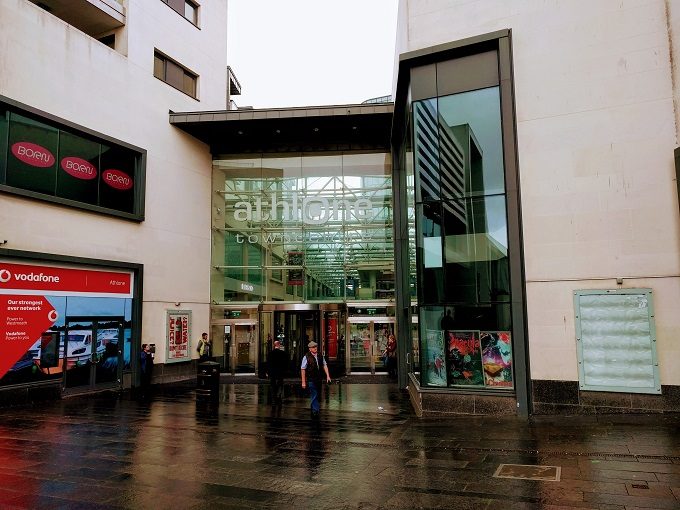 In the center of town there's Athlone Towncentre which has stores like H&M, Next, The Body Shop and Harvest Cafe. This is also where the Sheraton's located.
Your Recommendations
Have you been to Athlone in the past or do you live there now? If so, do you have any other recommendations of things to do in Athlone?
We'd love to hear your suggestions in the comments below.
Ireland Road Trip
Here's everything else that we got up to in Ireland:
24 Hours In Athlone, Ireland: Where To Stay, Eat, Drink, Shop & Visit