After spending most of our third day in New Zealand on the Forgotten World Highway, we thought we'd explore New Plymouth the following day.
New Plymouth is on the west coast of the North Island and is known for its coastal walkway. Our initial plan had been to visit the beach and then walk some of the coastal walkway.
The New Plymouth Coastal Walkway is 12.7km (7.89 miles) if you walk its entire length. We therefore figured we'd walk a few kms, rather than do the entire 25km round trip.
Beach
We arrived at Fitzroy Beach in New Plymouth at about 11:30am and were surprised to discover an almost empty parking lot. That was until we remembered that it was a Monday morning and everyone was at school or work!
There are two things that immediately strike you when you see Fitzroy Beach.
The first is the sand. Its black volcanic sand is the darkest I've ever seen on a beach.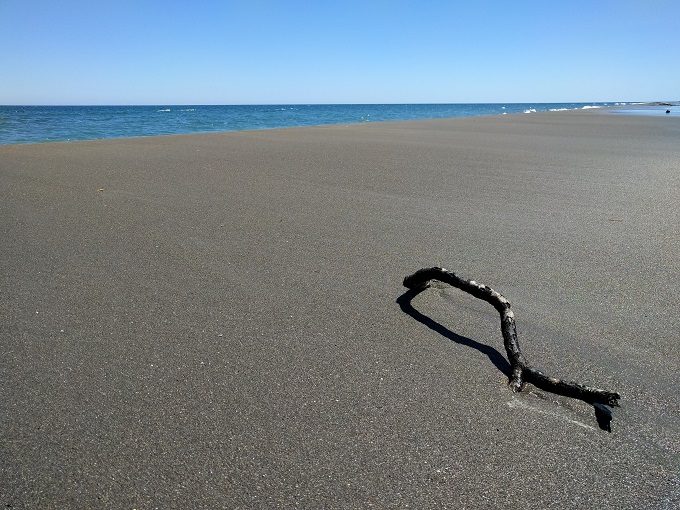 The second is the driftwood. The beach is lined with driftwood as far as the eye can see.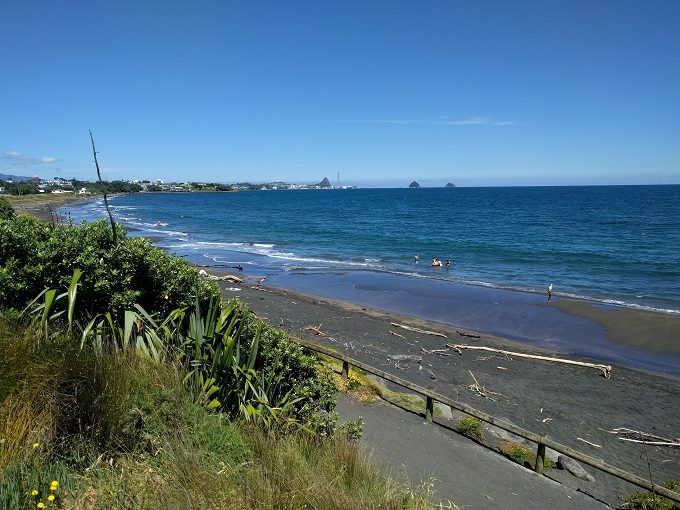 I'll admit, we were a little disappointed as this meant the beach wasn't anywhere near as beautiful as we'd been expecting.
Looking at a map, it appeared that the coastal walkway didn't run directly alongside the beach. We therefore decided to walk on the beach for a while instead.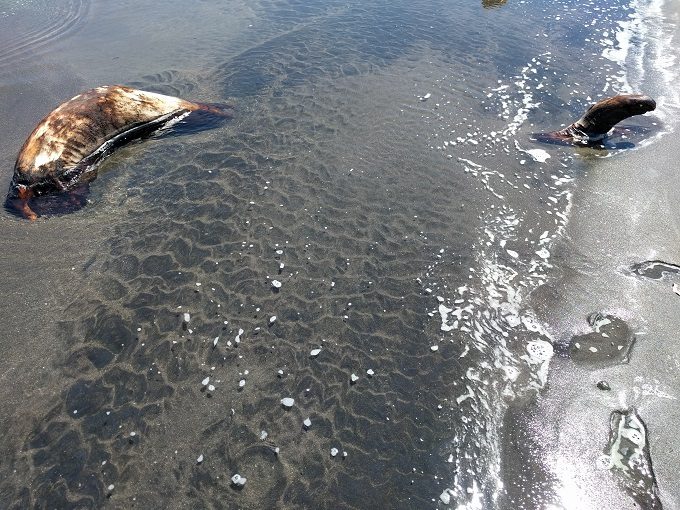 Using a long piece of driftwood, I decided to write "No Home Just Roam" in the sand. The Tasman Sea had other ideas though – I'd continually get to "No Home Just Ro" before it'd be washed away.
After much persistence though…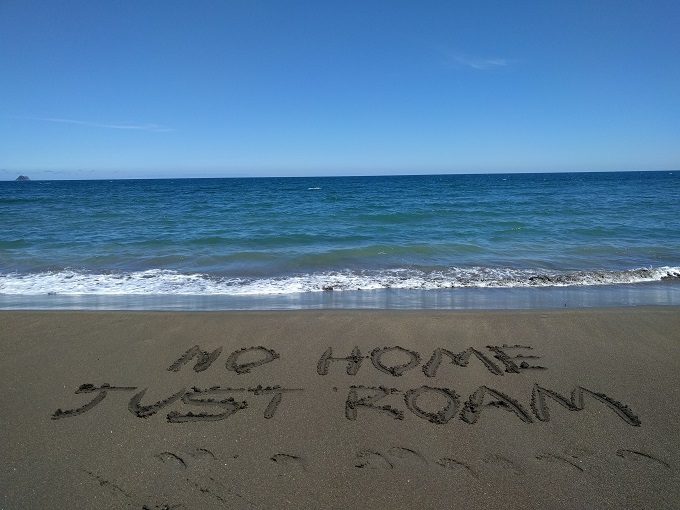 After walking along the beach a little farther, we decided to head back to the car and check out a couple of other local sights.
Te Rewa Rewa Bridge & Mount Taranaki
Less than a 10 minute drive from the beach is Te Rewa Rewa Bridge. Opened on June 5, 2010, it forms part of the New Plymouth Coastal Walkway, so in hindsight we could've walked ~20 minutes from the beach rather than driven there.
I'm not an architecture or engineering buff, but I loved the design of the Te Rewa Rewa Bridge. Curved like a wave, it's a beautifully striking bridge, particularly with a vibrant blue sky as its backdrop.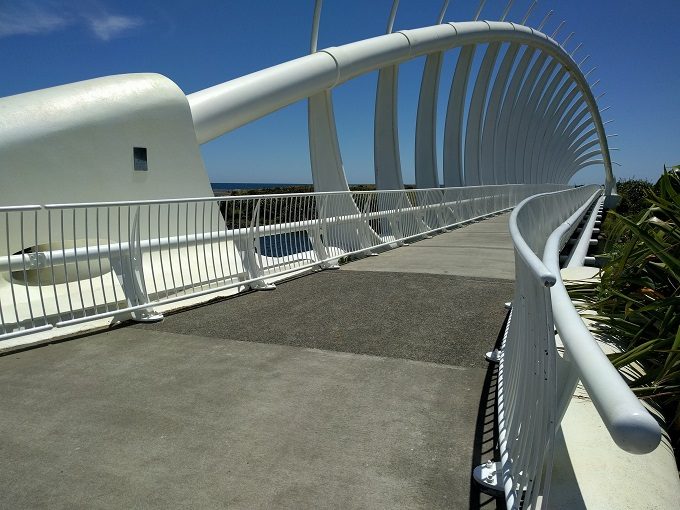 Even better is the view from the other side. That's because the bridge frames nearby Mount Taranaki.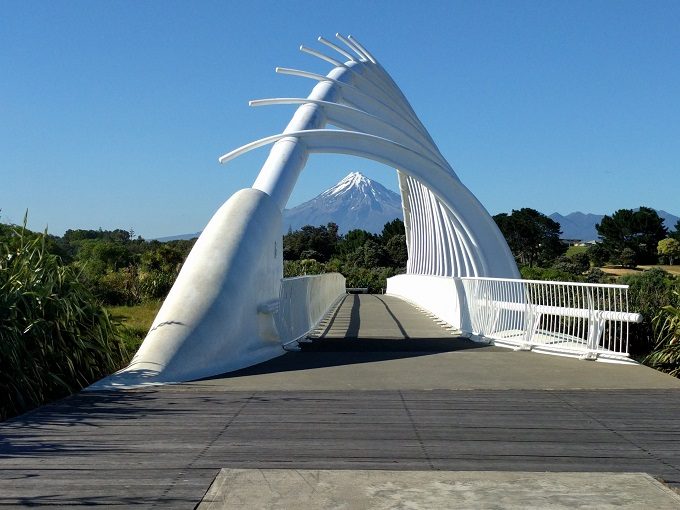 It's an absolutely stunning view and looks even better in person.
Delicious Lunch
We were getting hungry by this point, so we headed to Egmont Street in New Plymouth as that seemed to be an area with some recommended restaurants online.
Walking up the street, we spotted Peggy Gordon's Celtic Bar on the right. It was a warm, sunny day and they had outdoor seating in the shade, so we placed our food and drink orders inside and took a seat at an outside table to enjoy the weather.
It didn't take very long for our food to arrive and we got stuck in straight away. I ordered a full roast beef dinner complete with Yorkshire pudding. It's been a few years since I had a Yorkshire pud, so I wasn't going to pass up this opportunity.
The serving size was enormous – it could (and should) have been enough to do me for two meals, but I polished it off in one sitting. It came with both regular roasted potatoes and roasted kumara – a kind of New Zealand sweet potato.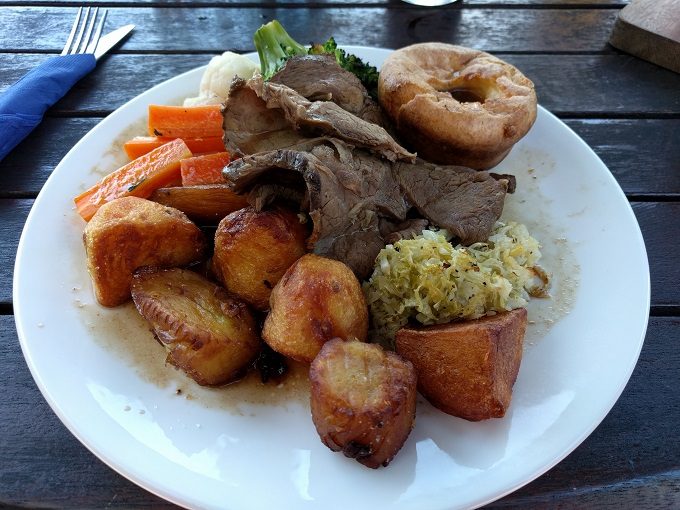 Shae and her mom both ordered fish & chips which came served in these really cute fryer baskets.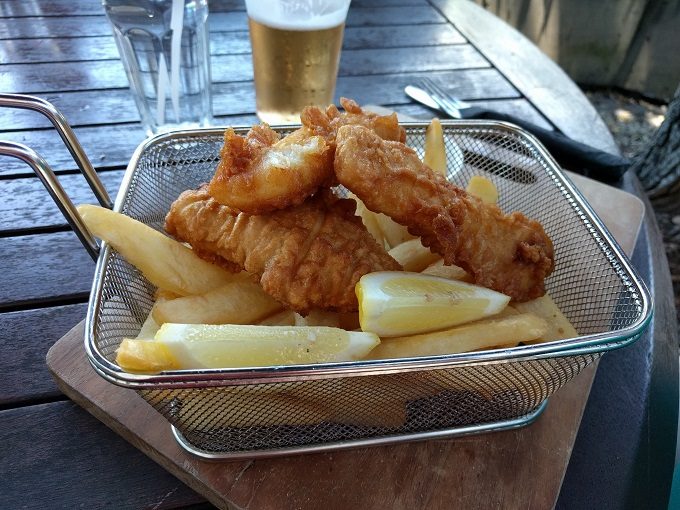 The photo doesn't do justice to how big the portion size was – both of them had loads of fries left over, even though I assisted them (despite not being hungry after my roast dinner). Both the fries and the fish were delicious.
Shae's stepdad ordered a steak sandwich which came topped with onion rings – he enjoyed his meal as well.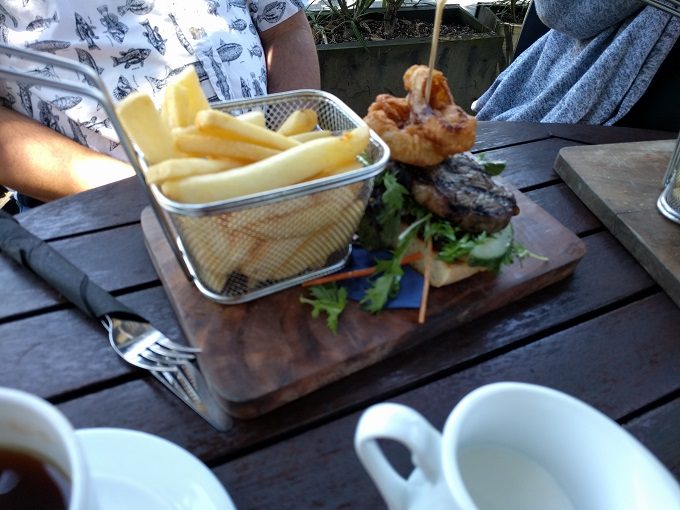 Once we'd finished eating, we wandered around New Plymouth for a little while before heading back to our Airbnb to relax.
Airbnb Property
We LOVED the property we stayed at in New Plymouth. I told Shae that if we ever moved to New Zealand, I'd quite happily live in that apartment.
It was a spacious two bedroom apartment that's below the owner's house. We had complete privacy, although it was nice that we got to meet both Rebecca and her husband.
They were incredible hosts and this was definitely our best Airbnb stay we've experienced so far. There was a lovely handwritten message on a chalkboard, recommendations of things to do and places to eat in the area, breakfast items, milk in the fridge (greatly appreciated so that I can have a cup of tea) and just an all-round great apartment.
There's an outdoor hot tub which was one of the main reasons we booked our stay there, but we sadly never got around to using it.
One of my favorite parts of the stay was sitting out on the deck which overlooks a nearby field while catching up with everything on my laptop.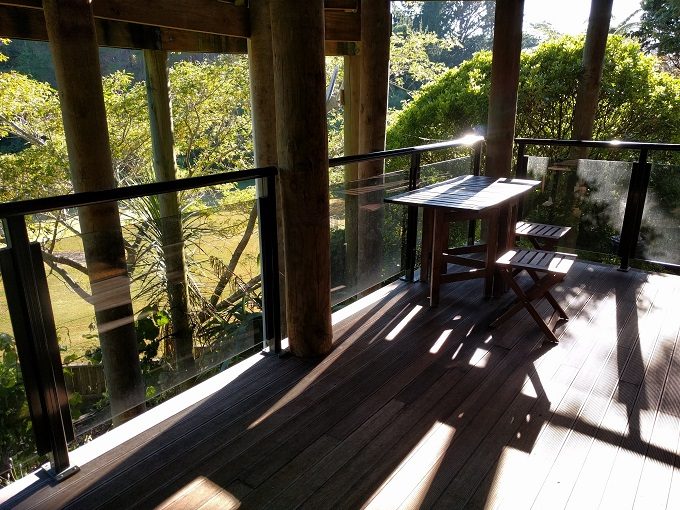 Unusual Dinner
For dinner that night we decided to order pizza from Hell. Hell being the name of the pizza restaurant, rather than eating food cooked on the end of a pitchfork.
They had an extensive selection of unconventional pizza toppings, so we were dying to try them out. The pizzas from Hell deserve their own post, so keep an eye out for that in the coming days.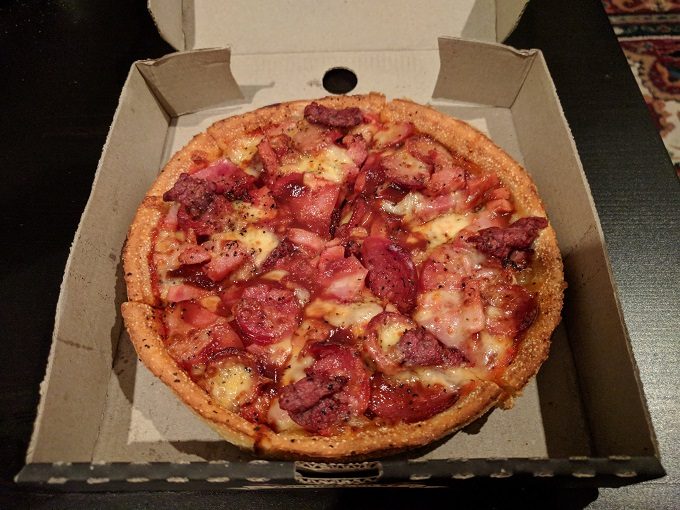 Final Thoughts
Despite our initial disappointment with Fitzroy Beach, we enjoyed our stay in New Plymouth. We'd love to go back and explore the local area more in the future; if we do, we'll definitely book our stay at that same Airbnb.
Follow Our Entire Trip Down Under
Be sure to also check out all our other posts from our trip to New Zealand and Australia:
24 Hours In New Plymouth, NZ: Beach, Mountain & Too Much Food