The final surprise of Shae's birthday trip to Ireland was for the four of us to spend a night together in a tiny home. Shae's a huge fan of tiny homes, so when I saw Clissmann Horse Caravans on Airbnb, I knew we had to stay there.
The site is in Co. Wicklow, about an hour outside of Dublin. We were due to be arriving in Dublin the next morning, so this was a perfect location to spend the night before.
After running it past Mark and Megan to make sure they'd be up for the adventure, I booked us in for one night.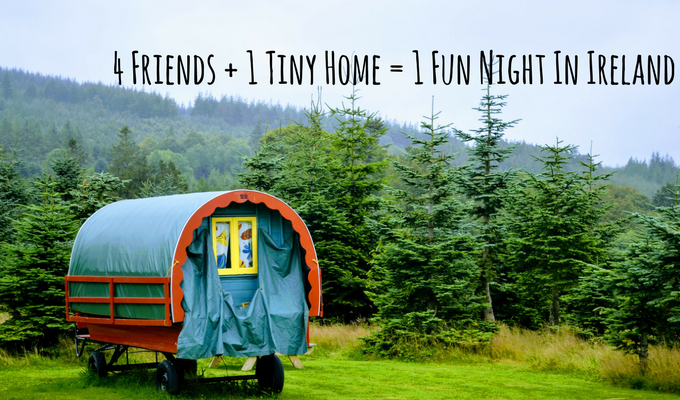 Our flat tires and lengthy lunch meant that we didn't get to Co. Wicklow until it was starting to get dark. Neasa came out to meet us and gave a quick but comprehensive tour of the gypsy caravan and the other onsite facilities.
Knowing that there'd be limited space for the four of us in the caravan, we only grabbed what we needed for the night and left the rest of our luggage in the car.
Inside The Caravan
Despite the limited size, the caravans are very smartly designed. When you enter, there's a bench on the left which converts into the larger of the two double beds.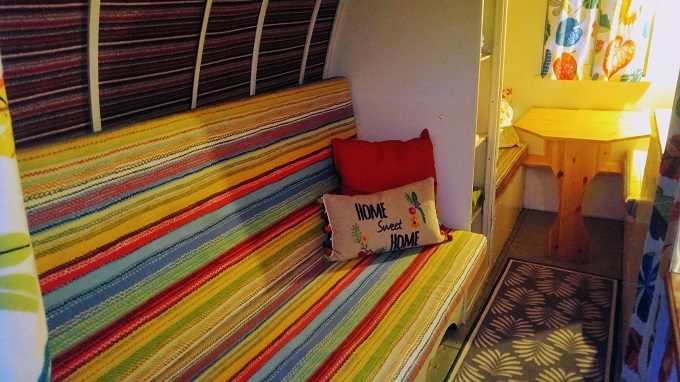 Opposite the bench is the kitchen area. There's a sink, gas stove, kettle, water container and more.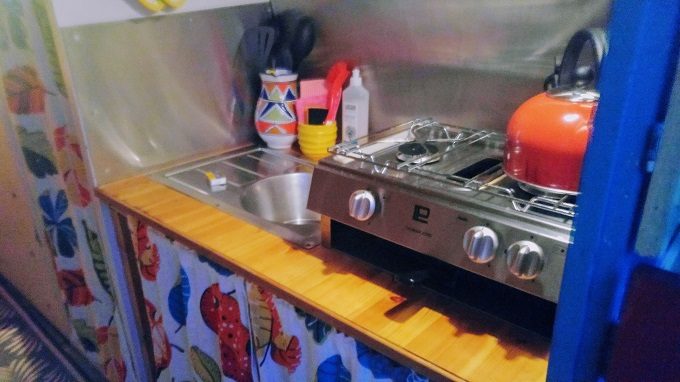 To the left of the kitchen area is a tall but narrow closet – unfortunately my photo of it was too blurry to see it properly. Next to that is what looks like a dresser with several drawers and contains silverware, mugs, plates, bowls, etc.
At the other end of the caravan is a dining table with seating for two people on either side. The table folds down and is used with the benches as another double bed.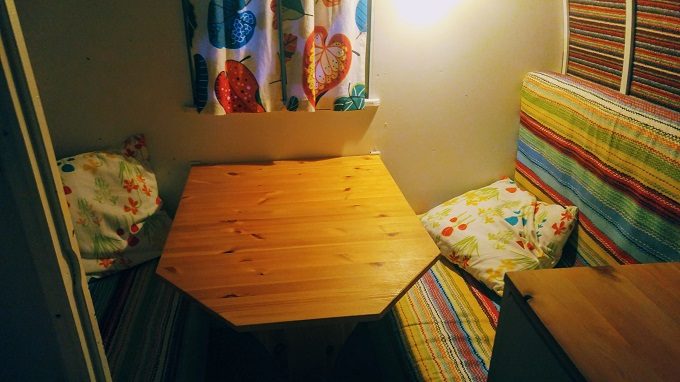 Beneath the bench on the right were four duvets and beneath the bench on the left were four pillows.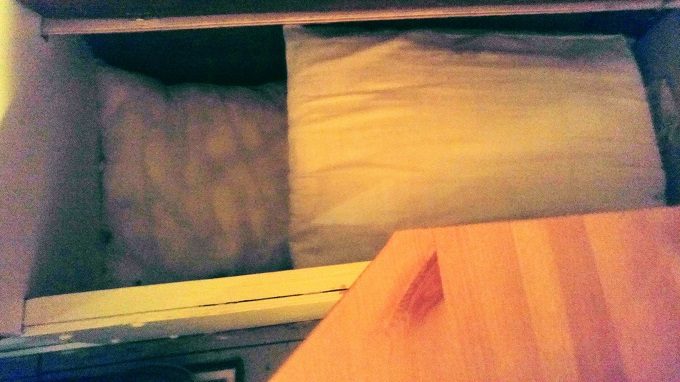 There was another closet area containing a couple of hot water bottles, towels, sheets and blankets.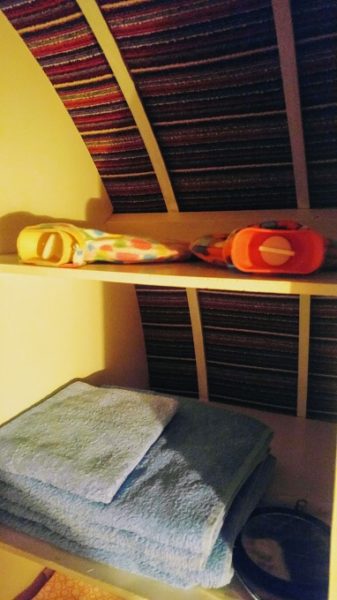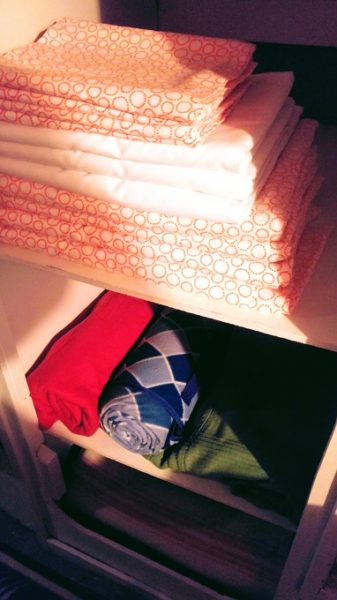 There were gas lamps on either end of the caravan that not only provided a good amount of light, but also a decent amount of heat. Although we visited Ireland during summer, there were highs of about 65° during the day compared to 90° back home in Virginia, so the extra heat was appreciated.
For additional lighting, there were some LED lights affixed to the ceiling that you only had to press to turn on.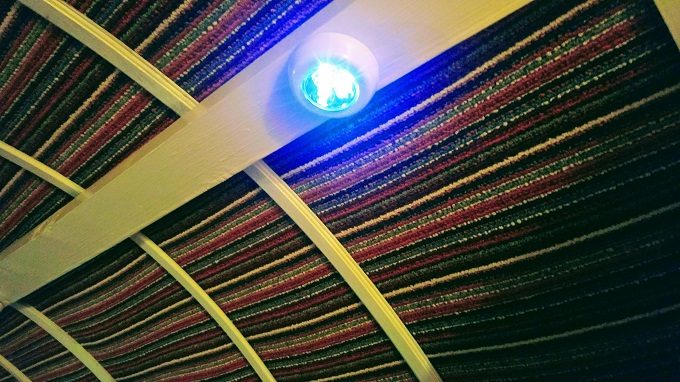 Outside The Caravan
There were a couple of other nice features to enhance your stay. There were some fire pit areas dotted around and despite working with damp wood, Mark managed to get us a fire going for an hour or two.
Every caravan seemed to have its own picnic bench, perfect for if you're after less claustrophobic dining. Or to simply admire the beautiful views surrounding Clissmann Horse Caravans.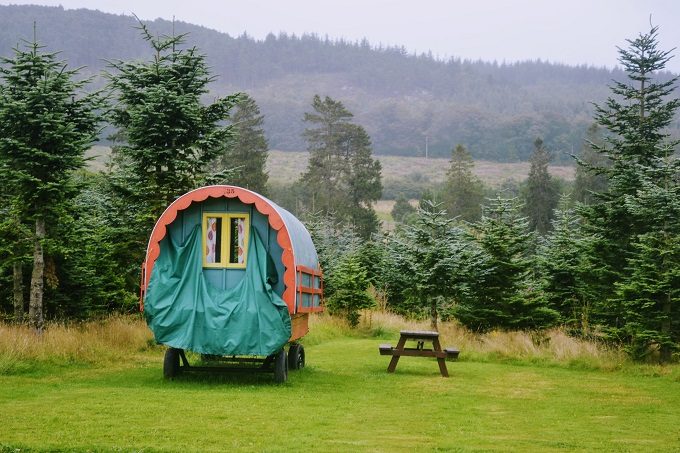 There were quite a few horses around the site. That's because you can rent a horse in addition to the caravan in order to travel around the Wicklow countryside and have a true gypsy experience.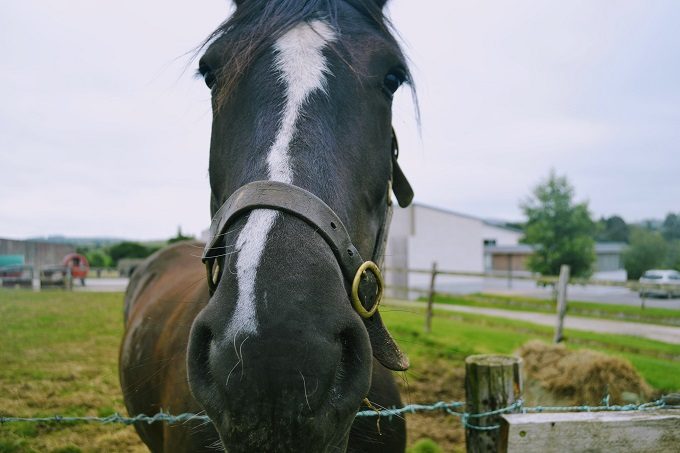 There was even a horse who looked like he was once in an 80s rock band.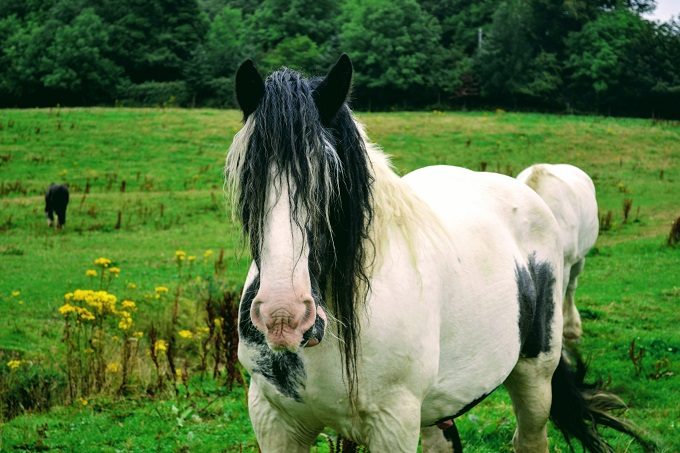 Other Campsite Facilities
As you might have noticed, the caravan didn't contain a toilet or shower. Thankfully we didn't have to find any bushes to occupy as there's a separate building containing decent bathroom facilities.
There's a really long sink which several guests can use at the same time.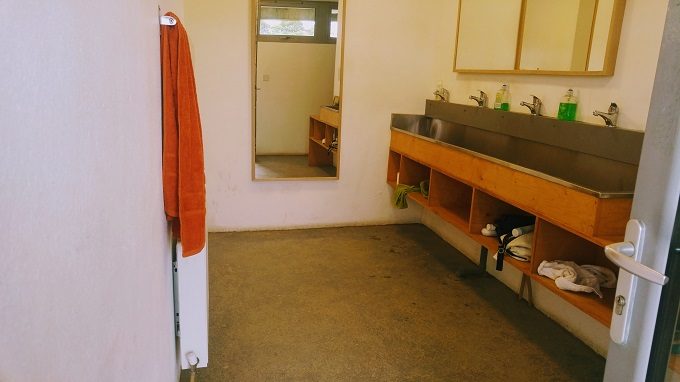 Around the corner were four toilet stalls…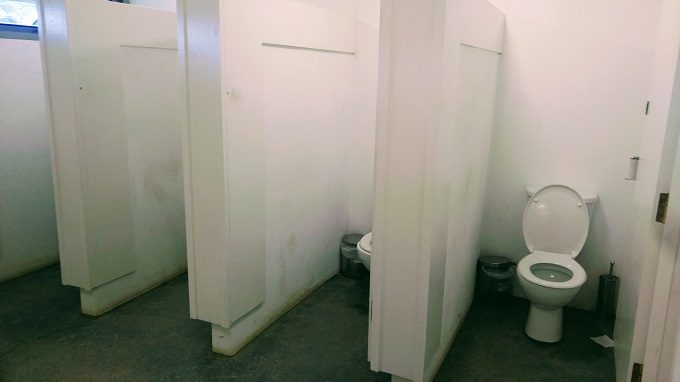 …and three shower stalls. The showers had a smart design, as a shelf folded down to lock the door which doubled up as somewhere to place your towels, clothes, etc. to keep them off the wet floor.
I had a shower a little later in the morning after everyone else on the site had seemed to have theirs. There was plenty of hot water, but I've no idea if that'd be the case if you were to shower during the morning rush.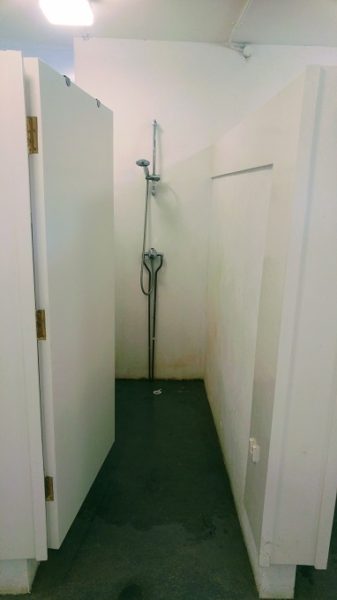 In case you're like the 80s rock star horse and need to take good care of your hair, there was a hairdryer for anyone to use, as well as a luggage storage area.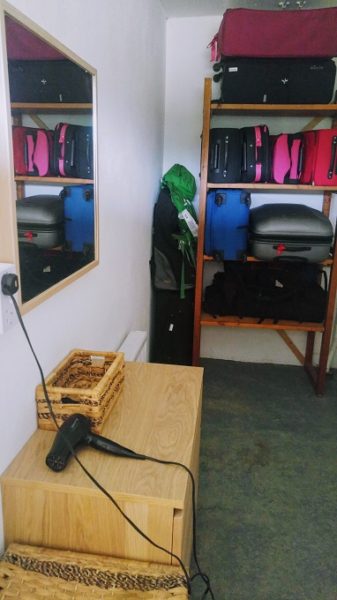 Above the bathroom area is a common area with some tables and chairs. This room had wi-fi which was helpful as the data on our phones was so slow.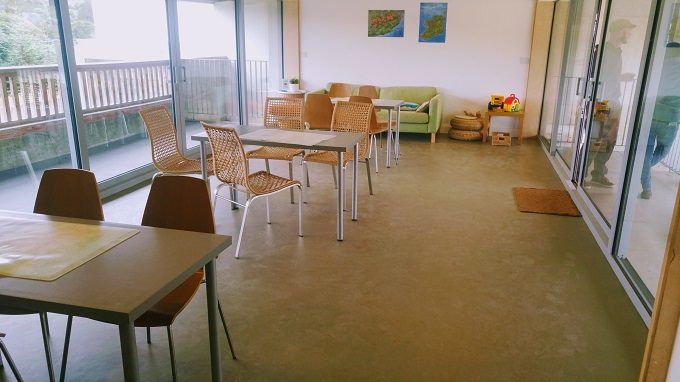 This room also had free tea and coffee making facilities, as well as outlets where you could charge your phone.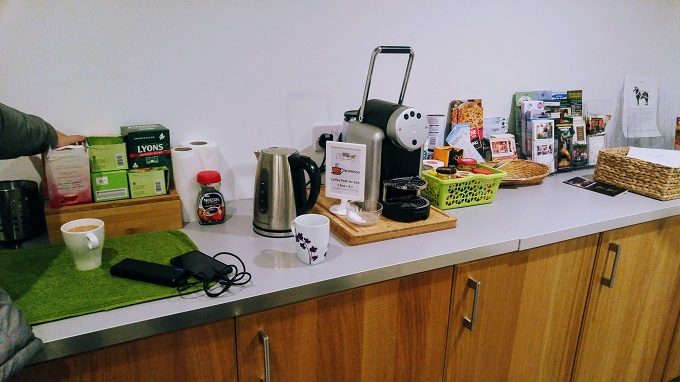 The Experience
So the all-important question: was it worth it? And the answer is…yes!
I'll be honest, I don't think the four of us would have wanted to stay for a whole week together in the caravan. It would probably be a bit too cozy for more than a night or two, plus the caravan rocks whenever someone turns over in bed.
There's also not much privacy when all four of you are in the caravan, so we had to improvise when getting changed.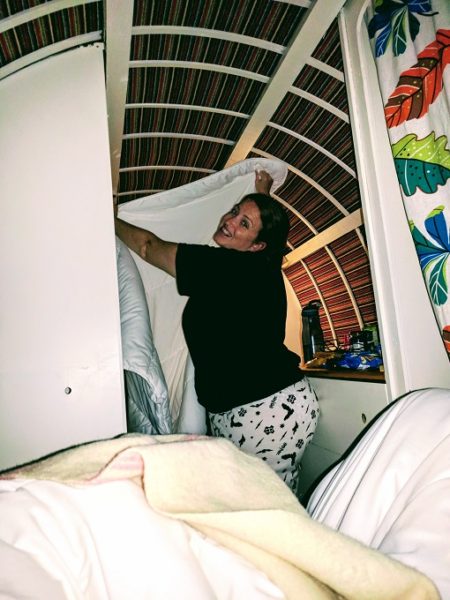 Despite these minor negative points, it was incredibly fun staying there. We got to have a campfire and feast on Cornish pasties, Scotch eggs, salt & vinegar Hula Hoops, chocolate crepes, Haribo and all kinds of other junk we'd picked up on the trip.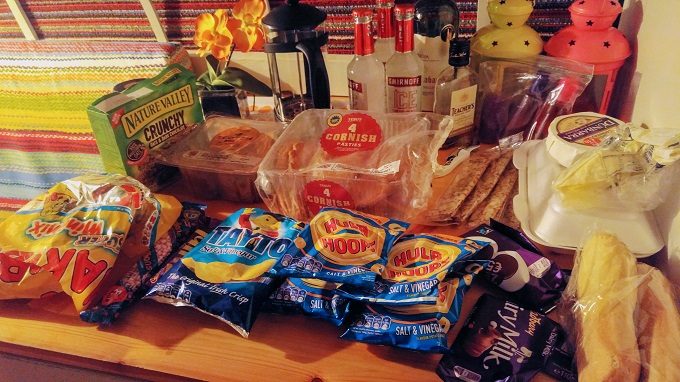 The site is set in gorgeous surroundings and is an incredibly peaceful place to stay. Neasa was lovely and accommodating, especially given how much later we arrived than originally expected.
As for the beds, they were much more comfortable than we were anticipating.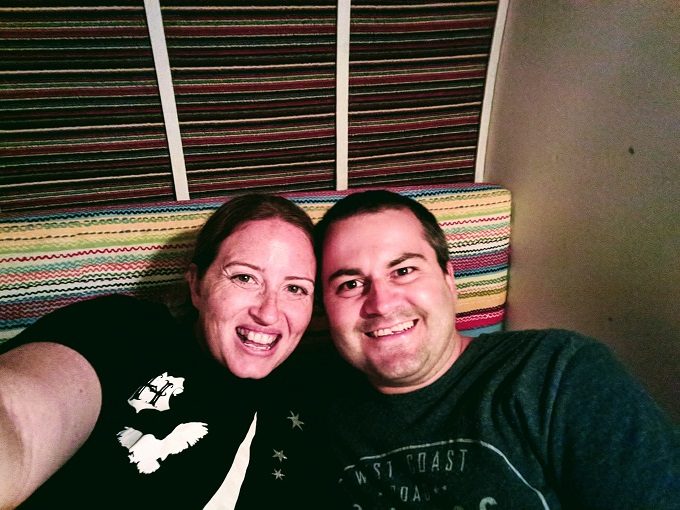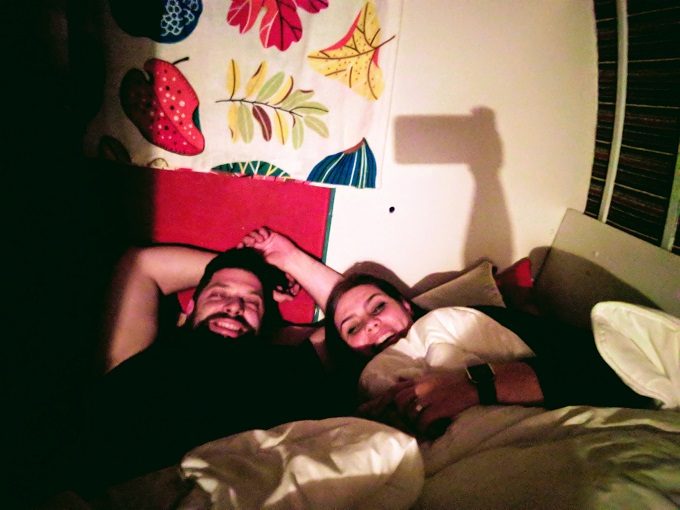 Final Thoughts
If Shae and I were to return to Co. Wicklow for a few days, I think we'd definitely stay at Clissmann Horse Caravans again, although probably just the two of us in a caravan this time.
If you're traveling as two parents and two kids then it probably wouldn't feel quite as cozy as it did with four adults.
So if you find yourself on the east coast of Ireland and want somewhere unique and fun to stay, book yourself one of these horse caravans – you won't regret it!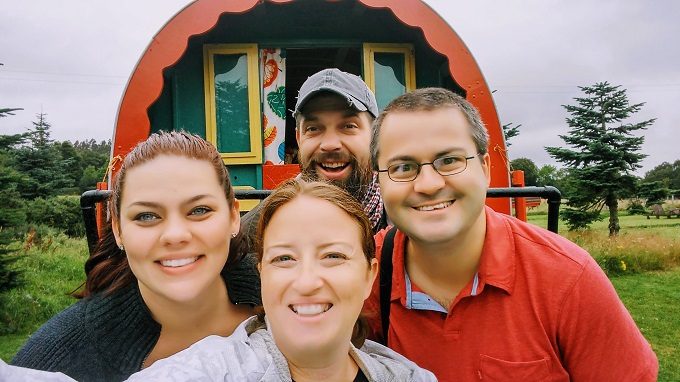 Ireland Road Trip
Here's everything else that we got up to in Ireland:
4 Friends + 1 Tiny Home = 1 Fun Night In Ireland