I wrote a post back in July setting out all the preparation we still needed to do in advance of our 50 state road trip.
I then wrote a follow-up post six weeks ago providing an update on how our preparation was going (spoiler: it was going better than I thought it was).
It's now only six more weeks until we head off on our great adventure. In reality though, our preparation needs to be done sooner than that as we're out of the country nearly all of December.
That means we effectively have less than two weeks to finish any necessary preparation, so here's an update to let you know how we're getting on.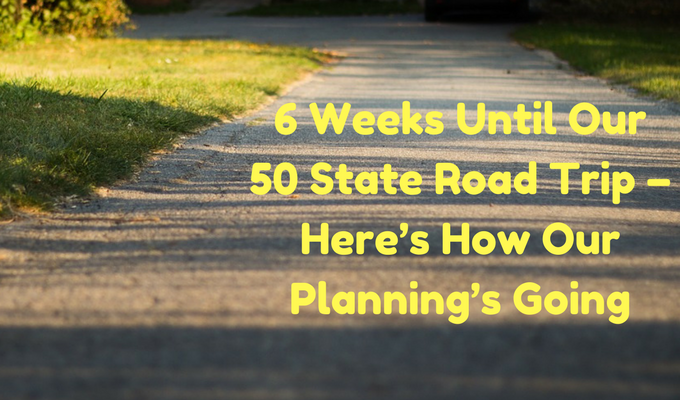 Extreme minimalism. We're done! Check out yesterday's post to see the last of our stuff that we've donated or given to family and friends.
Packing. I've finished my packing – today's my last morning in our apartment as I'm away this weekend. Shae still has some stuff to sort through and pack, so her packing should be done by the end of the weekend.
Get Prepaid / No Contract Cellphone Service. I still haven't done anything on this other than a little bit of research. PagePlus looks like it might be our best low-cost option, but I'm tempted to leave this for a few weeks / months into the road trip until we have a better idea of what our coverage is like. The prepaid service isn't for day-to-day service – it's purely as an emergency phone in case our T-Mobile coverage isn't as good in rural areas.
Get car up to scratch. We got an oil change and new brakes installed a couple of months ago, plus we got new speakers installed last week. We'll hopefully have it checked over before we leave to make sure there are no major issues with it. If nothing else, we'll likely get another oil change, check tire pressures, etc. once we're back from Australia at the end of December.
Apply for credit cards. We're all done with credit card applications for now as we got a couple of new cards for Shae last month. We'll probably look into new card bonuses once we're a few months into the road trip.
Auto insurance. I still need to investigate whether there'll be any issues on our current policy when it comes to us traveling around, moving states each month, how many miles we'll be driving, etc.
Redirect mail. We've set up a mail forwarding service in Florida and will start redirecting our mail with USPS in the next day or two.
Relocate to Florida. We're heading down to Florida next week over Thanksgiving to get this sorted out.
Change addresses. I've already started changing some of our addresses and hope to finish most of them this weekend.
Get a couple of LifeStraw bottles. We ended up buying a couple of LifeStraws rather than LifeStraw bottles. They're emergencies for day hikes, so for now it didn't seem worth spending the extra amount for the bottle versions. (n.b. That link to the LifeStraw on Amazon is our affiliate link.)
Road trip planning. We did some preparation a few months ago which caused us to change some of our plans. We've done a bit more planning over the past few weeks, but not much.
Book hotels. Unfortunately the latest list of IHG PointBreaks didn't have any pet-friendly hotels in South Carolina. I think our first week or two in Columbia SC will be in hotels booked using points, so I'm planning on making those reservations in the coming days. If our plans change, I should be able to cancel those reservations and get the points back.
Move out of apartment. I'm effectively moving out today, while Shae will be out on Sunday. We're having our final walkthrough on Tuesday with the rental company, so that's when we hand over our keys.
Learn some new recipes. I haven't been doing much experimenting recently, although I did work out how to make hoisin salmon in the Instant Pot.
Keep learning. I'm still reading and still learning about points and miles. In fact, the reason I'm in Chicago this weekend is for Frequent Traveler University – an opportunity to learn more.
Get healthy. I mentioned in my last update that I was able to jog 5.5 miles. This past weekend I ran my first half marathon (13.1 miles), so it's going better than I ever anticipated.
Save money. The New Zealand / Australia trip is a little more expensive than expected. We should still get close to our savings goal by the time we leave though.
Get AAA cover. I bought this a couple of months ago on Groupon but hadn't activated it yet. I need to do that in the next few days as we have a couple of upcoming hotel stays booked using a AAA rate.
Use social media more. I'm still not great with this, but I've tried making a more concerted effort to update Facebook and Instagram when we're out and about doing fun stuff.
Learn about tolls. This research was on my to-do list for November. It's still on my to-do list. It'll likely remain on there until we're back from Australia, so I'm hoping this doesn't come back to bite us early on in the road trip.
Wean myself off caffeine. Woah, I'm halfway there… (always worth trying to get in a Bon Jovi reference) In the last update, I mentioned that I was considering going Coke Zero cold turkey. Well, I decided to go ahead and give it up last month. The first week I was much more tired than usual, but I feel fine now. I still have PG Tips teabags that'll be coming on the road trip though, hence only being halfway there.
Spend time with local family & friends. We're about to spend a week with Shae's dad going down to Florida. We're then spending December in New Zealand and Australia with her mom and stepdad, so lots of time with family.
Research vets and groomers. This is still on our to-do list. Truffles is up to date on all her vaccinations and her rabies vaccination is now good for three years. She's getting a furcut at the end of December, so that should see her through until the end of Georgia or the beginning of Alabama (February or March).
Prepare for New Zealand and Australia. This has been our main focus the past couple of weeks. We've booked all our internal flights, eight different hotels and Airbnbs, snorkeling at the Great Barrier Reef and various other activities.
Train Truffles. We started working with an amazing dog trainer a couple of months ago. Unfortunately we've been so busy that we haven't been able to arrange as many sessions as we'd been hoping.
Car Supplies. I think we're pretty good for emergency supplies now.
Final Thoughts
Things are still going to be hectic the next couple of weeks, so it's doubtful we'll get much more preparation done.
I don't think there's anything urgent on our to-do list though (other than, you know, having places to stay the first few weeks of the road trip), so I'm not too worried.