Our second day in Sydney was spent on a Hunter Valley wine tour with Kangarrific Tours.
We therefore decided to spend our final full day exploring the city – here's everything we got up to.
Bondi Beach
We got an early start (well, early for me) and took a train and bus out to Bondi Beach. We've seen reviews before that said there are better beaches in Sydney, but we felt like Bondi Beach was one of those places we should go to anyway.
When we got off the bus, we stopped at San Churro for a drink. Being British, I ordered a cup of tea which was a huge mistake.
The tea was perfectly fine – the mistake was that I should've ordered a hot chocolate instead. Shae got one and it was the richest, creamiest hot chocolate I've ever tried. It was like someone melted a large bar of Cadbury's Dairy Milk into a cup – that's how amazing it was.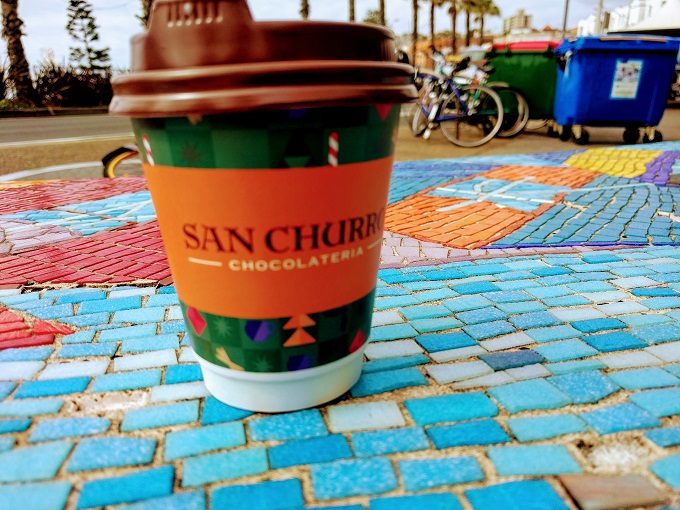 While kicking myself, we made our way down to the beach. It was a warm, sunny day but the water was too cold to swim in.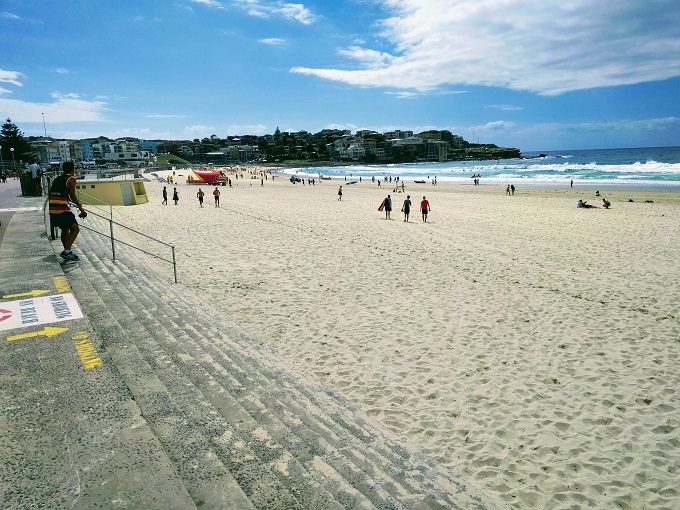 Not wanting to freeze our tails off, we wandered alongside the boardwalk for a while and checked out the local artwork.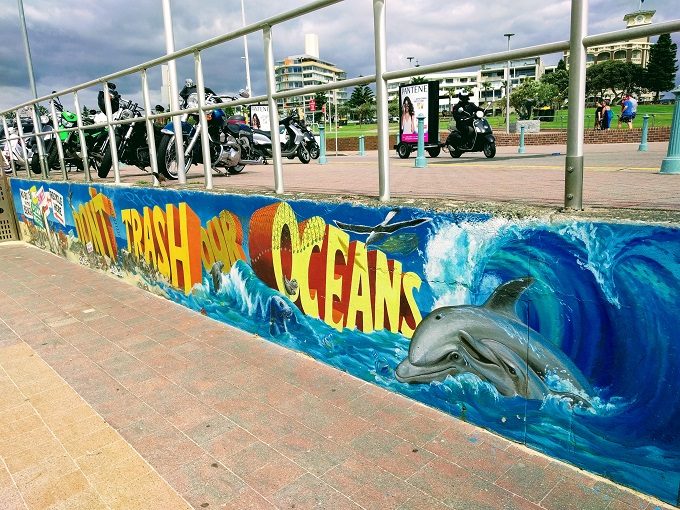 Before leaving on this trip, Shae left her job as a teacher at a local private school. Just before she left, one of her students gave her a painted rock and asked her to hide it in Australia. She'd wanted to find the perfect place to leave it and Bondi Beach seemed like the perfect location.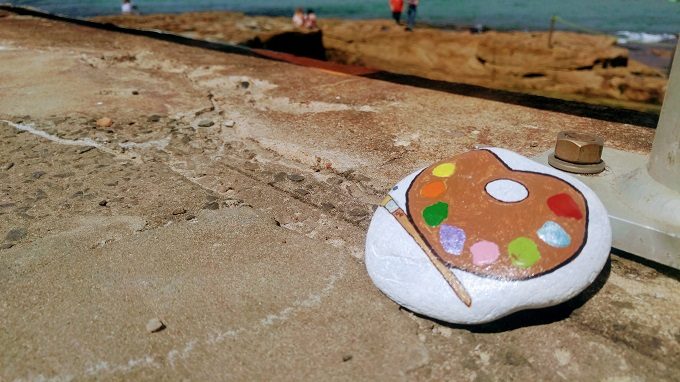 After wandering around for about an hour, we hopped back on the train and headed out to Miranda, a suburb in Sydney. This was to do something that'd make Shae's year.
Meeting Pikelet
Shae follows several dogs on Facebook and Instagram (our dog Truffles is also on Instagram). One of her favorite dogs is called Pikelet, a rescue dog who lives in Sydney.
Pikelet and his parents were on a tour to promote their book while we were in Australia. This included an opportunity to get the book pawtographed by Pikelet himself.
The timing of the tour worked out perfectly, as the Sydney book signing was while we were visiting the city. So….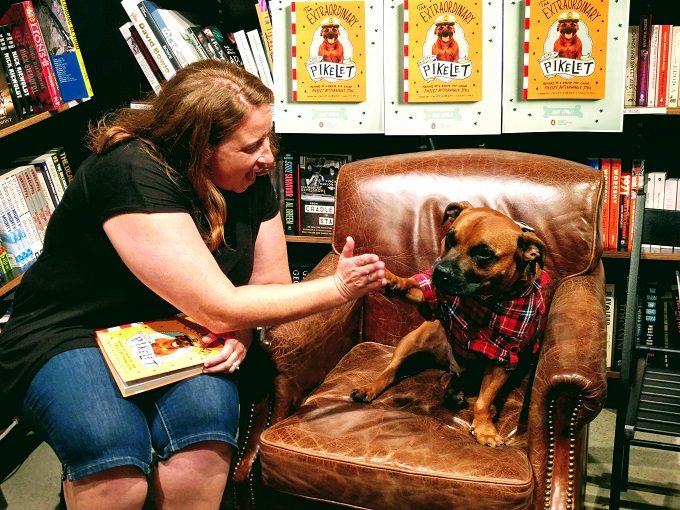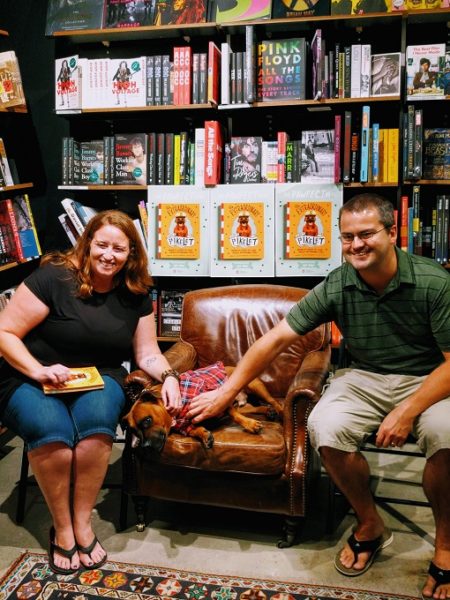 You can also check out this post Shae wrote about meeting Pikelet.
After meeting Pikelet, we headed back to our Airbnb for a quick nap before heading back out to explore Sydney some more.
Zumbo's Macarons
Adriano Zumbo is a celebrity chef who has his own TV show – Zumbo's Just Desserts. It's a baking reality TV show we'd watched on Netflix a month or two ago.
We'd tried his macarons the last time we were in Sydney and so wanted to head back for more. There are several Zumbo Patisserie locations in Sydney, so we made our way to the store at Circular Quay, close to the Opera House.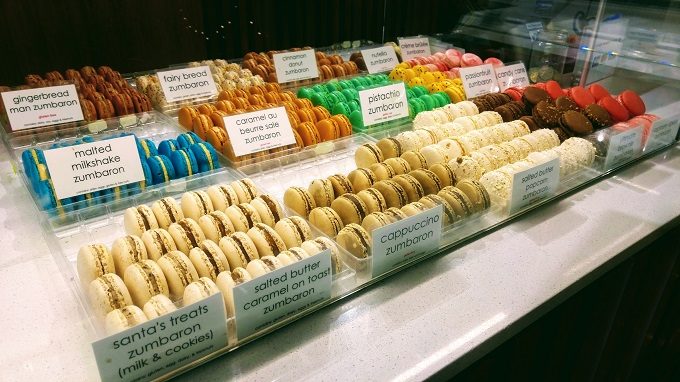 It was too hard to choose only one or two to try, so Shae and I got a dozen between us.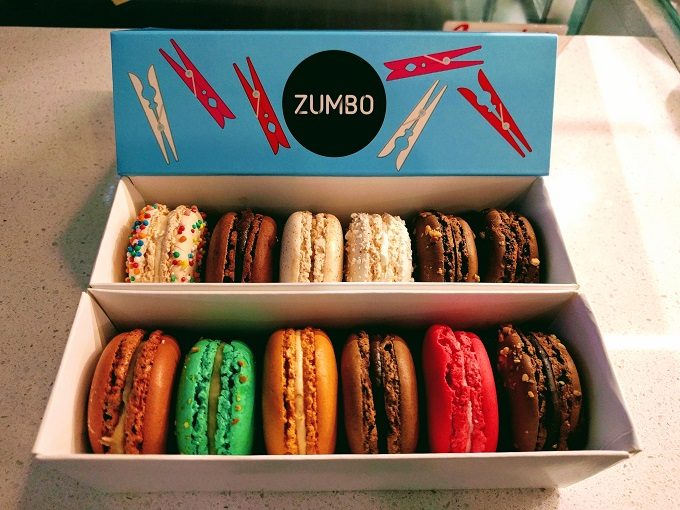 The texture of the macarons was phenomenal – they pretty much melt in your mouth after you bite into them. My favorite flavors from the ones I tried were the raspberry, Nutella and brownie ones.
Dinner By Sydney Opera House & Sydney Harbor Bridge
As we made our way towards the Sydney Opera House, we noticed there were several eateries along the way. It was starting to get a little chilly, so we stopped to eat at Portobello Caffe as they had outdoor heaters.
The best part about Portobello Caffe is that it has excellent views of both the Sydney Opera House and Sydney Harbor Bridge.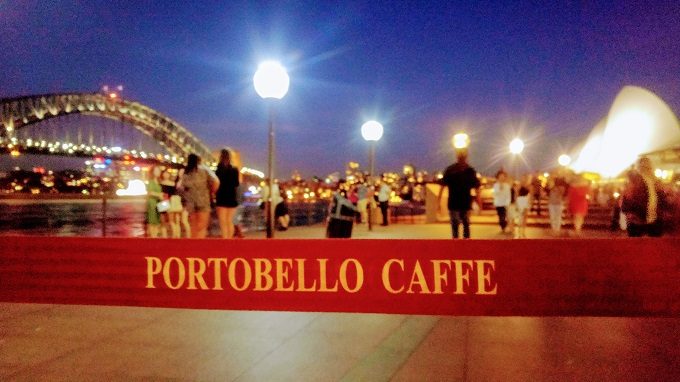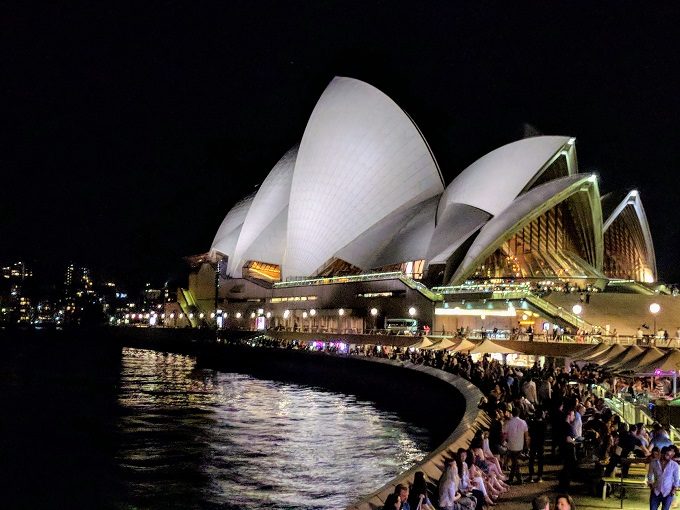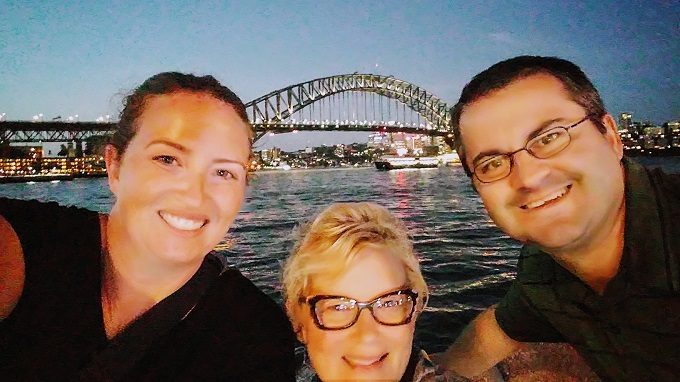 The meal prices were a little more expensive than we usually pay, but its setting made it worthwhile. I ordered the pistachio crusted tuna fillets which I asked to be cooked medium.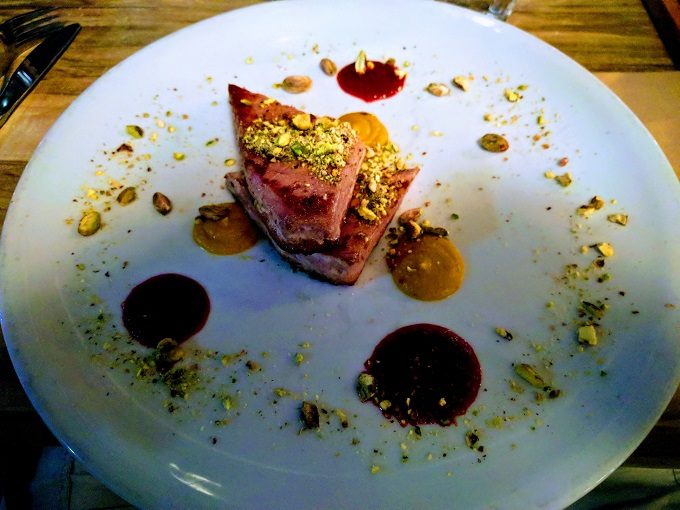 Shae ordered the slow cooked beef cheek which was incredibly rich. In fact, it was so rich that she was only able to eat half of it. I finished it off for her and don't think I could've eaten more than half either.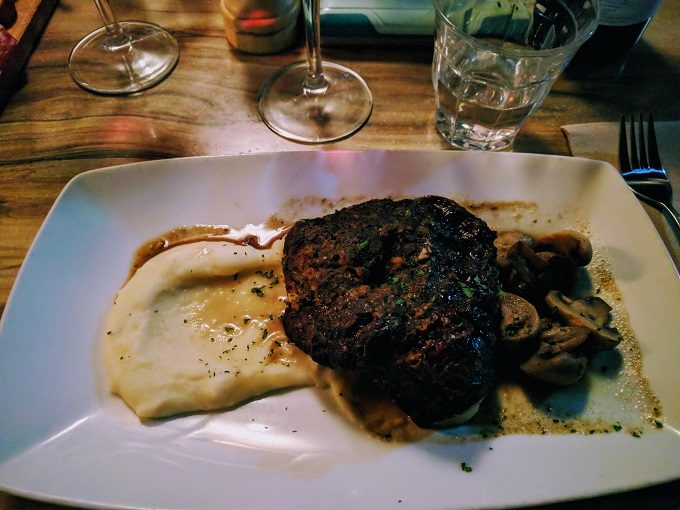 Shae's mom ordered a board of meats and cheeses.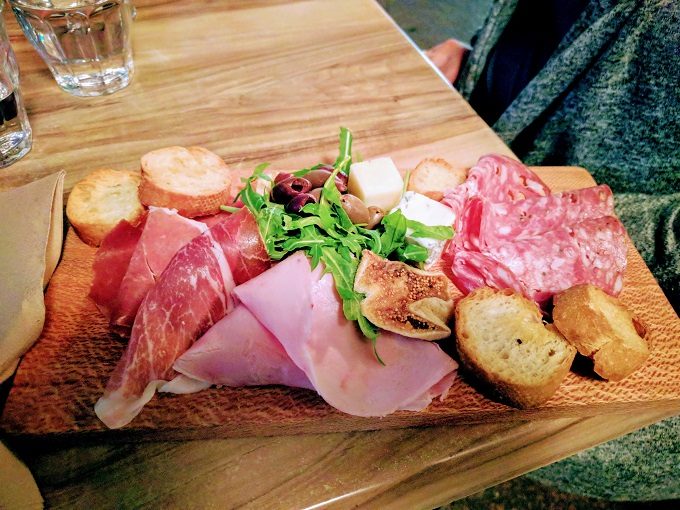 While eating, we were treated to a firework display behind the Harbor Bridge. Even though it wasn't quite as extravagant as their New Year's Eve fireworks display, we were still incredibly fortunate to get to experience the display.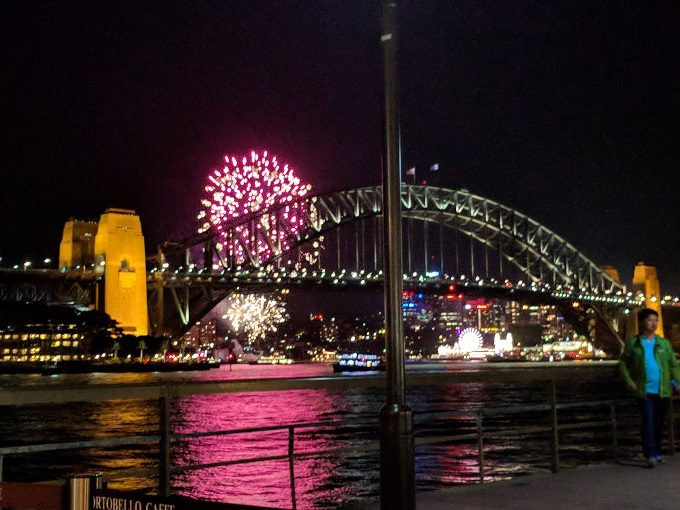 Once we'd finished eating, we made our way closer to the Opera House to get a better look.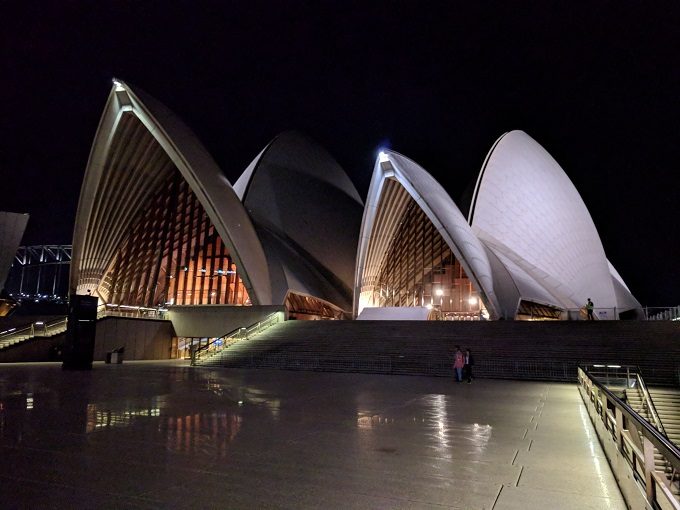 It was then sadly time to head back to our Airbnb as we had to be up the next morning to catch our flight to Brisbane.
Follow Our Entire Trip Down Under
Be sure to also check out all our other posts from our trip to New Zealand and Australia:
A Day In Sydney – Macarons, Fireworks & The Best Hot Chocolate Ever