He walked over looking cold and official. I asked if he was the Park Ranger scheduled to lead our Columbia Canal History Walk on Sunday, January 7, 2018.
He confirmed that he was and that his name was Spencer. We waited a few more minutes for any other guests to join us but no one else arrived.
We thus began what turned out to be our very own private guided tour with Spencer.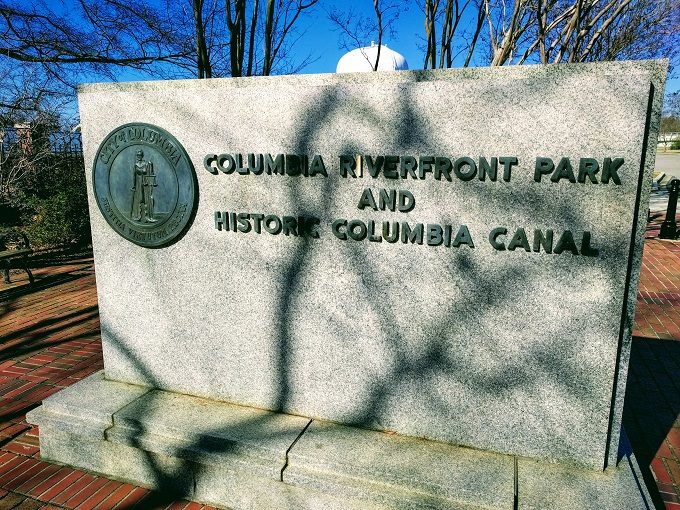 We'd seen the signs for the free historic walks the previous day while walking Truffles and having lunch along the Riverfront Park walk in downtown Columbia, SC. We didn't know what to expect, but we thought it seemed like a great way to do something free and choose an activity where Truffles could join us.
Spencer walked us towards the canal and explained a little about what he does as a ranger and how it's been in the park during the unseasonably cold weather. We also discussed our mutual love of travel – us about our road trip and him about his recent trip to Glacier National Park in Montana.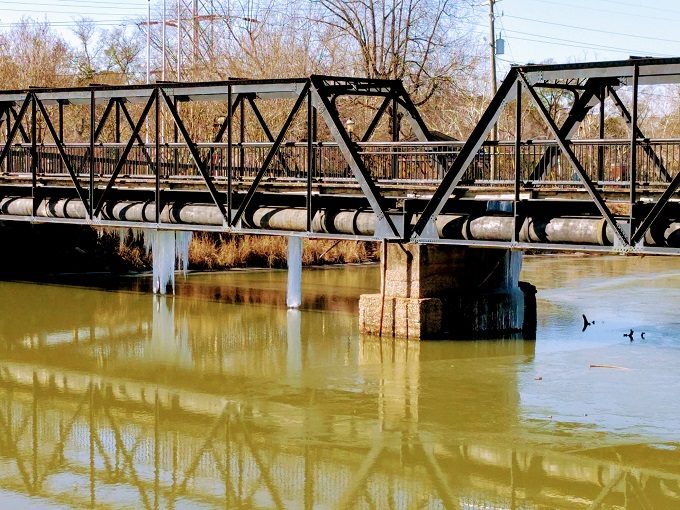 The tour officially began with Spencer sharing how the canal began life as a way to move goods up and down to the coast and eventually became used for hydroelectric power. There's a hydroelectric power plant just up river from the Riverfront Park.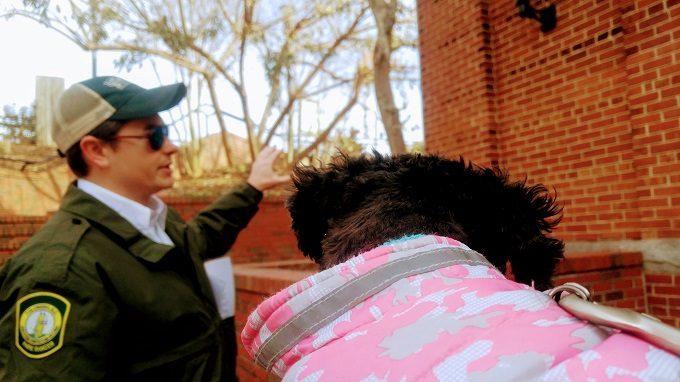 We also discovered there used to be a maximum security prison along the canal front. The prisoners had to move stones from a nearby quarry up the river and across the canal for the prison's building and expansion projects.
There are now beautiful new apartments being built where the prison was located. When designing the brochure for the apartment building, we're guessing they left off the fact that there was an electric chair (in use!) on that property in the past.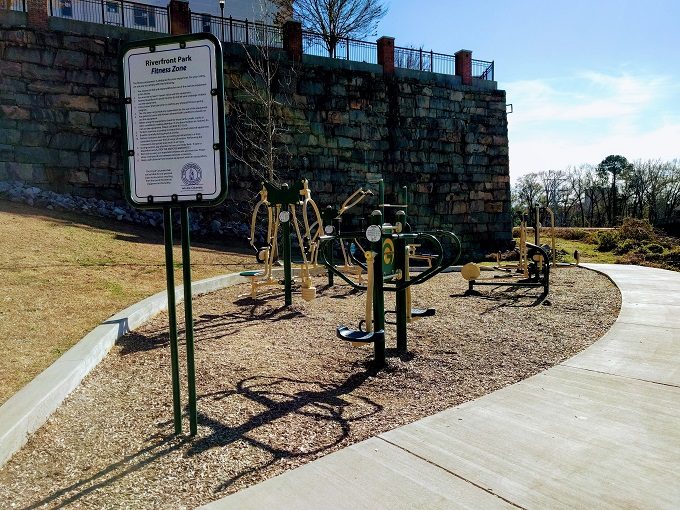 The only part of the original Columbia Canal that's still visible can be seen at Granby Park farther up river. You have to know what you're looking for, but there used to be paths alongside the canal that burros used to help vessels move along it.
We crossed over the canal and learned about how the water company uses the canal. The water company's based onsite at Riverfront Park as well. We then headed into the building that historically housed the turbines and the old pump house.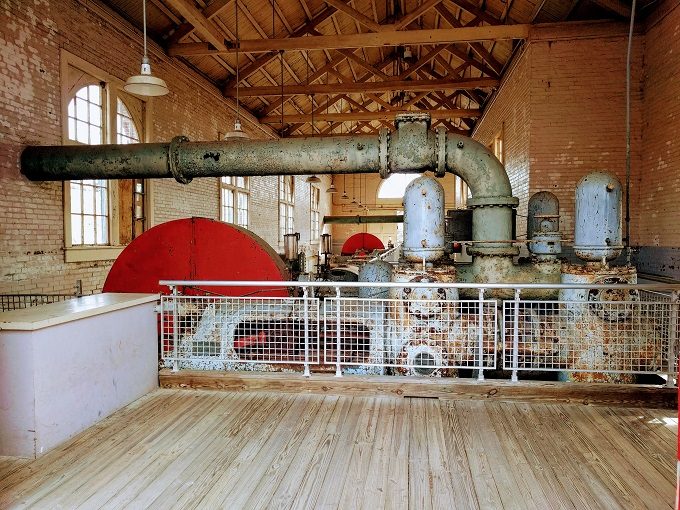 The cast iron turbines could actually still work; they were inspected recently and approved for use if needed. The old pump house can still function with a bit more maintenance and is currently used by the Parks Service to house their equipment. Their items may be moved in the future if the pump house becomes used again.
There have been two major flood events in the last 100 years or so. The first was in 1903 and more recently was the flood in 2015. The 1903 flood mark is drawn on the building of the pump house to show how high it came; the pump house itself wasn't built until 1924 though.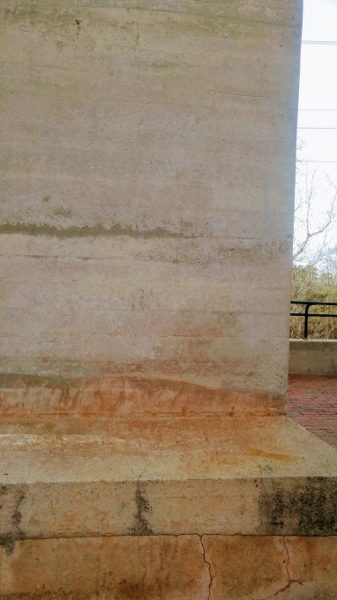 In 2015, they were worried that the levees at the dam further down river would break. If that had happened, Columbia would have been completely flooded. Thankfully the levees held although other smaller levees did break and have been replaced by rocks to raise the level of the canal.
We learned some interesting things from Spencer; he's a local and gave us good information about what he's passionate about. He's working on a new parks walk series in the future utilizing more of the other parks in the area.
He also has a very cool copy of an old map of the old Columbia Canal (I'm a lover of maps so I found this very neat!) Some parts are labelled 'planted with corn' while some areas don't exist any more. Spencer's working on making a current mapping of the area using GIS. It's painstaking work though with such an old map and scale from which to reference.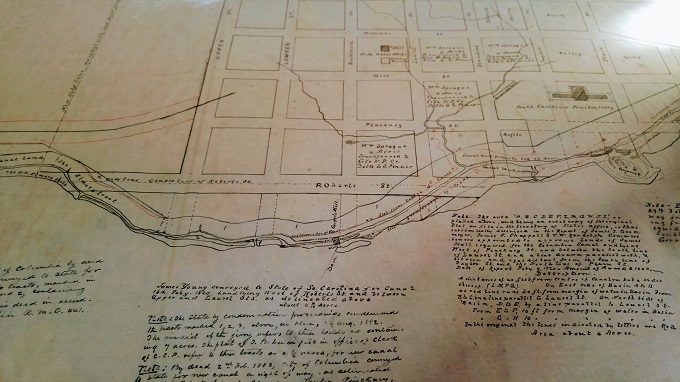 It was eventually time for our tour to end. The whole thing lasted maybe an hour or so. Walking back to the car, we chatted about our journey more and found our common love of Formula One racing. We're so thankful for Spencer's great attitude to being in the freezing cold with us and sharing his love of the area.
The walk was more historic and less walk. As such, if you have limited mobility, don't be put off by the fact that it's labeled as a walk. It was mostly short walks from one location to the next, just across the canal and is right by bathroom facilities.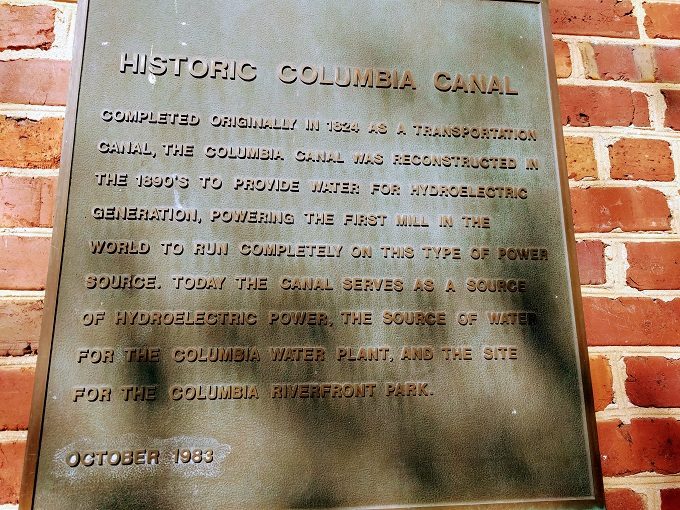 As it was labeled as a walk, this was one of things I was a little disappointed with. We brought Truffles but spent most the time holding her. That's because of the freezing temperatures, so standing still on the cold ground was uncomfortable for her little paws. This obviously isn't a problem for most of the year in South Carolina though!
I can't fault Spencer's information, the buildings and canal sites you get to see or the great location to downtown. It just needed to be more of a walk or should be relabeled as a historic talk.
Final Thoughts
Overall, I'd recommend the free ranger walk at Columbia Canal in Columbia, SC. It's something nice and free to do and helps you learn more about the area.
Despite my lack of detailed facts and dates in this review, Spencer had plenty of stats and details to share. Some of the facts we learned came up again when we did a historic house tour a few days later, so it was neat to see that overlap.
You can find out more about the history and nature walks here.