After flying from Melbourne to Bangkok, we had a 3.5 hour flight from Bangkok to Taipei.
When we first booked our tickets, we were due to have a one hour connection in Taipei. EVA Air changed our flight schedule a couple of months after booking though, so our one hour connection became a 12 hour connection.
Originally disappointed, we subsequently realized that this was a good thing as it meant we could head into the city and explore for a few hours. So after landing at about 6:30 AM, it was time for the adventure to begin.
Free Tour
If you're transiting through Taipei and have a layover that lasts 7-24 hours, you can take a free half-day bus tour which is organized by the Taiwanese tourism bureau.
We'd originally planned to take advantage of this, but we'd have been on the morning tour which didn't include Taipei 101 (only the afternoon tour included it). Taipei 101 was something I wanted to experience, so we decided to forge our own path.
Money
First up, we withdrew $3,000 Taiwan Dollar (~$100 USD) from an airport ATM, changed $1,000 of that into $100 notes at the currency exchange counter and then used a change machine to change a $100 note into ten $10 coins.
Bag Storage
Shae and I each had a couple of carry-on items that we didn't want to cart around the city all day. Thankfully there are storage lockers at Taipei airport, so we shoved most of our items in one of those.
There were three different locker sizes to choose from and we managed to fit everything in the smallest. That cost $40 TWD (~$1.35 USD) for an initial three hours.
That same amount is charged for every three hours after that and you pay any additional amount when you return to the airport. We used the locker for a total of eight hours, so we had to pay an extra $80 TWD upon our return.
Train Tickets
Taipei Taoyuan Airport has a fast train service that runs from the airport to Taipei Main Station in the city center.
We weren't sure what type of tickets we needed, so we headed to a ticket counter for assistance. We purchased return tickets which I think cost us $280 TWD (~$9.40 USD) each.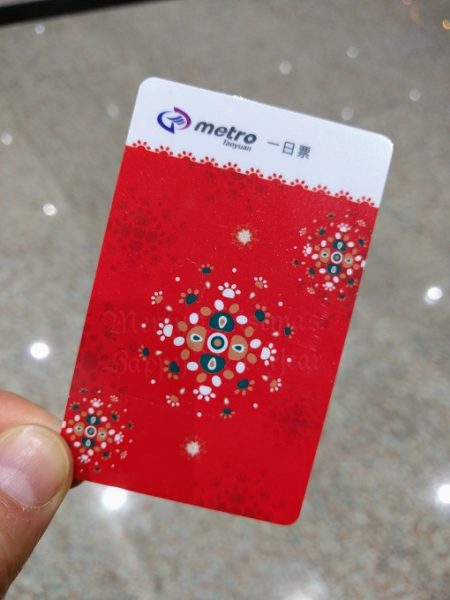 Once we reached Taipei Main Station, we went to another ticket counter to buy a one-day pass which provided unlimited travel on the MRT (Metro) system. This cost $150 TWD (~$5 USD) each which seemed to be good value for the flexibility of not having to keep topping up the card before each journey.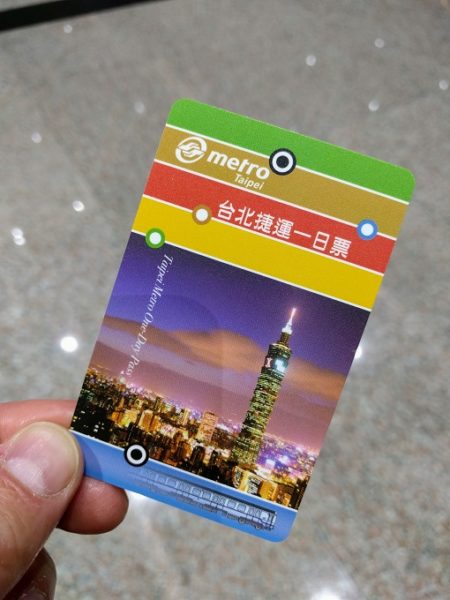 Before catching our next train, we stopped at a bakery to get some breakfast and which had all kinds of interesting options we'd not tried before. I got a Danish-pineapple flaky (very nice, but not particularly pineapple-y) and Shae got goose oil spring onion bread which she enjoyed.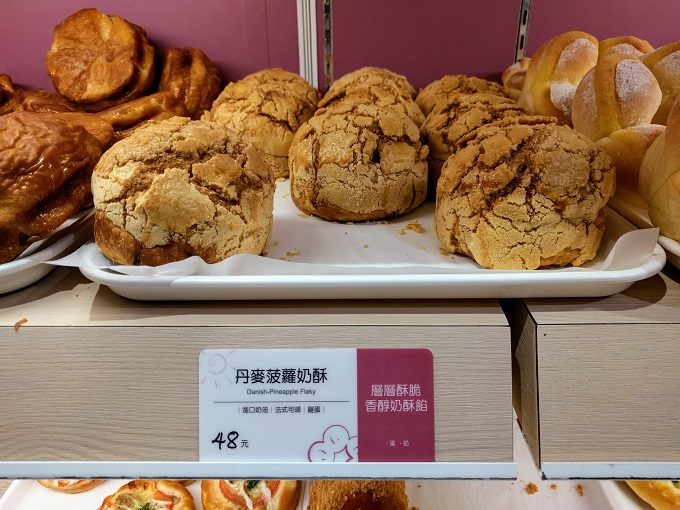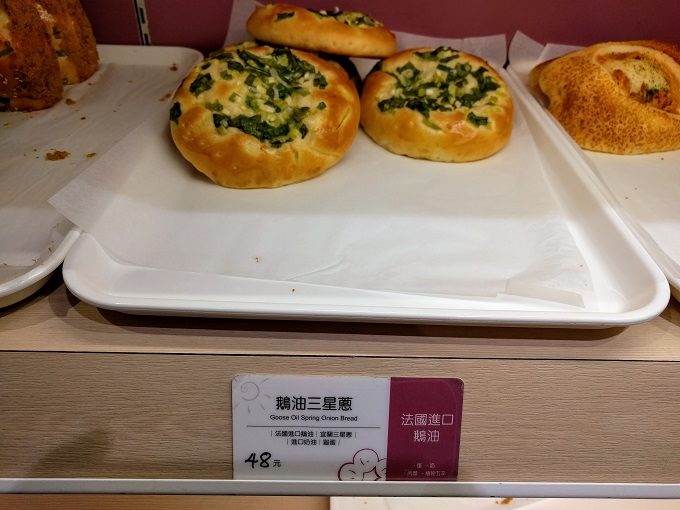 With breakfast eaten and tickets in hand, we headed to our first destination.
National Palace Museum
One of my friends sent us several suggestions of what we should do in Taipei. High on the list was a visit to the National Palace Museum which has almost 700,000 ancient Chinese artifacts and pieces of art, some dating back 8,000 years.
We took the MRT red line up to Shilin station which was the closest stop to the museum – at least in terms of how quickly we'd get there from Taipei Main Station. From Shilin, we caught a taxi to the National Palace Museum which cost $120 TWD (~$4 USD).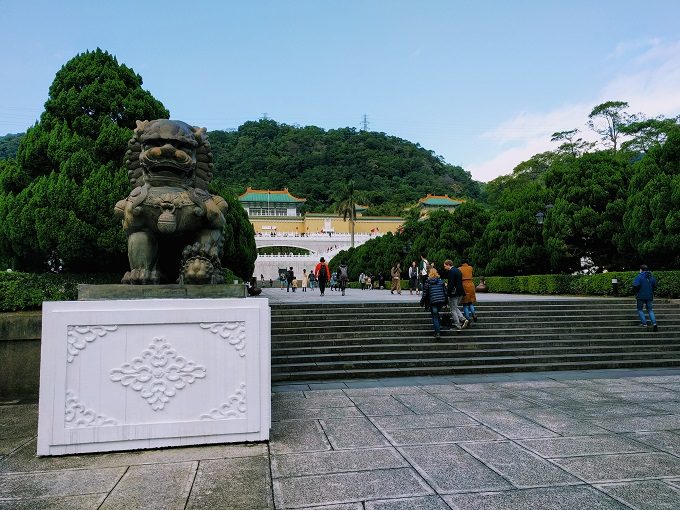 Tickets for the museum were $250 TWD (~$8.40 USD) each; we also got audio tour headsets which cost an additional $150 TWD (~$5 USD) per person. Bags weren't allowed inside the museum, so our small backpack went in one of their lockers (Shae's camera bag was fine to be taken in though). We inserted a $10 TWD coin to use the locker which was returned afterwards.
Most of the displays at the National Palace Museum were historical ceramics and artwork. It was fun getting to see actual Ming vases up close.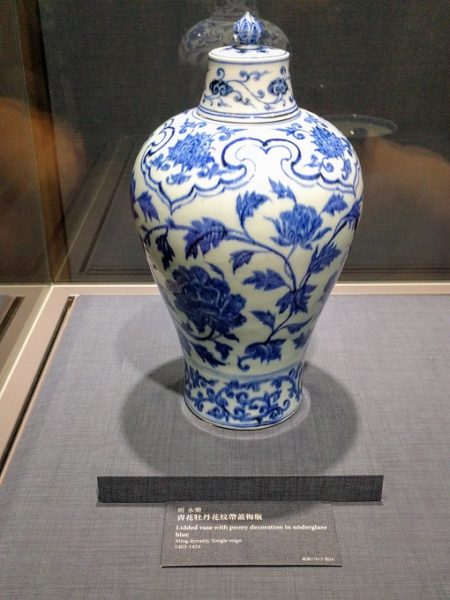 There were all kinds of other random ceramic pieces, such as this pillow from 700-800 years ago.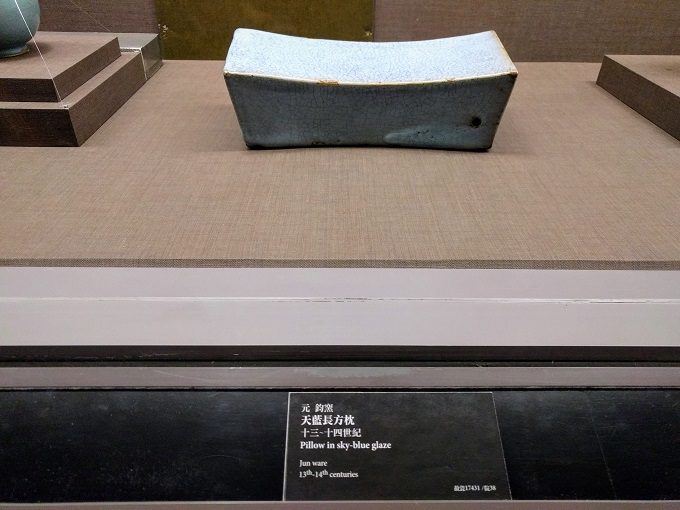 One of the museum's main pieces was a Jadeite cabbage. This was only 7.5″ tall but had a large crowd around it, so it seemed to have a lot of significance for Taiwanese visitors.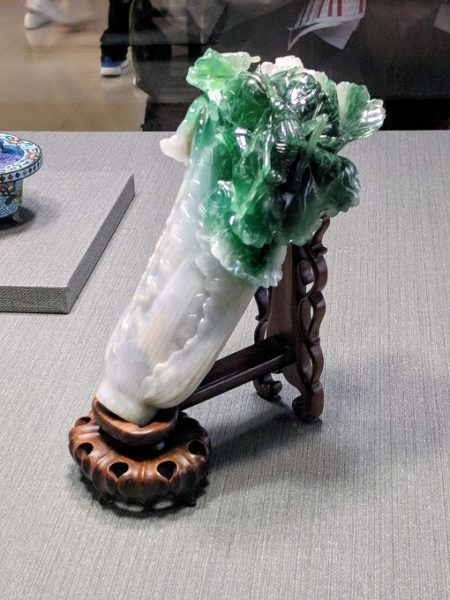 After looking around the museum for 90 minutes, we went outside to Zhishan Garden. The ponds had tons of Koi carp and other fish, most of which came to the surface with their mouths open, hoping we'd toss them food.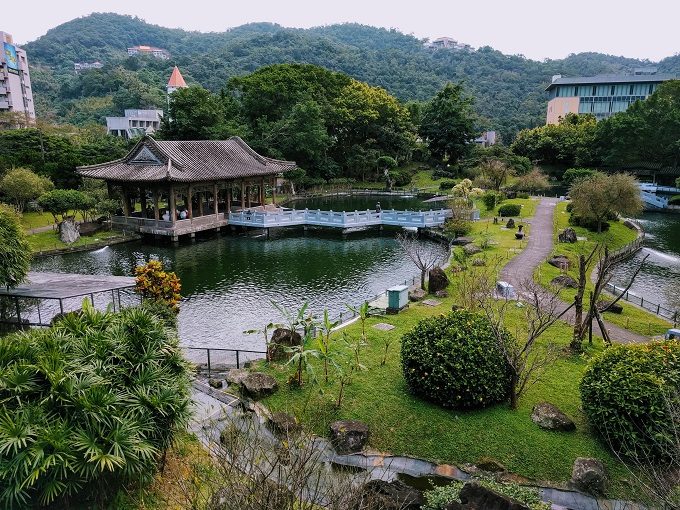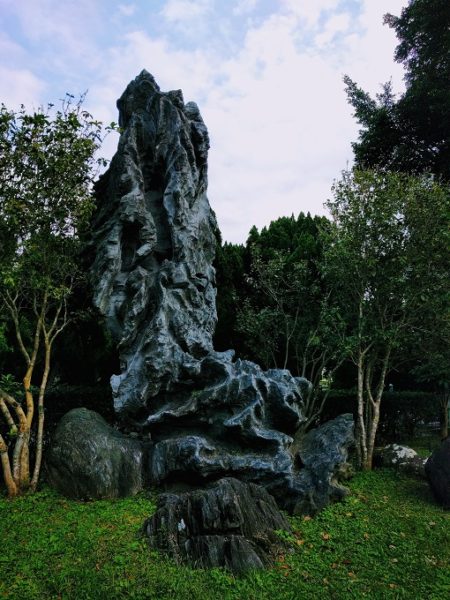 We wandered around the garden for about 20 minutes, then grabbed a taxi outside and headed back to Shilin station.
Din Tai Fung
My friend also highly recommended that we eat at Din Tai Fung who apparently have the best dim sum and Shanghai soup dumplings.
There are several Din Tai Fung locations in Taipei, but the original is on Xinyi Road. We therefore took the MRT red line south nine stops to Dongmen where we got off and used Google Maps to direct us to Din Tai Fung.
Apparently everyone else in Taipei had the same idea, as this was the scene when we arrived.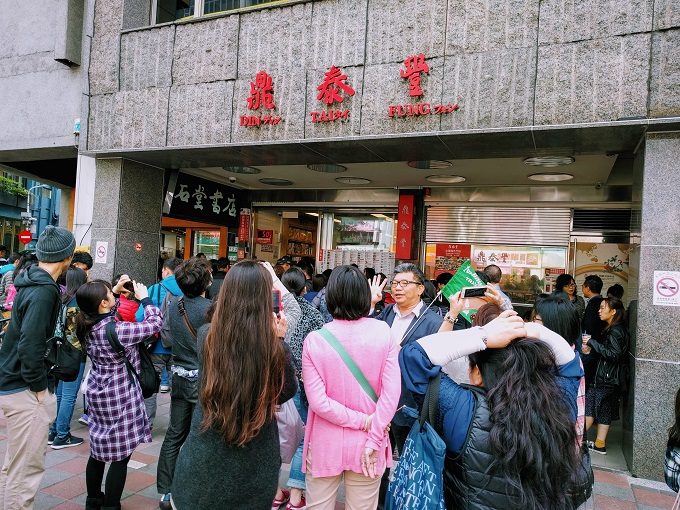 I don't know if you can see the sign at the entrance, but there was a 50 minute wait to be seated. Not wanting to wait that long, we decided to make our way to Taipei 101 (also on the MRT red line) as that had a mall with a Din Tai Fung.
Unfortunately it was a 50 minute wait there too, so we gave up and ate elsewhere at the food court. Din Tai Fung – we'll hopefully be back to experience your food in the future.
Taipei 101
Once we'd eaten lunch, we bought tickets to go to (near) the top of Taipei 101. Towering above the city, it's a 101 story building and was the world's tallest building from 2004 to 2010. We didn't get a good photo of the building from a distance, so here's what it looks like courtesy of a stock image on Pixabay.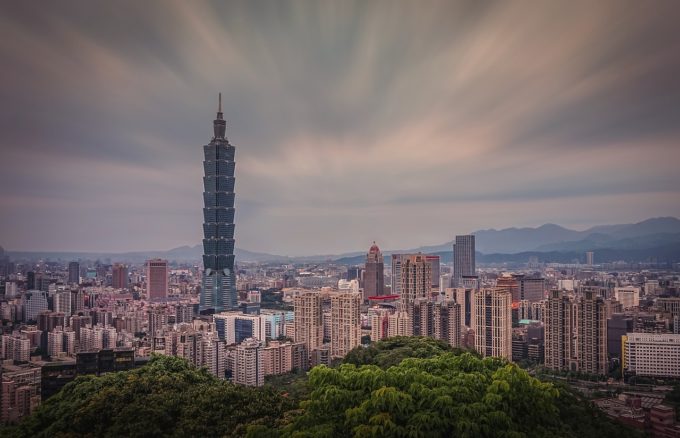 Tickets were $600 TWD (~$20 USD) per person, although we'd received a 10% off coupon with our MRT tickets which took the cost down to $540 TWD (~$18 USD).
Taipei 101 has one of the world's fastest elevators, transporting you from the 5th floor to the 89th floor in 37 seconds at a speed of 60 km/h (37 mph). Unsurprisingly, this involves some ear-popping.
The 89th floor is indoors and has large glass panes throughout so that you can view the entire surrounding area.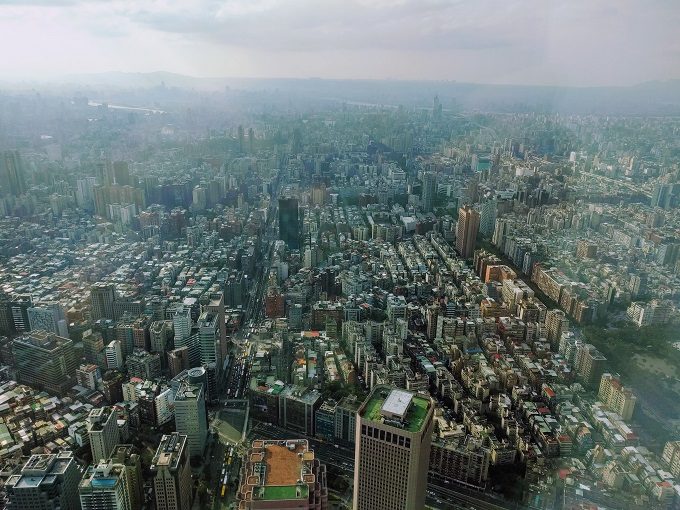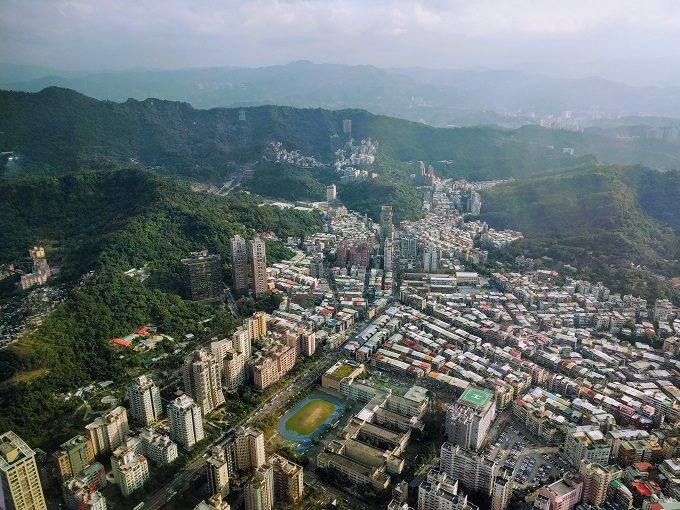 We then walked up the stairs to the 91st floor which is outside and so provides a slightly better view.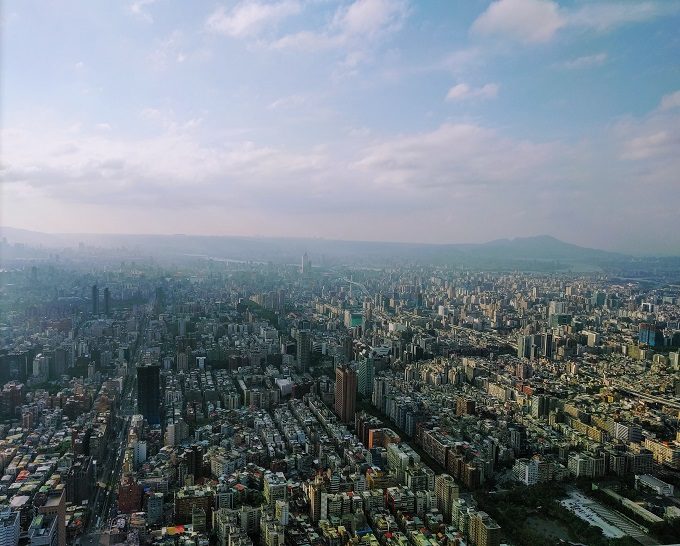 We then walked down to the 87th floor to get a better look at the tuned mass damper. The damper is a steel pendulum which sways to help offset movements from strong winds. Similar dampers are apparently used in tall Japanese buildings to help counteract the effects of earthquakes.
It was about 3:30pm by this point, so it was time for us to make a move. After a quick selfie at the base of Taipei 101, we made our way back to the airport for our flight from Taipei to New York.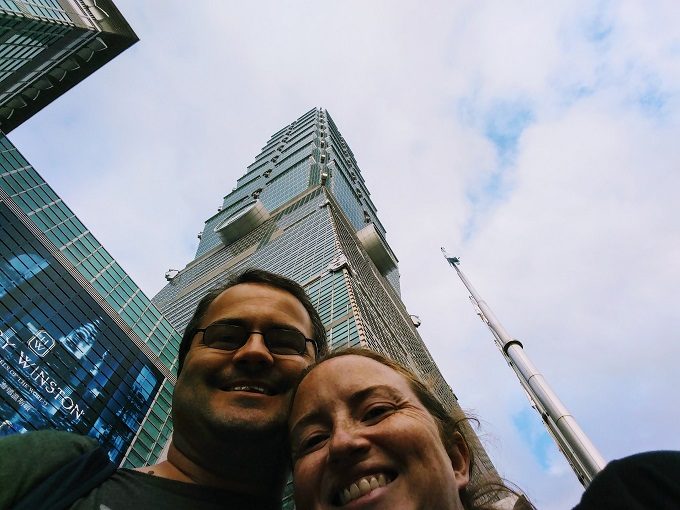 Follow Our Entire Trip Down Under
Be sure to also check out all our other posts from our trip to New Zealand and Australia: