Hi, we're Stephen & Shae Pepper and this is our dog Truffles. We're on the ultimate 50 state road trip around the US, spending five years exploring as much of the nation as we can.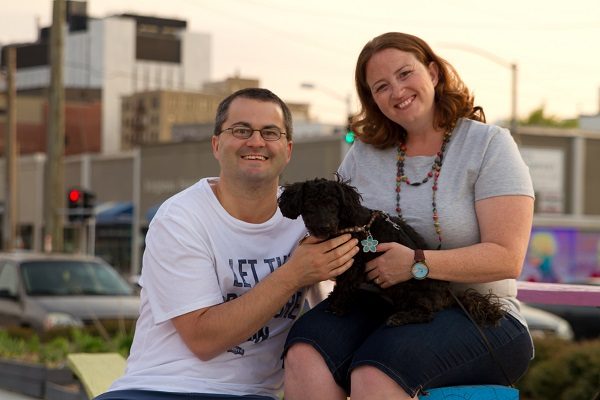 It's something we dreamed about for almost a decade and on January 1, 2018 it became a reality. We're living in hotels all over the country and getting to experience the best of what each state has to offer:
Tasty food
Beautiful landscapes
Quirky attractions
Exciting adventures
It may sound like we're millionaires or trust fund kids, but that couldn't be further from the truth. We're just average people trying to live an above average life.
How are we doing this? We've created dozens of websites since 2011 that are now earning enough for us to travel full time. We're budgeting $100 a day for this trip – that includes hotels, food, activities, gas and more.
That may sound like it won't be enough, but by maximizing hotel reward schemes, obtaining discounts and taking advantage of generous credit card reward schemes, this dream lifestyle is possible. None of this involves getting into debt though – it's thanks to paying off our debt that we can afford to travel full time.
If you want to learn about how we're doing this because you'd love to travel more as well, click here and we'll send you more details.
Even though the websites we've created are producing passive income, we'll be working harder than ever. Here on No Home Just Roam, I (Stephen) am sharing our tips and tricks about reward schemes, writing reviews about everything we're doing and giving you inspiration for your own travels.
Shae will sometimes contribute here, but her main focus will be on becoming The Traveling Teach. This will be a website and YouTube channel for teachers, students and homeschooling families that'll launch in 2018. She'll be creating virtual field trips all over the country by producing videos, free printable worksheets and other resources that anyone can use.
Shae will also be posting pictures from our trip that you can view or purchase on Shae Pepper Photography.
Truffles will also be getting in on the act by sharing our 50 state road trip from her pawspective. Be sure to follow her adventures on Instagram and her own website.