"I bet that's one of those hole in the wall places that doesn't look like much but which is amazing."
That's what I said to Shae as we drove past Rodney Scott's BBQ in Charleston, South Carolina.
The Airbnb we were staying at was around the corner, so we drove past Rodney Scott's several times during our stay. We hadn't planned on eating there, but a couple of friends randomly mentioned the restaurant and said they were keen on trying it out as they'd heard good things.
We wanted a chance to meet up with them one last time before we left Charleston, so we arranged to have dinner there on the Sunday evening.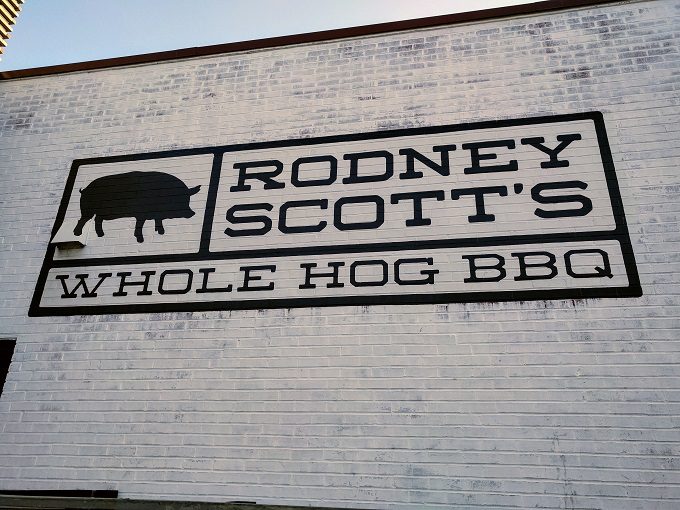 I'd checked out their website the night before to look at their menu, so I had a good idea of what I wanted.
Their specialty is whole hog BBQ which is cooked for more than 12 hours. They also offer ribs, ribeye steak sandwiches, fried catfish, chicken and more.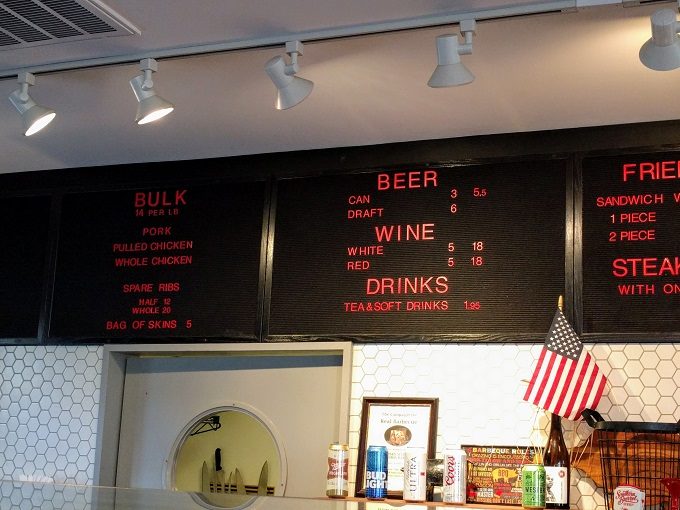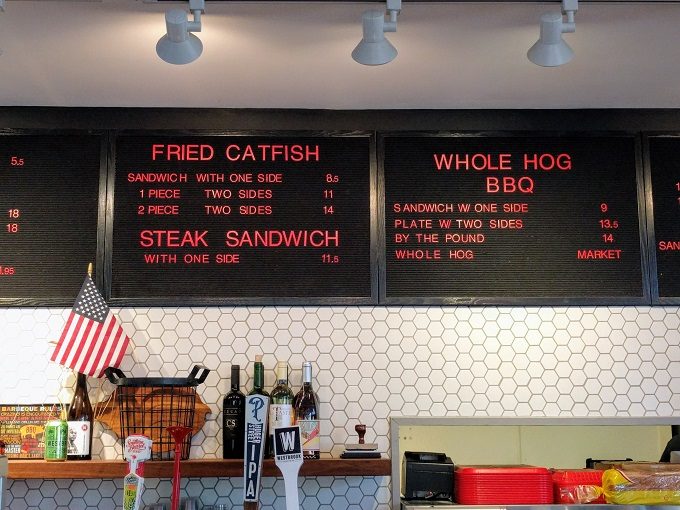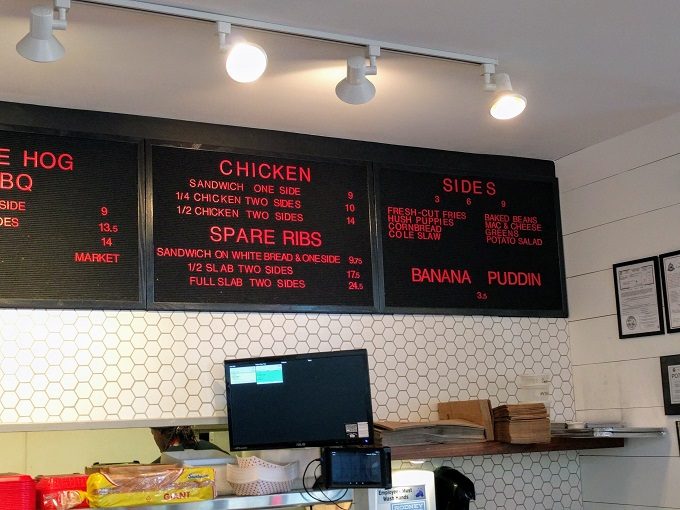 There was no way I was going to pass up on trying out their specialty, so I ordered a plate of whole hog BBQ. It took a little while to decide which sides to get though – in the end I went for collard greens and potato salad.
Shae's not a huge fan of pork, so she ordered the ribeye steak sandwich. Hers only came with one side, so she decided to try their cornbread.
They gave us a number for our table as they'd bring out our food once it was plated. There's plenty of seating at Rodney Scott's BBQ; there are lots of booths inside, as well as a long table in the center of the restaurant that can seat up to 16 people.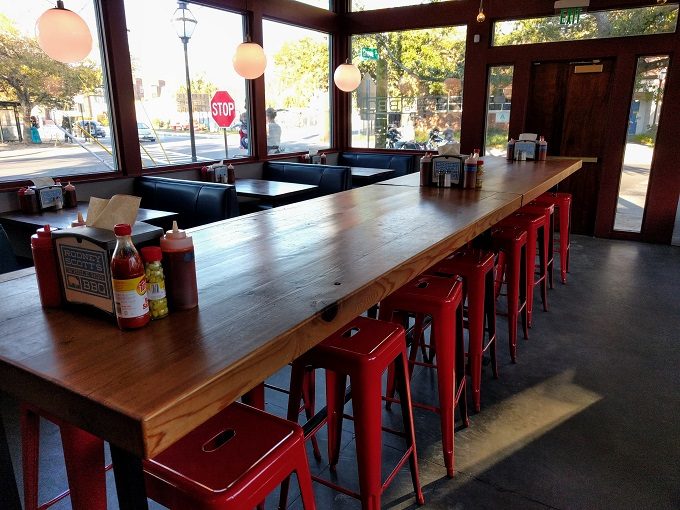 Seeing as the weather in South Carolina is good for much of the year, there's also plenty of outdoor seating.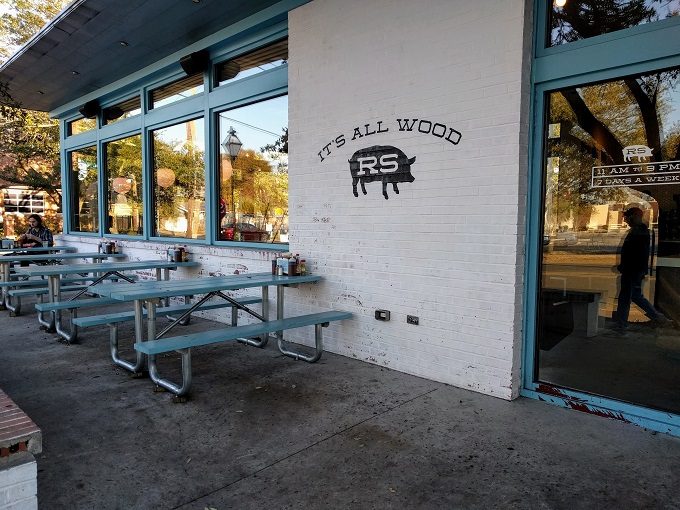 Within a couple of minutes our meals were brought out. Despite ordering a plate rather than a sandwich, my meal also came with a couple of slices of bread.
Everything was amazing. The BBQ was tender and flavorful, plus it was a larger serving than I was expecting. The collard greens were the best I've ever had and had been cooked with some of the BBQ meat. My potato salad was also delicious – it didn't have as much sauce as store-bought potato salad, but had great flavor nonetheless.
Shae's ribeye steak sandwich came out at the same time: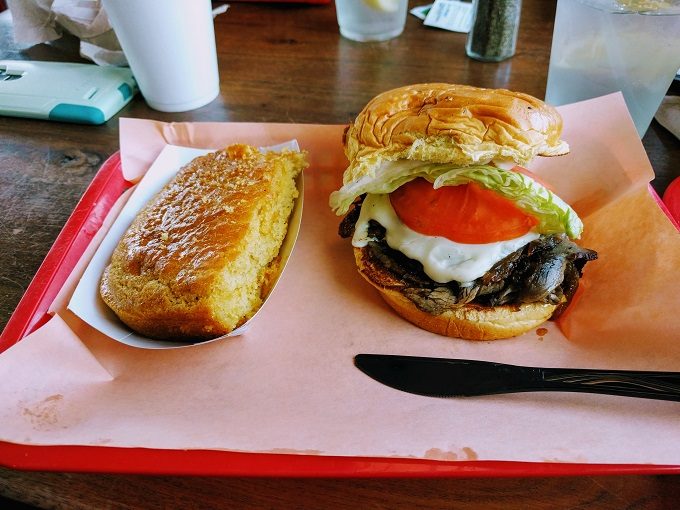 I asked Shae what she thought of her sandwich – her verdict was:
So decadent, so delicious, just the right amount of cheese and moisture to be succulent and delicious. The cornbread was also very good – the right mix of sweetness and moisture.
Each table has a few sauces. The main two are their own sauces – Rodney's Sauce and The Other Sauce. Rodney's Sauce wasn't very thick and had some spice to it. I actually preferred The Other Sauce which was a thicker sauce and also had some spiciness.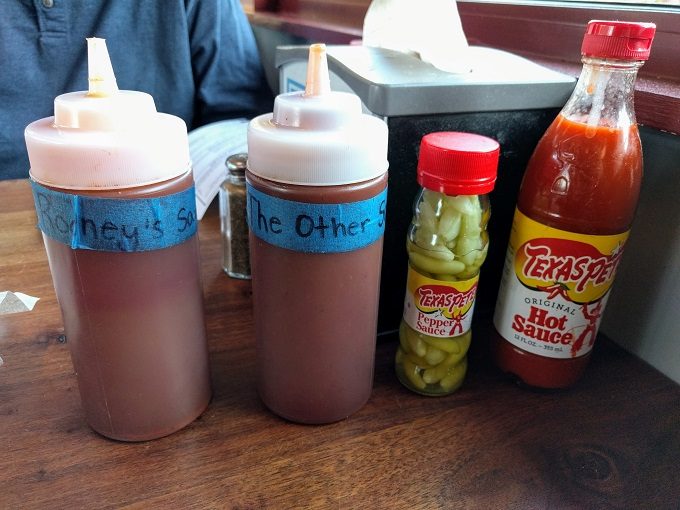 Rodney Scott's BBQ only offers one dessert – banana pudding. I hadn't ordered it originally, but our friends treated us to some.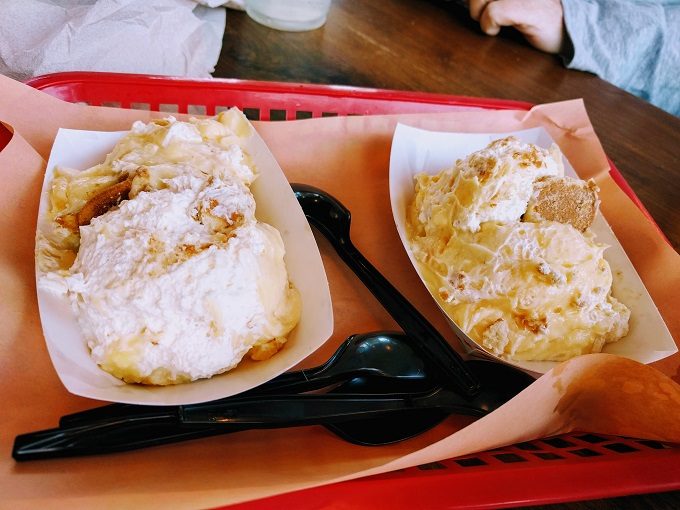 Their banana pudding was also good. It wasn't as blow-you-away amazing as their BBQ, but it was a great way to end the meal.
Final Thoughts
You need Rodney Scott's BBQ in your life. After our meal, I updated our Facebook page to say that their food would haunt our dreams.
I haven't ended up dreaming about their food, unless you include all the daydreaming I've done about hopefully going back there in the future.
The hardest part would be knowing what to get. The whole hog BBQ was excellent, but their chicken, ribs and steak all sound good as well. I guess I'd need to practice some extreme eating ahead of time.
Our Rating
Food = 4.9 / 5
Price = 4.6 / 5
Atmosphere = 4.6 / 5
Decor = 4.6 / 5
Service = 4.7 / 5
Total = 4.68 / 5
Address
Rodney Scott's BBQ, 1011 King Street, Charleston, South Carolina 29403