"I love your dog!"
Shae and I were walking Truffles down Market St in Charleston SC when we heard someone shout this from nearby.
Looking to our right, we saw a lady run out the door of Byrd's Cookies. Truffles loves attention, so she immediately wanted to meet this excited-sounding stranger.
Once Truffles had got some loving, Heidi (the excited-sounding stranger) offered Shae and I a free cookie from her table out front of their store.
The scotch oatmeal cookie was delicious – like a non-ginger ginger snap – and even Shae loved it (she's not a big oatmeal cookie fan).
Heidi mentioned that Truffles was welcome to go inside the store to get a free dog biscuit and that they had other cookie samples for us humans. Never one to turn down free food – especially cookies – we went inside.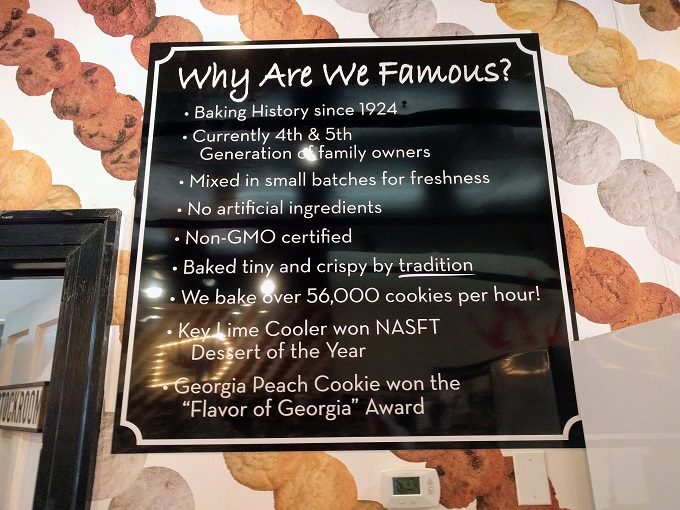 After Truffles had her own treat, we checked out their different flavors which were a mix of savory and sweet: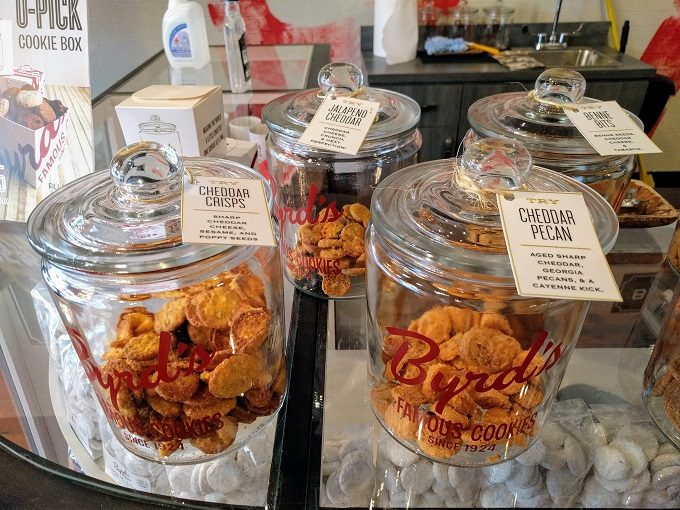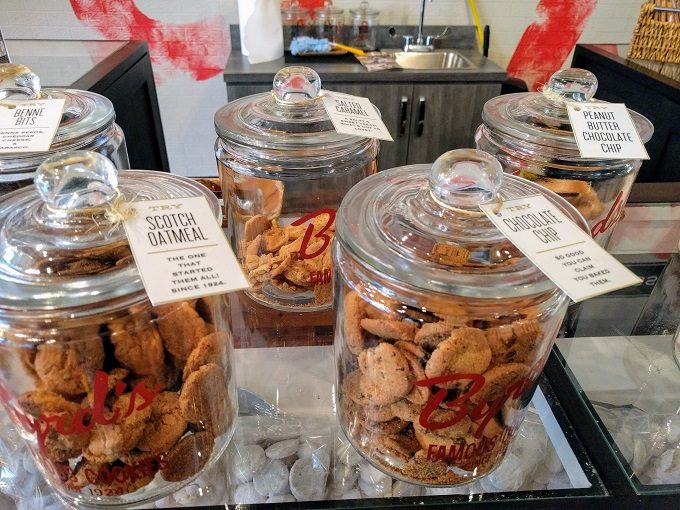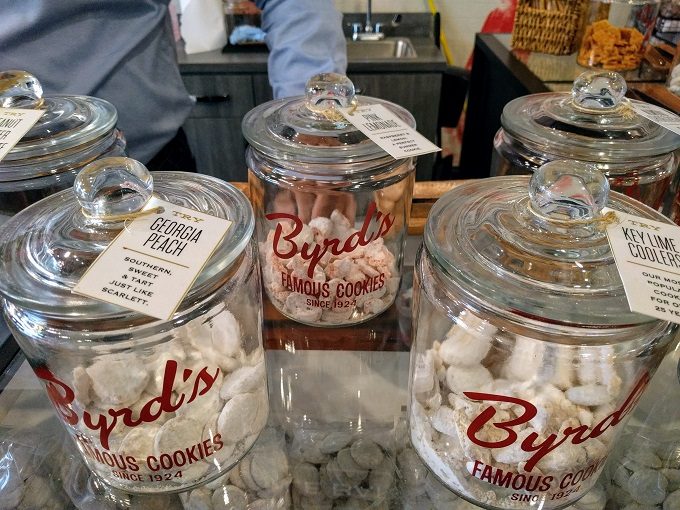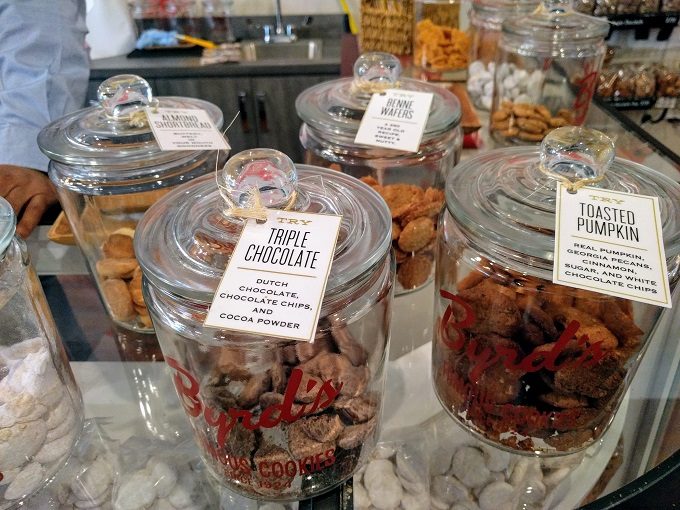 I say "we" checked out. I took responsibility for the extreme hardship of taste-testing as Shae was off exploring the store with Truffles.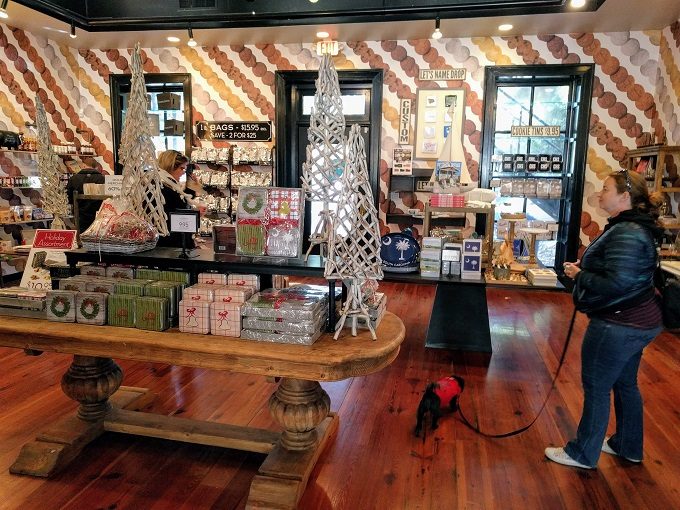 A Georgia peach cookie was the first one I tried. I'm not much of a peach-flavor person and was dubious about how it'd be as a cookie flavor, but it was phenomenal. Just as nice was the pink lemonade flavor, with the salted caramel and chocolate chip flavors also being tasty.
By this point I was converted by the deliciousness of their cookies. They had large bags of the same flavors, but there were too many tasty ones for that to be affordable (or healthy!).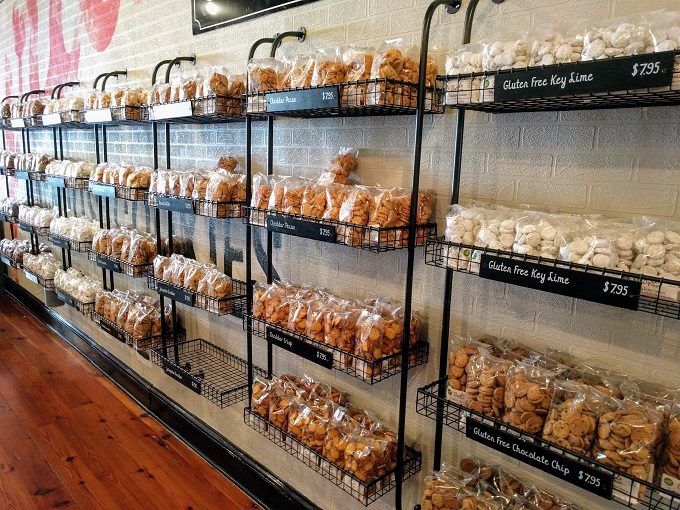 Thankfully they have smaller U-Pick cookie boxes that you can fill with any mixture of the sample-sized cookies. This cost $5.95 and a surprising number of small cookies fit inside it – I think I picked at least 35.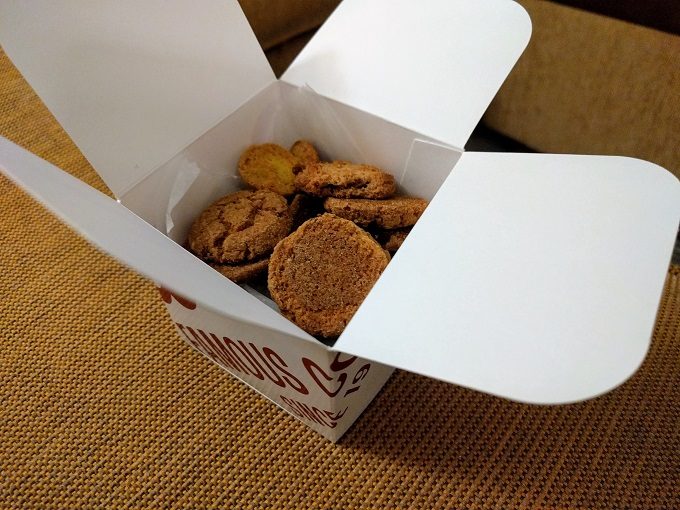 Shae was such a fan of the scotch oatmeal cookies, she got a bag of regular-sized ones for $3.75. Here's a photo of her regular-sized cookie vs my sample-sized (the white stuff on my one is powdered sugar from other cookies in my U-Pick box).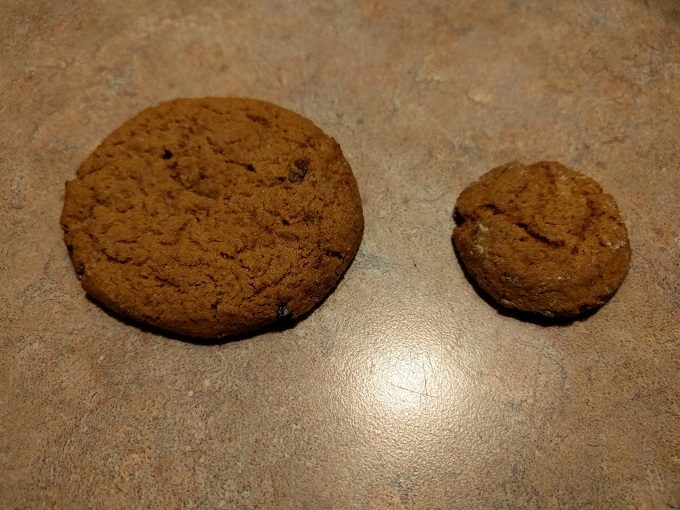 Truffles stopped for a quick photo-op with Heidi, Charlotte and the Byrd's Cookie jar before leaving.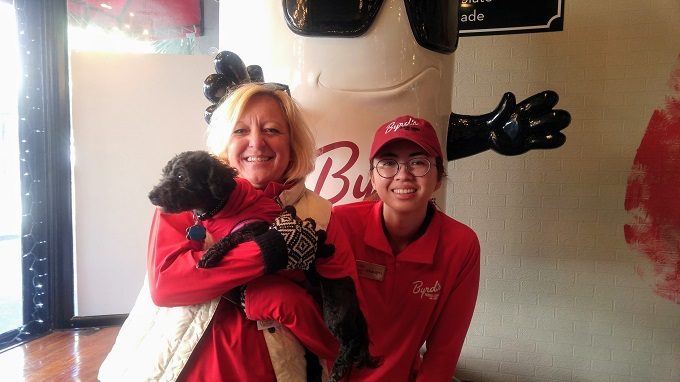 Sadly, our cookies were so good that they didn't last us very long. The good thing is that we'd visited Byrd's Cookies early on during our stop in Charleston. That meant we had time to swing by the store on our final day to grab some more cookies.
The store manager was working that day and he was incredibly friendly. He also became our new best friend when he mentioned that the Byrd's Cookies factory in Savannah GA offers tours and you get to try freshly-baked cookies.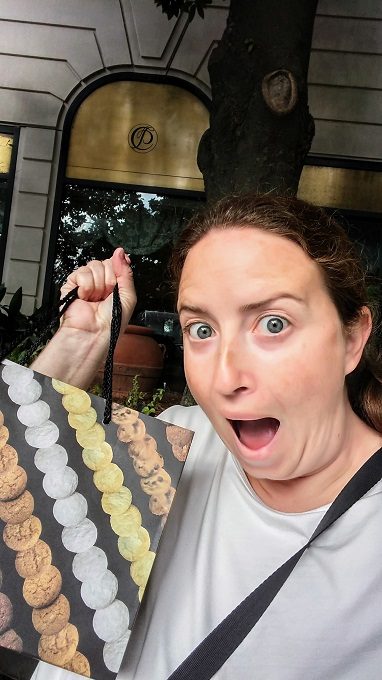 We're due to visit Savannah in a few weeks on our 50 state road trip, so we're hoping to hit up the factory while we're there. They have a 10 person requirement to go on a tour though, so we may have to miss out 🙁
Shae and I might just have to eat so many cookies that we constitute 10 people…