The second stop on our 5 year, 50 state road trip was the beautiful city of Charleston, SC. Many different people told us in advance that we'd love it there and they were right.
It had been snowing in Charleston a week or two before we arrived, but it was thankfully a little warmer by the time we arrived (although having the opportunity to take some snow-covered pictures would've been great too.)
There was so much to see and do in Charleston that we barely scratched the surface. This post is therefore more of a "things we did" rather than a "things to do" as we probably missed a ton of awesome stuff.
Free Things To Do In Charleston, SC
First up, we'll look at some free stuff to do in Charleston. One of our favorite days there was spent walking around the downtown historic district.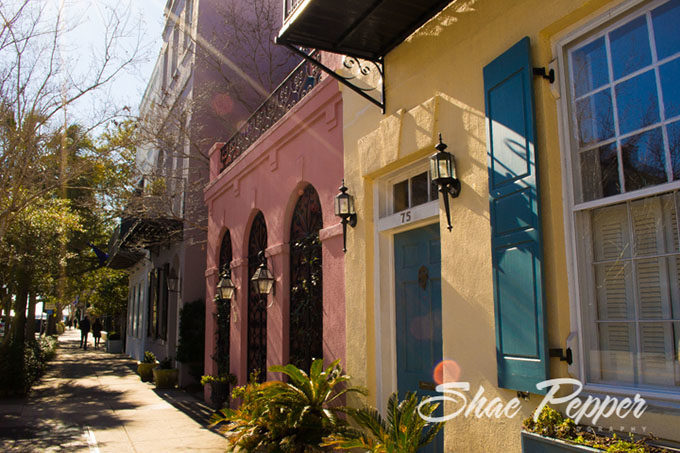 If you're into hot sauce, be sure to stop by Pepper Palace, also in the downtown area. They have the Wall of Flame Challenge which Shae and I both completed.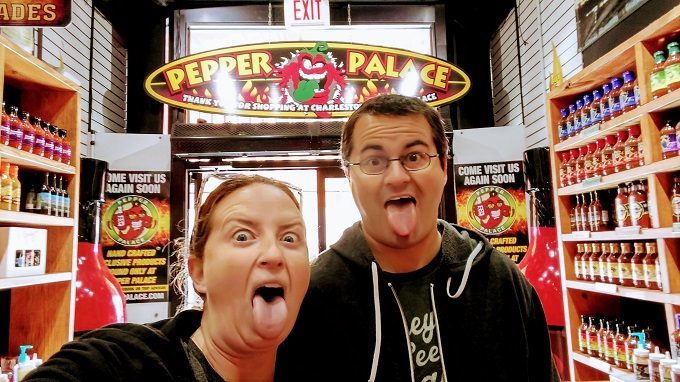 A 15 minute drive outside the downtown area is Charles Pinckney National Historic Site. Not only is it free to visit, but dogs are also allowed on the grounds and so Truffles was able to join us (dogs aren't allowed inside the house though.)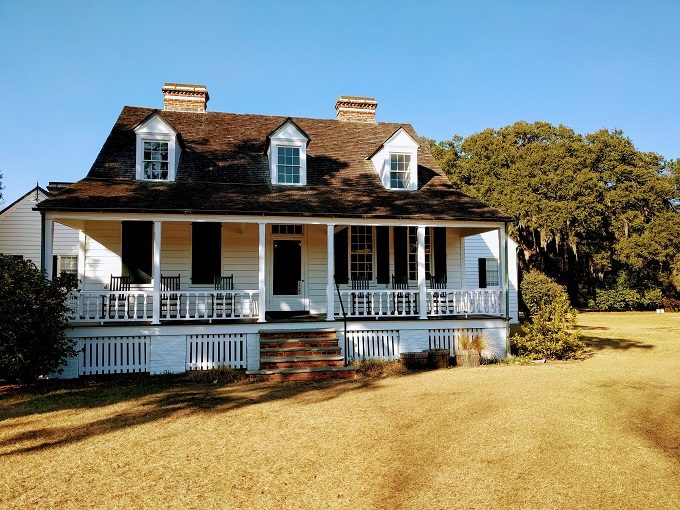 About 25 minutes outside of the downtown area is the Angel Oak Tree, found on Johns Island. At almost 67 feet tall and 400-500 years old, its impressive stature means it's definitely worth a visit.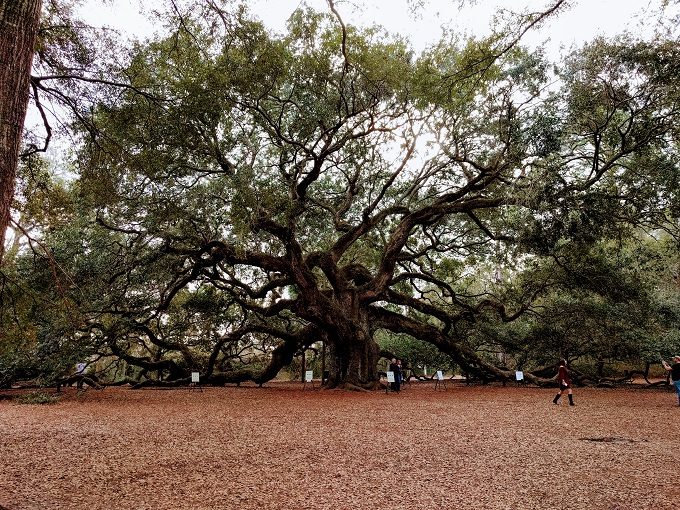 Something we appreciated about Charleston is that there seemed to be dog parks all over the place. Truffles got to meet all kinds of other pups, including Hank in the photo below who kept outrunning Truffles when I threw her ball – the dude was surprisingly speedy.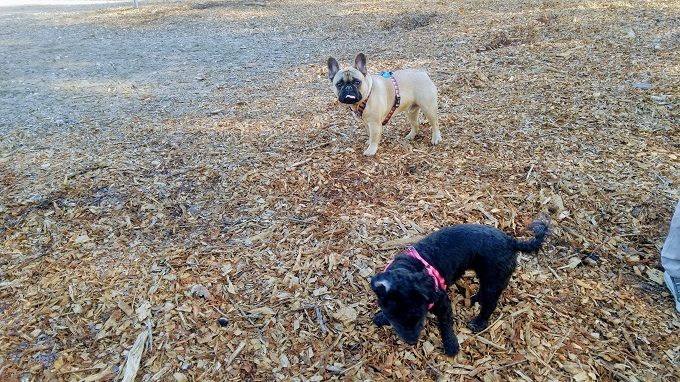 Non-Free Things To Do In Charleston, SC
One of the downsides to Charleston is that there's so much cool stuff to do and most of it's not free. We therefore had to keep in mind our $100 per day budget (which includes accommodation, food, gas, things to do, etc.) when deciding what to do.
We managed to complete a lot of activities on our "things to do" list though, largely thanks to Groupon. One of those activities was a horse & carriage tour with Carolina & Polo Carriage Company. This would've normally cost a total of $52 for two people, but the Groupon, an additional coupon and a discounted Groupon gift card meant it cost us less than $23.
The carriage tour was a lot of fun and a great way to learn some of the history of Charleston, South Carolina. You'll never know which route you'll be taking as the city randomizes each carriage route using a sort of bingo system. The carriage drivers therefore have to know a great deal about the city as they need to know the history of the area on each route.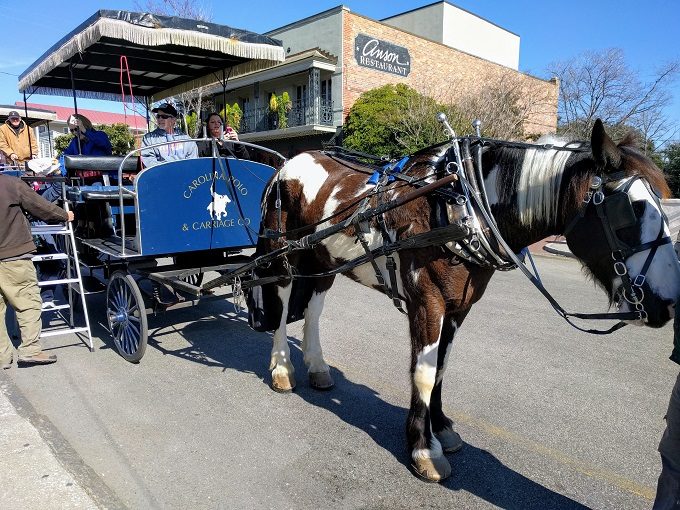 Another great opportunity to learn about Charleston's history is by going on a ghost walk. We booked our tour with Ashley On The Cooper as there was a Groupon for them.
This usually costs $40 for two people, but with the Groupon, an additional coupon and the discounted Groupon gift card, it cost less than $12 total.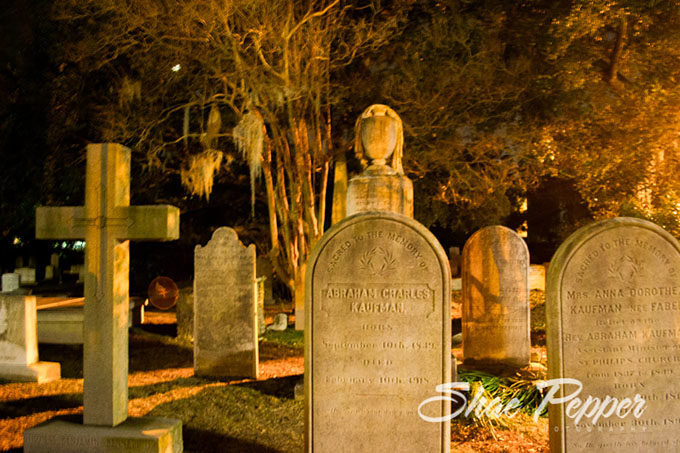 We had a couple of people recommend visiting the H. L. Hunley submarine, a submarine that was involved in the American Civil War.
This was even more interesting than we expected, but we unfortunately had to leave a few minutes before the tour ended as we'd made dinner plans with some friends. We'd recommend giving yourself at least two hours there – the tour lasts 45+ minutes and there's a fairly large exhibition that's worth taking at least an hour to go through.
This too was on Groupon, so the usual $32 cost for two adults was reduced to under $9.50 with the same discounts listed above.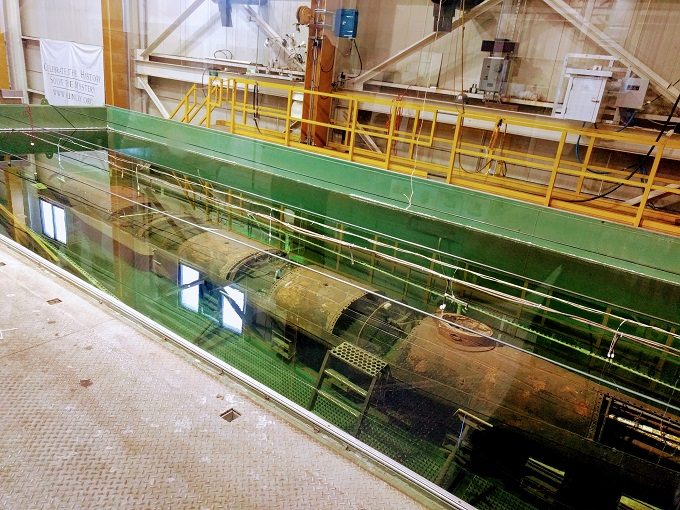 Another Groupon got us reduced price tickets into Magnolia Plantation & Gardens. Unfortunately the time of year meant there wasn't much to see, so be sure to visit in spring, summer or fall, rather than winter like we did.
One of the places we weren't able to get discounted tickets to was the Old Slave Mart Museum. The $8 per adult entry fee was worth it though as we were able to learn about the slave trade that was conducted in that very building back in the 1800s.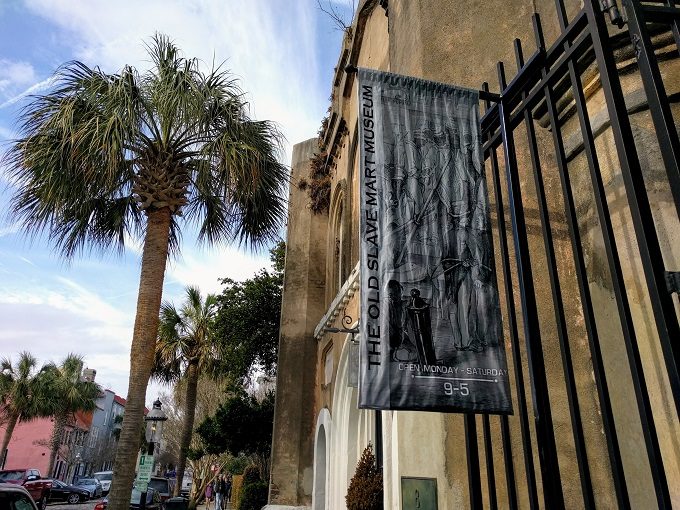 We also spent an afternoon visiting Fort Sumter National Monument. Although it's free to visit in theory, you have to take a boat to the island which costs $22 per person (unless you have your own boat or kayak.)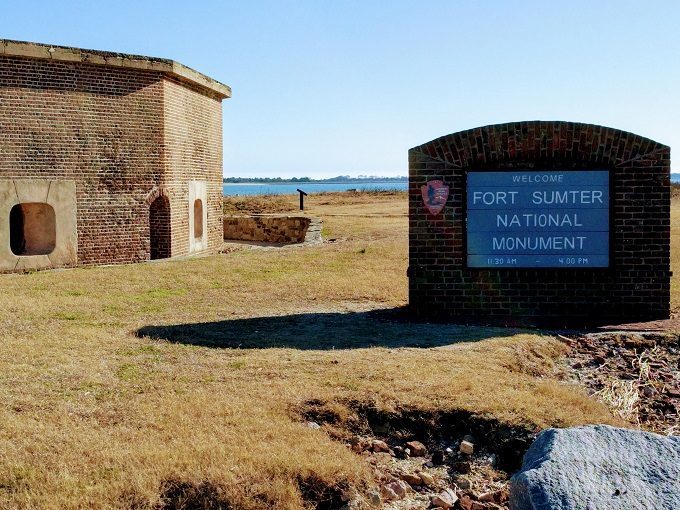 Seeing as we were visiting in January, we also decided to take part in the Shrimp & Grits 5K.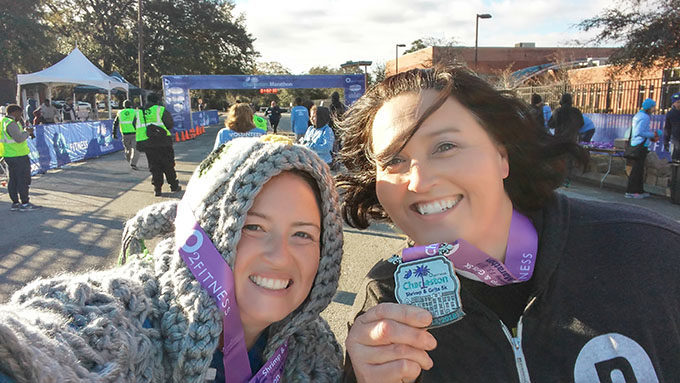 Places To Eat & Drink In Charleston, SC
Somewhere we enjoyed so much we visited them twice was Byrd's Cookies. Although they're free to visit, you'll want to buy their cookies which is why they're not in the free section 😉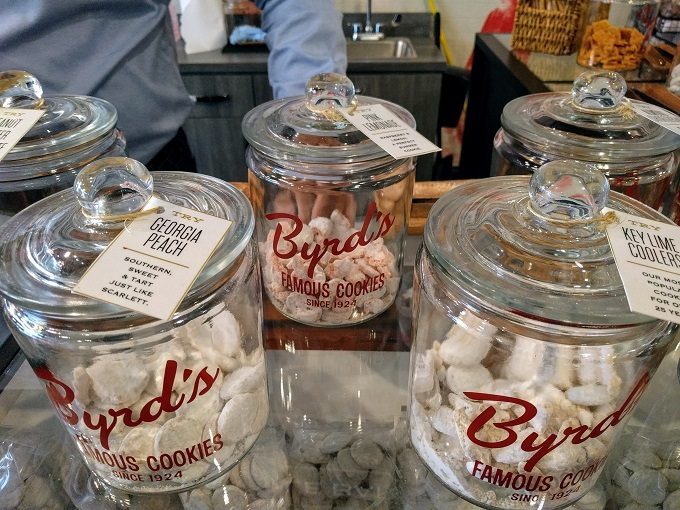 My favorite place that we ate at though was Rodney Scott's BBQ. My plate of whole hog BBQ was amazing and it's somewhere we'd love to return to.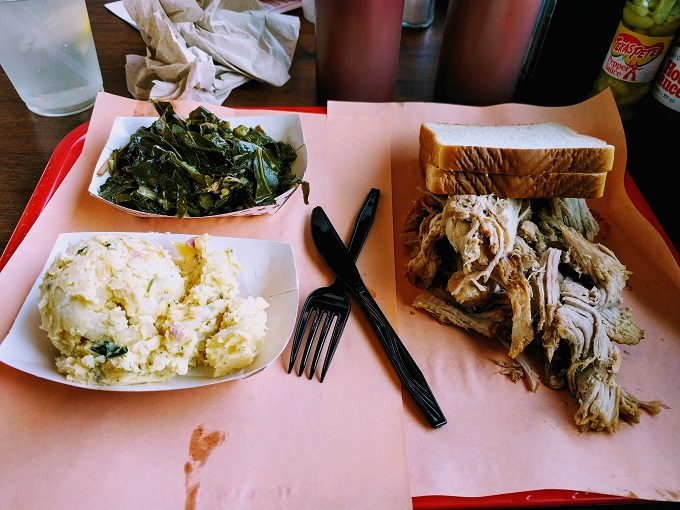 Another great meal we had was at Lost Dog Cafe at Folly Beach. Not only was the food delicious, but the entire restaurant is covered with photos of customers' dogs.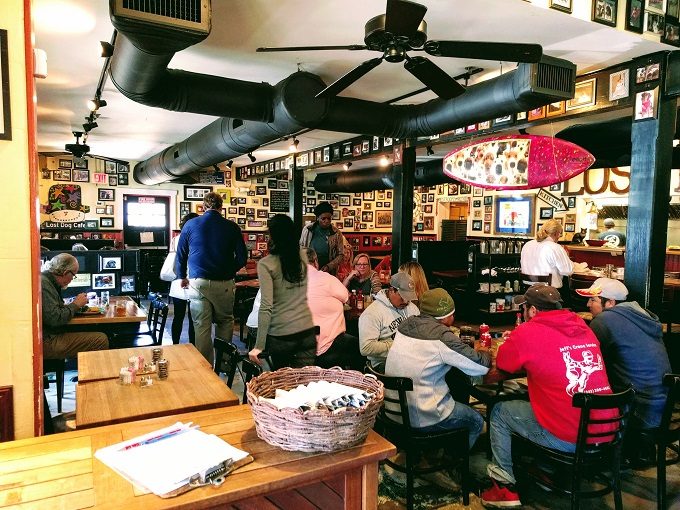 We stopped for a drink at a couple of places. The most visually stunning of these was 5Church, a bar and restaurant in a converted church.
The focal point is above your head as the whole of Sun Tzu's The Art Of War is handwritten on the ceiling.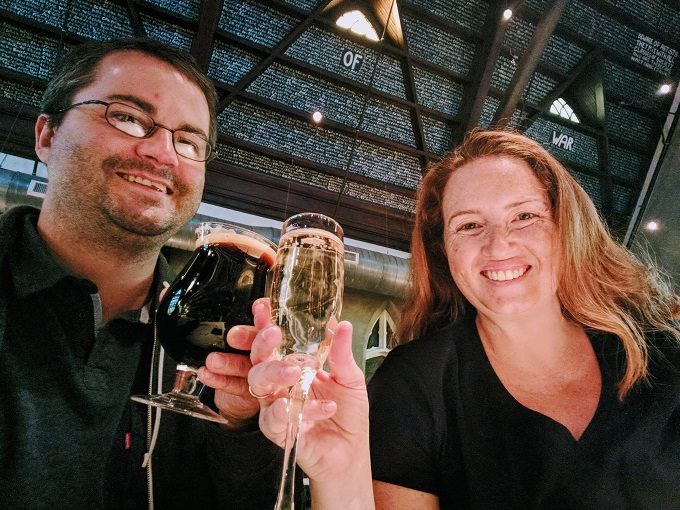 We also stopped in at Tommy Condon's for a couple of drinks with our friends after the ghost walk. It's an Irish pub and they had an incredibly entertaining and funny live musician who created a great atmosphere.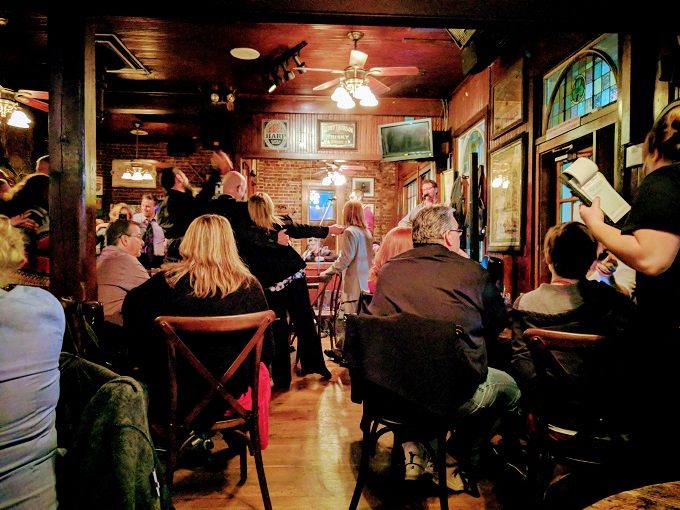 Earlier that night we'd gotten dessert at Peace Pies. These are unique ice cream sandwiches as they have a layer of pie filling in them.
I ordered the apple pie & salted caramel ice cream sandwich which I really enjoyed, although the ice cream tasted more like vanilla than salted caramel. Shae got the triple chocolate brownie which she wasn't a big fan of (I finished hers and liked it more than she did.)
The same thing happened with our friends – one didn't care for theirs while the other did, so I guess there's a 50-50 chance of you liking it if you get one!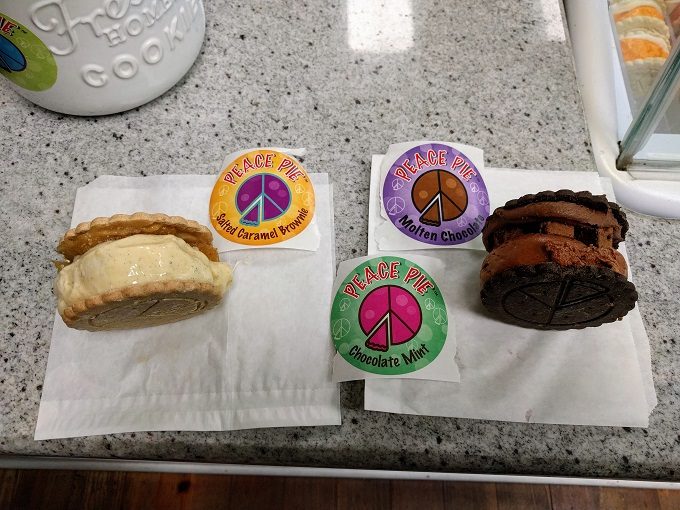 A meal and dessert we did both enjoy was a Big Billy's Burger Joint. Fried pickle chips, bison burgers and a thin mint milkshake with alcohol made it a great meal.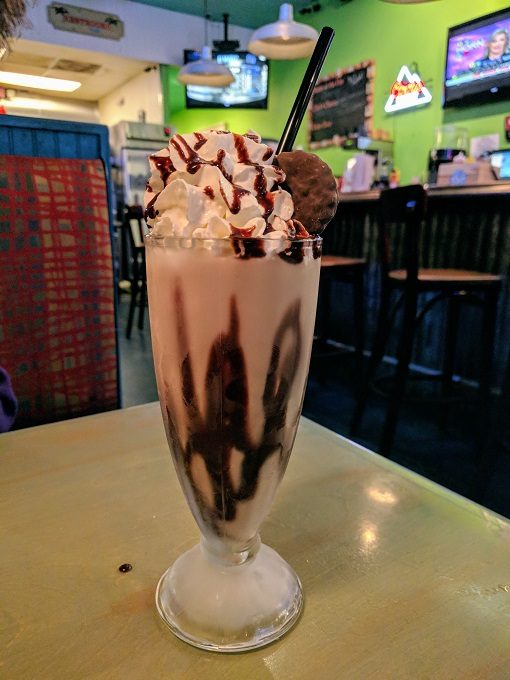 Our most disappointing meal was when we ate at Jestine's Kitchen. A couple of people had suggested we eat there, but both Shae and I found our meals to be mediocre, so we'd both recommend giving it a miss.
Their cornbread was dry, my pecan fried whiting wasn't very flavorful, the fries were greasy and overcooked and they have a vinegar-based coleslaw. Shae's fried oysters and mac & cheese were good, but her okra wasn't and she didn't enjoy the cornbread either.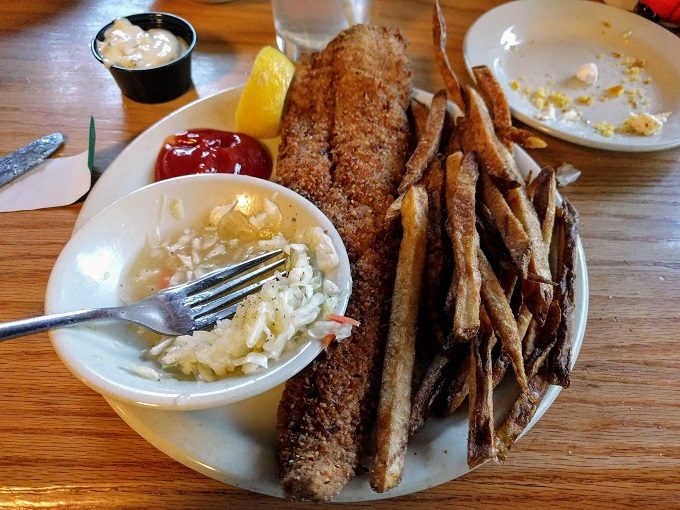 Where To Stay In Charleston, SC
Our first five nights in Charleston were spent at the Hyatt Place Charleston Airport/Convention Center. This was a decent hotel that's only a 15 minute drive from downtown Charleston.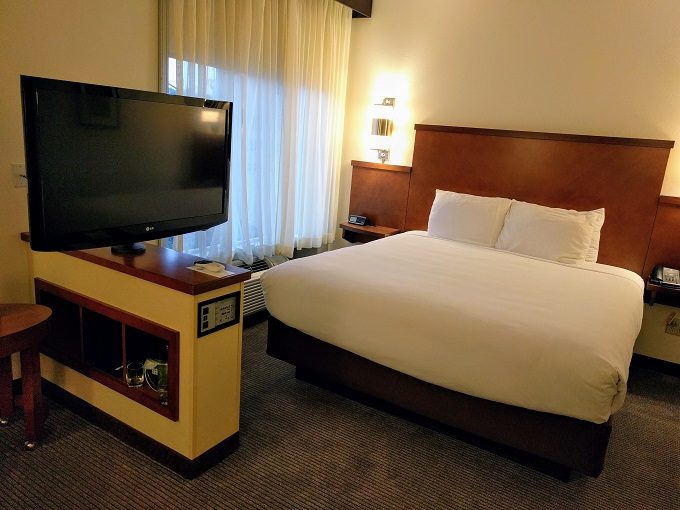 Our next six nights were spent at an Airbnb round the corner from Rodney Scott's. The host Stewart was wonderful and the home was beautiful.
Question
Although we managed to fit in a lot of stuff in our 11 days in Charleston, South Carolina, what other things would you recommend? Any places to visit that we missed? Restaurants that everyone should eat at?
Let us know in the comments below.