New tattoos were the reason we found ourselves in Roanoke VA the other weekend. Shae and her mom both wanted to get some new ink and so we headed back to the tattoo studio where Shae got her first tattoo earlier this year.
The weekend started off badly, but we managed to find a lot of fun along the way. Here's everything we got up to…
Hotels
Most hotels that weekend were either fully booked or prohibitively expensive. That's because Clemson were playing at Virginia Tech, so there were loads of people in the area for that game.
There was a decently-priced Econo Lodge which seemed to have good reviews on Hotels.com and Trip Advisor, so we decided to risk it and booked two nights there.
Rookie mistake.
First bad sign – the hotel seemed to be in a shady neighborhood.
Second bad sign – there was a cop car in the parking lot when we arrived, with the officer chatting to one of the other guests. By the time we'd checked in, a second cop car had arrived.
Third bad sign – a strong smoke smell in the room despite it being a no smoking room.
Fourth bad sign – a cockroach on the curtain.
By this stage, we were all a little skeezed out, so I tried to go online to see if there were any other hotels available that night we could use points for.
Fifth bad sign – the internet wasn't working properly.
Using my phone as a hotspot, I checked the Sheraton Roanoke. There was no availability for two nights in a row, but they did have a room for that night.
Sixth bad sign – while I was booking that, Truffles found some kind of crunchy, dry food on the carpet and ate it.
As soon as the Sheraton was booked, we left the Econo Lodge Roanoke.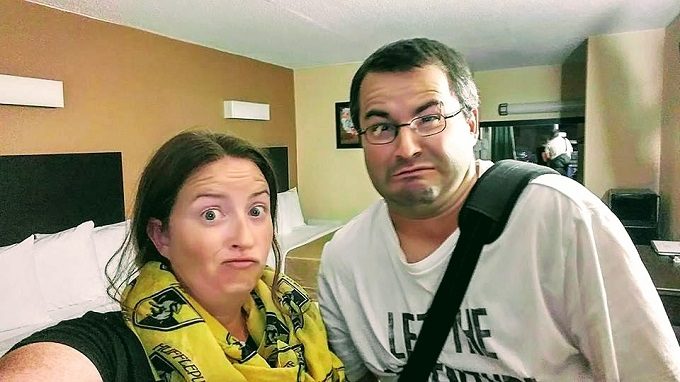 I mentioned earlier that hotels were busy for the Clemson – Virginia Tech game. Well, we'd managed to get pretty much the last room at the Sheraton as the entire Clemson team and many of their fans were staying there, so the hotel was swimming in orange.
Once we were in our room, I was able to make a separate reservation for the following night. In theory it was supposed to be a different room type, but they kindly let us stay in the same room.
We've reviewed the Sheraton Roanoke before, so there's not much to add. Seeing as the club lounge doesn't serve breakfast, they did give us free breakfast vouchers for both mornings this time, so that was an improvement on our last stay.
Hiking
Shae and her mom's tattoo appointment was at 2:30pm, so we decided to make the most of our morning by going for a hike.
As we were near the Blue Ridge mountains, there was no shortage of waterfalls within driving distance. After doing a bit of research online, we decided to visit Stiles Falls.
You can check out our review of our Stiles Falls hike here.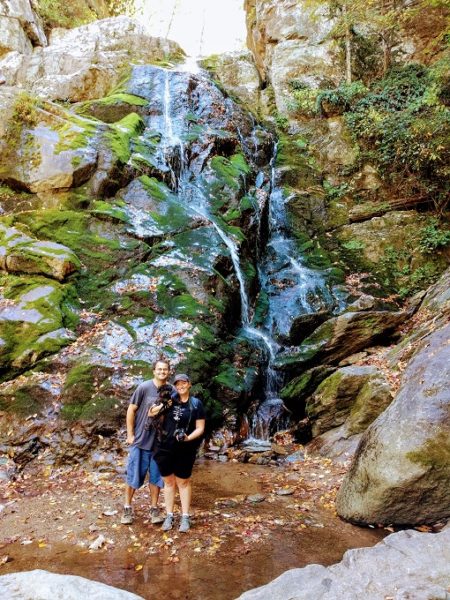 Tattoos
While Steve and I took a nap at the hotel, Shae and her mom went off to Electric Eye Custom Tattoos.
Although Shae got two tattoos earlier this year, the first one she'd originally wanted was a quote on her wrist.
One of her friends sketched the design and Monica at Electric Eye did a great job inking Shae's forearm.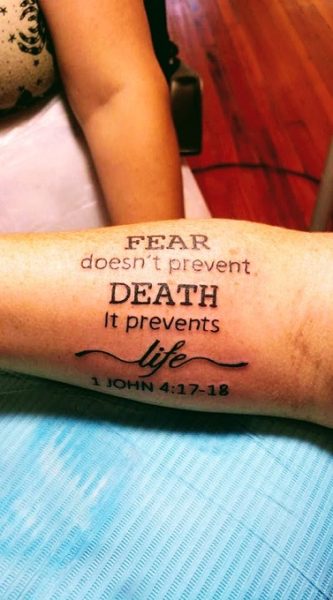 Here's what Shae said about it on Facebook:
So, this random quote came through on Facebook once. And it spoke to me so much that I decided right then I needed it as a tattoo on my body.

It was supposed to be my first one, but in the end it's my 3rd. It reminded me of a verse from The Message so I added the reference underneath to make the quote and experience more meaningful.

If you know of my struggle with anxiety and fear then you know how much I now love this.
One of Shae's friends is an excellent artist. Back in high school, she'd done a painting of a weedy seadragon that Shae's mom loved.
Her mom had gotten a wave tattoo a few years ago which didn't turn out as well as she'd hoped. She wanted to add a weedy seadragon next to the wave, but Monica was able to go one better. She covered the entire wave with the weedy seadragon so that she'd never have to look at it again.
Here are the before and after photos. And yes – the tattoos were on mom's foot. She's pretty hardcore.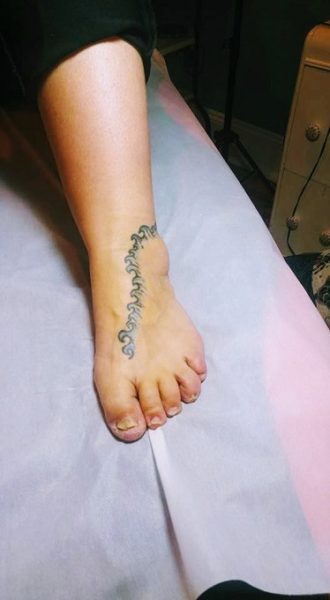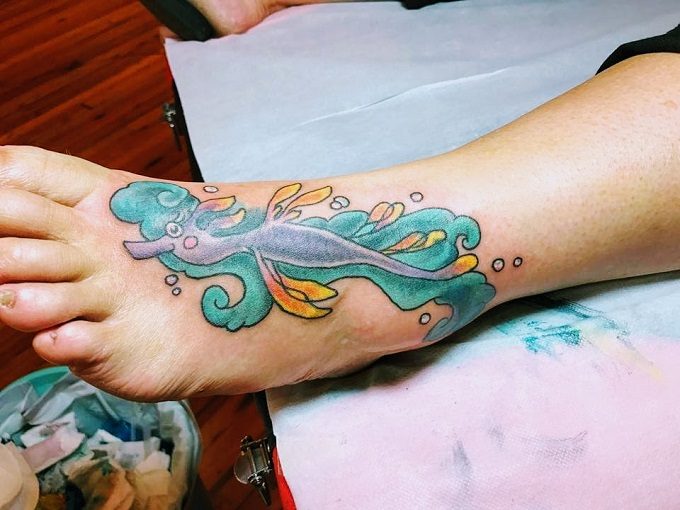 The Village Grill
While they were getting their tattoos, Shae tasked me with finding somewhere local to have dinner that wasn't part of a chain.
After a bit of Googling, I came across The Village Grill in Roanoke so we headed there that evening. Shae's part of Hogwarts Running Club (a running club for Harry Potter fans) and someone she knows from that group met us there for dinner.
Check out my full review of The Village Grill (spoiler alert: it was amazing) – here's a sneak peek of my enormous sandwich.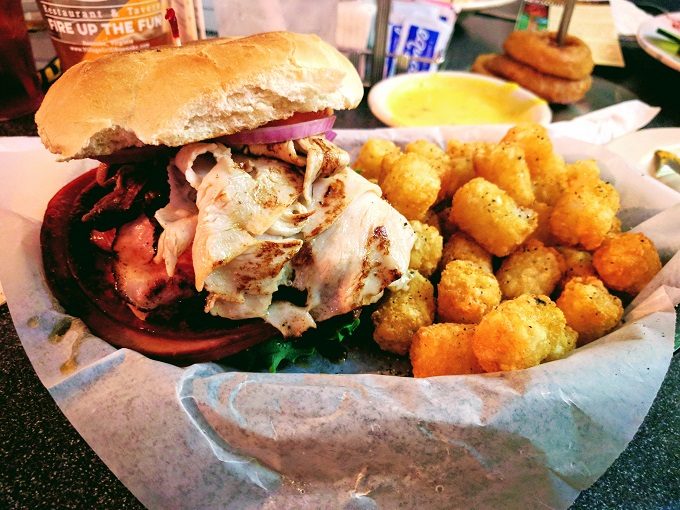 Black Dog Salvage
Shae's mom and stepdad have their own real estate company and love property shows. Roanoke's home to Black Dog Salvage who are apparently on a show called Salvage Dawgs, so they wanted to check it out on Sunday morning.
Funnily enough, that Sunday was National Black Dog Day (yep, apparently that's a thing) and we had Truffles with us.
So here's our black dog posing with other black dogs at Black Dog Salvage on National Black Dog Day. The only thing missing was Black Dog by Led Zeppelin blasting on the radio.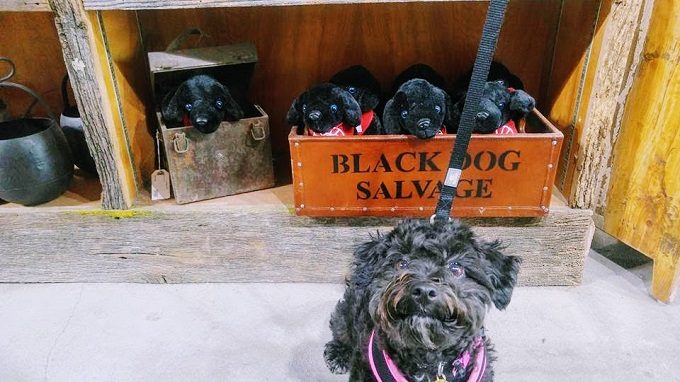 Benny Marconi's Pizza
We discovered Benny Marconi's pizza the last time we were in Roanoke. We wanted Shae's mom and stepdad to experience it, so we took them there for a delicious lunch.
I ordered the chicken and bacon ranch slice last time, but they were out of those toppings on this occasion. That wasn't a problem as it meant I got to try the sriracha sausage slice instead.
To give you an idea of how huge the pizza is, here's a slice next to a can of Sprite.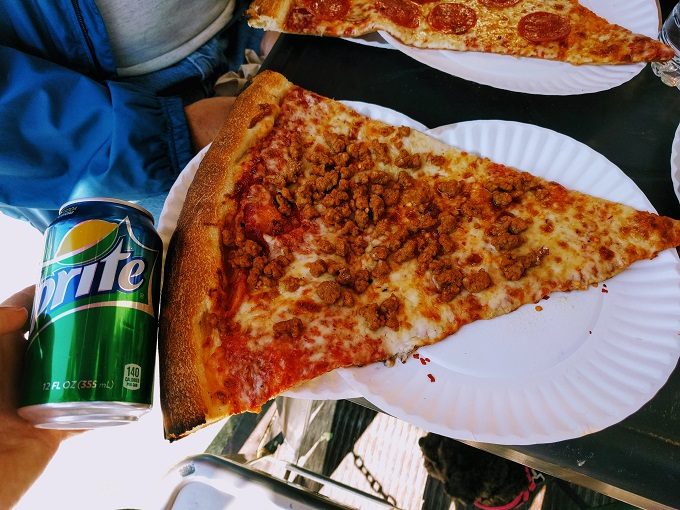 The Candy Store
Our final stop in Roanoke was The Candy Store which is located next to Center In The Square. It's full of all kinds of candy, including chocolate from overseas and tons of Pick 'N' Mix.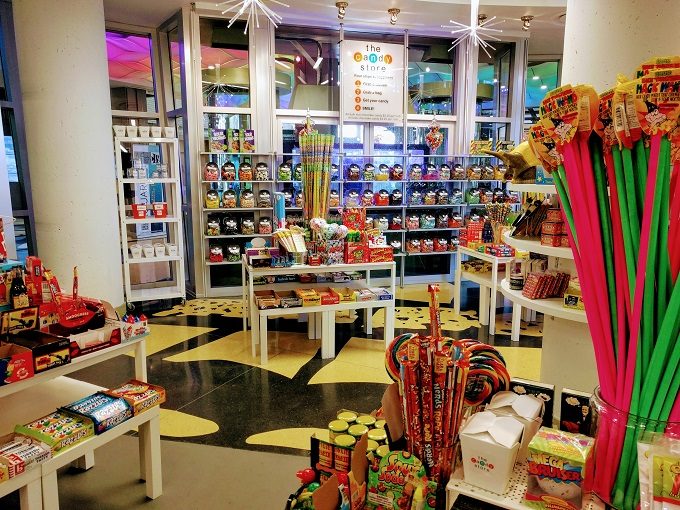 We each filled up bags with enough chocolate and gummi candy to keep a sugar buzz going for a few hours and hopped in the car to head home.
If you're planning a trip to Roanoke, here's everything else we've done there.