I'd like to preface this post with a note. We understand that there are conflicting opinions on koala cuddling, particularly in Australia.
Some states and territories don't allow koala holding at all, but you can pet them. Other areas still allow varying degrees of koala cuddles. We enjoy seeing animals all over the world, although our favorite places are where animals are wild or, if in captivity, seem to be well cared for by loving staff with large enclosures or open spaces for them to make their homes as natural as possible.
This was definitely the case at the Lone Pine Koala Sanctuary in Brisbane, Australia. Every animal appeared well cared for, the staff were happy, gentle and kind with each and every animal we saw them interact with (even the grumpus ones like the Tasmanian Devils) and they had a lot of fresh food, space and creature comforts.
No koala was hugged by the general public – only supported by their hands and body. From all that we saw in our four hours on site, it also appeared that no koala spent more than 12 minutes at a time with the general public, and less if they weren't feeling it.
If a koala didn't snuggle in for a picture, it was gently returned to its branch and another furry friend was brought in – even if it had only done a single picture. Koala care and well-being seemed to be the primary concern of every staff member we encountered, not 'getting the picture' and 'making the tourists happy.' We were thoroughly impressed with our experience and the treatment of each animal at the sanctuary.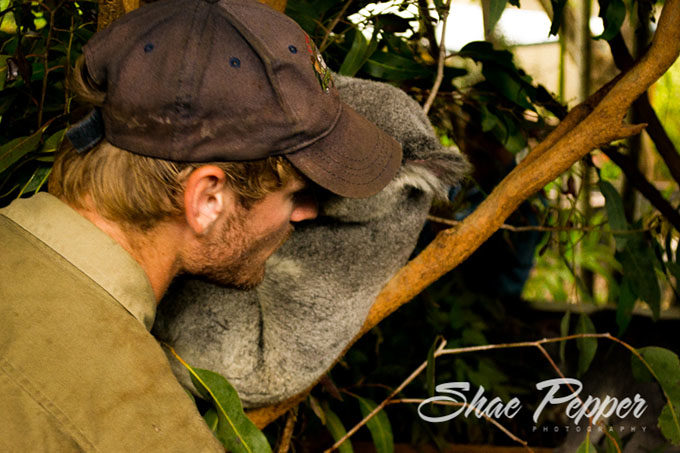 That being said – on to the animals!!
Once we'd purchased our entry fee, we tapped on a touchscreen map to show where we're from and made our way into the sanctuary. The Lone Pine Koala Sanctuary has been open since 1927. Once we walked through we were greeted by a pathway lined with mature trees, ferns and a lizard. I was so excited!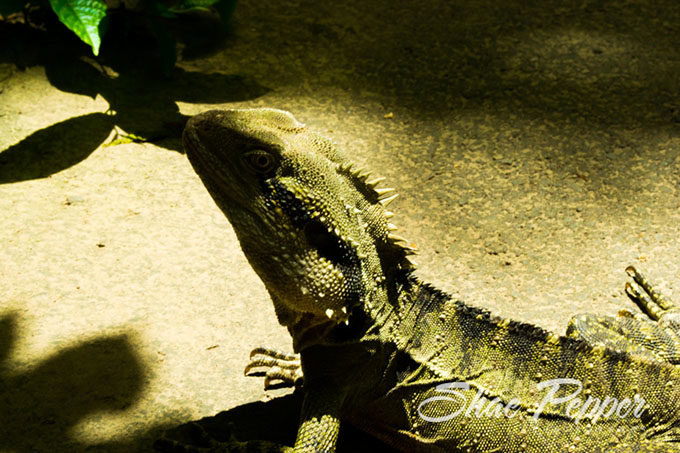 This lizard seemed to allow people to get very close. I couldn't believe my luck! I snapped and snapped. Then I walked ten more feet and there was another one and another and another. It turns out the bearded dragons roam freely throughout the sanctuary (and both the other zoos we visited here in Australia), so I had a lot of opportunities to capture their best sides.
Once you pass the Cockatoo that says 'Hello!', you turn a corner and there are your first koalas. I have no idea how many koalas they actually have at the sanctuary, but in most of the main areas you're surrounded by them. Some are just in general areas while others are in specialized habitats. There are koala habitats for certain new babies and their parents (the kindergarten), bachelors and retirees. But the best part is that no matter where you turn, there are koalas.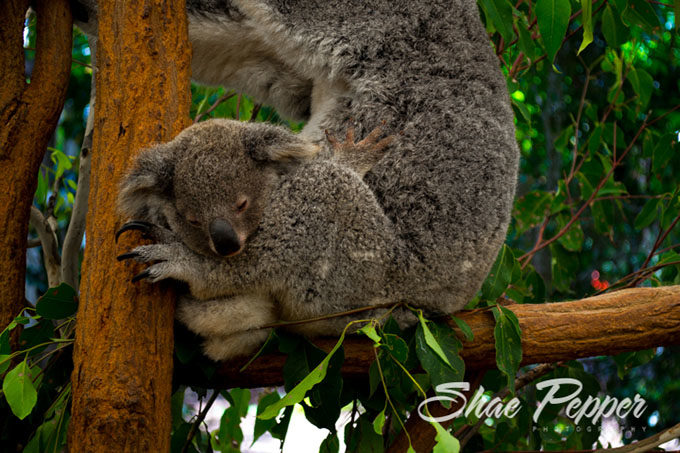 Koalas are available for pictures from 9am-2pm and then again from 3-4pm. Not knowing the process at the time, we wanted as fresh koalas as we could get and we didn't want to be sweaty from walking around in the heat. So as soon as we arrived, we went straight to get our pictures done. It was a lovely process. You prepped your phones and cameras, placed your items in the bins provided and waited in the shade for your turn.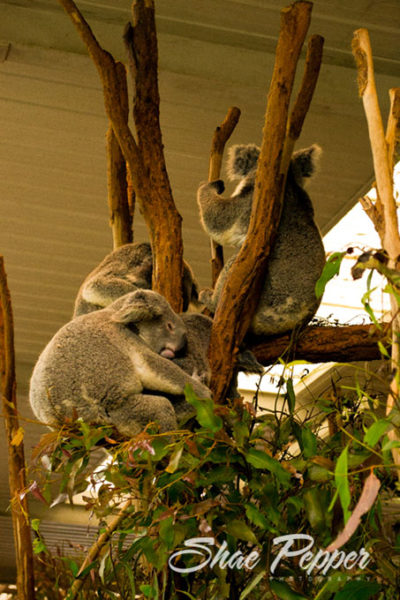 Once it was your turn, you placed your hands together near your hip/just under your tummy. The koalas are leaned toward you while you stand still; they then snuggle you and place their paws on your arms. If they don't latch on safely, they're offered a snack and if they still aren't feeling it they're taken right back to their branch.
The Lone Pine Koala Sanctuary team quickly takes a great photo and you can focus on a little snuggle. I was a little sad since my family members got much more time with the koalas than I did, but that did mean I was able to capture a lot of pictures of them having a blast. The koalas are gently lifted back to their keepers and you head off to collect your photo in approximately 20 minutes.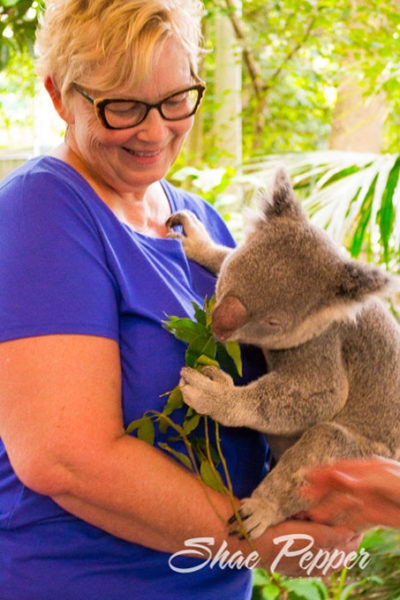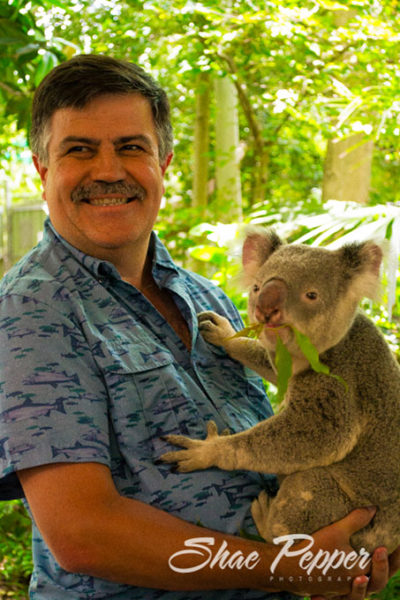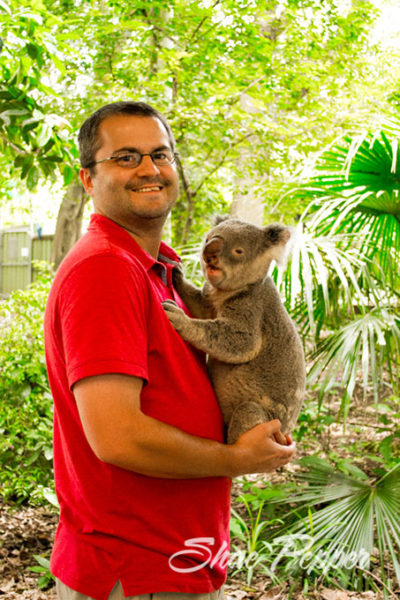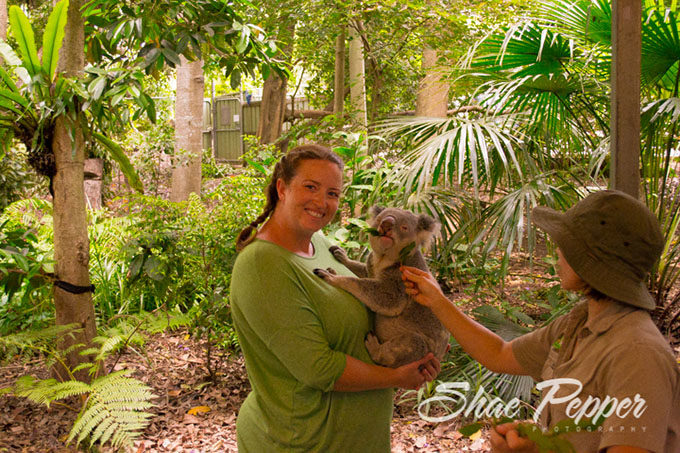 Besides koalas, there are kangaroos, echidnas, emus and Tasmanian devils. Well, there were more than these but they were my highlights.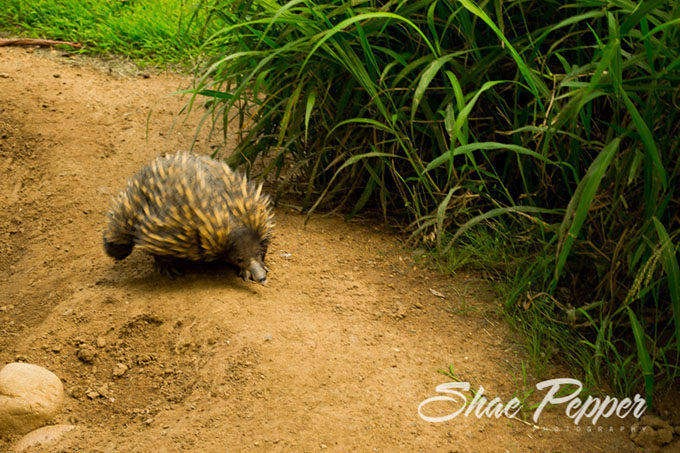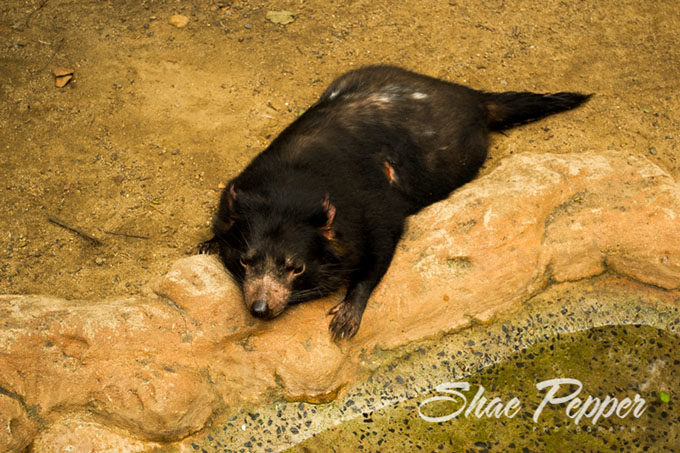 One fun part of the visit was getting a bit of 'roo food to feed the kangaroos. Most of the kangaroos were in the shade having a rest in the Kangaroo Rest Area.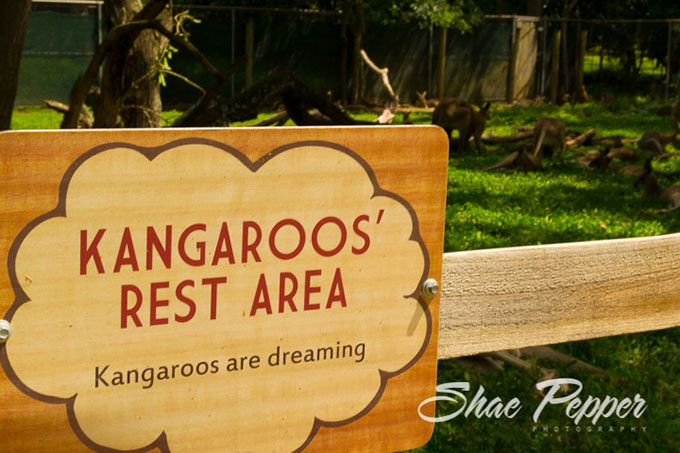 It was great seeing a place where they could rest and be 'off display' from the public. All of the roos that were out were well fed and were having a lot of pets and pats.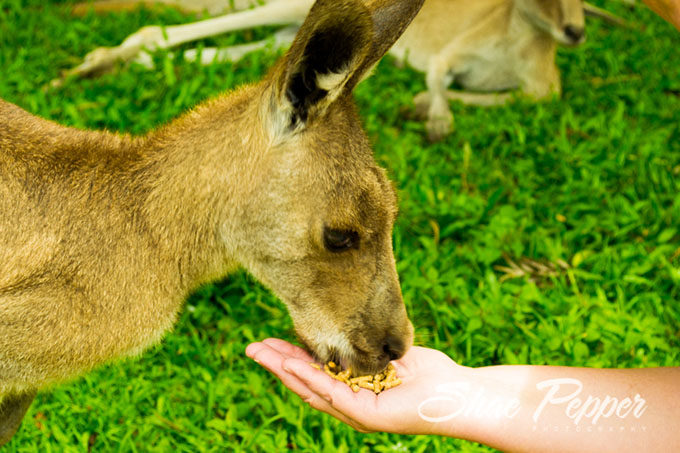 Two of my favorite kangaroos were all about the food and maximizing its intake with all the laziness. One got ahold of a little boy's bag and was just laying there with his head straight in the 'roo food bag munching away.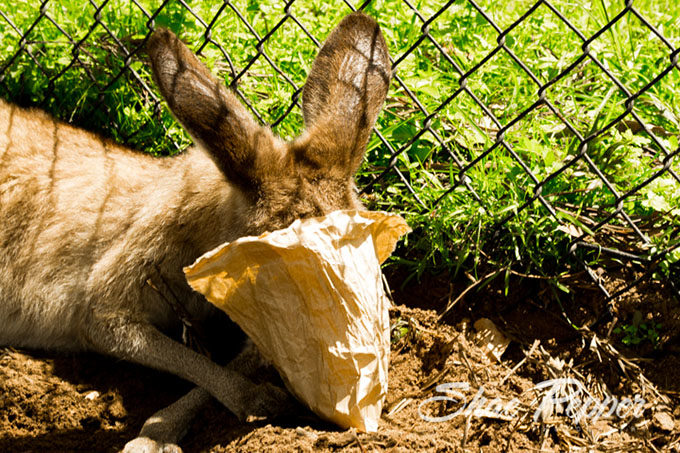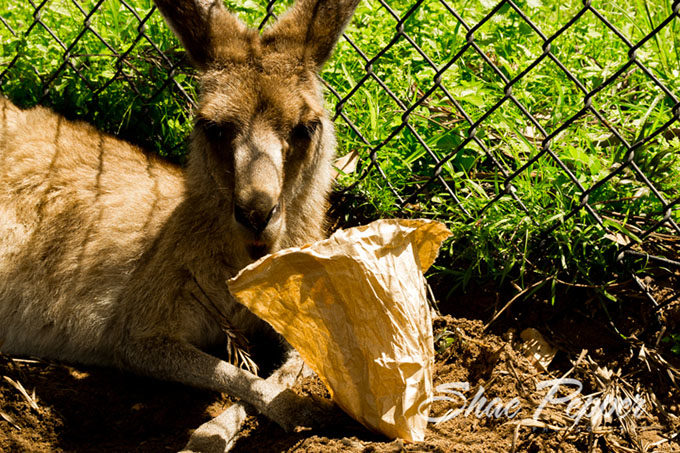 The other was laying with his eyes closed on his side, but if you brought food to his mouth he'd snack on it straight from your hand without raising his head or opening his eyes. Maximum relaxation and snack consumption? They may be my new spirit animals.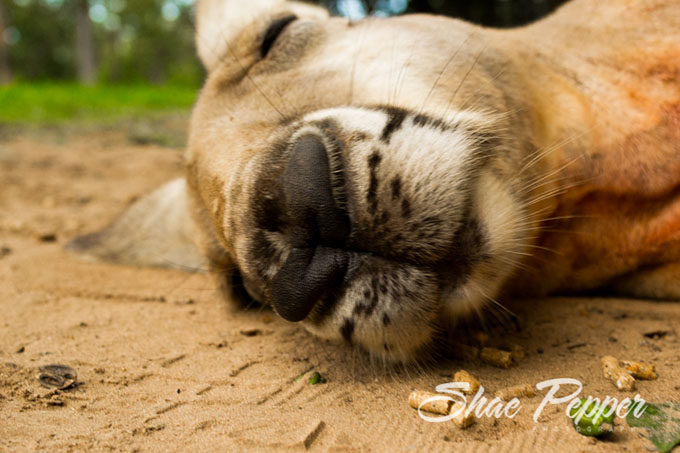 One feature of the Lone Pine Koala Sanctuary that I loved was that the lunch area was surrounded with koalas. That meant you're able to eat in the midst of koalas who are sleeping, snuggling, snacking and coming and going for their close-up at the cuddle area. There were so many fun things to watch on each new branch and so many great photos to try and capture. It's possible I took over 800 pictures at the Lone Pine Koala Sanctuary.
We had a wonderful visit. Another nice touch was something we overheard as we were leaving. Guests that were arriving with only 1.5 hours left of the sanctuary being open were advised 'this is when the pictures end and there's a lot more to see, so we recommend you come back tomorrow if you'd like more time.'
This was a really proactive approach to customer service. It seems that right behind animal care is customer care. I would've been pretty upset if I'd paid to enter, somehow missed getting a koala picture and was forced to see all that we did in our 4-5 hours in just one. By suggesting that guests return when they have more time, it showed concern for their experience as well as their wallet.
You could EASILY make a full day out of the Lone Pine Koala Sanctuary. There are so many animals to see, relaxing places to sit (and write if you're a blogger like us!) and a really nice atmosphere. It was well worth the price, not only for the entrance fee, but for the koala photos as well. The entry ticket was $36 AUD (~$27.50 USD) and the koala holding was $20 AUD (~$15.25)
Just as a reminder, we don't write sponsored posts. The Lone Pine Koala Sanctuary had no idea that we were coming to visit or to review them. We paid our own money and had a fantastic experience. We'd HIGHLY recommend making it a part of your visit, not only to Brisbane, but to the East Coast of Australia in general.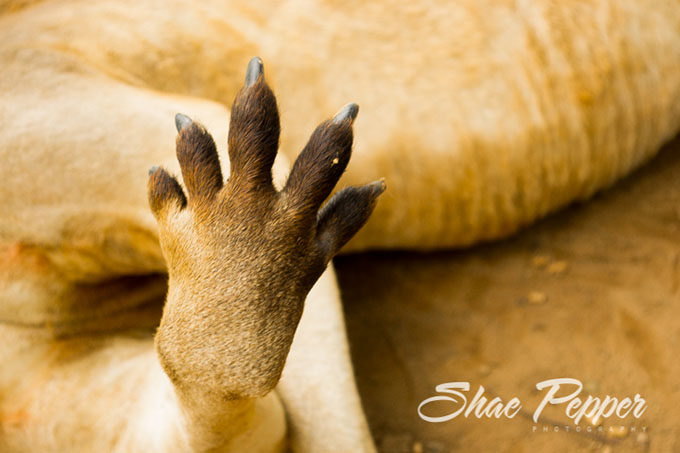 Follow Our Entire Trip Down Under
Be sure to also check out all our other posts from our trip to New Zealand and Australia:
Cuddled By Koalas At Lone Pine Koala Sanctuary