On the morning of our last full day in Ireland, Shae was up early and wandered Dublin's streets to get some good photos. Round the corner from our Airbnb, she spotted Stage Door Cafe which boasted a sign saying 'Dublin's Best Breakfast.'
We hadn't decided on where to have breakfast prior to that, but when Shae told us about it, our minds were made up. How could we miss out on having Dublin's best breakfast?!
Another of our friends flew over from England to visit us while we were in Dublin, so her and her son had breakfast here the following day too. So this review of Stage Door Cafe is in two parts – one by us carnivores and one by a herbivore 😉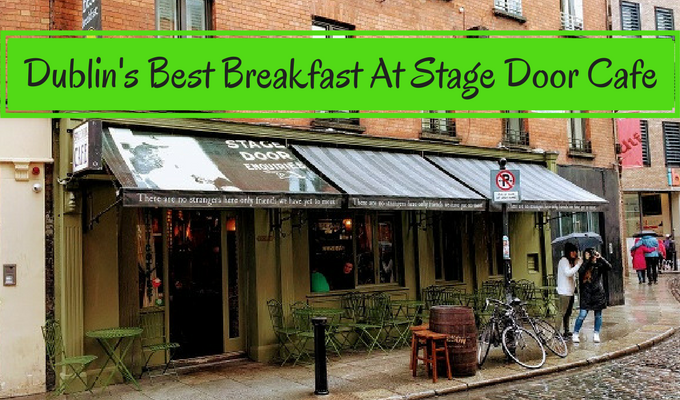 The Carnivore Experience
The cafe was fairly cozy inside, with less than a dozen tables. The owner Alan greeted us and another guy who walked in at the same time and seated us at adjacent tables.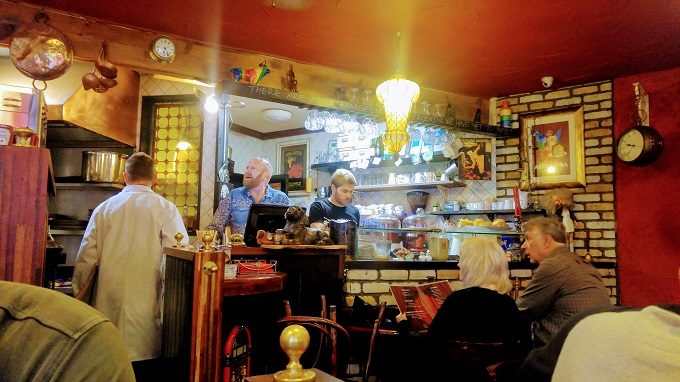 I have to say, Alan was amazing. He was friendly, warm and incredibly funny. He cheered when Megan and Mark ordered Irish coffees and Shae ordered a Bailey's hot chocolate and jeered when I only ordered a pot of tea. Shae and Megan were also called "Baby Cakes", "Sugar Hips" and more, yet he could get away with it without seeming at all offensive.
Despite only ordering a pot of tea, I gained his approval by ordering a full Irish breakfast, as did Mark and Megan.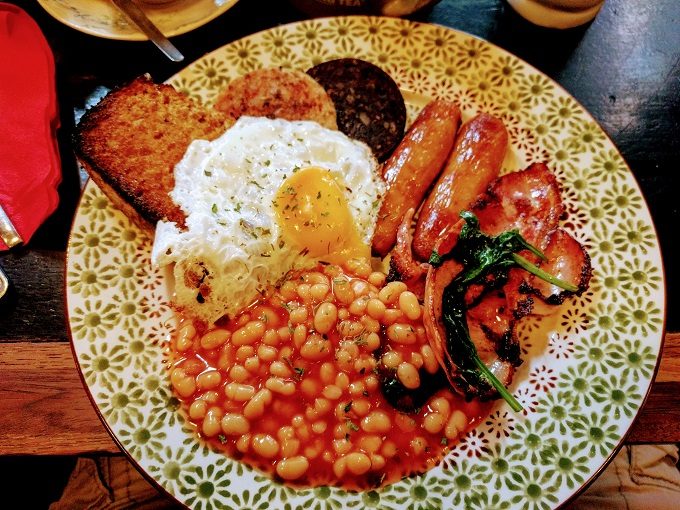 Shae was almost jeered for ordering tomato and mozzarella on toast, but just about gained Alan's favor by ordering some bacon to go with it.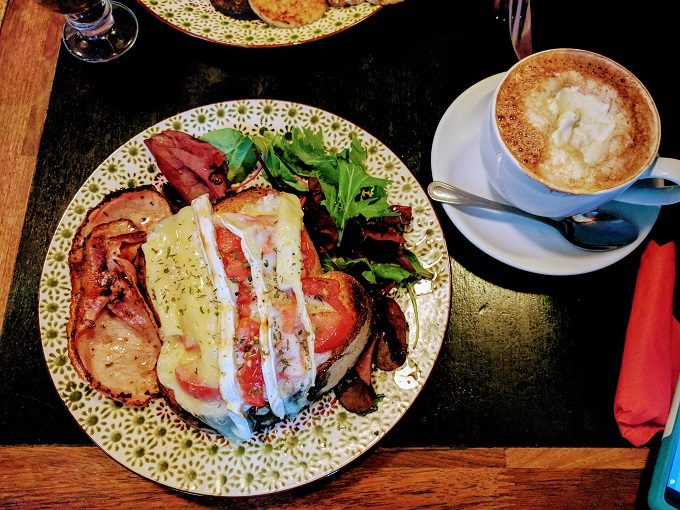 I didn't have any problem polishing off all my food, so that made Alan proud. Shae struggled with hers a little more as she didn't really feel like eating greens at breakfast. However, Alan warned her that she wouldn't get a lollipop if she didn't clear her plate, so…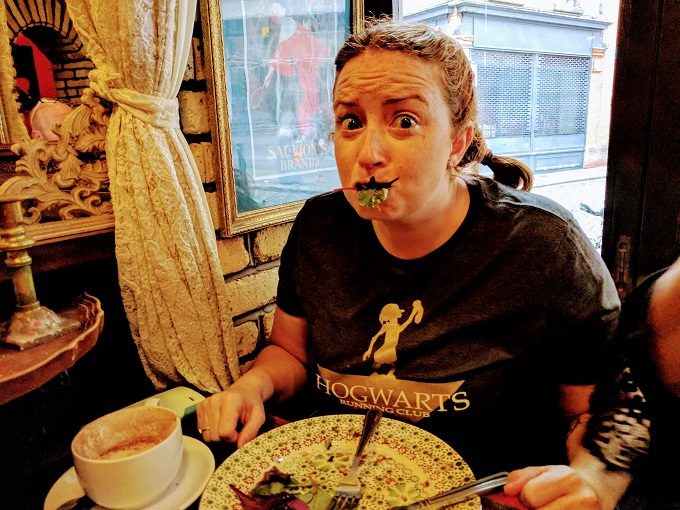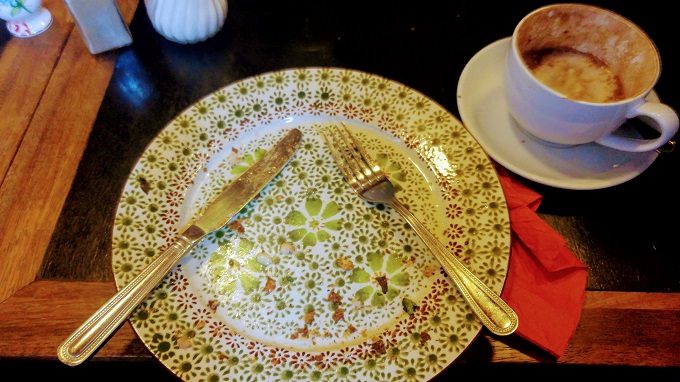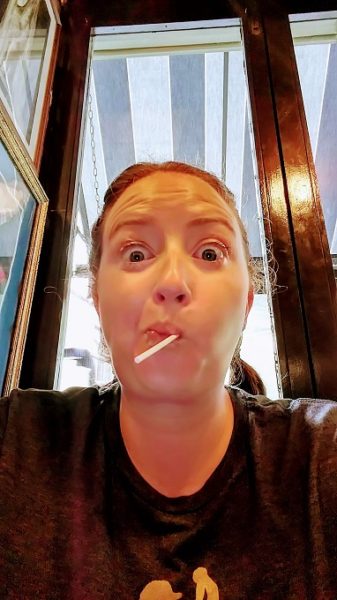 In fact, all four of us cleared our plates, as did Kyle from Pennsylvania at the table next to us. That could only mean one thing – you get a lollipop, you get a lollipop, everybody gets a lollipop!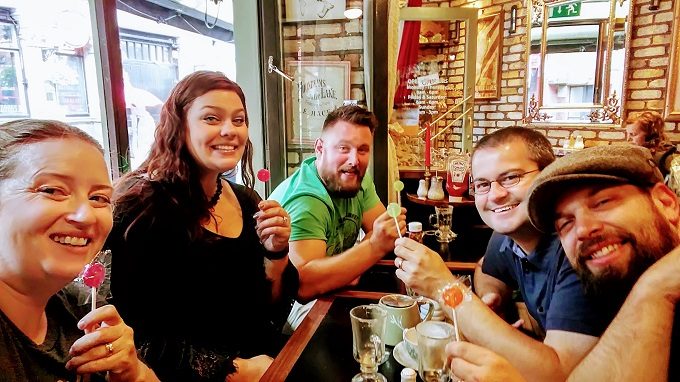 Was It Dublin's Best Breakfast?
OK, so we only had one proper breakfast in Dublin and therefore don't have anything to compare against, but yes – Stage Door Cafe has to be Dublin's best breakfast.
The food wasn't necessarily the best. Don't get me wrong – it was very tasty, so there's no problem there. But what made it the best breakfast was the experience. Alan's charming personality made our entire morning and so I'm glad Shae had spotted his cafe earlier that morning.
If and when we return to Dublin, we'll certainly be going back to the Stage Door Cafe.
As I mentioned earlier, Stef – one of our friends – flew over from England with her son to see us. She arrived just after we'd had breakfast, so on our recommendation she went for breakfast at Stage Door Cafe the next morning. Stef kindly wrote the following review for us to publish here.
The Herbivore Experience
A few weeks ago my son (whom we call 'B') and I made a flying visit to Dublin to meet up with my friend Shae and her husband Stephen, who were on a tour of Ireland with their two friends Megan and Mark.
We got to spend 24 hours together (which is a blessing as we live 3500 miles away from each other!) but all good things must come to an end and they had to leave for the airport at 6:30 in the morning (blurgh – I don't do mornings). One of the last instructions to us as they left was to visit Al's Stage Door Café for breakfast – as they had received a warm welcome the day before with delicious food and plenty of Irish charm and banter.
So, as I always do what I am told (!), once we were packed (after a slight panic about a gift we had bought for my husband which we realised we would not be allowed to take on the plane – but that is a story for another day…) we headed off for breakfast.
Al's Stage Door Café is a small, street fronted café with approximately 6 tables inside and 4 tables outside. When we arrived at 10:30 am it was full. We were directed to a small bar-like table which overlooked the cooking area and handed menus.
I was initially disappointed – perhaps they were too busy for charm and banter with all the tables full, and the menu was short – full Irish breakfast, omlettes or open sandwiches – not a lot for a non-meat eater who needs to ration her egg intake and not a lot for a 9 year old boy. I recently stopped eating meat for health reasons but I am keeping it up for environmental and animal welfare reasons.
Being British and not that keen on causing a problem I was trying to work out what we could both eat when I had a flash of inspiration, obviously hanging out with my American friends had rubbed off on me, I was just going to ask for things not on the menu – if you don't ask – you don't get!
So when Al came to take our order I asked if he could do beans on toast (on the menu) but with a sausage or two for B and was it possible to have a vegetarian breakfast? Well, with a playful roll of his eyes and an announcement to the room "We have a veggie in the house!" Al said both were possible but with a short wait because they were so busy.
I don't think we had to wait more than 15 minutes and B and I entertained ourselves by looking at the memorabilia around the walls and on the counters (if you have sensitive children don't look at the salt cellars and pepper pots – the cow and pig were getting very friendly!).
Al was incredibly attentive despite the many guests and kept us informed of the progress of the kitchen, brought us water to drink (we are cheap dates) and bantered with B about how he was going to have to eat all his breakfast and leave a nice clean plate as that was the rule of the house.
We were told when our breakfast was being cooked and within minutes two fantastic looking plates were put before us. B had two sausages (sliced in two) in a lake of beans with two islands of chunky brown bread with lashings of butter.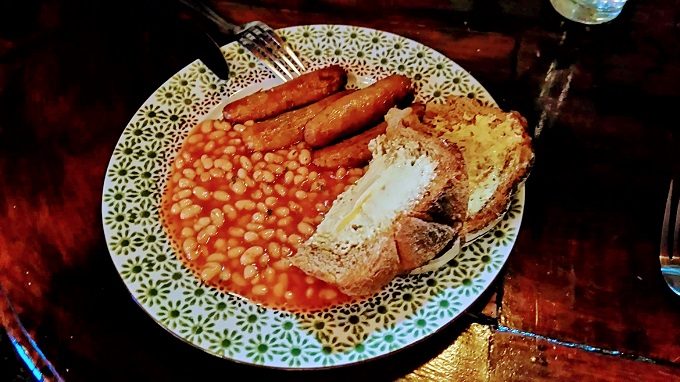 I had a wedge of Irish soda-bread, a fried egg, a goodly dollop of beans and the tastiest veggie mix of tomatoes, mushrooms, onions and baby spinach that I have ever eaten.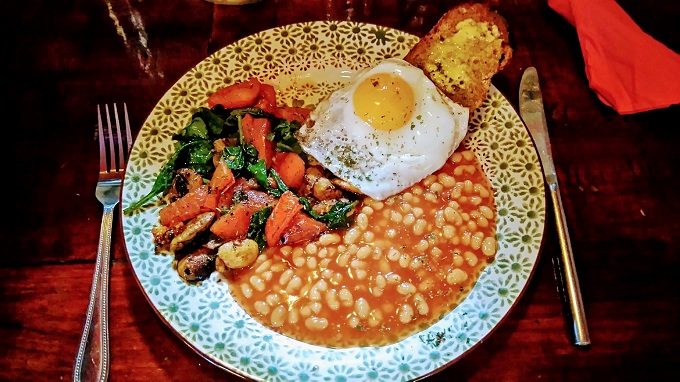 Al kept his banter with B through the meal checking on him, making sure he was eating, making the universal sign for 'I am watching you' by pointing at his own eyes and then at B's plate, all in jolly good fun and B loved it. "I am pacing myself Mummy" was his comment to me as I scoffed mine down like I was in a race.
With two clean plates we got our reward – a lolly pop each, some more banter – this time about football as B supports Everton – and the bill, which came to just over 13 euros – which I thought was pretty good value. We were even given a postcard "To send to your friends who recommended us" Al said after I explained that Shae had told us to come.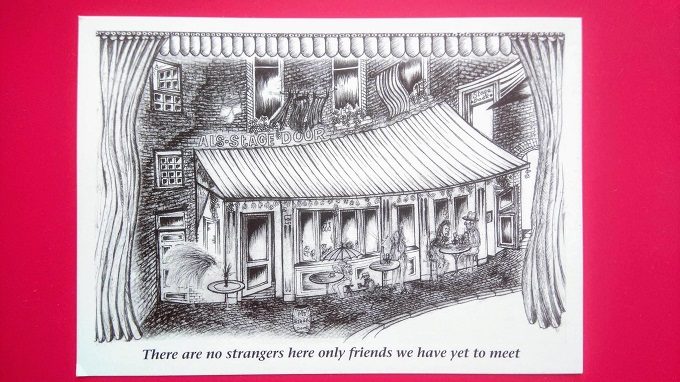 Well, I am sorry Shae and Stephen but you won't be receiving that postcard as B and I are keeping it as a memento of a jolly good breakfast which perfectly set us up for the day of sight-seeing we had planned. Thank you for a fantastic recommendation!
Ireland Road Trip
Here's everything else that we got up to in Ireland:
Dublin's Best Breakfast At Stage Door Cafe