Stephen and I travel with my mom, Tammy, and stepdad, Steve, each Thanksgiving. We decided that this year we'd forgo the Thanksgiving trip in favor of Christmas in New Zealand and Australia before we start our 50 state road trip.
It can be hard trying to find things to do that everyone will enjoy. We'd scheduled two days in New Plymouth, but to get there at a reasonable time we needed to leave Hamilton early in the day. That meant we weren't going to see the lavender fields mom had hoped to visit nearby.
As I thought through our route I stumbled on this article about the Forgotten World Highway.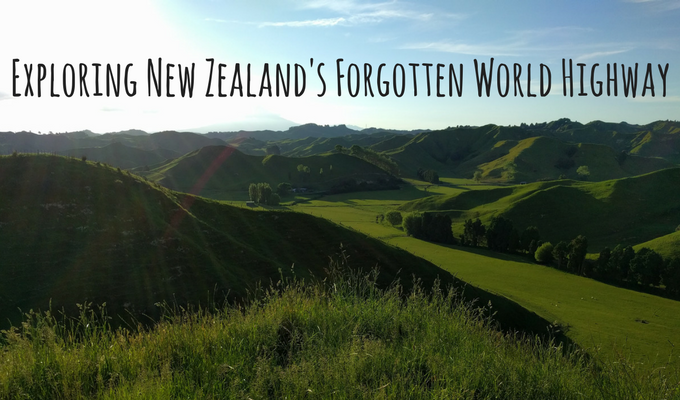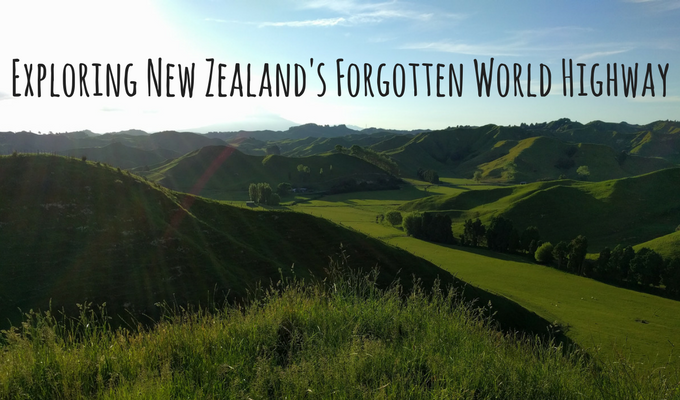 The Forgotten World Highway is on the North Island of New Zealand and starts (or finishes) in the town of Taumarunui and finishes (or starts) in the town of Stratford. It's comprised of approximately 150 km of beautiful scenery, historical locations and fun stops to explore.
As I searched along the route I found that there were places that each of us would enjoy. There was a lavender farm for mom, a waterfall for Stephen, a historic Pioneer Village for Steve and a quirky town with a turtle President for me.
That meant we could make it a full day of fun instead of heading straight to New Plymouth. It meant we'd only have one day in New Plymouth but the possibilities the Forgotten World Highway provided seemed too good to pass up. It appeared to have everything.
One thing it did not have – gas stations, so make sure you fill up before you head out. As we were traveling from Hamilton to New Plymouth, we started our journey in Taumarunui.
Taumarunui
According to our research, the town of Taumarunui is home to a cafe that's housed in a old railway car. The railway seems to be a big part of the Forgotten World Highway and the success (and failure) of towns along the route. As we planned to reach the start of the highway between 10 and 11am, this seemed like a great place to start with a snack or early lunch to fuel our adventures for the day.
There's a great visitor center in Taumarunui with souvenirs, information and the ability to book excursions at activities along the Forgotten World Highway. Once we arrived there, we found out that some of our day's plans were different than we'd researched. For example, the railway carriage cafe was now a take-away and therefore probably wasn't open during the day.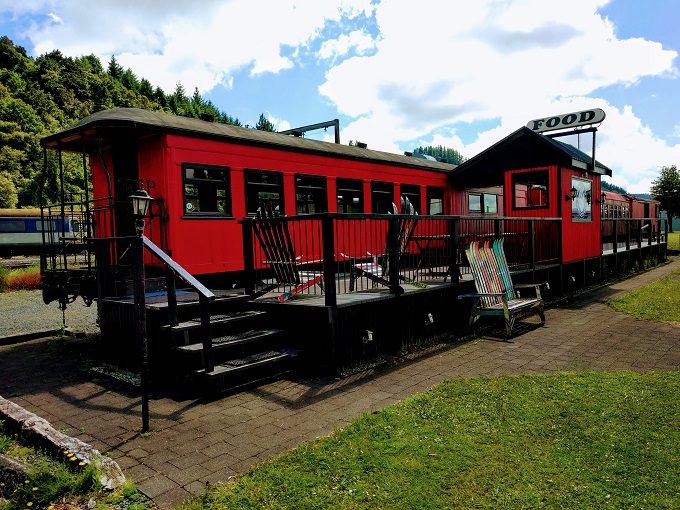 We also found out about the 'no gas along the Forgotten World Highway' situation. That meant we were able to fill up to ensure there were no worries on that front throughout the day.
In lieu of the railway cafe, the visitors center staff recommended having a bite to eat at Lauren's Lavender Farm as we could expect a sweet cafe with tasty food and a beautiful setting.
We also found out that it was possible that the Turtle was no longer president in Whangamomona which was disappointing. However, it sounded as if the recent election was between a local gentleman and the pub cat, so it still seemed worth a stop for the story anyway.
So loaded with gas and hopes of adventure, we set off down the Forgotten World Highway.
Laurens Lavender Farm
Our first stop was at Laurens Lavender Farm about 20 minutes outside of Taumarunui. The scent of lavender filled our "scentses" as we stepped into the shop and adjoining cafe. We shared a delicious offering of ham sandwiches, muffins, date scones and shortbread, along with various teas – mom's being the lavender kind.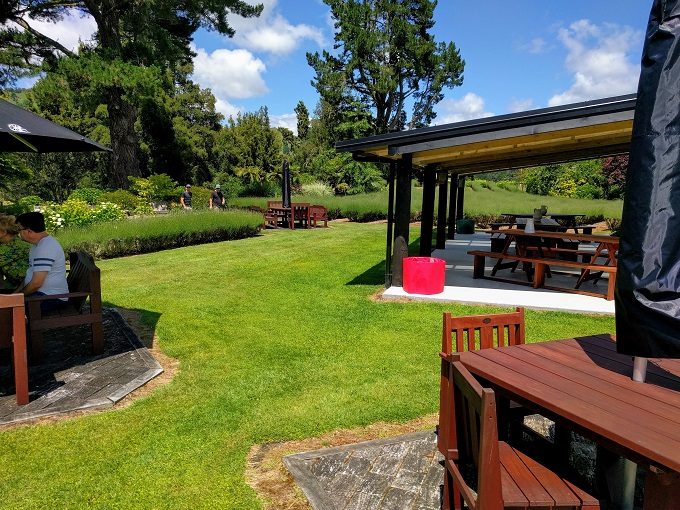 We relaxed in the shade and enjoyed the silent and peaceful atmosphere. The service was attentive without feeling rushed. We took photos around the farm of the lavender, hills and other beautiful flowers planted along the fences seemingly separating the lavender from the rest of the world.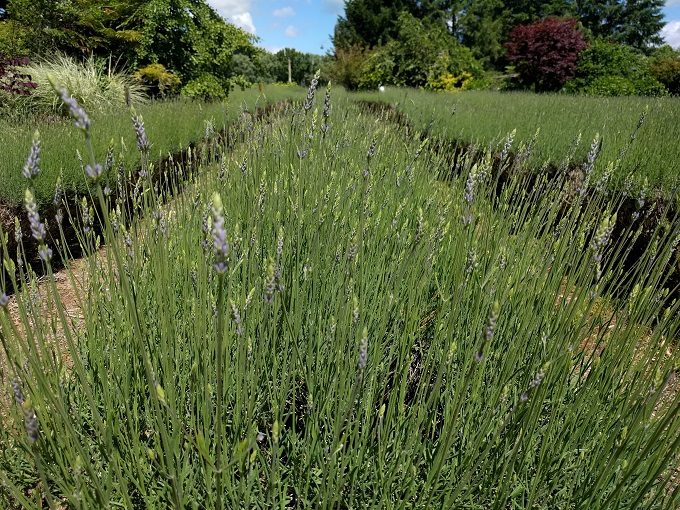 Fully refreshed, we began a part of our journey that looked to be a large bulk of the driving through winding roads. We had no idea what we were in for…
The Lost World
As we drove along we found ourselves surrounded by ferns. Not your everyday house ferns, but massive ferns. They filled in both sides of the road as part of a lush, almost tropical rain forest-like, overgrowth. We all kept commenting that it seemed as if a dinosaur would step out right in front of us at any moment. The green canopy was actually one of our favorite parts of the drive and it stretched on for kilometers and kilometers.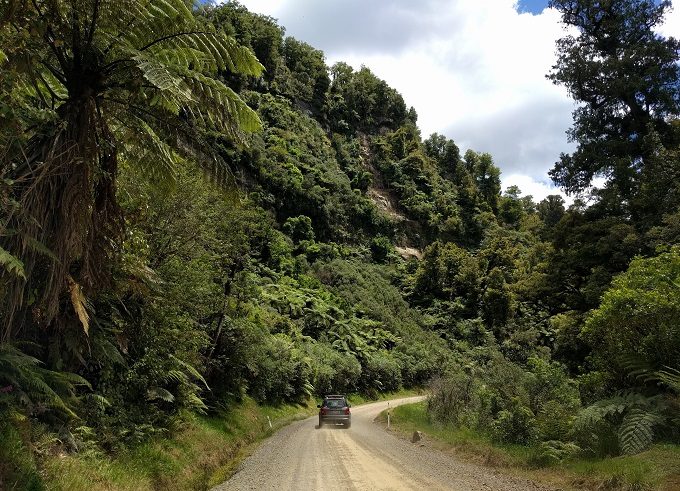 Adding to the sense of adventure there was a lengthy amount of gravel track in the middle of this overgrown forest-lined, blind-curved road. Along that road we stopped to use the restroom at a public toilet and found ourselves completely by accident at the site of Morgan's grave.
Morgan's Grave
Joshua Morgan was one of the first surveyors through the gorge in which we were driving. He died from suspected peritonitis. He was buried there at the site of his death and sixty years later his wife asked to be buried next to him at the site when she joined him in the beyond.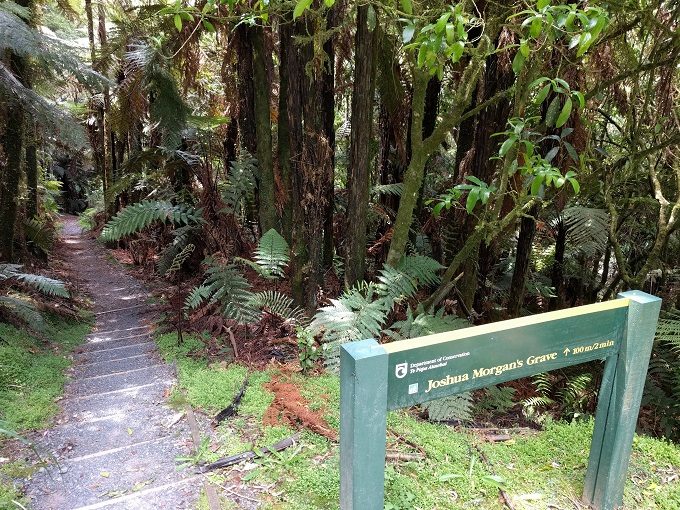 His grave is clearly marked, but his wife's is not, although plaques around the site indicated that she was indeed buried there.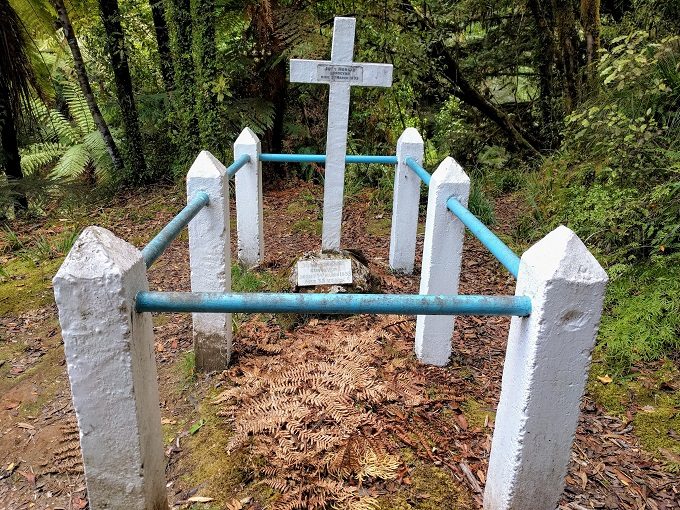 Mount Damper Falls & Sheep Farm
At the completion of the gravel road we turned off to head towards Mount Damper Falls.  This was a detour of about 30-45 minutes from the main road, but definitely ended up being worth it.
The falls can only be accessed through farm land. Yes. We got to walk amongst furry friends and their little lambs on the way to the falls.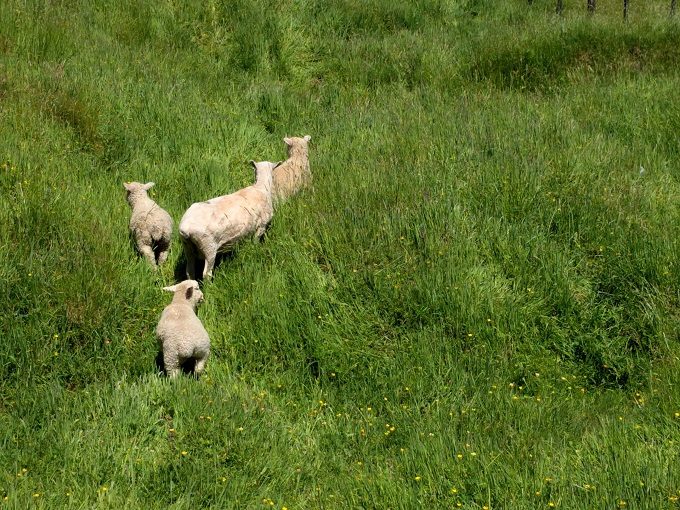 We got so many great sheep pictures. Sheep faces. Sheep butts. Sheep mamas. Sheep babies. Sheep eating grass. Sheep going potty. Sheep that were fluffy. Sheep that were nakey.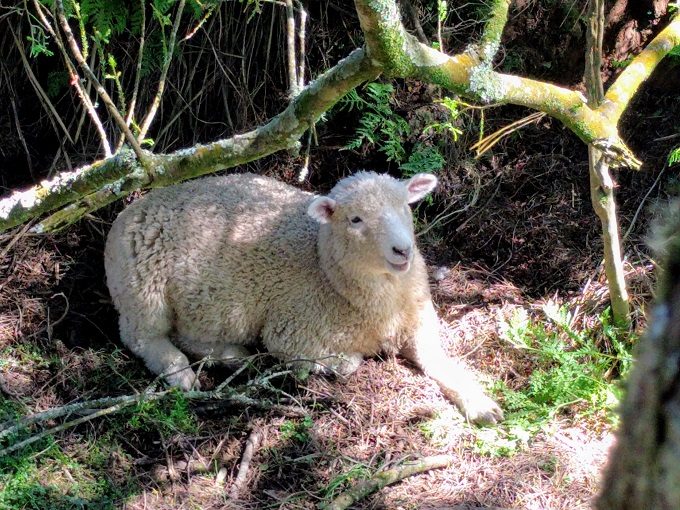 We saw it all (well not quite 'it all' but close!). That ended up being the highlight for most of us as it was so fun being on, what can only be described as, a sheep safari in the middle of nowhere New Zealand on a beautiful day.
Once through the farmland you walk through a short forested area and end up at the viewing platforms for Mount Damper Falls.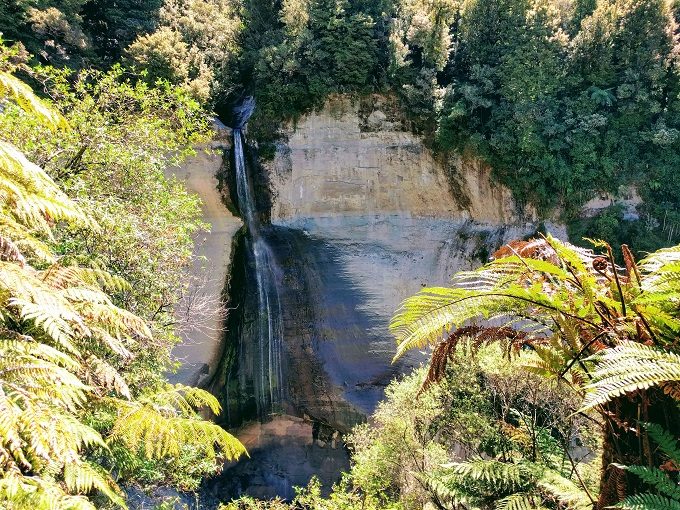 While the falls were very nice to look at and extremely tall, it was agreed that the sheep on the way in and way out made the trip much more worthwhile that it might otherwise have been.
Tangarakau Ghost Town
The Railway Cafe wouldn't end up being our only misstep of the day.
Mom insisted that Steve would definitely prefer checking out a ghost town instead of going to the Pioneer Village closer to Stratford. Despite my qualms after carefully selecting the activities, I trusted mom to know best what her husband would enjoy. So we veered off on two wheels in hot pursuit of ghosties.
As we drove along and saw many bee boxes (ahem- filing cabinets if you're Stephen Pepper) I commented… "wouldn't it be weird if this town was like not a thing and it was just a honey bee farm?!"
We finally reached what we thought was the turn-off and ended up near some houses and a warehouse. On the warehouse: 'Honey'. On the houses: 'to buy local honey stop by our house' (just not on Sundays – it was a Sunday…)
We turned off onto another track in the hopes that it would lead us to the promised ghost town. As it turns out the houses, a run down shack and a rusted out truck along the railway are all that remains of Tangarakau.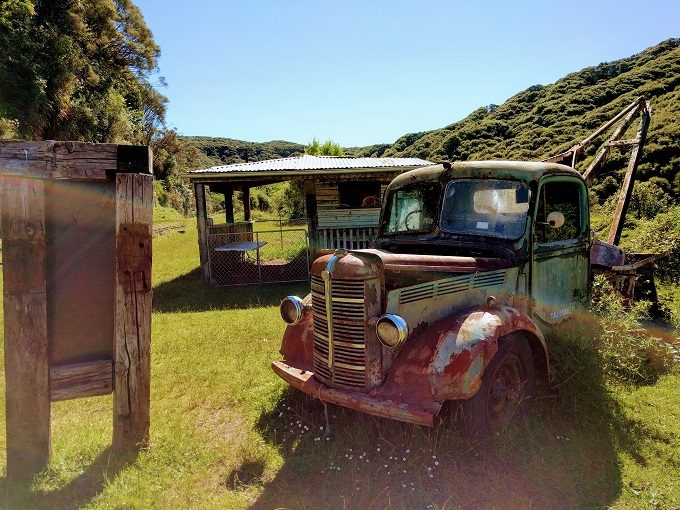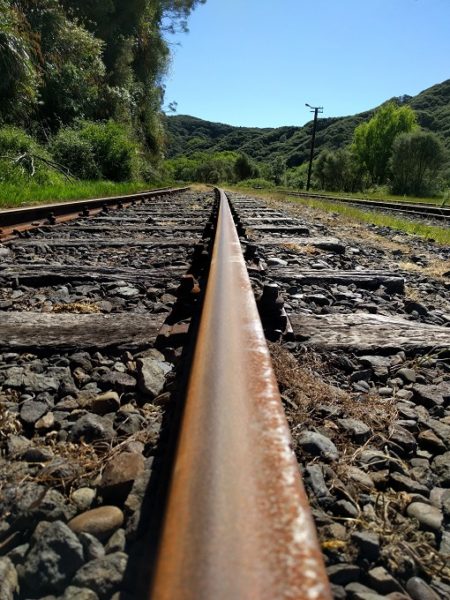 So there really isn't a ghost town. Just an area of prairie land that 8 people still live in (as of 2012) and a campsite a few kilometers up the road.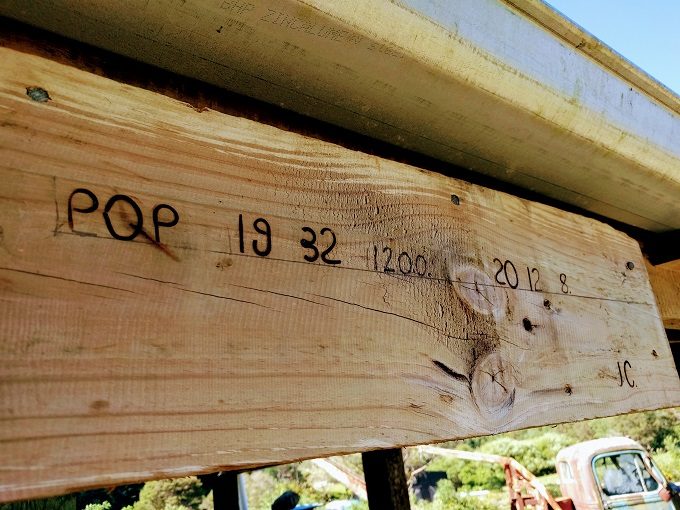 So, my premonition was correct. It was just a honeybee farm. And not a town at all. We were disappointed but managed to salvage the fun with some pictures on the railway and leaving our mark within one of the unused tunnels.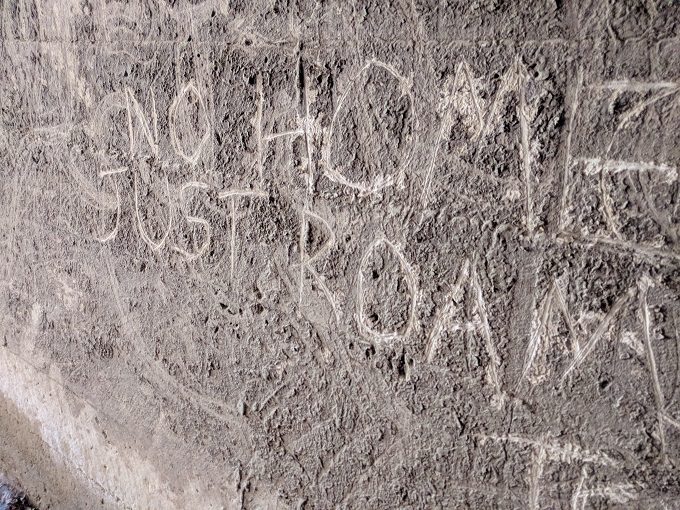 For the record, I think the Pioneer Village had more potential but alas, 'twas not to be.
The Republic of Whangamomona
Finally we arrived at the pièce de résistance – The Republic of Whangamomona.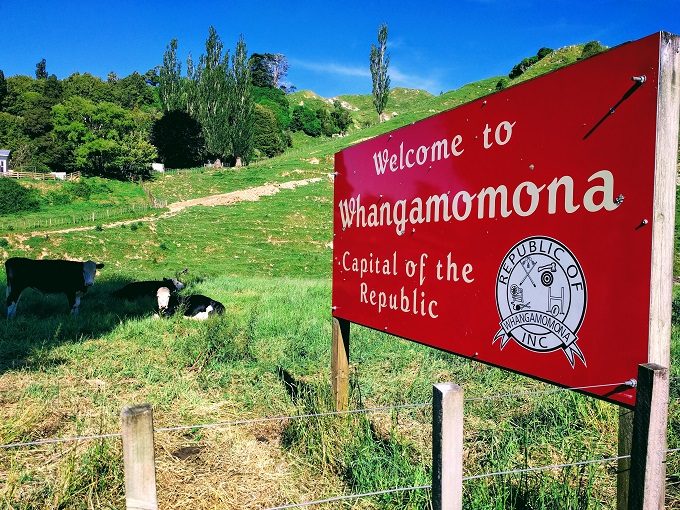 According to this site, we could expect to find a turtle as the current President. But as we'd found out earlier that morning, he was recently voted out in the most recent election in a race between Grandpa Jack and the pub cat. Grandpa Jack won since the cat didn't turn up… or so we'd been told.
We arrived in the quirky town and were immediately welcomed by a gentleman who appears to spend much of his time on the porch of the Whangamomona Hotel. He shared some interesting information with us about planets and science in general and then we made our way inside.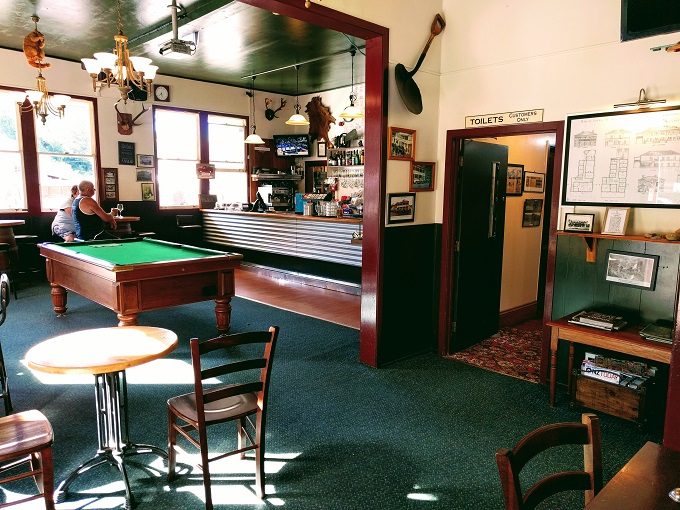 We ordered food at the bar and looked around as (obvious) locals hung around and chatted, played music on the jukebox and asked about our journey. It was during this time that things began to get muddied.
I mentioned the turtle president and they insisted that they'd never had one. After explaining that a website said they did, they all broke out in laughter – obviously some inside joke we weren't privy to. I then asked if the President, Grandpa Jack, was around but they said he was out.
I shared with them my knowledge of his defeat of the pub cat as per the information center in Taumarunui and was again corrected that the cat did in fact turn up on election day but was beaten by John. So now we have a turtle president or not, a pub cat election issue, a man who may or may not be Grandpa Jack or John as the current president…
We got our passports stamped at the bar which required just a $2 donation to the local community. They're apparently a republic within New Zealand, but that's dubious too based on everything else.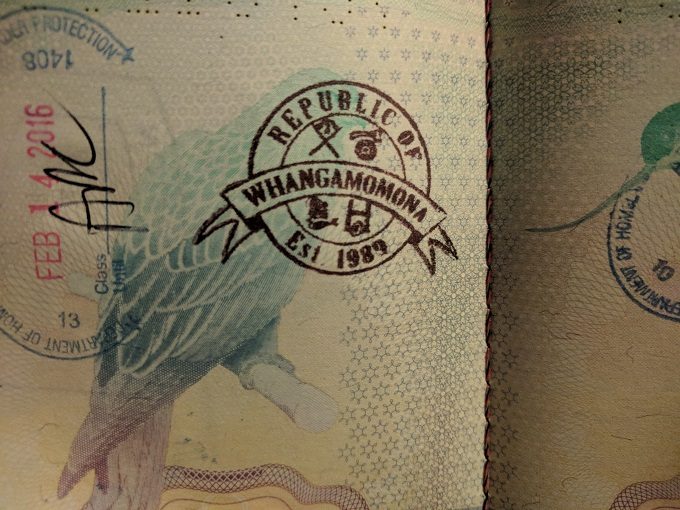 After that we went to look around the town and get a few photos. There are a lot of store fronts that appear to mainly be for display purposes to remind guests what the town used to be. There are around 20 residents in the town now (supposedly….) and they have some fun community spirit which includes knitting and rock painting. I found one such rock outside the garage and have brought it to Australia to hide.
One thing that struck me as odd was a plaque on a house dedicated to "Murt". However, it was donated by the FW Highwaymen and seemed to be very sentimental about someone who was 60 years old at their death. I didn't want to ask any more since 'Murt' was also listed as the name of the turtle president.
Once we sat down to eat, the bamboozlement only continued. With all these stories rolling around in my head I wasn't sure what to believe. This was only compounded when you looked around the decor of the hotel and found yourself staring at a taxidermied ferret hanging from a broken pool cue being used to hold up a wooden toilet seat on which the TV sat. I mean, how can you honestly believe anything when there is a ferret, pool-cue, toilet seat motif around?!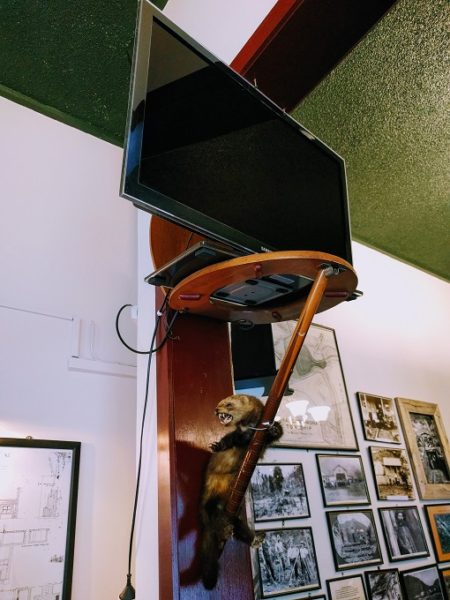 All of that being said, we had a fantastic meal, were welcomed warmly by the residents of the town within the hotel and experienced a place we'll never forget.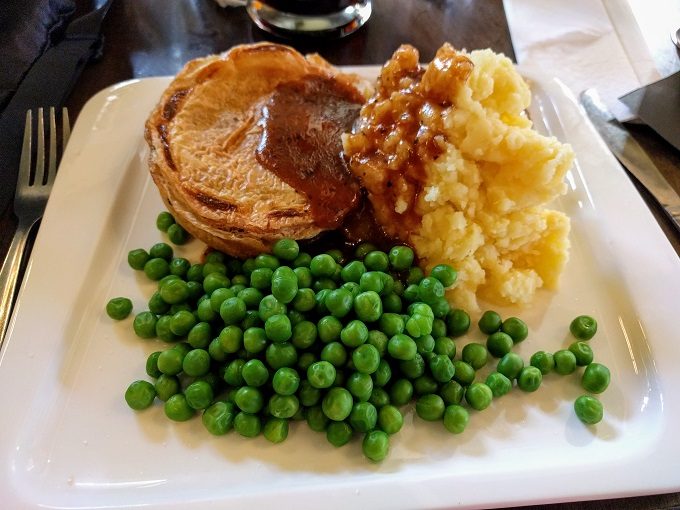 Stratford and Mt Taranaki
The remainder of our drive was relatively unexciting. We stopped for the occasional photo op but mainly soldiered on as the hours and hours of driving along the winding, narrow roads were starting to take their toll on me.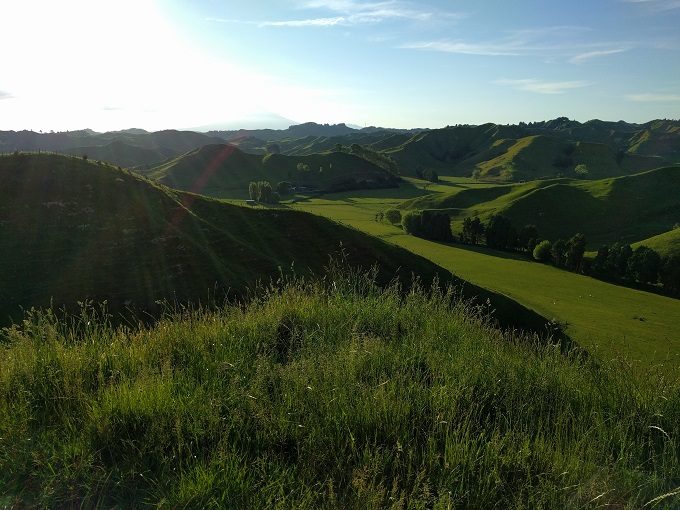 But then, just as were about to reach the end of the Forgotten World Highway, we had one more surprise in store.
No, it wasn't New Zealand's only glockenspiel clock tower that plays Romeo and Juliet three times per day. Or the Kings Theater down the road that introduced the 'Talkies' to New Zealand.
It was Mt. Taranaki. This beautiful monolith climbs in front of you as you descend towards the end of the highway. Its snow-capped peak is majestic and it dominates the local area.
It appears to be the tallest thing you've ever seen, until you realize that's just a trick of your eye. Mt. Taranaki is actually 400 meters shorter than the tallest peak in the Colorado Rockies. Its position as a single mountain is what makes it appear so massive. It's breathtaking no matter its actual height though. We had the good fortune to see it with a clear summit on two of our three days there which made for some awesome photos.
Final Thoughts
Overall, the Forgotten World Highway was a treat. Memorable in the extreme, full of gorgeous New Zealand scenery, fun adventures and the occasional misstep (which is always the risk when you follow serendipity). Each of us got to find something we enjoyed and made memories to last a lifetime. This is one group that won't soon forget.
Follow Our Entire Trip Down Under
Be sure to also check out all our other posts from our trip to New Zealand and Australia:
Exploring New Zealand's Forgotten World Highway