As you might have read last week, I sort of changed my self-imposed rules for our Extreme Minimalism challenge by counting 27 coloring pencils as 27 different items.
That was because we had a busy week-and-a-half of travel coming up, so I'd wanted it to be a quick process.
The thing is, this post was scheduled to be published the day after we got back from Ireland. That wouldn't have left much time to pick out items once we'd returned, so I did this week's minimalism challenge before we left too.
As a result, this needed to be a really quick process. That way I wouldn't have to spend ages going through all kinds of boxes while still working, packing etc.
So last week we said farewell to 27 coloring pencils. As this is week 10, 30 items had to be minimized.
What 30 things would be quick and easy to find? I'll be honest – after last week's "inspiration", I didn't have to look too hard.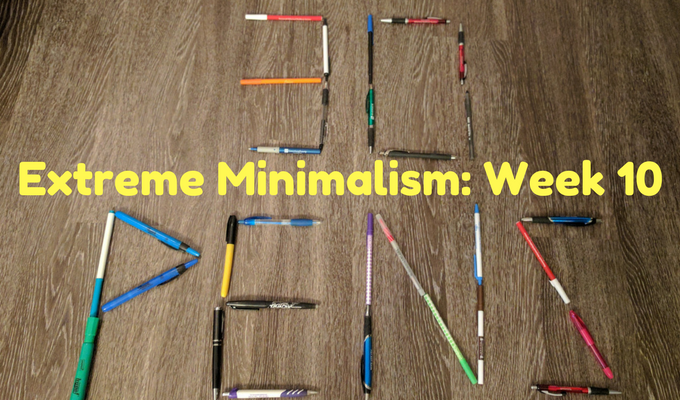 Most of our pencils left last week and this week most of our pens joined them. And this is having gotten rid of loads of pens last year when we moved home. I'm pretty sure we have some kind of pen-baby making facility going on somewhere.
Either that or Shae's a pen thief 😉 Judging by the number of Holiday Inn Express pens in our collection (which aren't in this photo), it's possible that I might have borrowed some in the past too.
I've a feeling the coming weeks of minimalism aren't going to be quite as easy…
You can follow our entire Extreme Minimalism process with all the posts below:
Week 10: Still Sort Of Cheating Edition – 30 items