OK, so for the last two weeks I haven't really gone to extreme lengths when minimizing our stuff.
We had a couple of busy weeks of travel looming, so I went for the low-hanging fruit of minimizing our overstocked pencil and pen collection. Considering we hardly ever write anything by hand at home, it's remarkable how many writing instruments you collect over the years.
While going through our stationery baskets, I noticed there were all kinds of other office supplies that we no longer needed, so I figured I'd return to it for this week's minimalism challenge.
In case you're new to our blog, the reason we're doing this challenge is because we're getting rid of nearly everything we own as we're going on a 5 year, 50 state road trip starting on January 1, 2018.
It's week 11, so that meant I had to find 33 items to let go of. Here's how I got on with this week's challenge: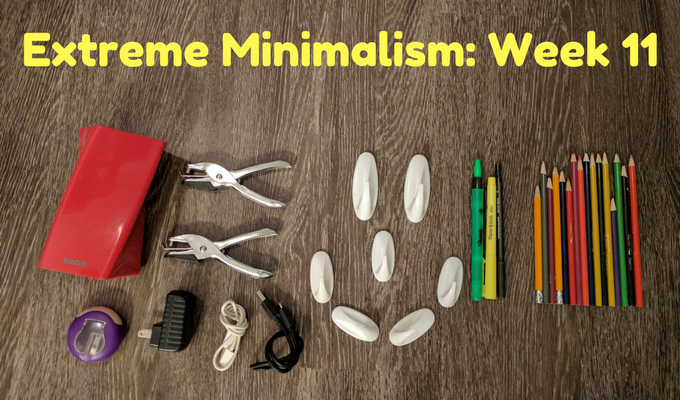 Going from left to right there's:
1 ridiculously-sized pencil sharpener
1 normal-sized pencil sharpener
2 hole punches
1 USB wall charger
2 micro-USB cables
7 happy-looking Command hooks
3 pens
16 pencils
The pens and pencils were left over from the last couple of weeks of minimizing. As for the micro-USB cables, I think they're coming from some kind of USB cable baby making facility that's hiding in our apartment. That's the only explanation I have for how so many of them seem to magically appear everywhere I look.
We'll hopefully find a good home for the Command hooks as they're a great product and we still have their sticky strips to go with them. I'd love to keep them to use, but I think there's only so many places a Toyota Corolla might need hooks attached on its interior.
You can follow our entire Extreme Minimalism process with all the posts below:
Week 11: Stationery Edition – 33 items