We're all about holidays in our household. Santa visits our home every Christmas and Shae leaves him cookies and milk as well as carrots for the reindeer.
She also sometimes leaves him a note to let him know that she's been good that year. One time, Santa left a note in reply to let her know that the reindeer like ranch dressing with their carrots.
I think Shae thought that was a little ungrateful 😉
Another big holiday is Easter. Every year the Easter Bunny comes to visit and drops eggs filled with treats for me and Shae. Even Truffles gets some eggs left for her that are filled with meaty treats she can sniff out.
I'm sure the Easter Bunny will be able to find us while we're on our 50 state road trip, but limited space in our car means we won't be able to assist with transporting the bunny's supplies.
With that in mind, here's what we're letting go of this week for our Extreme Minimalism challenge: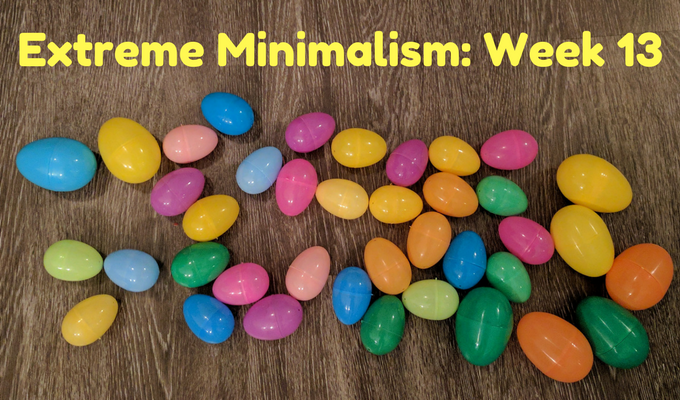 It's week 13, so we have to get rid of 39 items. Like I said earlier, the Easter Bunny drops eggs for me, Shae and Truffles. We therefore had 39 Easter eggs of varying sizes to get rid of, so out of the apartment they go.
You can follow our entire Extreme Minimalism process with all the posts below:
Week 13: Easter In September Edition – 39 items