A couple of weeks ago I mentioned that our Extreme Minimalism challenge was getting harder by the week.
In case you're new to our challenge, Shae and I are getting rid of most of our possessions in advance of us setting off on a 5 year, 50 state road trip.
This week's and next week's challenges are super-easy for me though. That's because Shae's been through lots of stuff this past weekend and found enough items to let go of.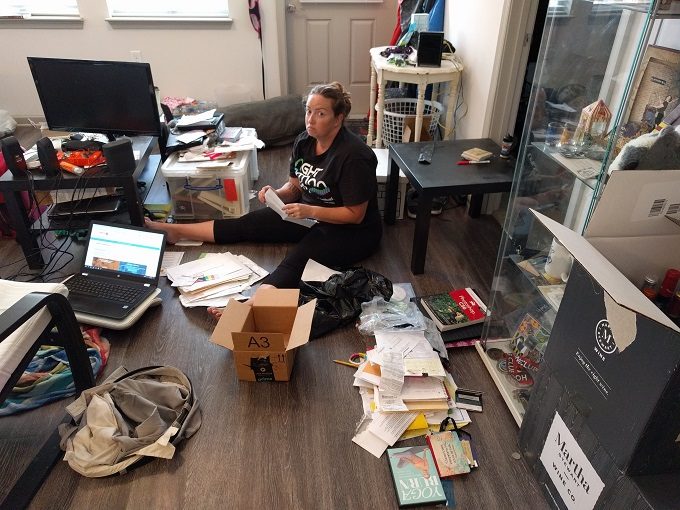 Although that photo's in our living room, this week's batch of items actually came from our bathroom. As it's week 17, we needed 51 items to donate or throw away.
Here's what Shae came up with: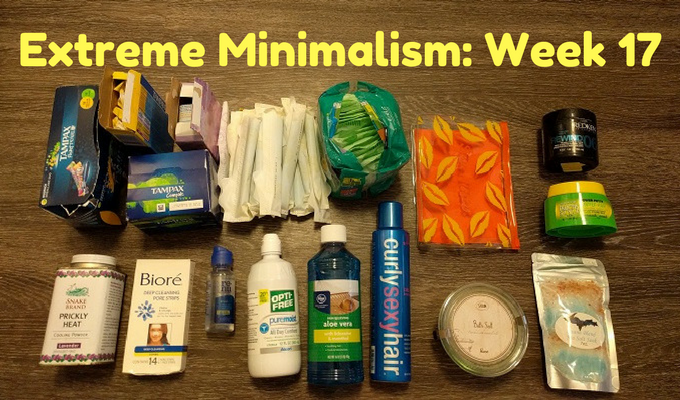 (n.b. I can't remember what some of these items were, so that's why I'm a little vague with some of the descriptions!)
Clockwise from top left there's:
6 sets of tampons & pads
1 toiletry bag
2 tubs of hair styling products
2 sets of bath salts
1 bottle of hair spray (or maybe mousse?)
1 bottle of aloe vera for when the red-haired, pale-skinned Shae has been out in the sun for too long
2 bottles of eye drops or contact lens stuff
1 pack of pore strips
1 can of Prickly Heat (a special cooling powder from when we lived in Thailand)
That's only a third of what we needed, so here's another batch of toiletries: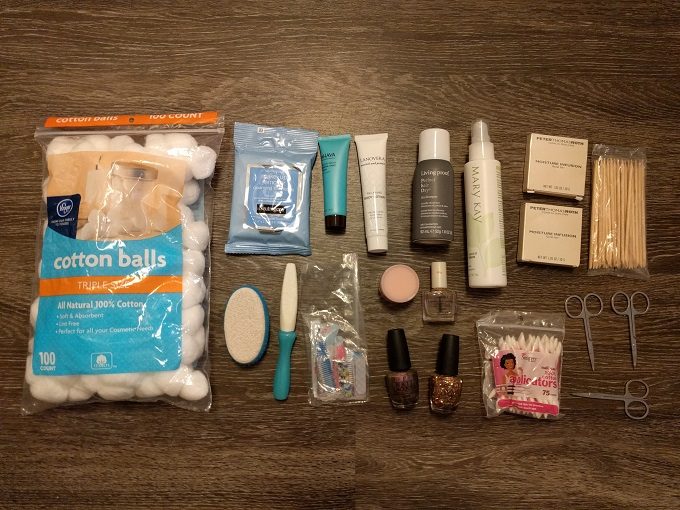 Going clockwise from the top-left again there's:
1 bag of cotton balls
1 pack of makeup remover wipes
2 bottles of what might've been lotion
1 can of dry shampoo
1 bottle of Mary Kay "freshener" (I was curious what this was but even after reading the label, I've no clue what it's for!)
2 bars of hotel soap
1 bag of what look like mini kebab skewers but I'm assuming are makeup or nail-related
3 pairs of nail scissors
1 bag of cotton applicators
2 bottles of nail polish
1 bottle of nail varnish
1 small pink tub of… something
1 bag of assorted Jamberry nails
1 blue-handled…something. Maybe a pumice stone / file for nails???
1 pumice stone
That was another 20 items, so we needed a further 14 things: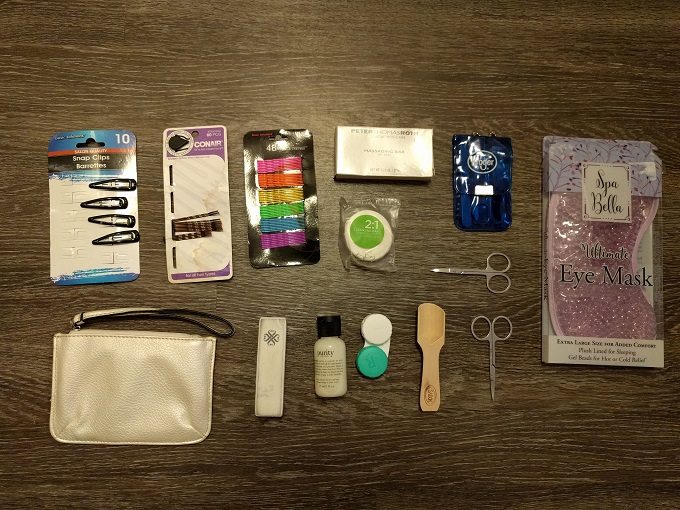 Clockwise from the top-left again:
3 sets of hair clips / bobby pins
2 bars of hotel soap
1 nail clipper set
1 warming / cooling eye mask
2 more pairs of nail scissors
1 scoop for bath salts
1 contact lens case
1 bottle of something
1 Jamberry nail buffer
1 makeup bag
You can follow our entire Extreme Minimalism process with all the posts below:
Week 17: Toiletries Edition – 51 items