We're down to the final few weeks of our Extreme Minimalism challenge. It's less than a month until we'll have moved out of our apartment, at which point we'll officially be homeless!
If you're new to our blog, being homeless isn't a bad thing – it's a deliberate choice as we're going on a 5 year, 50 state road trip. This means we're letting go of nearly all our possessions, hence this Extreme Minimalism challenge. Check out this post for more about the process.
We're now in week 19 of the challenge. As we're getting rid of an additional three items each week, that means we're saying farewell to 57 items today.
I decided to raid our kitchen as it's still full of things we won't be taking with us on the road trip. I was a little unsure at first if we'd have 57 items that wouldn't be used before we leave, but it turned out to be easier than I was expecting.
Here's what's being donated / given to others / thrown away this week.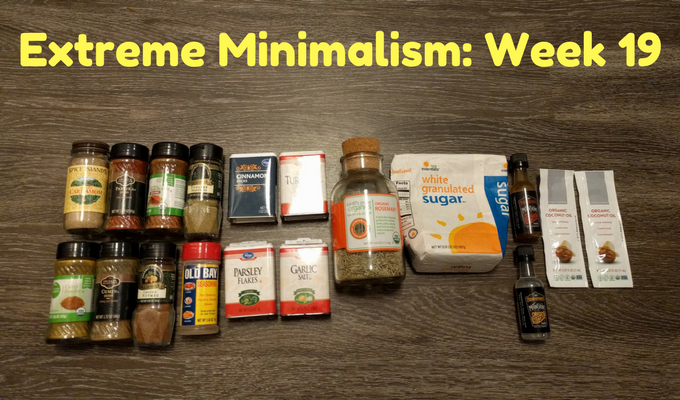 From left to right there's:
13 bottles and cans of herbs and spices
1 pack of sugar
2 small bottles of hot sauce
2 sample packets of coconut oil
As that's only 18 items, there was still a lot more to photograph…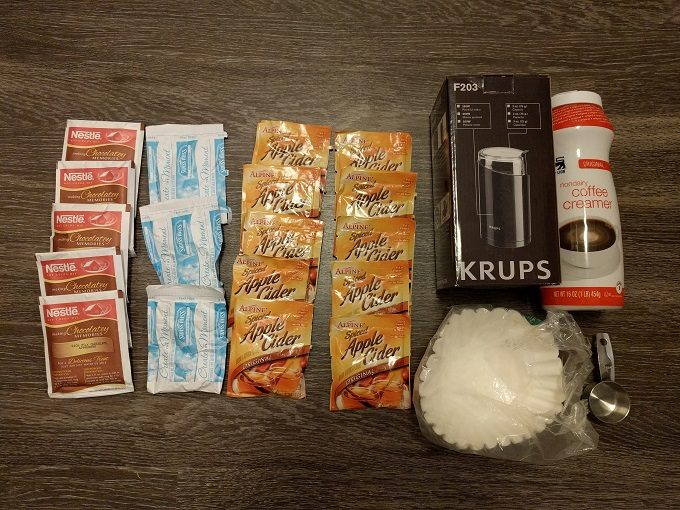 From left to right again there's:
8 packets of hot chocolate
10 packets of apple cider
1 coffee grinder
1 pack of coffee filters
1 container of coffee creamer
1 coffee scoop
That was 22 more things, so there was plenty more to come…
Clockwise from top-left there's:
1 coffee pot
1 electric food mixer
2 cupcake pans
1 Pyrex mixing bowl
1 glass baking bowl
That had been 46 items by that stage, so there were 11 more things to get rid of: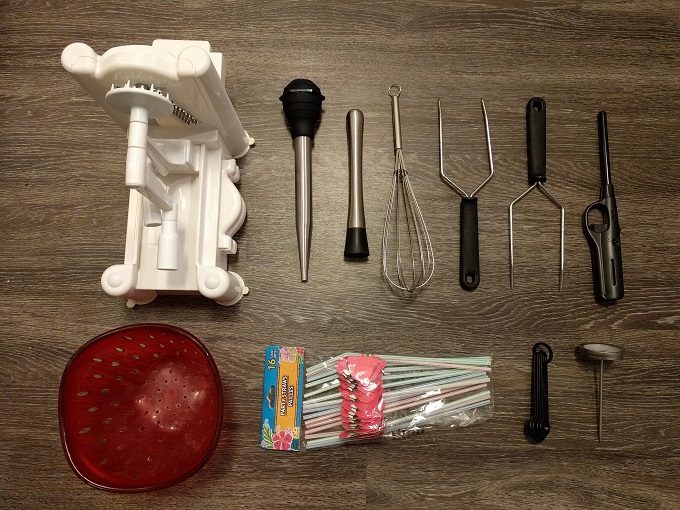 Clockwise from top-left there's:
1 spiralizer
1 baster
1 cocktail muddler
1 whisk
2 poultry holder thingies (I've no clue what their official name is)
1 safety lighter
1 meat thermometer
1 set of measuring spoons
1 pack of party straws
1 colander-type thing for rinsing strawberries
You can follow our entire Extreme Minimalism process with all the posts below:
Week 19: Sugar & Spice Edition – 57 items