After starting our extreme minimalism journey last week, I looked around our apartment and wondered if I'd made a mistake.
In that post, I'd committed us to letting go of an increasing number of items each week – three in week 1, six in week 2, nine in week 3, etc.
As I mentioned at the time, I wasn't even sure if we owned that many items in the first place. I then realized we may have another problem – even if we did own that many things, did we have enough items we could get rid of as early as needed? We'll still be using a lot of them up until we leave, so was the plan unrealistic?
To be honest, I've no clue! We'll just have to keep going and see where the process takes us.
Which brings us to this week. We're now on week 2 and that means we're letting go of a further six items. I focused on the kitchen again as that's where we have a lot of things sitting in cupboards and drawers rarely being used.
So here's the stuff we're letting go of this week: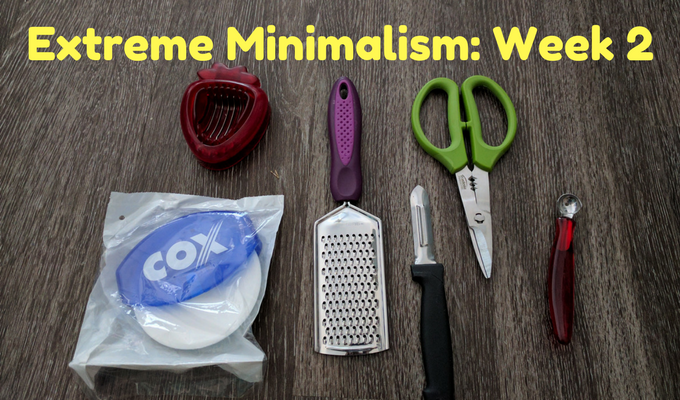 It's probably not obvious what all these are, so clockwise from top-left:
Strawberry slicer
Handheld grater
Scissors to cut herbs
Strawberry top scooper-outer-thingy
Peeler
Pizza cutter
I mentioned last week that I have a tendency to keep items "Just In Case" – some of these are examples of that. The peeler's not very good, but I kept it just in case my good peeler broke. Considering I peel stuff maybe once a month, it's unlikely my good peeler would break. Even if it did, it'd be easy to replace it. So farewell bad peeler.
The pizza cutter's another example. Shae was given this last year when several Cox employees volunteered at the organization Shae was working for. We already have a pizza cutter, but I kept this – still in its plastic packaging – just in case. Because, you know, maybe we'd have a frozen pizza emergency or something. I'm pretty sure Domino's could solve it with a pre-cut fresh pizza if there was such an emergency though. So farewell pizza cutter – I hope you find a loving home that'll appreciate all your Cox-branded pizza slicing ability.
It's not like a pizza cutter is even that important to us seeing as we've never bought one. Our other one was given to us by Wells Fargo when we closed our mortgage through them a few years ago. Apparently we only slice our frozen pizzas with branded cutters.
You can follow our entire Extreme Minimalism process with all the posts below:
Week 2: More Kitchen Stuff Edition – 6 items