Shae went through loads of her clothes last week and minimized her wardrobe. This week it was time for me to get rid of some stuff, so I focused on the kitchen.
I'm not very sentimental about possessions, but the kitchen's my domain and so it's always harder going through the cupboards deciding what to let go of. Ultimately though, we're only going to be able to bring so many things with us on the road trip, so there's not much space in the car for sentimentality.
I already have a fairly good idea of what kitchen items we'll bring with us. We still have a couple of weeks before we move out of our apartment though, so I needed to find things we won't be bringing with us but which we also wouldn't need in the meantime.
It's week 21 of our Extreme Minimalism challenge and each week we're increasing by three the number of items we're getting rid of. That means this week I had to find 63 items – here's what I came up with. (n.b. some of this stuff was Shae's too 😉 )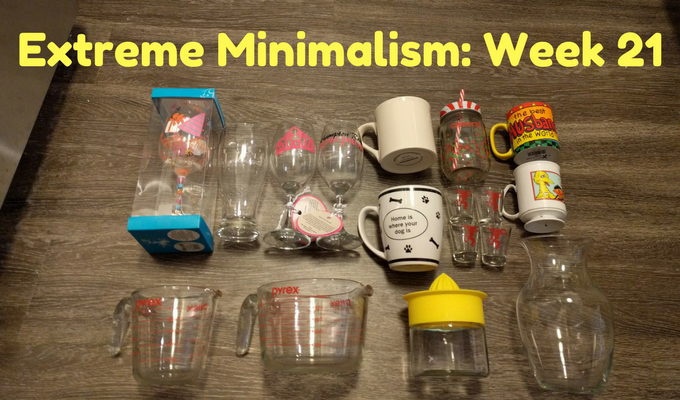 Clockwise from top-left there's:
1 birthday wine glass
1 beer glass
2 wine glasses
2 coffee mugs
1 mason jar cup
4 Fireball shot glasses
1 Best Husband In The World mug (it's true 😉 )
1 Sesame Street mug (major props to Shae for being willing to let go of this sentimental item)
1 vase
1 juicer
2 Pyrex measuring jugs
Next up we had: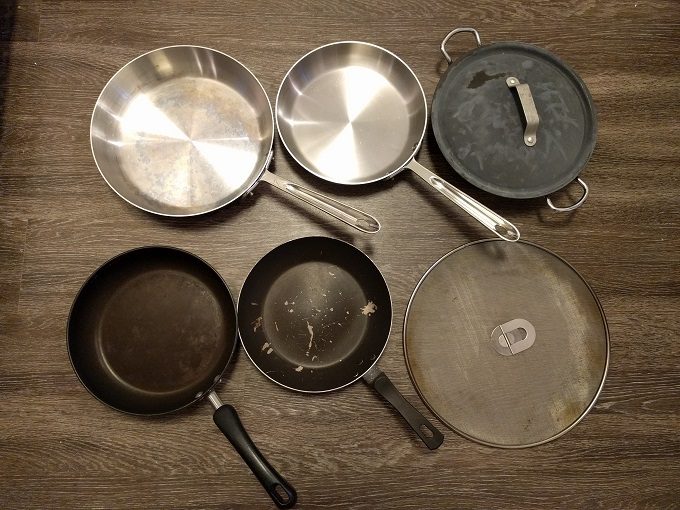 5 pans
1 pan splatter protector
We then had: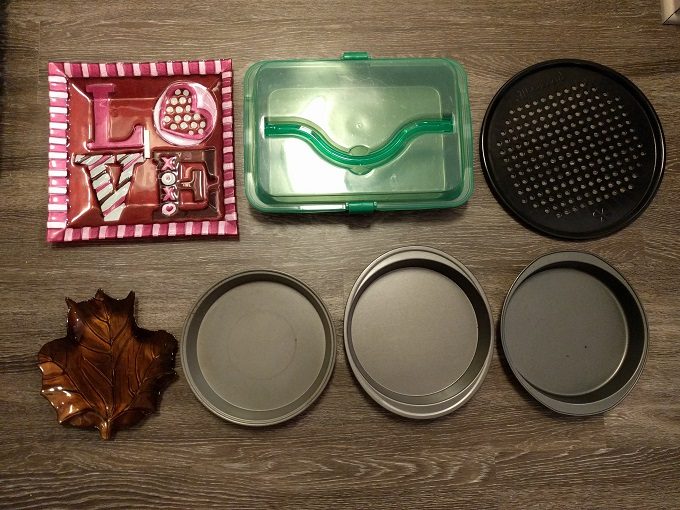 2 serving plates
1 brownie tray with lid
1 pizza tray
3 cake pans
Next up there was: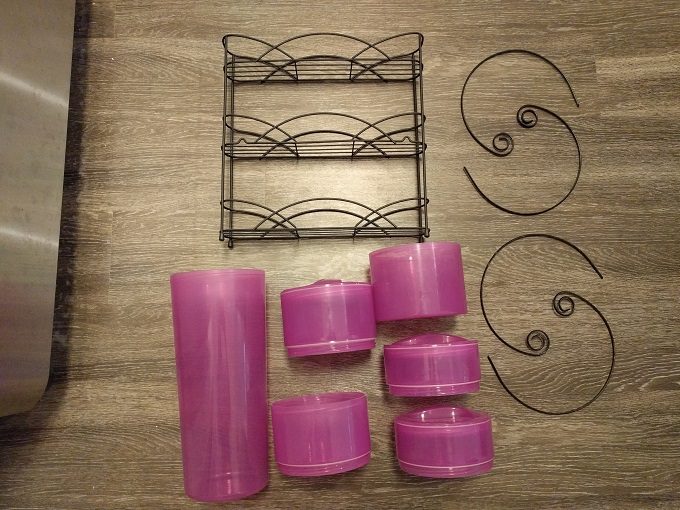 1 spice rack
4 metal skewers
6 interlocking plastic containers
There was more to come: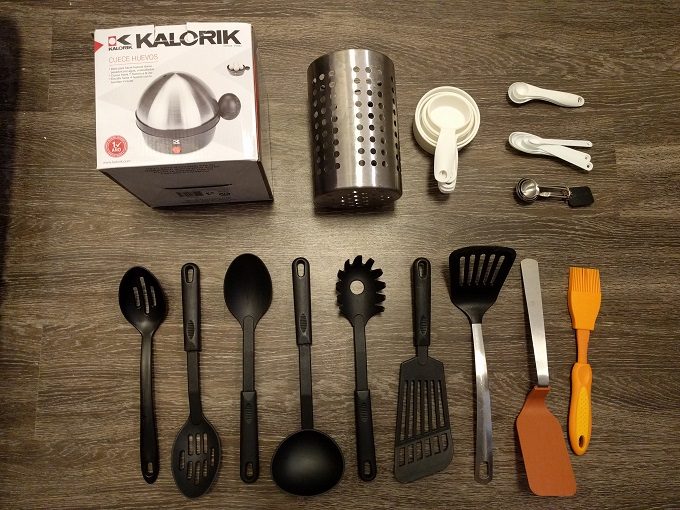 Clockwise from top-left there's:
1 Kalorik egg cooker (sidenote: this thing's amazing, but apparently my Instant Pot can make hard-boiled eggs just as easily)
1 utensil holder
1 set of measuring cups
3 sets of measuring spoons (I rarely use one set of these – I'm not sure why I'd kept three sets!)
1 silicone brush
3 spatulas
1 spaghetti ladle
1 soup ladle
1 serving spoon
2 slotted spoons
And finally we had: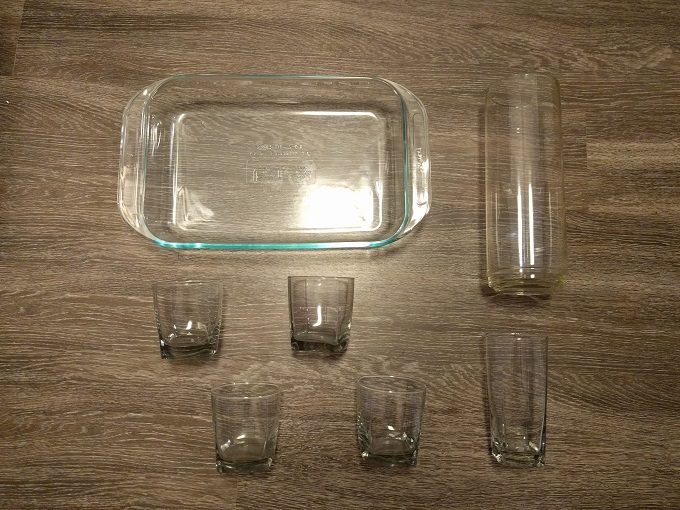 There was:
1 Pyrex bowl
1 vase
1 tall drinking glass
4 tumblers
Even though I said I'm not very sentimental about possessions, it was still hard getting rid of some of these items as they're my preciouses. I therefore decided to follow our friend Sarah's comment from the first installment of our challenge.
Her suggestion was to thank the item(s) for serving their purpose. It may sound weird anthropomorphising kitchen utensils, but it was actually quite helpful to thank some of the items as I went through, especially the ones I use all the time.
As an aside, something that makes the whole process a little harder is our little pupper Truffles. She decides that Extreme Minimalism time is also ball playing time.
Every. Single. Week.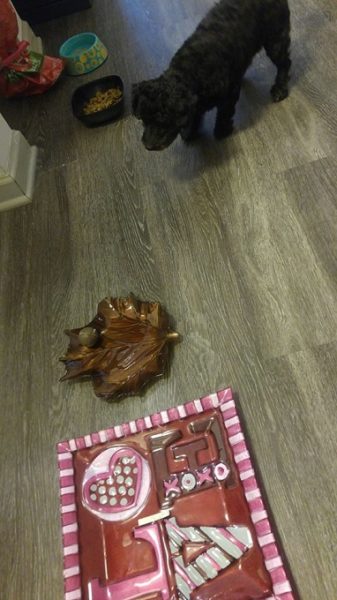 Shae ended up having to play defense this week to stop the ball constantly being dropped where I was trying to take photos!
As it's only just over a week until we officially live up to our "No Home" name, there's going to be some EXTREME Extreme Minimalism going on – stay tuned for more over the coming weeks.
You can follow our entire Extreme Minimalism process with all the posts below:
Week 21: My Preciouses Edition – 63 items