We're only on week 3 of our extreme minimalism challenge and it's already feeling a bit harder to decide what should go.
After spending the first couple of weeks going through unneeded kitchen items, I moved on to my electronics / miscellaneous box.
The box is my version of Michael MacIntyre's Man Drawer:
Annoyingly, there were still quite a few items I wanted to keep for now. To be fair, I will (honestly!) be making use of many of them, like plug converters when we're in Australia.
I managed to gather the nine items though, so here's what we're letting go of this week.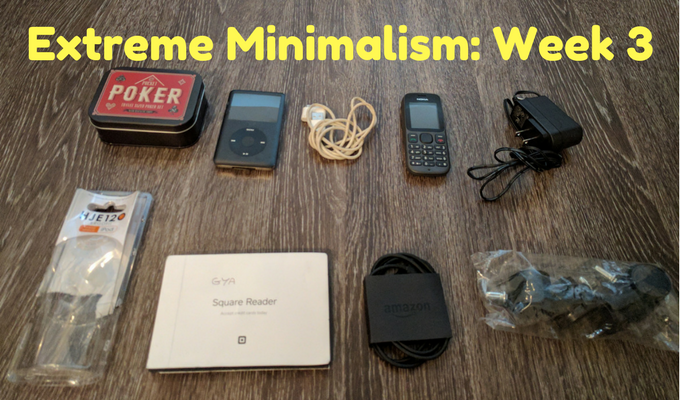 Clockwise from top-left we have:
Travel poker game – This was a Christmas stocking stuffer, but we're unlikely to play it on the road trip.
iPod – I haven't used this in years thanks to Spotify on my phone.
iPod charger cable – If I don't have an iPod, I don't need its charger cable.
Basic Nokia phone – I got this as a cheap temporary phone when back in the UK for work a couple of years ago. We have T-Mobile now which offers free texting and internet service overseas, so there's no need to keep this. It does mean saying goodbye to Snake though.
Nokia charger – Again, if I don't have a Nokia phone, I don't need its charger.
Casters – I've no clue which piece of furniture these belong to! They're not being used though, so they're obviously not needed.
Micro-USB cable – We already have several of these, so I've forced myself to not keep it Just In Case
Square Reader – We got this Square credit card reader for our non-profit when we were doing fundraising events. As the non-profit's closed, it's no longer needed.
Ear buds – The clear plastic packaging used to contain in-ear headphones. It came with some spare plastic / silicon ear buds that are still in the packaging which I'd been holding on to. Yet another of those Just In Case items.
You can follow our entire Extreme Minimalism process with all the posts below:
Week 3: Man Drawer Edition – 9 items