We've spent the last three weeks going through our possessions as part of our Extreme Minimalism challenge.
The first couple of weeks we let go of various kitchen items, while last week it was unneeded electronics and other miscellaneous stuff.
It's now week 4 which means it's time to let go of 12 items. I'm pleased to say we have a special guest minimizer today – Truffles Pepper.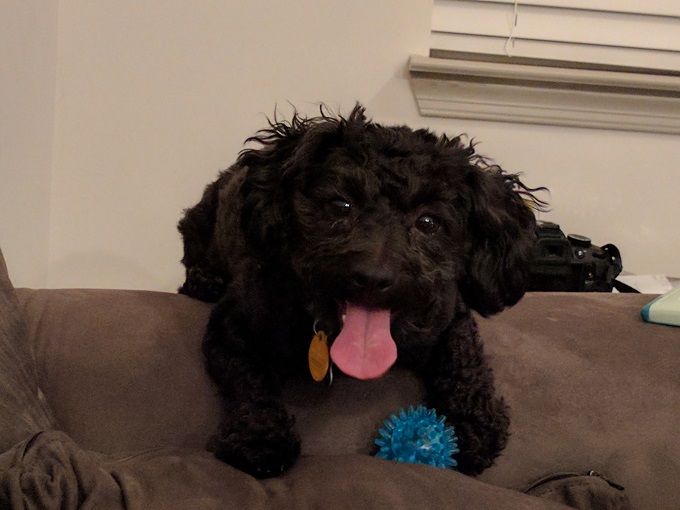 Given that she's our only child, it's possible that she gets spoiled by both us and her grandparents. Despite several of her toys taking an extended vacation in the land of the trash a month or two ago, she still has loads more toys and other things she never uses.
She was therefore a good dog and volunteered to let go of 12 of her items this week. We helped her to pick out some things that she never uses, so here's what's leaving our apartment.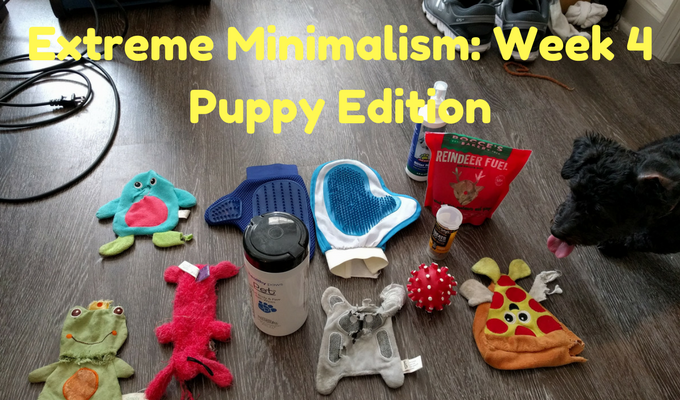 She wanted to enjoy her five minutes of fame, so photobombed the picture.
Here's what Truffles is minimizing:
6 toys
2 packs of treats she doesn't like
2 grooming mitts
1 spray that's been thrown in the trash, so I can't remember what it was
1 set of wipes for…something. Again, it's in the trash so no clue what they were for
The thing is, Truffles immediately had minimizer's remorse and changed her mind about the green frog. All of a sudden, this was her best toy ever and simply had to be played with.
Just to make sure we were clear that it wasn't to visit the land of the trash, she grabbed her frog and ran under the bed with it where it couldn't be reached.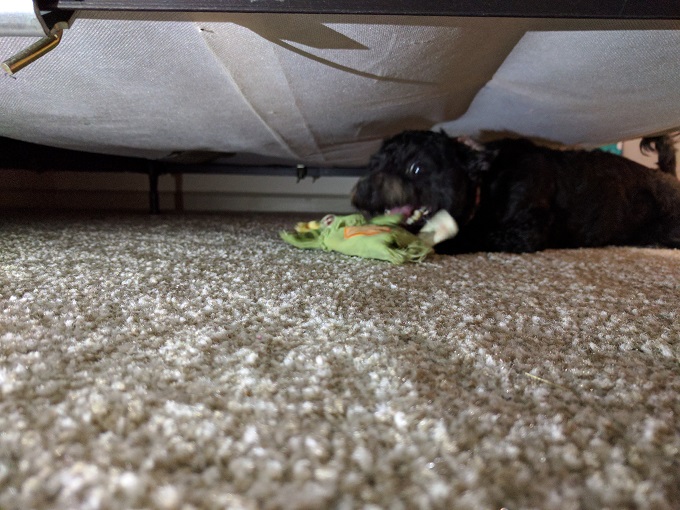 Message received Truffles.
That meant we had to find a 12th item to get rid of, so we all said farewell to the pet block repellent spray.
You can follow our entire Extreme Minimalism process with all the posts below:
Week 4: Puppy Edition – 12 items