I've had it easy the past couple of weeks as Shae was the minimizer last week and Truffles took care of the week before.
Well, this week it's back to me and I figured I'd say goodbye to some of my clothes.
That was easier said that done though. I've never owned that many clothes, plus I got rid of loads last year when we sold our house.
It was therefore a struggle to get to 18 items but I got there in the end. Here's what I'm letting go of this week: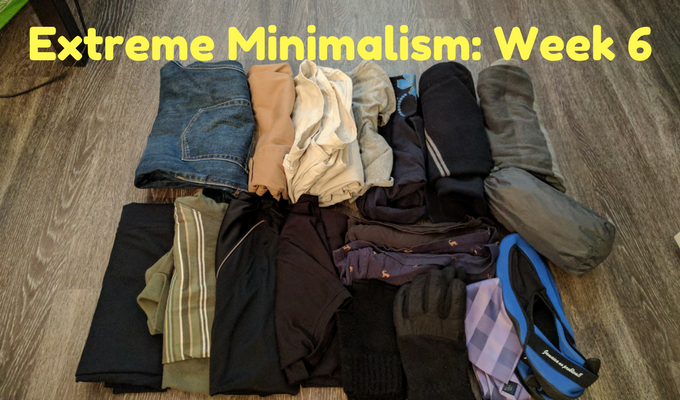 Going clockwise from top-left there's:
1 pair of jeans
3 pairs of shorts
1 pair of swimming shorts
1 sweater
1 rugby-style shirt
1 poncho
1 pair of water shoes
1 tie
2 pairs of gloves
2 pairs of boxers
2 exercise shirts
2 T-shirts
Some of these items were harder to get rid of than others. I like the rugby-style shirt, but it's fairly thick and warm. We're not going to be anywhere cold enough to warrant wearing it until close to Christmastime 2018, so it didn't seem worth packing it for the road trip given that I wouldn't need to wear it for a year.
It seemed a shame to get rid of the poncho as it's such good quality. However, I've owned it for about a decade and never actually used it(!) so it was time to say farewell.
Shae also wasn't keen on me getting rid of the jeans as apparently they're cute on my tushy. I don't ever wear them though, so again it didn't seem worth having them take up packing space.
You can follow our entire Extreme Minimalism process with all the posts below:
Week 6: My Clothing Edition – 18 items