Roanoke VA Mini-Trip Report
Geeking Out At The Roanoke Harry Potter Festival
My name is Shae Pepper. And I am a Harry Potter Geek. *Hi Shae*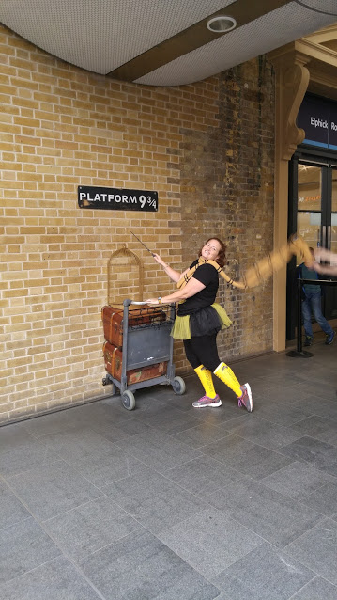 This is a title I wear with pride. You see, I'm a Hufflepuff from JK Rowling's literary classic Harry Potter series.
What is a Hufflepuff you ask? Well, we don't really have time for all the details I could share, but suffice it to say it's one of the four houses at Hogwarts School (the magical school that Harry and his friends – and some of his enemies – attend), named for one of the school's founders Helga Hufflepuff.
A Hufflepuff's colors are yellow and black and our mascot is a badger. We value hard work, loyalty, patience and fairness.
And cookies. I probably value cookies the most.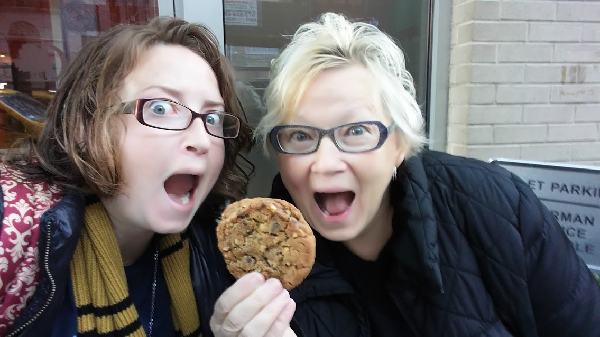 A few other details that may help those who aren't Potterheads as you read through this post. There are three other houses at Hogwarts School. Ravenclaw (who value intelligence), Slytherin (who value cunning) and Gryffindor (who value bravery).
They play a sport on broomsticks called Quidditch and attend magically-themed classes. The Harry Potter series follows the adventures of Harry and his best friends Ron Weasley and Hermione Granger in their fight against the dark wizard, Voldemort and his group of Death Eaters who escaped from the wizard prison, Azkaban.
May 13, 2017 we went to the first ever Roanoke Harry Potter Festival in Roanoke, Virginia. I'd like to say that it was for 'Mutters Day' on the 14th but really, I'd have wanted to go without a special occasion. I was so excited about this I let my geek flag fly… aka my Hufflepuff cape!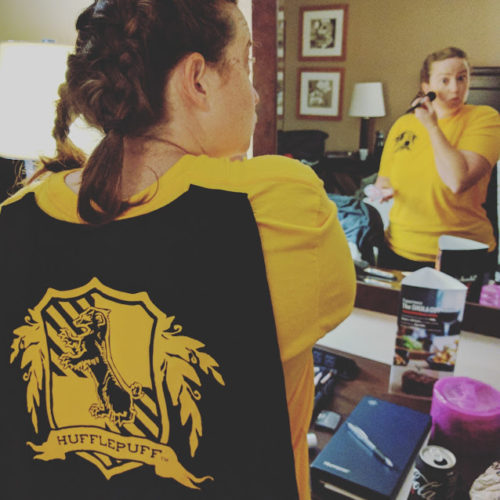 We had Roanoke Harry Potter Festival tickets which cost $5 each. We also got our hands on a couple of free tickets to see the high school Quidditch match being played by the only recognized high school Quidditch team in Virginia. Other than that, we didn't have any set plans – just a map with a lot of fun ideas and options.
Quidditch was from 9:00am-10:30am at William Fleming High School. Luckily enough it was less than a mile from the Sheraton where we were staying.
After Quidditch we made our way over to the festival. We were able to get our festival wristbands at the match which meant we avoided any long lines to collect our bands on the morning of the event.
Parking can always be a challenge but our different options were laid out on the map. We found a garage with plenty of spaces around the corner from the festival (attached to the Hampton hotel). We made our way to the festival area and then the fun really began.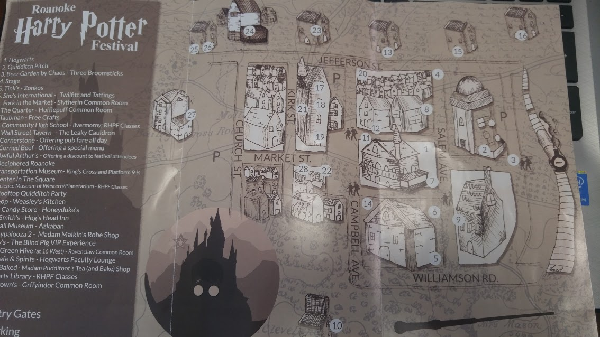 As part of my geekdom, I'm a member of the Hogwarts Running Club (HRC). We're a group of people who have a common love of running (walking, biking, dancing, etc), Harry Potter and doing #SoMuchGood.
We use the Charity Miles app to track mileage and support charities across the world with our miles, races and medals. There's a lot more to it, but it's a really fun community to be involved with.
When we're going to different Harry Potter events we try to schedule meet-ups. As a result, Stephen and I spent most of the day with a few new friends from the HRC.
Our day started at the Community High vendor table, where an HRC member had some of her items on display, and it got us pumped for a day of mild-mannered frivolity. (Are you a Dr. Who or Gilmore Girls geek? You can join one of the other two sister running clubs to the HRC.)
We wandered towards the Ravenclaw Common Room which was being hosted by Little Green Hive Coffee and Smoothie Bar. On the way we saw fun stalls like caricaturists, Harry Potter themed souvenirs including mugs, jewelry, brooms and more.
The Ravenclaw Common Room was by far the best decorated, most fun and most interactive area in the entire festival. I decided I wanted to be an honorary Ravenclaw for the day! Outside they had a riddle to solve while inside the entire area was decorated for the day in spectacular ways.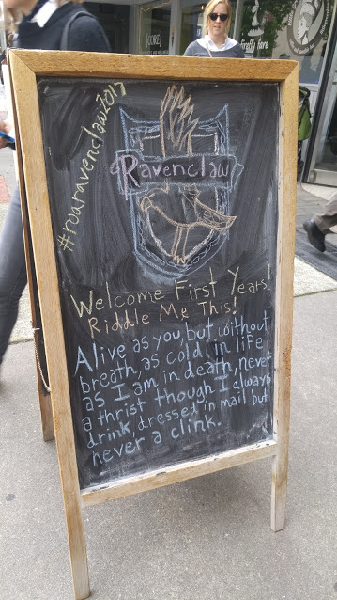 There were 'flying keys' from book one, Azkaban 'Wanted' signs from books 3-7, a station to make butterbeer cork necklaces like Luna from book five and fun drinks from all seven books.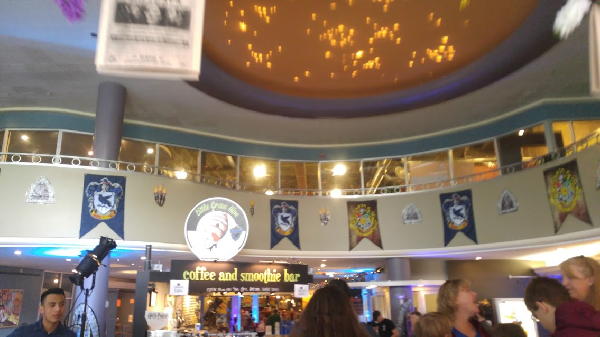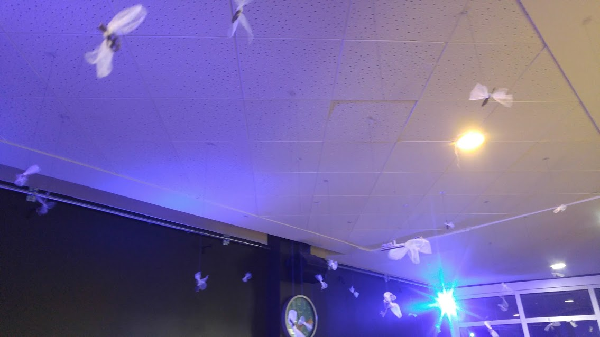 There were even signs showing you how to get to the Ministry of Magic!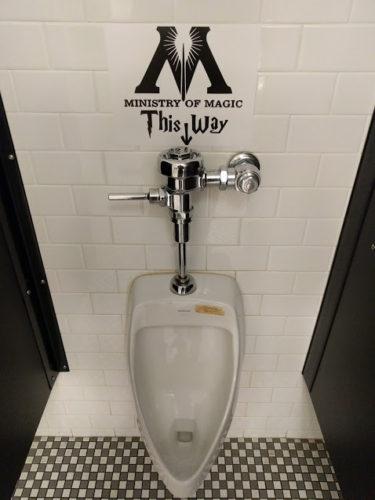 While at the Ravenclaw Common Room, I saw a tattoo shop that was advertising discounted Harry Potter themed tattoos for the festival.
I'd been contemplating a tattoo but got a sudden spark of bravery and craziness (braziness if you will!!) and put my name on the list.
I ended up getting my first tattoo – three stars behind my right ear. If you read the Harry Potter books, you'll see these stars on the page corners. I felt like it was a discreet homage to my love of Harry Potter without being something that I'd regret too much in the future.
My mom pointed out that my tat could represent my middle name 'Evenstar' one day if I don't like Harry Potter anymore (unlikely!). Hubs then pointed out I'd need a fourth star since I currently have three stars or 'Oddstars' instead of 'Evenstars'. Oy! These hubseys…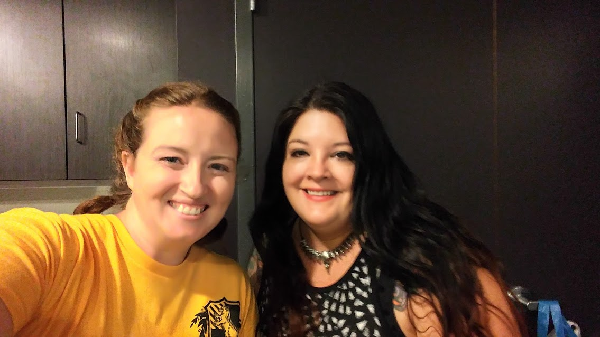 After getting inked, I ran back to the Community High table at the festival entrance as we'd arranged a meet up for 1pm and a photo. This isn't all the running club members represented at the festival, but still a great group for a photo.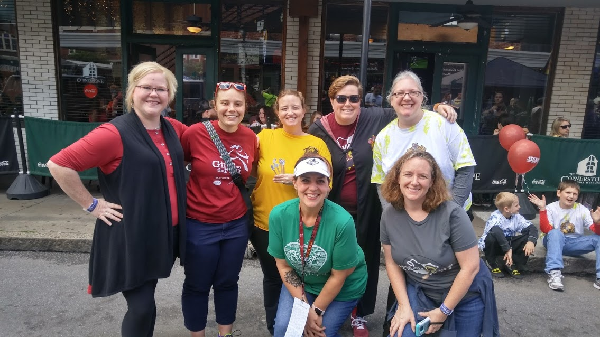 Next was lunch at one of the many magical food places on offer. In addition to the Hufflepuff, Gryffindor and Slytherin Common Rooms which were all restaurants, there were other participating restaurants in the festival area.
The Roanoke Harry Potter Festival also had quite a few food trucks. Several of us ended up at The Dojo Grill food truck which served artisan grilled cheese. Stephen went and found a burger since he's a non-cheese-liking-weirdo.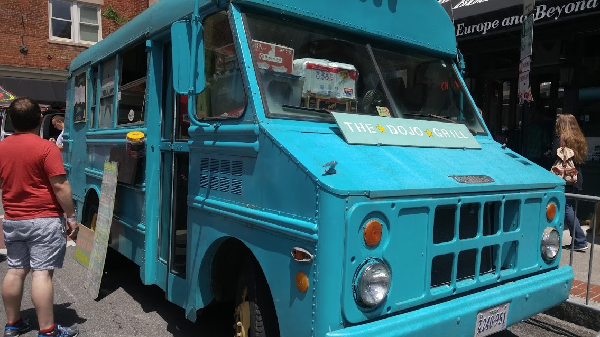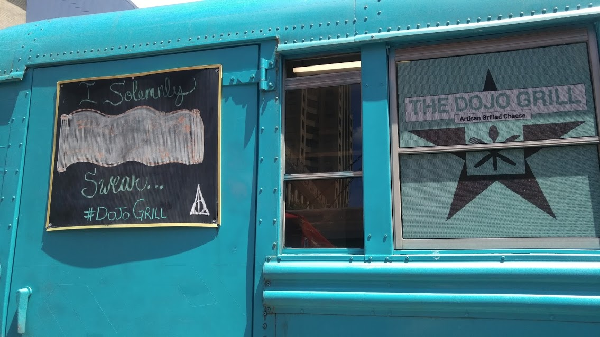 We wandered around most of the afternoon checking out the treats on offer at various vendors. A couple in our group hadn't been to the Ravenclaw Common Room yet, so we headed back there.
Along the way, we stopped by the other common rooms but as they were strictly restaurants there wasn't much to do. We checked out the souvenir stalls and a candy shop where I bought Stephen bacon and maple flavored soda.
At the corner ice-cream vendor I tried some butterbeer flavored ice-cream which was fantastic. Truffles enjoyed a small lick as well – she agreed it was pawesome.
I'd pre-ordered Harry Potter themed treats from Fresh Baked Bakery, so we stopped there to pick them up. Costing $10, it was a box containing baked goods including a snitch cake pop, dark magic brownie, half-blood orange macaron, butterbeer cupcake and Mrs. Weasley's rock cookie. For an additional $6 I'd also pre-ordered a mandrake cupcake.
Everything tasted delicious and was a really fun addition to the festival. This vendor was my second favorite in terms of decoration. They added cupids to the ceiling and themed themselves after Madam Puddifoot's Tea Shop where Harry takes Cho Chang on their Valentine's date in book five.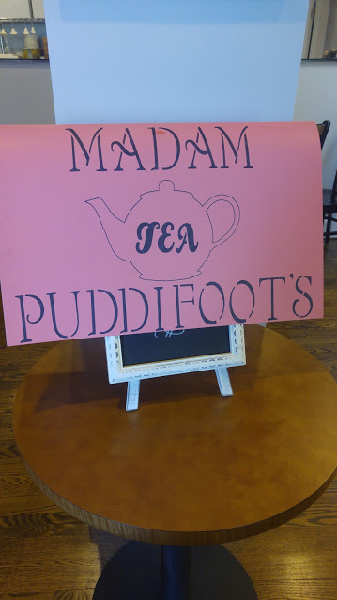 The day came to a close with a relaxing drink at the Cornerstone Bar and Grill. The service was great, plus they moved the tables together for our group of eight without any issues at the end of a long day.
Summary
Overall the Roanoke Harry Potter Festival was great.
The highlights (in no particular order):
The Ravenclaw Common Room by Little Green Hive Tea and Smoothies
Madam Puddifoot's Tea Shop by Fresh Baked Bakery
The wristbands and the ease of entry and exit to the festival area using them
Electric Eye Tattoo Designs
High School Quidditch match
The festival map
The number of vendors and participating restaurants for the first event
Offering classes and other fun extras like a Rooftop Quidditch party, End of Year Feast, Yule Ball and more
Movies and events leading up to the main festival for those in the Roanoke area
Quidditch demos for kids
Some things I'd like to see next time (in no particular order):
Even while following the page and event it was hard to get updates in a timely manner because of Facebook algorithms. That meant I missed out on the chance for first-come first-serve tickets for extra events and classes. A Facebook group may be a better way to disseminate the information next year.
More vendors participating at the level of Little Green Hive and Fresh Baked. It appeared that most participating restaurants only put a sign on the widow or out front. The immersive nature of the books lends itself to immersive events.
More activities that were free like the easy make-and-take butterbeer necklace craft at the Ravenclaw Common Room.
Discounts at other places in the Roanoke area with the wristband for the entire weekend
Overall it was a fantastic event. It was fun, well organized, well attended and had a good amount of vendor participation. We plan to interrupt our travels in the first year of our 50 state road trip to attend the 2018 Roanoke Harry Potter Festival with more Harry Potter friends.
Truffles Rating

Truffles gives the Roanoke Harry Potter Festival a rating of furbulous at 3 paws.
It was very busy so lots of feets were around me all day, but I was able to stay with mommy or daddy most of the day. There was lots to do outside. I couldn't go into all the places though. I gots to try a small bites of tasty treats though which made up for that. I would likes to see a dog friendly area that focuses on Harry Potter themed dogs like Fluffy, Fang, Padfoot and the Grim.