Starwood Preferred Guest (SPG) is the loyalty scheme of Starwood Hotels and Resorts Worldwide, LLC.
Over the years, they've built up a portfolio of more than 1,200 properties and an army of devoted and loyal members of the SPG scheme.
Here's our guide to SPG to help you learn the most important things to know.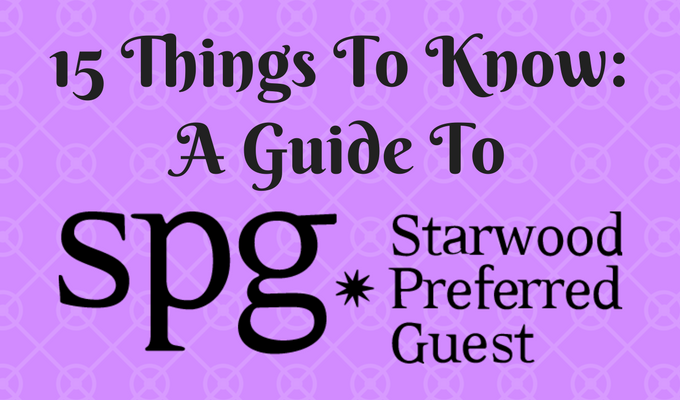 1) SPG Isn't Long For This World
In November 2015, Marriott announced that they'd be purchasing Starwood, with the deal going through in September 2016.
The Starwood Preferred Guest reward scheme is expected to end in 2018 by merging with Marriott Rewards.
2) You Can Earn Points At 11 Different Brands
Points in the SPG loyalty scheme can be earned at 11 different brands. Some of them are more well-known than others and include Sheraton, Aloft, St Regis, Westin and W.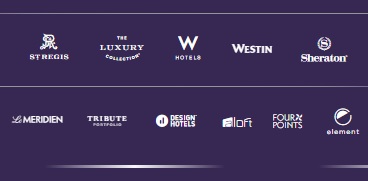 3) There Are Seven Category Levels. Sort Of.
Officially, there are seven category levels, ranging from category 1 properties which require 3,000 points per night during the week (2,000 points at weekends) up to category 7 properties which require 30-35,000 points per night.
Having said that, there are some luxury resorts that require far more points than 35,000. Each year, SPG have tended to run a promotion where those properties are available for a discounted number of points – here are details about the 2017 promotion.
4) They're Very Pet-Friendly
A large number of SPG hotels are pet-friendly which is great for us seeing as Truffles is coming on our 5 year, 50 state road trip.
Even better is the fact that many of those hotels don't charge any kind of pet fee.
5) Earn Points And Credits On Up To Three Rooms
Many hotel loyalty schemes only allow you to earn points and night / stay credits for one room, even if you're paying for several rooms (e.g. when traveling with family or friends).
SPG is a much more rewarding scheme as they allow you to earn points on up to three rooms booked under your account. You'll also earn both night and stay credits towards elite status on all three rooms.
6) Status Match To Marriott Or Ritz-Carlton
After Marriott confirmed the takeover of Starwood Hotels, one of the first steps they took was status matching across loyalty schemes.
This meant your highest status in one of the three loyalty schemes (Marriott also own Ritz-Carlton) would be carried over to the others. For example, if you had Platinum status with SPG, that'd be matched to Platinum status with Marriott or Ritz-Carlton.
7) Transfer Points Between Loyalty Schemes
Another feature announced post-takeover was the ability to transfer points from your SPG account to your Marriott Rewards account and vice versa.
Starpoints are generally regarded as being much more valuable than Marriott Rewards points, so the transfer ratio was set up as 1:3. For example, if you have 10,000 points with SPG, you can transfer them to your Marriott Rewards account and receive 30,000 points.
8) Transfer Points Between Household Members
Another nice feature of the SPG scheme is that household members can transfer points to each other in 1,000 point increments.
This can be especially helpful if one member of the household is trying to earn status. That's because reward stays are eligible for both stay and night credits.
That'll be the case for us on our road trip. I have Gold status and so we'll want to book stays under my name to benefit from this. Shae has ~75,000 Starpoints in her own account though, so this feature means we can transfer those points to my account to use for free night stays. Those in turn will (hopefully) help me earn Platinum status.
9) Transfer Points To Airlines
One of the reasons so many miles and points enthusiasts love the SPG loyalty scheme is because you can transfer the points on a 1:1 basis to most major airline reward schemes.
Even better than that, if you transfer them in 20,000 point increments at a time, SPG adds 5,000 bonus miles. That means you'll receive 25,000 miles – a 25% bonus.
10) Get The 5th Night Free On Award Stays
If you book a five (or more) night stay at category 3-7 hotels using your points, you'll receive the 5th night free.
11) Earn Bonus Points By Declining Housekeeping
Starwood have an initiative called Make A Green Choice. By forgoing housekeeping for up to three days in a row (excluding the day you check out), you'll earn 250-500 Starpoints.
Alternatively, you can choose to receive a $5 food and beverage voucher per day.
12) Book Discounted Rates With Hot Escapes
Every Wednesday, SPG release a new set of deals which they call Hot Escapes. These are bookable between Wednesday and Saturday each week for stays during the following six weeks.
13) There Are Two SPG Credit Cards
Both SPG credit cards are issued by American Express – there's a personal card and a business card. The benefits are virtually identical, although the business card offers free lounge access at Sheraton hotels – a great benefit if you can make use of it.
14) Earn Points When Using Uber
If you link your SPG and Uber accounts, you can earn Starpoints every time you use Uber. You also earn at a higher rate if you use Uber during a stay at one of Starwood's hotel brands.
15) Earn Bonus Points And Miles With Several Airlines
If you have Gold or Platinum status, you can earn bonus points when flying with Delta, Emirates and China Southern.
Similarly, you can earn bonus miles with those schemes when staying at Starwood hotel brands.
Question
So that's our guide to SPG, but is there something you'd add to the list? Are there any hints, tips or tricks you know about the Starwood Preferred Guest loyalty scheme that can help all of us to maximize it before it disappears?
Please let us know in the comments below.