Until nine months ago, I'd never run a mile.
I remember one miserable P.E. lesson at school where we had to run a mile around a nearby field, although I probably walked half of it.
I decided to do something about my lack of exercise when I set myself several goals for this year. One of those goals was to be able to jog 30 minutes nonstop by the end of the year. That challenge started on February 1 when I jogged a mile on the treadmill at 4.8mph.
My legs were so sore the next day.
Thankfully I got back on the treadmill a couple of days later and reached the 30 minute mark on April 6. I've jogged several times a week since then, gradually increasing how far I can run.
A Surprise For Shae
Back in March, Shae signed up to run in the OBX Marathon. Due to her job (she's a teacher) and how hectic things have become in preparation for our road trip, she hadn't had as much opportunity to train as she'd been hoping. She therefore recently downgraded her registration to the half marathon.
I decided last Tuesday to surprise her and signed myself up for the half marathon as well. I'd built up my training to 10 miles, so figured 13.1 miles wouldn't be too much of a stretch.
I didn't mention anything to her and was going to let her in on the secret when we went to pick up her race pack. That didn't go entirely to plan though.
A Surprise For Me
The day after I registered for the race, Shae tripped in a hole and injured her knee. She didn't do any significant damage, but it hurt while walking and meant she couldn't run the race.
So in the space of 24 hours we went from her running the half marathon alone, to us running the half marathon together, to me running it alone!
Here's How It Went
My goal before I started was to complete the course inside 2 hours 30 minutes which is an average speed of 5.24mph. That speed didn't seem unreasonable as I tend to start out running at about 6.5mph and gradually slow down as I go along.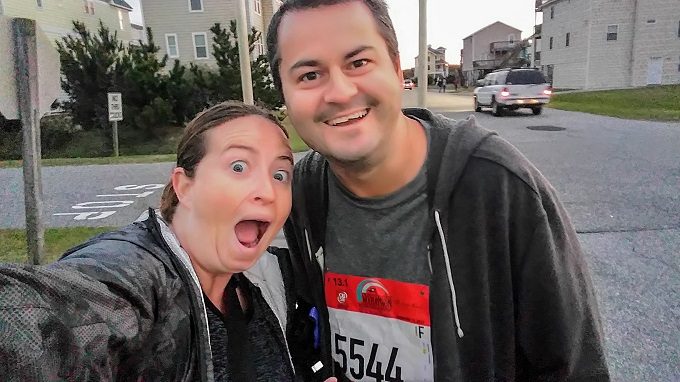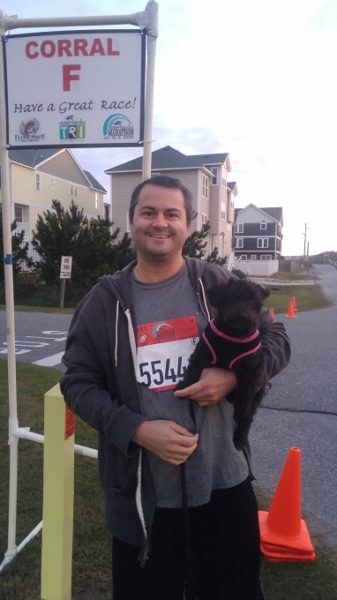 The Southern Fried Half Marathon started in Nags Head, close to the largest sand dune on the east coast. The first couple of miles went well. The course was pretty congested as quite a few people starting out by walking, so I moved on to the sidewalk with a few others to have a clear path.
I don't think I could've picked a better place to run my first race. The course was in a beautiful setting and sometimes ended up going alongside the water.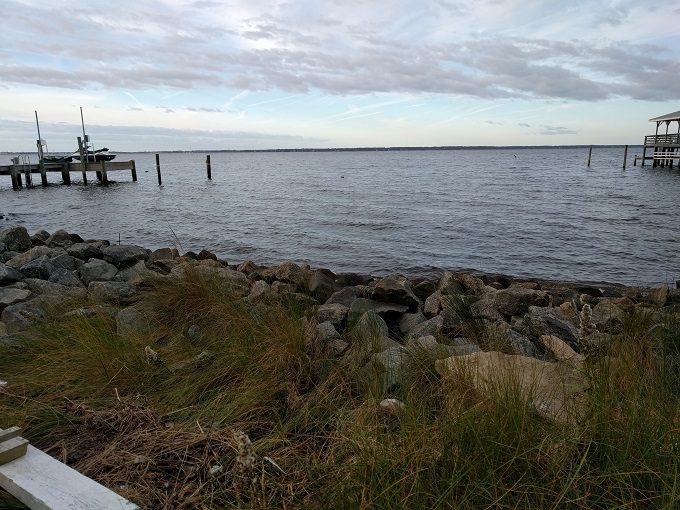 The weather was also perfect. Sunday had a high of 57°F (14°C for my fellow Brits), so the temperature was how Goldilocks likes her porridge. Despite being overcast, it didn't rain. Other than the sweat from my forehead.
The sixth mile was a little harder as there was a steady incline most of the way. Most of my training had been on a treadmill and I rarely used any incline, so my thighs started to feel it.
I got a bit more energy at mile 7 though as Truffles, Shae and her parents were there cheering me on.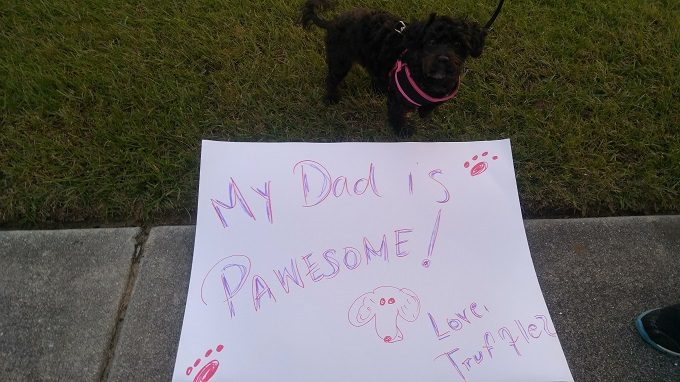 The 10th mile saw us ascend the Washington-Baum bridge, so I had to do a mix of walking and slow-jogging up the bridge. Ironically, the song playing on my Spotify playlist at the time was D'Ya Wanna Go Faster.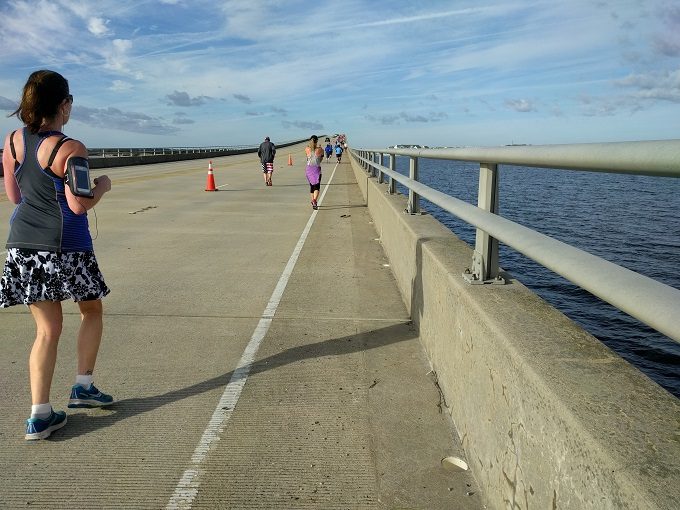 The mile 10 mark was at the top of the bridge, which was also the farthest I'd ever run up to that point. Somewhat fittingly, the song playing when I reached the top of the bridge was called Oblivion.
Thankfully it was downhill from there, so mile 11 was much easier. The last couple of miles were tougher – my breathing was fine, but my thighs were feeling it by that stage. I mixed jogging with walking up to the 12.5 mile mark, then put Awakening by Switchfoot on to help push me through to the 13.1 mile finish line.
My Time
I mentioned earlier that I was hoping to complete the Southern Fried Half Marathon inside 2 hours 30 minutes.
And my time was… 2 hours, 22 minutes and 21 seconds. I was really pleased with the time, although a little disappointed that I hadn't taken one second longer to have my time be all the twos!
Post-Race
As it's the Southern Fried Half Marathon, you get a pulled pork sandwich, coleslaw and sweet potato fries at the end, along with a free beer.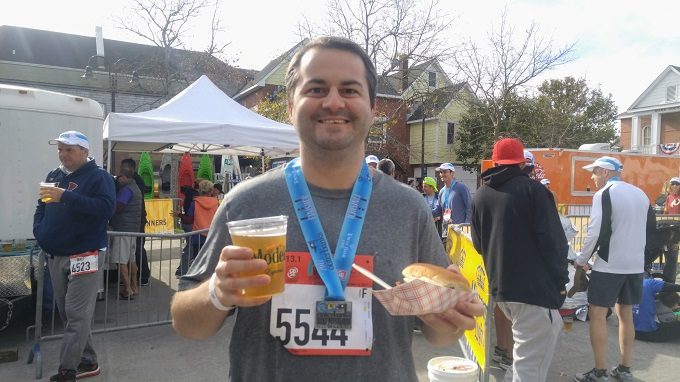 If there's one thing Truffles loves more than early morning belly rubs and playing ball, it's sweaty forehead.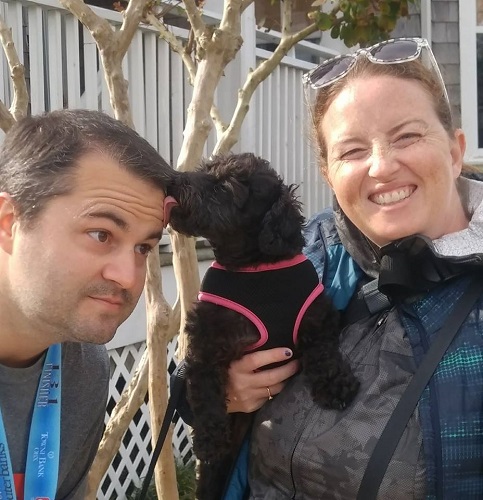 What's Next
Shae and I would both like to run a full marathon at some point. We might therefore run the full OBX Marathon in 2019 as we were considering visiting North Carolina in the fall while on our 50 state road trip.