Have you ever dreamed about living in a hotel full-time? You can live wherever you want, have fewer responsibilities and never have to clean a toilet again.
When you fantasize about this lifestyle though, do you force yourself to come back to reality because it'd be too expensive to live your dream?
Well, what seems like a fantasy could become your reality. After all, we'll be living this dream on our 5 year, 50 state road trip while sticking to a budget, so living in a hotel doesn't have to be expensive.
You're about to learn the techniques we use that'll:
Save you money
Save you time
Eliminate all those tasks and chores you hate doing
All this while also improving your lifestyle because you can live wherever you want.
So let's begin…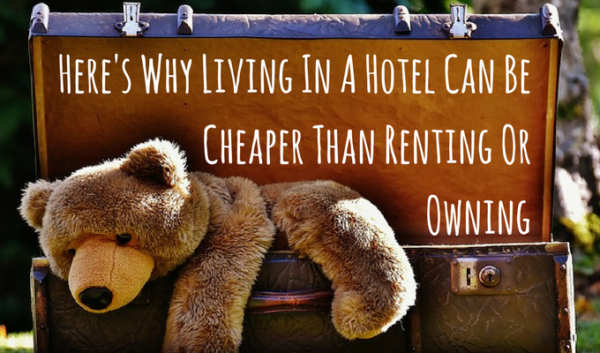 Your Monetary Costs
First, add up all your expenses related to owning / renting your home. Include everything. To help you get started, here's a list of some common expenses, along with their monthly costs.
All these costs are estimates and will obviously vary depending on your local housing market, local taxes, climate (i.e. heating and cooling costs), so feel free to adjust for your own circumstances.
Some of these won't be fixed but they give an idea of your average monthly costs. For example, you might not have to spend $175 on home maintenance every month, but over the course of a few years you might need to replace large appliances, fix your roof or siding, redecorate, want to upgrade your TV, etc. which could average out to $175+ per month.
Rent / mortgage = $1,000
Property tax = $120
Homeowners insurance = $75
Utilities = $300
Internet & cable TV = $120
Home maintenance = $175
HOA fees = $75
Home decor = $25
Lawn service = $75
Pest control = $50
Home security = $40
Cleaning supplies = $5
Bathroom products = $25
The total of all those is $2,085. Your total will be different, but it gives us a good baseline.
Your Time Costs
In addition to the monetary costs of renting or owning, think about all the time you waste on all those chores and tasks you hate doing. Imagine if you didn't have to do this stuff all the time:
Dusting
Mopping
Vacuuming
Cleaning the toilet
Cleaning the bath
Making the bed
Mowing the lawn
Snow-shoveling
Leaf-blowing
Home maintenance
Remodeling
Paying bills
Getting alternative insurance quotes
Shopping for everything you need to do what's on the list above
Shae realized the other day when scrubbing the toilet that soon she wouldn't have to do that again!
Your Alternative… Living In A Hotel
First up, let's address the most common objection.
Living in hotels is too expensive.
Yes, it can be expensive. But it doesn't have to be. Here's are two examples of how hotel-living can be cheaper than renting or buying your own home.
Example 1 – Atlanta, GA
Doing a search on IHG's website, there's a Candlewood Suites available on the outskirts of Atlanta for $64 per night. That's from July 1 – Aug 1, so in the summer when you might expect hotel prices to be higher. For reference, it was also the same price for Jan 1 – Feb 1 the following year. (Fun fact, we've actually stayed at this exact hotel on a road trip in the past – it was pretty good).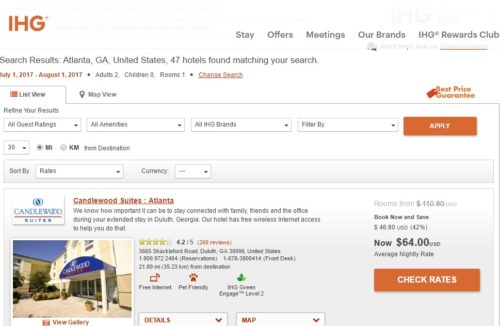 That gets you a queen bed suite and comes complete with a fridge-freezer, microwave, dishwasher and stove – that'll help you save money by making it easier to prepare home-cooked meals.
Taxes & fees add an extra $13 per night, so you're looking at $77 per night, or $2,387 for the month of July. On the face of it, that's more expensive than the $2,085 average living costs listed above, but there are two other things to consider.
1) Cashback
You should always book your hotel stays having clicked through from a cashback portal. Cashback Monitor is an awesome site that helps you identify which portal has the best payout rate.
They also have a helpful feature that shows the best rate history for each site, so in this case we can see that for 12 of the last 15 months, you could get 8% or more cashback for Candlewood Suites stays.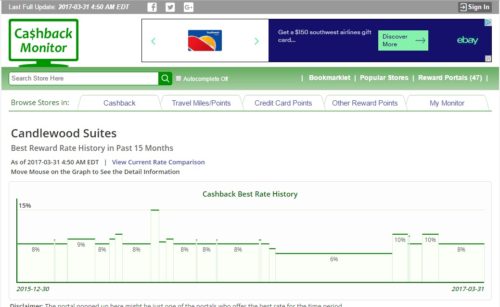 The 8% would be payable on the pre-tax total, so $64 * 31 days * 8% = $158.72 cashback.
2) Hotel Rewards Scheme
IHG's reward scheme offers 10 base points per dollar spent at most of their hotels, although only 5 base points per dollar at their Candlewood Suites and Staybridge Suites brands (that's earned on the pre-tax amount).
If you get the IHG credit card, you earn an additional 5 points for every dollar spent at IHG brands. It also comes with automatic Platinum status which gives you a 50% bonus on base points earned, so an extra 5 points per dollar at most brands and 2.5 points at Candlewood Suites and Staybridge Suites.
So for this stay, you'd earn:
Base points: $64 * 31 days * 5 points = 9,920 points
Points from credit card spend (based on full cost including tax): $77 * 31 days * 5 points = 11,935 points
Bonus points from Platinum status: $64 * 31 days * 2.5 points = 4,960 points
Total = 26,815 points
That's before you take into account any bonus points from whatever promotion IHG are running at the time, but we'll ignore that for now.
To maximize your points, IHG publish a new list every quarter of PointBreaks hotels that only require 5,000 points per night. Then to make your points go even further, another benefit of the IHG credit card is that you get a 10% rebate when spending your points.
That means six nights in a PointBreaks hotel normally costs 30,000 points, but you'd get 3,000 points back, making the net cost 27,000 points, so virtually the same number of points you'll have earned from that one night stay.
You'd therefore be able to save your $77 per night for six nights, which comes to $462.
Calculation
So you're initially spending $2,387, but getting back $158.72 in cashback and points we can conservatively value at $462.
That makes your final outlay $1,766.28, or more than $300 less than the average living cost of $2,085.
Example 2 – Richmond, VA
We love visiting Richmond, so living in hotels there wouldn't be a hardship. Looking on Marriott's website, there's a TownePlace Suites in Glen Allen (the north end of Richmond) that's $69 per night pre-tax.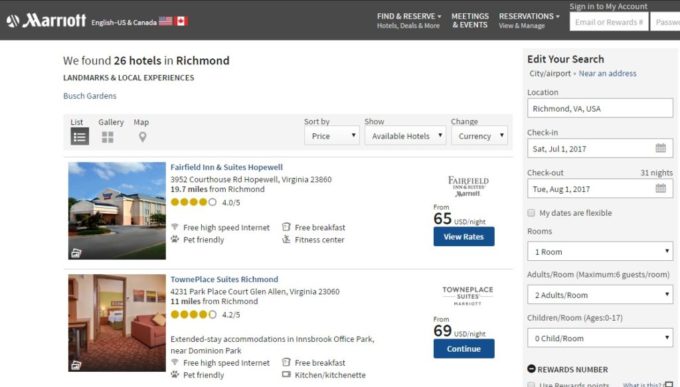 Similar to the Candlewood Suites in the previous example, that gets you a queen bed suite complete with kitchen, fridge-freezer, dishwasher, stove and microwave.
Taxes are $9 per night, so a total of $78 per night or $2,418 for the month of July. Once again, that total's higher than average living costs, but our friends cashback and points are coming to the rescue.
1) Cashback
Cashback Monitor shows that you can consistently earn 5%+ cashback at Marriott brand hotels.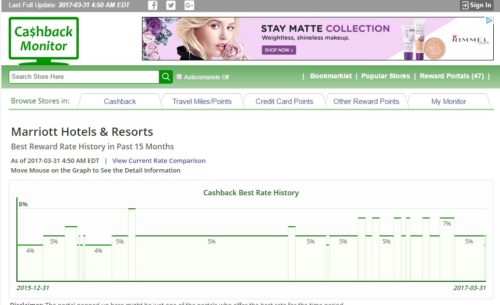 Cashback is calculated on the pre-tax figure, so $69 * 31 * 5% = $106.95 cashback.
2) Hotel Reward Scheme
Marriott offer 10 base points for every dollar you spend at most of their hotels, with the exception of TownePlace Suites and Residence Inn hotels where you earn 5 base points per dollar.
If you were living in their hotels, you'd quickly earn Platinum status which provides a 50% bonus on base points, while the Marriott credit card will also earn you 5 points per dollar spent at their hotels.
Your points total would therefore look like this:
Base points: $69 * 31 days * 5 points = 10,695 points
Points from credit card spend (based on full cost including tax): $78 * 31 days * 5 points = 12,090 points
Bonus points from Platinum status: $69 * 31 days * 2.5 points = 5,348 points
Total = 28,133 points
Marriott have a large number of category 1 hotels that only require 7,500 points per night, plus when you redeem your points for a five night stay you get that fifth night free. That means a five night stay in a category 1 hotel only sets you back 30,000 which is almost the same number you'd earn from that month's stay. Realistically, they'd have some other kind of promotion running that month that'd earn you bonus points, so you'd probably end up with well in excess of 30,000 points.
Using your points in this way would save you $78 for five nights, so $390.
Calculation
Your monthly cost was $2,418, but you'd be getting back $106.95 and points that would save you $390.
That makes your net cost $1,921.05, or a saving of more than $150 on the average living cost when renting / owning.
Summary
Living in a hotel isn't for everyone, but if it's something you're interested in then hopefully these breakdowns have shown how it can save you money, save you time and eliminate those chores you hate.