Happy National Kazoo Day!
I know – we didn't know that was a thing either until a few days ago when we visited the Kazoobie Kazoo Factory, Museum & Gift Shop in Beaufort, South Carolina.
A friend had recommended visiting the factory and, seeing as we love finding quirky things to do, we decided to stop in on our way up to Myrtle Beach.
The Kazoo Factory offers a tour for just $5 which includes building your very own kazoo. Before the tour started, we got to check out their Kazoo Museum.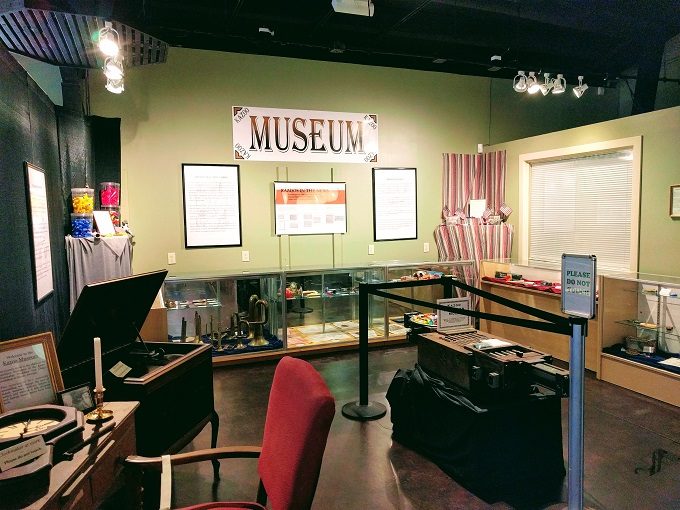 The museum section isn't huge, but it has some information about kazoos and their history…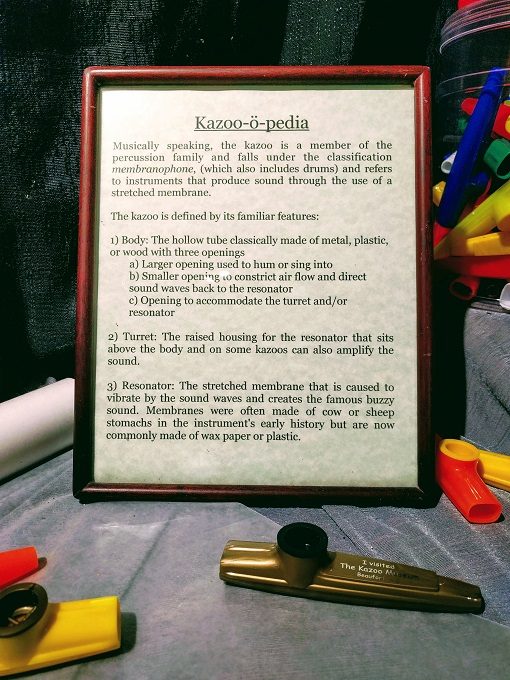 …as well as all kinds of kazoos made of different materials and with different designs.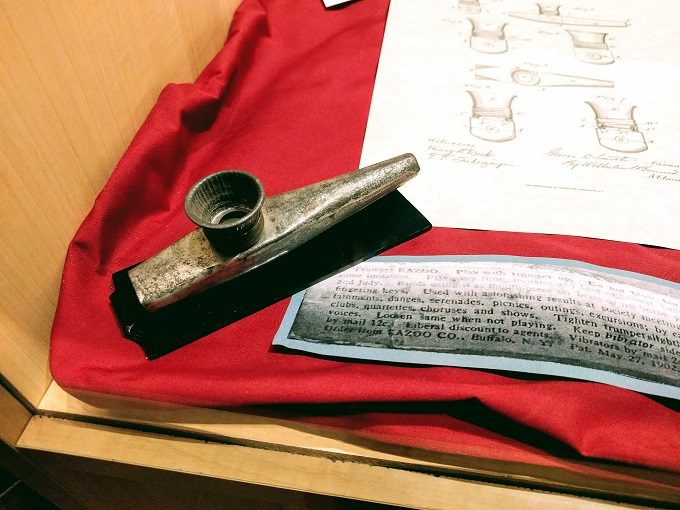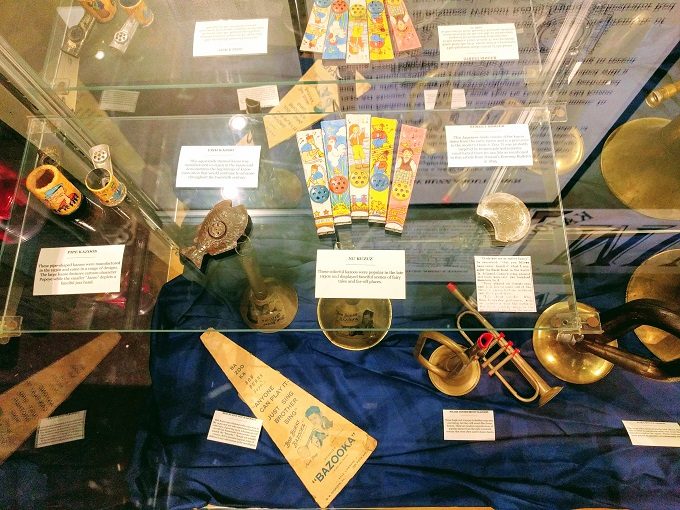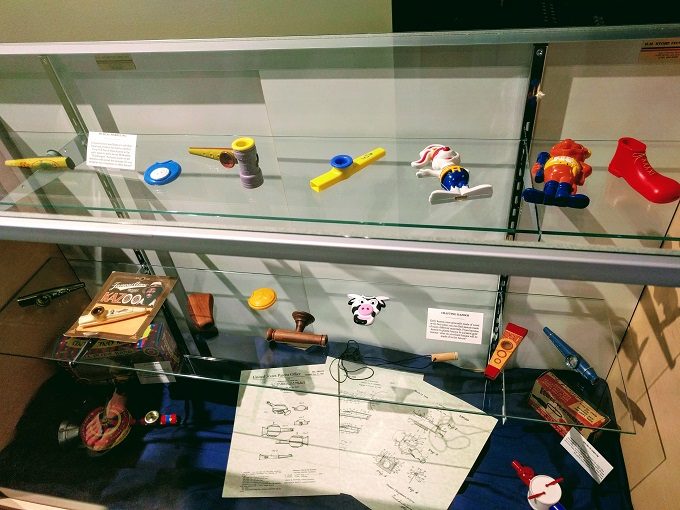 After checking out the exhibits, it was time for our tour to begin. Kami was our tour guide and she was awesome.
The tour began with a couple of short films that gave another look at the history of kazoos. The videos were actually pretty amusing as we were taught about kazoos by kazoos.
Kami then showed off loads of different types of kazoos, as well as attachments you can get that alter their sounds. I think our favorite was the mini Marshall amp that can be plugged into a kazoo.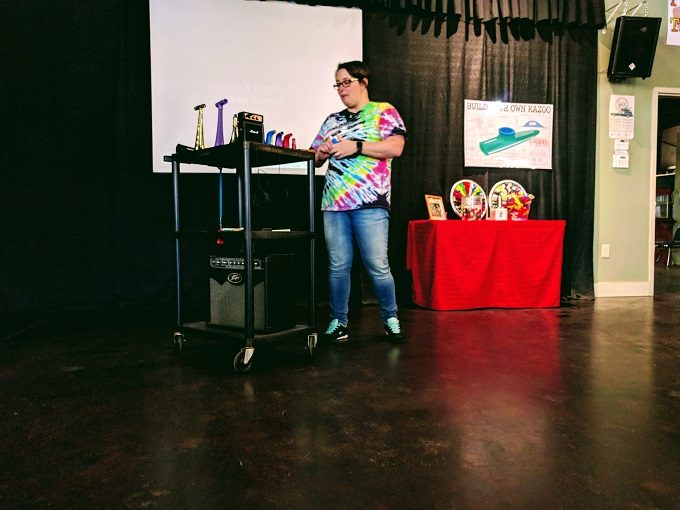 Next up was a behind-the-scenes tour of the Kazoobie Kazoo factory. We learned about the membrane their resonators are made out of and Kami used their hole punch machine to make some resonators from this strip: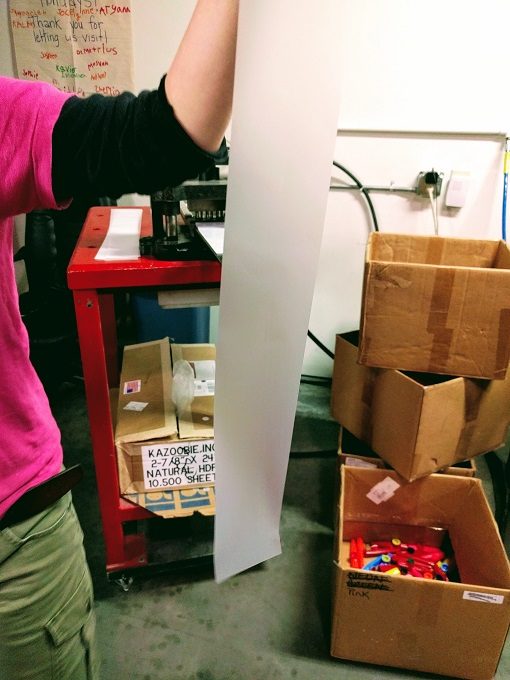 There's a machine that can print custom messages or logos on their kazoos: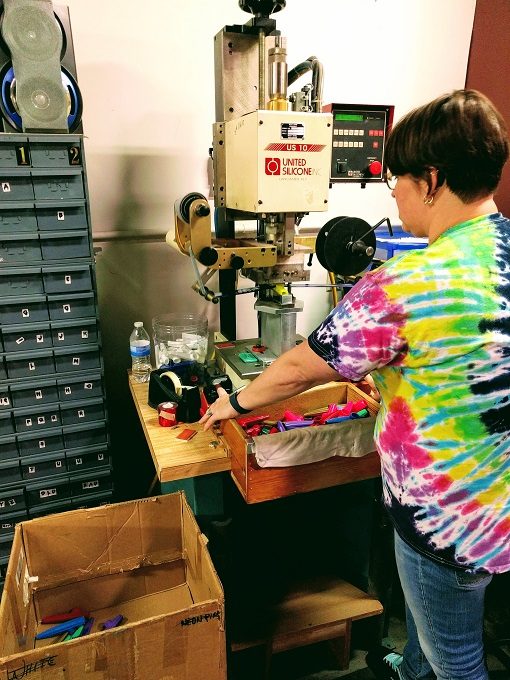 There's another machine that uses air pressure to insert the resonator and plastic top bit (I can't remember what that part was called). I didn't get a photo of their one, but you'll get to see a different one in a moment when we get to my favorite part of the tour.
Finally, there was a machine that individually packages up their kazoos: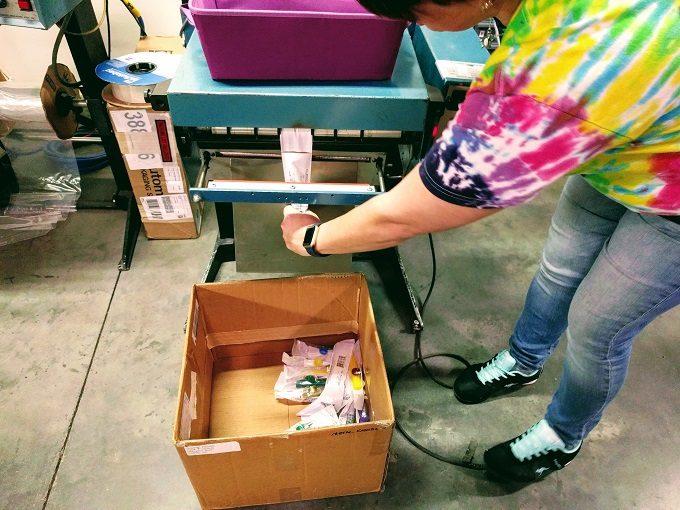 One of the things I found fascinating was that even though they have all these machines to assist them, they put together each kazoo by hand – all 1 million of them that they ship every year.
Finally, we got to my favorite part of the tour – at the end you get to build your own kazoo to take with you.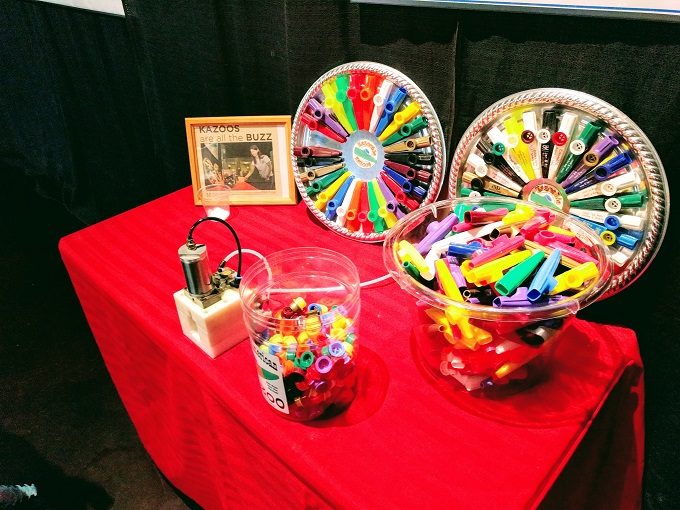 We got to pick our kazoo from something like 15 different colors. I went for gold while Shae picked their pink sparkly one as that's apparently only available directly from the Kazoo Factory.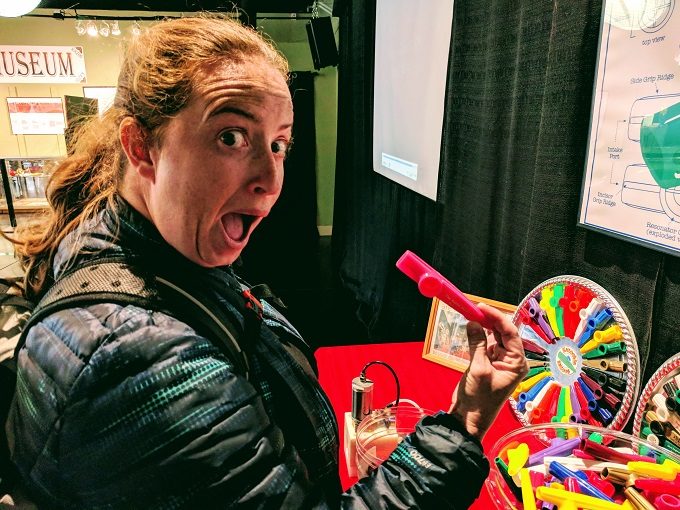 The resonator got placed in the top while we chose which color we wanted for the plastic topper thing. Shae went for orange while I chose a black one.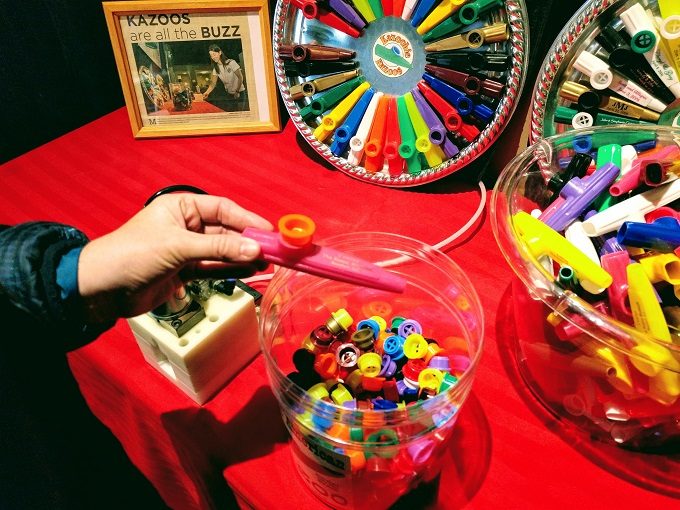 There was one more step in its construction – pushing it into the air pressure machine to compress the top.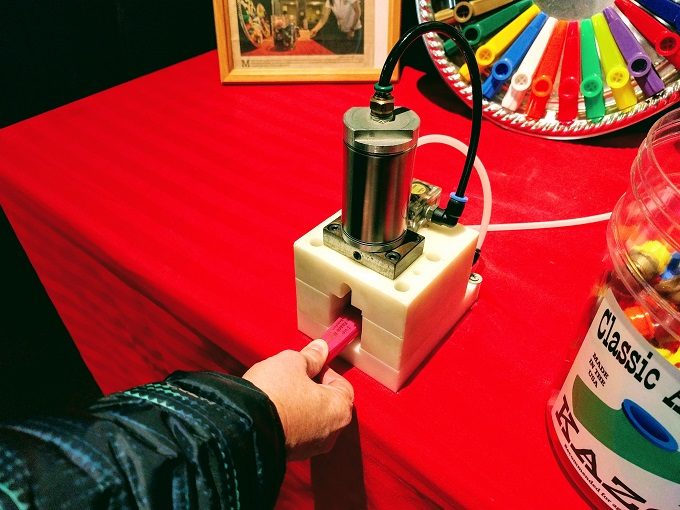 And with that, we had our very own kazoos.
To make sure our kazoos were working properly, Kami had us play Twinkle Twinkle Little Star. Here's the most stunning version of the nursery rhyme that you'll ever hear (minus the first note as my phone took its time recording.)
As you'll see in the photo below, another great thing about the Kazoobie Kazoo Factory is that they let us bring Truffles inside in her backpack.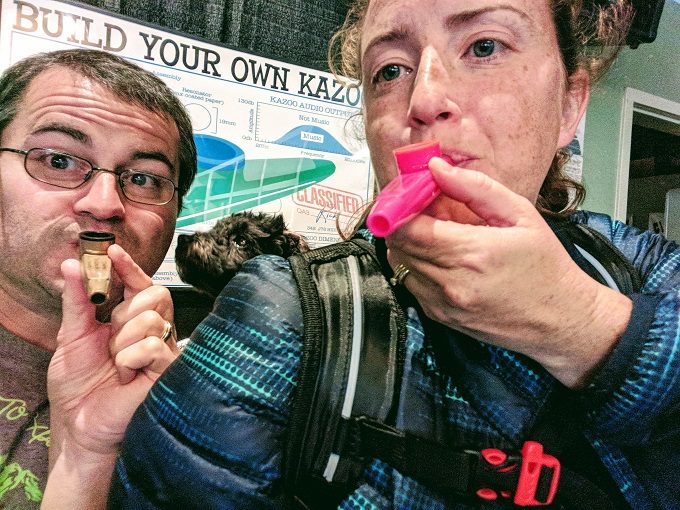 Kazoos in hand, it was time to exit through the gift shop and continue our journey to Myrtle Beach.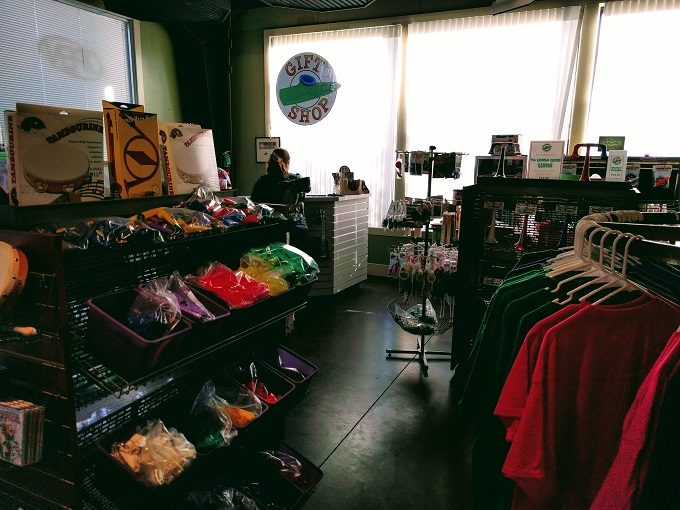 Final Thoughts
The Kazoobie Kazoo Factory, Museum & Gift Shop was surprisingly fun. They've done a great job of combining information with goofiness and it's definitely worth a visit if you find yourself in Beaufort, South Carolina.
For $5 you can't go wrong, especially seeing as you'll leave with a kazoo made with your own hands.