I mentioned yesterday how we're going to be making ourselves homeless earlier than originally planned. As a result, we needed to book three nights at nearby hotels before we head down to Florida for Thanksgiving.
Thankfully the stars aligned, so we were able to take advantage of several hotel deals for the three nights. It's by taking advantage of deals like these that we're able to afford our 50 state road trip, so I thought it might be helpful to go into greater detail what we're doing to help give you ideas for your own travels.
This post gets quite nerdy, so be prepared!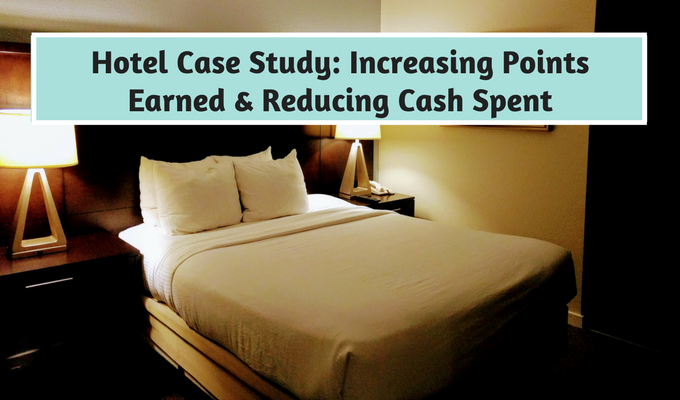 We decided to stay at SPG brands for a couple of reasons. First of all, most of their hotels are pet-friendly and don't charge a pet fee. Our dog Truffles will be with us, so this has the potential to save a fair bit of money.
The second – and more significant – reason is because there are several SPG promotions at the moment.
Reducing Cash Spent
Promo 1
The first promo is one that'll save us money. There's currently an Amex Offer for SPG properties where you get back $60 when spending $300 at their hotels.
I was able to book three separate one-night stays at different hotels for a total of $301.04. I'll explain later on why we're hotel-hopping rather than staying at the same place for three nights.
The first and third nights will be at the Sheraton Norfolk which we've reviewed before. This cost $82.84 per night pre-tax and $96.44 with tax included. Two nights at $96.44 came to $192.88, so we needed the other night to cost at least $107.12 in order to hit the $300 threshold for the Amex Offer.
The cheapest rate at the (somewhat) nearby Aloft Chesapeake was a few dollars less than that. Thankfully there are different types of rates that you can book. The Aloft had a prepaid rate including a $10 breakfast voucher for $108.16.
That made our three nights come to a total of $301.04. The $60 Amex Offer will therefore reduce that cost to $241.04.
Cashback Portal
We booked all three stays through the BeFrugal cashback portal. That portal was paying 3% cashback for all SPG bookings at the time which is payable on the pre-tax cost of the hotel nights. As that pre-tax total was $259.68, we're due to earn $7.79 cashback.
That cashback makes our net cost $233.25 ($241.04-$7.79). It includes the $10 breakfast voucher at Aloft, plus we'll have lounge access (with free breakfast) at the Sheraton as we both have the SPG Business credit card. That's pretty good for $77.75 per night, but it gets even better with the points we'll earn.
(n.b. That link to BeFrugal is our referral link. If you sign up and earn cashback, you'll earn a $10 bonus and we'll earn a $10 referral fee.)
Increasing Points Earned
Promo 2
Another promotion that SPG is currently running is 1,000 Starpoints per stay at some of their brands and 500 Starpoints per stay at some of their other brands.
This is one of the reasons we booked three one-night stays at different hotels. If we'd booked a three night stay at the Sheraton, we'd have only earned 1,000 points as it'd be classed as one stay. Staying there one night, then changing hotels for the second night and then returning to the Sheraton for the third night means we'll earn three separate bonuses.
We'll therefore earn 1,000 points for the first night at the Sheraton, 500 points for the second night at the Aloft and 1,000 points for the third night at the Sheraton for a total of 2,500 bonus Starpoints.
Points From The Credit Card
We booked the hotel stays using an SPG credit card. That earns 2 Starpoints per dollar spent at SPG and Marriott properties.
Those points will be earned after the statement credit from the Amex Offer has been taken into account. As a result, we'll earn 2x points on $241.04 of spend, which means we'll get 482 Starpoints from the credit card.
Points From The Hotel Stay
Both Shae and I currently have SPG Gold status, so we earn 3 Starpoints per dollar spent. It's based on the pre-tax cost of the rooms, so $259.68 x 3 means we'll earn an additional 779 Starpoints.
Points From Welcome Gifts
Another nice benefit of Gold status is that you get a welcome gift per stay. One of the options is bonus Starpoints, with the amount received differing by brand.
You can get 250 points for staying at a Sheraton and 125 points for staying at an Aloft. With two separate nights at the former and one night at the latter, we'll earn 625 Starpoints from the welcome gifts.
Points Total
All those factors mean we're earning 4,386 Starpoints for our three nights.
Starpoints don't have a fixed value, but I personally value them at 2.71 cents per point. That valuation is based on how we'll be maximizing our points for free stays on the 50 state road trip.
I therefore value those 4,386 Starpoints at $118.86, which is a pretty decent return on just three nights.
Earning Towards Platinum Status
Promo 3
The third promotion that's currently running is an offer that's been targeted at certain SPG members. Shae was one of the lucky people to be targeted (I wasn't deemed worthy 🙁 ).
This offer gives you double stay credits and double night credits towards earning status. At the time of booking these stays, she had 9 stay credits and 15 night credits.
To reach SPG Platinum status, she needed either 25 stays or 50 nights. That meant she needed another 16 stays or 35 nights by the end of the year which, in November, would normally be out of reach.
This double stay / night promo halves those requirements though, so she only needs 8 stays or 18 nights. We'll be having five sets of one or two night stays on our trip to Florida, so these three stays mean she'll reach the 8 stays needed to earn Platinum status.
Final Thoughts
As detailed above, we're effectively paying a total of $233.25 for three hotel nights. We're also earning 4,386 Starpoints which is worth $118.86 towards future travel.
These stays will also help push Shae over the line for Platinum status. That'll earn us suite upgrades, bonus points, Marriott Platinum status, United Silver status, additional benefits when flying with Delta and more.
That's why it's worth taking advantage of special offers and hotel loyalty schemes if you like to travel. You can reduce your costs, earn tons of points and pick up status along the way.
I'm looking forward to these stays!