When collecting points in hotel loyalty programs, it's worth having an idea of the value of those points.
The reason why is because the value of a point is different from loyalty scheme to loyalty scheme. One point with SPG is worth a different amount to Choice which is worth a different amount to Hyatt which is worth a different amount to Hilton.
We're therefore publishing this series explaining how much we think each hotel loyalty scheme's points are worth. The second loyalty scheme we're looking at is Hilton Honors; this covers Hilton, Hampton, Embassy Suites, DoubleTree and more. You can find a complete list of their brands here.
Something important to note: your own point values will likely differ from mine. That's because people redeem their points in different ways. Some people only take one vacation a year, so they might use their points for a luxury hotel stay.
On the other end of the spectrum you have me and Shae. We're living in hotels for the next five years on our 50 state road trip, so we want to use our points to get as many free nights as we possibly can. That results in a different valuation than many others would have.
So with that out of the way, here's how much we think Hilton Honors points are worth.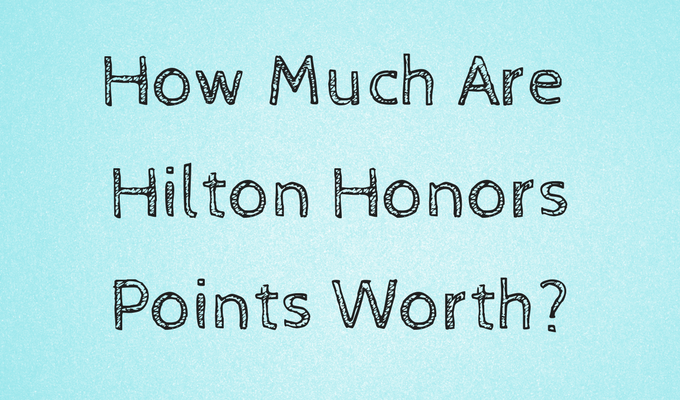 How Much Are Hilton Honors Points Worth?
For me, Hilton Honors points are worth 0.71cpp (cents per point). That effectively means that I value 10,000 points at ~$71.
A lot of other people value Hilton Honors points at 0.4-0.5cpp, so I think they're worth at least 40% more than other people. Their valuations aren't incorrect – 0.4-0.5cpp is indeed the sort of range you'll often see when redeeming your points. It's just possible to get even more value than that – here's how.
How We Calculated That Valuation
When paying for hotels on our road trip, our aim is to pay an average of $85 per night including tax (but not including a pet fee).
I've explained before how you can get the most free nights with Hilton when using points. In that post, I explained that our aim is to redeem our points for hotels costing between 10,000 and 20,000 points per night.
Based on my research, I think it's fair to assume that about half our redemptions will be at the lower end and half at the upper end. That means our average redemption rate will be 15,000 points per night.
We'll be able to reduce that amount though by taking advantage of Hilton's 5th night free offer. When you have Silver status or higher, you get every 5th night free when redeeming your points. Our plan is to only redeem our Hilton Honors points in blocks of five nights, so that takes our average redemption rate down to 12,000 points per night.
To calculate the value of Hilton Honors points, you therefore need to take the cost of the hotel stay and divide by the number of points needed.
In our example, an $85 hotel room is 8,500 cents. The calculation is therefore 8,500 / 12,000 = 0.71cpp (to two decimal places).
Why Our Valuation Might Change
The value of points don't remain the same forever. For example, hotel chains sometimes devalue their loyalty point currencies by increasing how many points are needed for a free night.
In our scenario, there are two main risks which would reduce our valuation of Hilton points:
1) Hilton Increase How Many Points Are Needed For A Free Night
As I mentioned above, hotel chains sometimes devalue their point currencies by increasing the number of points required for a free night.
Hilton did just that a few years ago. That devaluation made their points significantly less valuable than they'd been prior to that.
More recently, they did away with category levels. Hilton Honors previously had ten category levels, from category 1 hotels requiring 5,000 points to category 10 hotels that required 70,000-95,000 points per night.
In February 2017, they removed category levels and changed to somewhat dynamic pricing. That means Hilton brands have the flexibility to change how many points are charged based on their slow and busy periods.
For example, a Hilton in New Orleans can reduce the number of points needed to stay there during quiet times of the year, but then jack up the number of points for Mardi Gras when everyone wants to stay there.
Due to all these changes in recent years, I'm hopeful that Hilton won't introduce a major devaluation anytime soon, but there's obviously no guarantee.
2) Hilton Remove The 5th Night Free Benefit
The main way we'll be getting outsized value for our points is by only redeeming in five night chunks. If Hilton remove that benefit, that'd reduce our valuation to 0.57cpp – more in line with other people's valuations.
Your Thoughts
How much do you think Hilton Honors points are worth? Let us know how you value them in the comments below.