When collecting points in hotel loyalty programs, it's worth having an idea of the value of those points.
The reason why is because the value of a point is different from loyalty scheme to loyalty scheme. One point with SPG is worth a different amount to Choice which is worth a different amount to Hyatt which is worth a different amount to Hilton.
We're therefore starting a new series today explaining how much we think each hotel loyalty scheme's points are worth. The first loyalty scheme we'll look at is IHG Rewards Club; this covers Holiday Inn, Crowne Plaza, Holiday Inn Express and more. You can find a complete list of their brands here.
Something important to note: your own point values will likely differ from mine. That's because people redeem their points in different ways. Some people only take one vacation a year, so they might use their points for a luxury hotel stay.
On the other end of the spectrum you have me and Shae. We're living in hotels for the next five years on our 50 state road trip, so we want to use our points to get as many free nights as we possibly can. That results in a different valuation than many others would have.
So with that out of the way, here's how much we think IHG Rewards Club points are worth.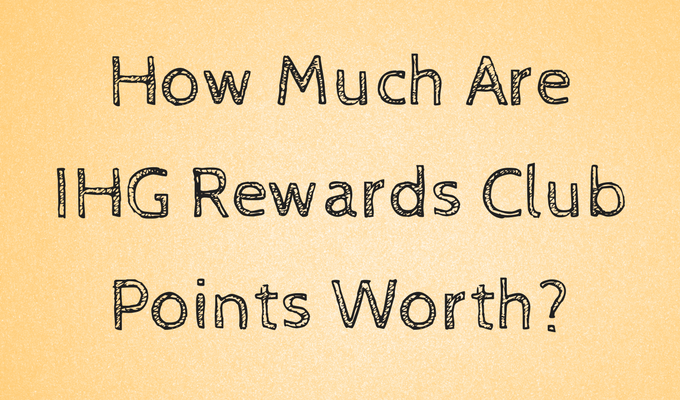 How Much Are IHG Rewards Club Points Worth?
For me, IHG Rewards Club points are worth 1.89cpp (cents per point). To give a better idea of what that looks like, it means I think 10,000 IHG Rewards Club points are worth ~$189.
That'll probably be controversial as most people value them between 0.5-0.8cpp, which means I value them at more than 2x or 3x those amounts.
That's not to say other people are wrong – 0.5-0.8cpp is a completely fair valuation based on many people's use of IHG points. Like I mentioned earlier though, Shae and I use our points in a different way to most people.
How We Calculated That Valuation
When paying for hotels on our road trip, our aim is to pay an average of $85 per night including tax (but not including a pet fee).
I've explained before how we'll be maximizing our points to get the most free hotel nights with IHG. In that post, I explained that we'll try to only redeem our points for hotels on their PointBreaks list.
PointBreaks hotels only cost 5,000 points per night, but if you have the IHG credit card then you get 10% of those points rebated. That means you end up paying a net 4,500 points per night which is an excellent deal, especially considering how easy it is to earn points when staying at their hotels thanks to their generous Accelerate promotions.
To calculate the value of IHG Rewards Club points, you therefore need to take the cost of the hotel stay and divide by the number of points needed.
In our example, an $85 hotel room is 8,500 cents. The calculation is therefore 8,500 / 4,500 = 1.89cpp (to two decimal points).
Why Our Valuation Might Change
The value of points don't remain the same forever. For example, hotel chains sometimes devalue their loyalty point currencies by increasing how many points are needed for a free night.
In our scenario, there are three main risks which would reduce our valuation of IHG points:
1) The PointBreaks List Is Ended
This is my biggest fear when it comes to IHG Rewards Club. Although they've offered PointBreaks for many years, there's no guarantee that'll continue forever.
If they ended the list, that'd make the next best redemption 9,000 points a night with the 10% rebate (category 1 IHG hotels are 10,000 points per night). That'd therefore halve our valuation of IHG points which would put it more in line with other people's valuations.
2) There Are No PointBreaks Hotels Available For Us To Use
It's all very well having a theoretical valuation of points based on how they can be maximized. However, that means nothing if you can't take advantage of that valuation.
The PointBreaks list changes every three months, so there's no guarantee that pet-friendly PointBreaks hotels will be available when we need them. For example, the current list is valid up until January 31, 2018 and we'll be in South Carolina in January. Unfortunately there were no pet-friendly hotels on the current list in South Carolina.
I'm not overly concerned by this though. I'd guess that at least half of the US hotels on each list are pet-friendly, so we hopefully won't always have this problem. There is the potential for us to be perpetually unlucky each time the list is updated though.
3) IHG End The 10% Points Rebate
It'd be disappointing if IHG ended the 10% points rebate for having the IHG credit card, but it wouldn't be the end of the world.
Our valuation of their points would be 1.7cpp in that scenario, but that'd still provide great value.
Your Thoughts
How much do you think IHG Rewards Club points are worth? I'd love to read your thoughts in the comments below.