Hilton Honors is the hotel reward scheme for all of Hilton's brands which includes Hilton, Hampton, Embassy Suites, DoubleTree and several others.
It's also one of the most rewarding hotel loyalty schemes in terms of how easy it is to earn points. Their points aren't as valuable as many other reward schemes, but there's still some great value to be had if you maximize your redemptions.
To help you make the most of your Hilton Honors points, here's my guide to earning the most free hotel nights with Hilton.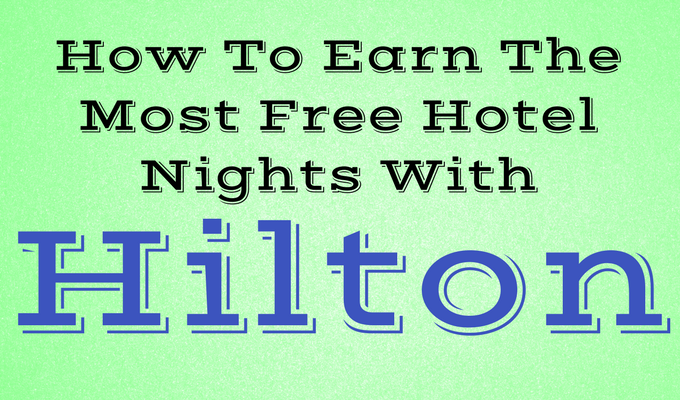 Earning Points
There are a number of ways that you can increase how many Hilton Honors points you collect. Here's a list of your most rewarding options.
1) Credit Card
Hilton have a couple of credit cards, both of which are issued by American Express. Their no annual fee card sometimes has an increased signup bonus of 80,000 points, while the Surpass credit card sometimes has a signup bonus as high as 100,000 points.
I especially like the Surpass credit card as it offers 12 points per dollar spent at all of Hilton's brands. It also offers 6 points per dollar at grocery stores, restaurants and gas stations and 3 points per dollar everywhere else.
There are also frequent Amex Offers saving you money at their brands and additional bonus points when paying for your stay with a Hilton-branded credit card.
Another benefit of their credit cards is that they offer status in their loyalty scheme. This status earns you a bonus on your base points when staying with them. You earn 15% extra with Silver status and 25% extra with Gold status.
2) Register For Promotions
Hilton Honors almost always has some kind of promotion running to reward their guests. This is often for double or triple base points, so it's definitely worth registering for each promo.
3) Register For Points & Points
When staying at Hilton brands, their reward scheme provides the choice of earning additional points or airline miles. If you choose to earn additional points, you'll earn 15 points per dollar spent at most of their brands.
4) Pool Or Transfer Points
Shae and I both have Hilton Honors accounts. Rather than having to book some reward nights under my account and some under hers, we have another couple of options.
Hilton allow you to transfer your points to another Hilton Honors member. They also allow you to pool your points with up to 10 other people. That can be especially helpful if you want to take advantage of the 5th night free benefit (see below) and don't have enough points in your own account but when combined with someone else's balance you would.
5) Dining Rewards
Hilton Honors has partnered with Rewards Network for you to earn points when you eat at select restaurants. To participate, you have to register any cards you'll be using to pay for your meals. It's a great way to earn bonus points for what you'd be spending money on anyway.
There's pretty much always a bonus points offer when joining, so be sure to take advantage of that if you'll already be spending the amount required.
6) Transfer Partners
Hilton is a transfer partner of the American Express Membership Rewards program and Citi's Thank You program. Transferring to Hilton isn't a good redemption option (transferring to airlines usually provides much better value), but it's worth bearing in mind if you only need a handful of points for a specific redemption.
7) Shopping Portal
Hilton have a portal where you can earn points when shopping online. They usually don't have the best rates in comparison to other portals, so be sure to check Cashback Monitor first.
Redeeming Points
There are several ways you can maximize your points to get the most free Hilton hotel stays.
1) Redeem For "Low Category" Hotels
Hilton Honors used to have 10 different category levels. They ranged from category 1 hotels that required 5,000 points per night to category 10 hotels that required 70,000 – 95,000 points.
That changed in February 2017 as Hilton did away with categories in favor of dynamic pricing. This means hotels can charge fewer points during slower periods and more points during busier periods.
There are still a number of hotels that only charge 5,000 points per night, although I don't think any of them are in the US – most seem to be based in Eastern Europe, Egypt and Asia.
On our 50 state road trip, we'll therefore be redeeming our points at hotels that require 10,000 – 20,000 points per night.
2) Get Every Fifth Night Free
If you have Silver status or higher with Hilton Honors, one of the benefits you receive is that your fifth night is free on reward stays. This is valid on stays up to 20 nights long – if you stayed that long, you'd get four nights free.
For example, some hotels in Egypt only cost 5,000 points per night. A five night stay would therefore only cost a total of 20,000 points.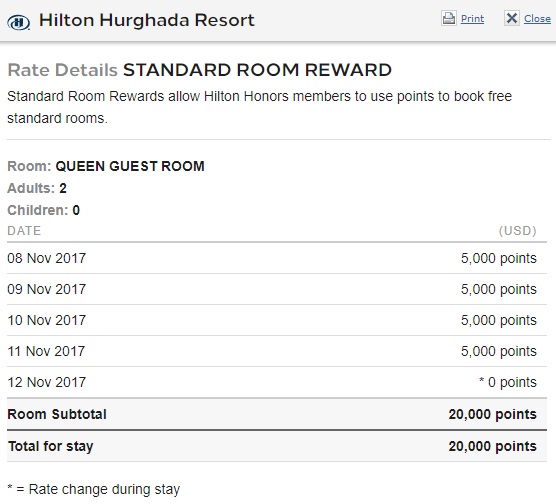 I mentioned above that you require status in order to use this benefit. Hilton's no annual fee credit card comes with Silver status, so that's a free way to get access to this benefit.
3) Points & Money
There are occasions where you don't have enough points to redeem for a free stay. Rather than having to pay for the entire stay in cash, Hilton provide the opportunity to pay with a mix of points and cash – a benefit they call Points & Money.
Let's say you wanted to stay at the HiltonTimes Square in New York for three nights, but you only have 120,000 points. The hotel costs 80,000 points per night, so you only have enough points to pay for one night. That would usually mean you'd have to pay a total of $886.07 for the other two nights.
Points & Money gives you another option. You could instead use all of your 120,000 and pay the remainder in cash. In this case, that additional amount would be $671.46 (inclusive of tax).

Other Posts In This Series
Check out the other posts in this series to find out how to earn the most free hotel nights at:
Question
Do you have any other tips for how to earn lots of points with Hilton? Or any suggestions on how to maximize the number of free nights you can get with your points? Please let us know your ideas in the comments below.