Marriott Rewards is the loyalty scheme for all of Marriott's brands, which includes Marriott, Courtyard, SpringHill Suites and Residence Inn.
There are several ways that you can increase your balance of Marriott Rewards points. There are also some tips and tricks you can use to make your points go even further.
To help you make the most of your points, here's our guide to earning the most free hotel nights with Marriott.
Earning Points
1) Marriott Credit Cards
Marriott have two credit cards, both of which are issued by Chase – one personal card and one for businesses. Both cards come with an 80,000 point signup bonus, although it sometimes goes as high as 100,000 points.
2) SPG Credit Cards
Starpoints can be transferred from SPG to Marriott at a ratio of 1:3. The standard signup bonuses on the SPG credit cards are 25,000 points which works out as 75,000 Marriott Rewards points.
The signup bonus for the SPG cards sometimes goes as high as 35,000 points which can therefore be transferred into 105,000 points with Marriott.
3) Transfer From SPG
Even if you don't have the SPG credit cards, you can still transfer Starpoints if you've earned them through hotel stays.
4) Register For Promotions
Marriott tend to always have some kind of promotion running, with the offer changing from quarter to quarter. If you have a Marriott account, you can check for all their current promotions here.
5) Transfer Partner
Marriott Rewards is a transfer partner of Chase Ultimate Rewards, but for the most part it's not a good idea to use your Chase points in this way. The only time it might make sense is if you need to top up your Marriott balance a little in order to have enough for a specific redemption.
6) Pool Points
Marriott Rewards doesn't allow you to pool points with other members for free, but there is a workaround.
Shae and I both have accounts with Marriott Rewards and SPG. If we wanted to move some points from her Marriott account to mine, we could transfer them to her SPG account. SPG allow you to transfer points to other members of your household for free, so she could transfer those Starpoints to my SPG account. I can then transfer those Starpoints to my Marriott account.
It's a slightly convoluted solution, but it only takes a few minutes to move the points. It can also be useful if you're short of points for a specific redemption.
Redeeming Points
Here are some tips you can use to redeem your Marriott Rewards points for the most free nights.
1) Redeem For Category 1 & 2 Hotels
With the Marriott loyalty scheme, category 1 hotels only require 7,500 points per night, while category 2 hotels require 10,000 points per night.
These low category hotels are frequently Marriott's brands that are suites and either include kitchens or at least a fridge and microwave. That means hotels in these low categories can be great when traveling as it can reduce your food costs, particularly if you're traveling as a family.
They're also helpful for us seeing as we'll be living in hotels for at least the next five years.
2) Get Every Fifth Night Free
When you redeem your Marriott Rewards points for longer stays, you get every fifth night free. This isn't restricted to only five night stays – if you stay 20 nights, you'll get four of those nights free.
For example, the Courtyard Little Rock West in Arkansas is a category 1 hotel and so costs 7,500 points per night. If you book a five night stay, it'll only cost you 30,000 points rather than 37,500. That means you're effectively only being charged 6,000 points per night.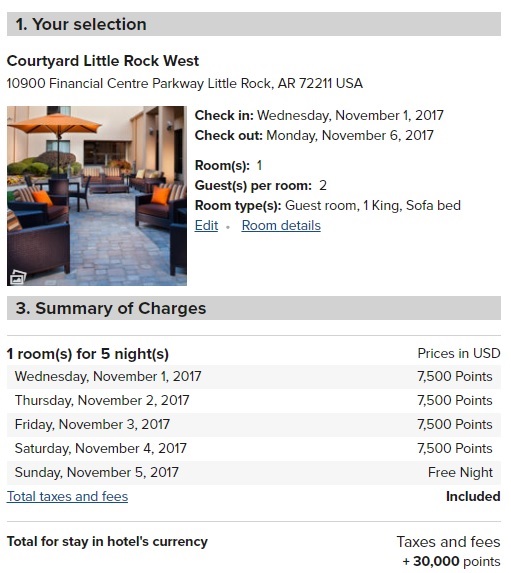 3) Pay With Cash And Points
If you don't have enough points to redeem for a free stay, you can use some points and pay the rest in cash.
Using the above example, you could use 15,000 points and pay $225 cash instead of using 30,000 points.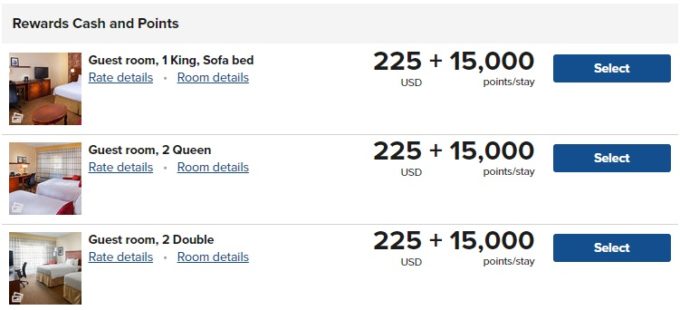 Two important things to bear in mind with this option:
The fifth night wouldn't be free as you wouldn't be paying for the entire stay with points
You'd be paying taxes and fees on the cash portion
Other Posts In This Series
Check out the other posts in this series to find out how to earn the most free hotel nights at:
Question
Do you have any other tips for how to earn even more points with Marriott? Or do you have a suggestion for how to maximize your points to get even more free nights?
We'd love to hear your suggestions in the comments below.