I explained the other day why it's worth getting the IHG Rewards Club credit card.
Today, I'll show how one feature of that card has the ability to get you a hotel room worth over $2,000 for only $49.
This may sound like it's a scam or that it involves doing something unethical. Don't worry – it's all completely legit and simply involves maximizing a benefit for all it's worth.
Anniversary Free Night
The IHG credit card comes with a certificate for a free night at any IHG hotel worldwide. You get that every year after your first year of having the card, with the only cost being the $49 annual fee.
I mentioned in the original post that one option would be to use it at IHG's top tier Intercontinental chain. That's because those rooms can frequently cost $400+ per night, so you get to have a night of luxury for the $49 fee.
It's possible to get even greater value from your anniversary free night though. Here's how…
New York – New Year's Eve
Hotels in Manhattan are always pretty costly. If you want a room there on New Year's Eve, you're looking at an even more expensive rate. If you want that room to be in Times Square for the festivities, you'll pay through the nose.
As in, almost $1,898.26 through the nose.
It gets worse though as that's the pre-tax cost. Click through to book that room and you'll see that it'll actually cost you $2,211.75 with tax:
Needless to say, that's out of the reach of most people. Except… it's not if you've had the IHG credit card for a year.
Your anniversary free night can be used for that one night, saving you $2,211.75. Simply log in to your account, select that you want to use your free night (Account > Free Night Status > Book Free Night) and choose the hotel. You'll then see this: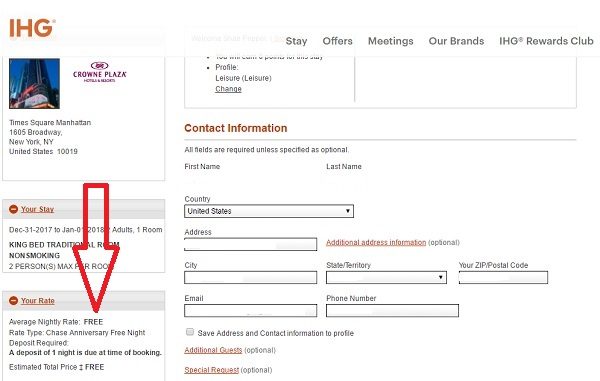 Yep, that $2,211.75 drops to $0.
Get Two Nights For $98
If you have a partner, both of you can get this credit card. You can then use your free nights back-to-back and spend a weekend somewhere that's crazy-expensive but which only costs you the 2x $49 annual fees.
Other Suggestions
New Year's Eve in Times Square was the most expensive example I could find, but here are some other ideas for how you could use your free night certificate(s):
New Orleans during Mardi Gras – there's a Holiday Inn in the French Quarter that costs $460 per night
Hong Kong on New Year's Eve – the InterContinental costs $537 on New Year's Eve (the Western NYE, not Chinese New Year)
Washington D.C. before a Presidential inauguration
London on New Year's Eve – the InterContinental Park Lane is $570 on December 31
San Diego during Comic-Con
Super Bowl weekend in whichever city is hosting it
Summary
As you can see, the anniversary free night certificate that comes with the IHG Rewards Club credit card can enable you to experience something you wouldn't be able to afford any other way.
It's therefore a card that's worth keeping, even if you don't use the card for anything else.
Question
If you have the IHG Rewards Club credit card, what's the best use you've ever gotten out of your free night certificate? We'd love to hear your experiences in the comments below.