Roanoke VA Mini-Trip Report
How We Saved 63% On Roanoke Pinball Museum Tickets
We want to have a ton of fun experiences while on our 5 year, 50 state road trip. After all, that's why we're doing it in the first place!
That means we'll have to be smart with our money and get discounts wherever possible. The great thing is that it's often possible to multi-stack discounts, coupons, cashback and credit card reward schemes to vastly lower your costs.
For example, we recently visited the Roanoke Pinball Museum and were able to save 63% on our tickets. Here's how we did it – hopefully it'll give you some inspiration for how you can save more money in the future.
Warning – there's a lot of math in this! I'm hoping it's broken down enough to make sense though.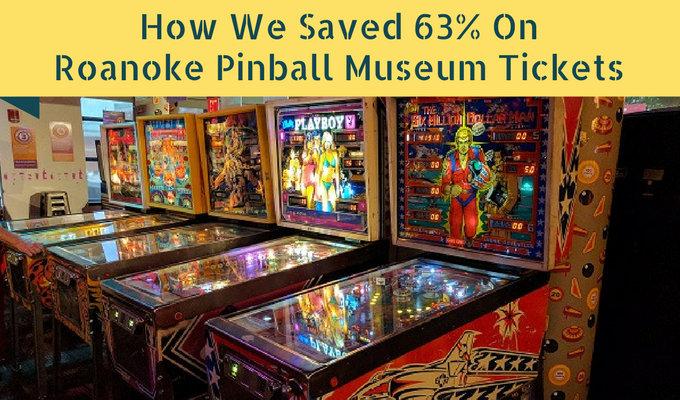 Step 1 – Groupon
I first came across the pinball museum on Groupon. Two adult tickets normally cost $24.80, but there was a Groupon offering two adult tickets for $14.
Savings = $10.80
Step 2 – Coupon Code
Groupon frequently have additional discount codes that are valid for a couple of days. Booking these tickets coincided with a 20% off Groupon code thanks to T-Mobile Tuesdays.
Savings = $2.80 (20% of $14)
Step 3 – Buy Groupon Gift Card
There are different ways to save money during this step – I'll explain an alternative method later on. The way I did it was by buying a Groupon gift card from Paypal Digital Gifts (PPDG) on eBay.
I have the Chase Ink Plus credit card which offers 5x Ultimate Rewards in a couple of categories. For some reason, PPDG codes as one of those categories when transactions are processed, which means I earn 5x Ultimate Rewards when paying using that credit card.
A conservative valuation of Ultimate Rewards is that they're worth 1.75 cents per point (it's possible to get much better value than that). That's because you can transfer the points to some airline and hotel loyalty schemes rather than just redeeming them for cash.
The net cost of the pinball tickets was $11.20 – that's because the coupon from step 2 lowered the price from $14 to $11.20. We therefore earned 56 Ultimate Rewards ($11.20 x 5 points per dollar). Those 56 Ultimate Rewards points are worth at least 1.75 cents per point, so $0.98.
Savings = $0.98
Step 4 – Use A Cashback Portal For The Gift Card
You can use the iConsumer cashback portal to earn cashback when making purchases on eBay. Buying the Groupon gift card from Paypal Digital Gifts on eBay earned us a grand total of $0.05. But hey, every cent counts.
(n.b. the above link to iConsumer is a referral link.)
Savings = $0.05
Step 5 – Use A Cashback Portal To Buy The Groupon
Finally, you can earn cashback when buying things on Groupon. The best rate at the time was on Ebates as they were offering 9% cashback on all purchases on Groupon. Use Cashback Monitor to check the best rate across all the different cashback portals as the rates can change from day-to-day.
The net cost of the tickets was $11.20, so we earned cashback totaling 9% of that.
(n.b. the above link to Ebates is a referral link.)
Savings = $1.01
Total Savings
Through all those stages, we saved the following:
Step 1 = $10.80
Step 2 = $2.80
Step 3 = $0.98
Step 4 = $0.05
Step 5 = $1.01
Total = $15.64
As mentioned earlier, two adult tickets for the Roanoke Pinball Museum usually retail for $24.80. We saved $15.64, meaning our net cost was $9.16.
That means we saved 63% on our tickets which isn't too shabby.
Alternative Savings
There are different ways to save money when buying Groupon gift cards. Many grocery stores (like Kroger) frequently offer 4x fuel points when buying gift cards. You can combine this with a credit card that earns a category bonus at grocery stores to replace steps 3 and 4.
For example, a number of credit cards offer 3x rewards (or more) at grocery stores. The $11.20 gift card purchase would therefore earn you at least $0.34 cashback. The points you earn might be worth even more than that, depending on your credit card.
You'd also earn 4x fuel points , so 44.80 points. If you were to fill up with 20 gallons, that should save you ~$0.90.
You'd therefore be saving $1.24 which is even more than the $1.03 we earned from steps 3 & 4.
Summary
This multi-stacking of savings might seem overwhelming at first and like there's too much math and effort involved. However, the more you do it, the more it becomes second nature, to the point where you'll know the best way to maximize your savings without even thinking about it.
Question
What other ways do you know of to stack savings like this? Let us know in the comments below.