(To the tune of Fresh Prince Of Bel Air)
Now this is a story all about how
We got free flights to visit down (under)
And I'd like to take a minute just sit right there
I'll tell you how we'll be in Business Class up in the air
Apologies for the cheesy intro – you'll have to get used to my bad puns if you're following our blog!
Before we head off on our 50 state road trip, Shae and I are spending a month in New Zealand and Australia. This trip's been in the works for 2+ years, so we've had plenty of time to save up airline miles to get there and back.
Booking our award flights didn't go as smoothly as we'd hoped, but we still managed to get Business Class flights both there and back. Here's how we did it.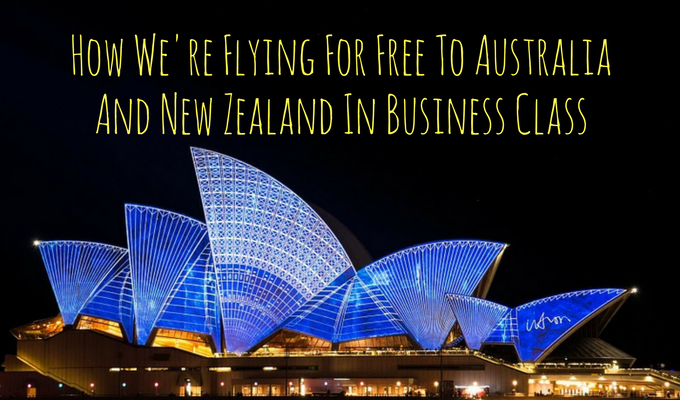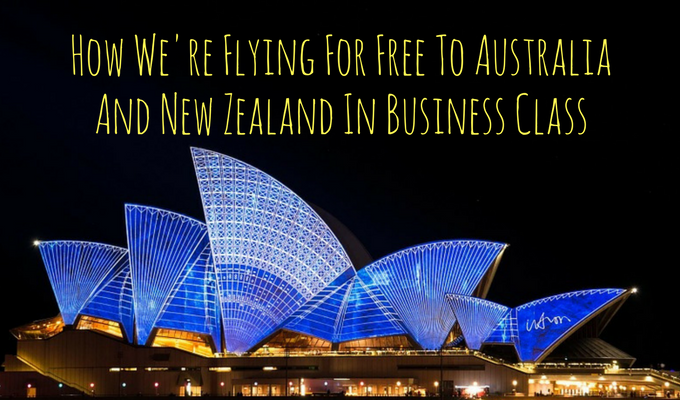 What Didn't Work
The original plan was to use American Airlines miles to fly both there and back. At the time, Shae and I each had ~60k miles in our accounts, primarily from both of us getting the US Airways credit card for 50k miles each. US Airways and American Airlines merged, so the US Airways miles became American Airlines miles.
We each then applied for the American Airlines credit card for 50k miles each. With those bonuses and extra miles earned through the American Airlines shopping portal, we each had ~120k miles. That – in theory – was enough for Business Class flights there and Economy flights back.
The problem was that by the time we came to book our flights, American Airlines had zero award availability in either direction. That could've jeopardized our trip as we hadn't budgeted the ~$3,000 for two tickets in cash, but thankfully we had backup options.
Flight From The US To New Zealand
The Good…
In 2014, I got the Chase Ink Plus credit card which offered a signup bonus of 70k Ultimate Rewards (UR) points. A few months later, Shae got the Chase Sapphire Preferred credit card which offered 40k UR. With those bonuses and other points earned from day-to-day usage, we had 160k UR between us.
One of the best features of UR is that they can be transferred to several different airline and hotel loyalty programs. Those include United, Southwest, Hyatt and IHG.
Award availability to and from Australia and New Zealand can be hard to come by. When using miles for those two countries, it's therefore good to try booking ~330 days in advance of your trip. That's because ~11 months before is when award flights usually become available and they get booked very quickly.
I searched United's site every day until the perfect flight became available. There was a one-way First Class flight to Auckland, New Zealand for 80k miles per person. I transferred all 160k UR to United and booked us on that flight – success!
…The Bad…
A few months later, I happened to check our flight and noticed we were now showing as being in Business Class. It turns out United changed the type of plane they were using on that route, so First Class was no longer available.
…And The Not-So-Ugly
Although it was a little disappointing that we'd only be in Business Class, it cost 10k fewer miles per person, so we received 20k United miles back.
Flights From Australia To The US
We're spending a week in New Zealand before heading to Australia for a few weeks. That meant we needed one-way flights back from Australia to the US.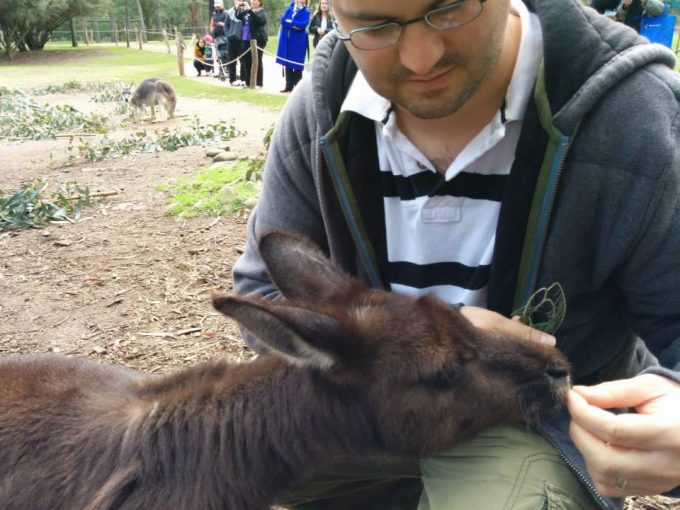 The Good…
I've received several American Express signup bonuses for their Membership Rewards (MR) cards over the last few years. The most recent of these was the Business Platinum card which offered a 100k signup bonus. That bonus and others points I'd earned over previous years meant I had ~175k MR in my account.
Membership Rewards is similar to Ultimate Rewards as they have several airline and hotel transfer partners. One of those transfer partners is Aeroplan, so I searched their site for flights from Melbourne to JFK (New York). That showed plenty of availability in both Economy and Business Class on several different airlines.
We were due to leave Australia on December 26 and get back on the 27th. With our road trip starting January 1, that'd only give us a few days to recuperate from jet lag. We therefore decided to splash out more miles for Business Class so that we could have flat beds all the way back and so hopefully get some decent sleep.
As a result, we're flying from Melbourne to Bangkok, Thailand on Thai Airways. We're then flying from Bangkok to Taipei, Taiwan on EVA Air and then on to JFK, also on EVA Air. All three legs will be in Business Class.
Those flights cost 80k miles per person one-way, so I transferred 160k of my Membership Rewards balance to Aeroplan to book our tickets.
I then booked two one-way tickets from JFK to Norfolk, VA on Delta for 7.5k miles per person.
…The Bad…
When checking our flights a few months later, I noticed EVA Air had rescheduled our Taipei to New York flight. We'd been due to arrive in New York at about 9am on December 27, with our flight down to Norfolk being later that afternoon.
However, we were now due to land in New York at about 9pm, meaning we'd miss our Norfolk flight. We've therefore had to spend another 7.5k miles per person to fly to Norfolk the next day, plus we'll have to stay in a hotel overnight in New York.
…And The Not-So-Ugly
Although it's frustrating that EVA Air have messed around with the flight scheduling, I can only be so mad. Having read reviews of their flights, they apparently have one of the best Business Class services in the world and we're getting to experience that on two flights with them 🙂
How Much We're Paying In Taxes
I've already mentioned that we used 160k Ultimate Rewards and 160k Membership Rewards. Although that makes the flights "free", we still had to pay the taxes on those flights.
For the flights to New Zealand, that came to a total of $62. For the flights back to the US, that came to $205.20 Canadian which is about $160 US.
Still, a total of $222 for two return flights Down Under in Business Class isn't too shabby!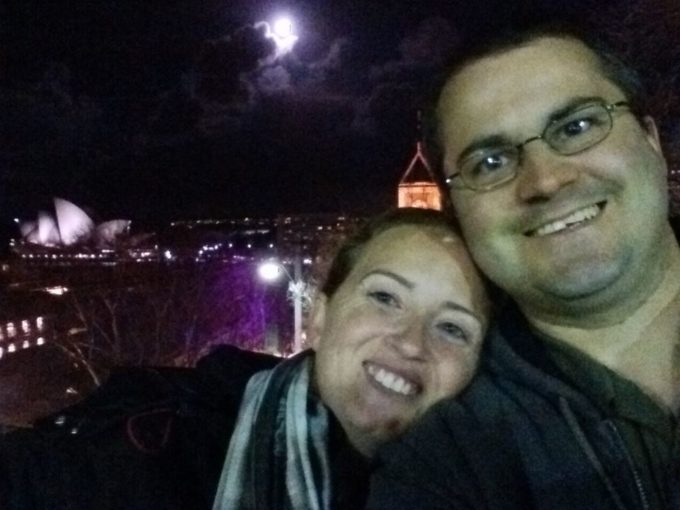 Credit Card Annual Fees
Something else to take into account is the annual fees on the credit cards that provided the signup bonuses. It's all very well me saying that our flights are free, but if we paid hundreds or thousands of dollars in annual fees to get those points, they're not really free.
The good thing is, we actually ended up better off from having the cards rather than being out of pocket. Here's why:
Chase Ink Plus
When I got the signup bonus, the annual fee was waived for the first year.
Chase Sapphire Preferred
Similar to my Ink Plus, when Shae applied for the Sapphire Preferred the annual fee was waived the first year.
American Express Business Platinum
This was supposed to have a $450 annual fee. I was more than willing to pay that in exchange for the 100k Membership Rewards and other benefits associated with the card.
For some reason though, they didn't charge a fee the first year and I got two sets of $200 airline credits.
So not only were all those fees waived the first year, but we also got $400 of American Airlines gift cards plus well over 200k points.
Too Good To Be True?
I know that it seems like there must be a catch, but there isn't. We pay off our credit cards every month, so we haven't paid a cent in interest charges.
You obviously have to be careful not to rack up debt but we've been there in the past and we've resolved to never do that again.
I'll admit that I spend a ton of time learning about earning miles and points, but Business Class flights to New Zealand and Australia makes the effort worthwhile!
Summary
The purpose of this post wasn't to boast. It's simply to show that it's possible for you to book your dream trip without having to spend thousands of dollars on flights.