This is the third post in our series about the IHG Rewards Club status levels. You can check out the other posts here:
When staying at IHG hotel brands, it's helpful having status with them as it'll make your stay more pleasant and you'll earn additional points.
The second highest status level with IHG Rewards is Platinum Elite. Platinum status comes with all the same benefits that you receive as a Gold member, as well as several additional perks. Once you've earned this status, you'll keep it until the end of the following calendar year.
Here's a list of the Platinum Elite benefits and the different ways to earn the status. I'll also share the experiences Shae and I have had as Platinum members.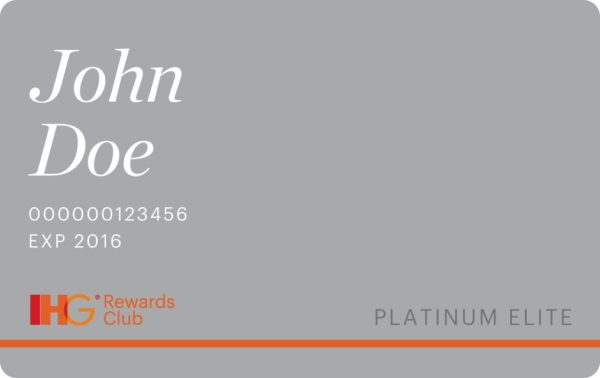 IHG Rewards Platinum Elite Status Benefits
1) 50% Bonus On Top Of Base Points
This is my favorite of all the Platinum benefits. It means you earn 15 points per dollar at most of their hotels (7.5 points per dollar at Staybridge Suites and Candlewood Suites).
2) Elite Rollover Nights
I'll explain further down the different ways to earn Platinum status with IHG Rewards, but one method is staying 40 nights per calendar year. If you stay more than 40 nights but fewer than the 75 nights required for the highest Spire Elite status, you'll carry over those nights towards status the following year.
For example, let's say you stay 62 nights in IHG hotels in a calendar year. 40 of those would get you Platinum status, but you're short the 13 nights needed for Spire Elite. The 22 additional nights would therefore rollover to the next year, meaning you'd only need to stay 18 nights to requalify for Platinum or 53 nights for Spire Elite.
3) Complimentary Room Upgrades
Although it's a nice benefit, the downside with these room upgrades is that they're 'subject to availability' and not guaranteed. It's up to each individual hotel to decide whether they're going to upgrade you or not, so don't assume you'll always get a nicer room simply for having Platinum status.
It's also up to the hotel to decide what's classed as an upgrade in the first place. They may decide an upgrade consists of your room looking out over their garden rather than the parking lot.
Something else to bear in mind is that upgrade options might be limited depending on the brand of hotel you're staying at. For example, a lot of Holiday Inn Express hotels only have standard rooms. That means there aren't a lot of upgrade options at that particular brand.
A Holiday Inn or Crowne Plaza on the other hand will likely have several different types of rooms, so your upgrade opportunities will be better with them.
4) Guaranteed Room Availability
I don't know how useful this benefit is as we've never had to make use of it. In theory, I can imagine it being helpful if you're in a city that's booked up due to a special event that's on, or you're attending a conference at the hotel and so would like to stay there too.
The problem is that IHG list this clause (bolding is mine):
Requires 72 hours advance notice. Platinum Elite and Spire Elite members are guaranteed one guest room for personal use for reservations made at least 72 hours prior to the date of arrival, except during special events that result in extraordinary demand, as determined solely by the hotel. Guaranteed room availability is not valid for Reward Nights. These reservations can only be made through the IHG Rewards Club Service Center.
The thing is, a hotel's most likely to be fully booked during special events in the first place, so how useful is this benefit? There's also presumably nothing stopping the hotel from charging you a huge premium on top of the normal room rate due to supply and demand.
5) Unofficial Benefits
Some hotels will go above and beyond what's required to recognize your status – check out our experiences further down for more details.
These benefits are in addition to the benefits you receive with Gold status:
Collect points or miles
Pay discounted rates
Customer service phone assistance
No blackout dates for reward nights
Reward nights count towards elite status
Free internet
Extended check-out
10% bonus points (superseded by 50% bonus points)
Priority check-in
Points don't expire
How To Get IHG Rewards Platinum Elite Status
There are several different ways to earn this status:
1) Stay 40 Nights
This is fairly straightforward – you just have to stay a total of 40 nights during a calendar year. This includes reward stays, so if you paid for 35 nights and stayed five nights using your points, that would take you to the 40 night threshold.
2) Earn 40,000 Elite Qualifying Points
You earn 10 points per dollar when staying at most IHG brands. In theory, you'd therefore need to spend $4,000 in a calendar year to qualify using this method.
There is a shortcut though. Bonus Points Packages are classed as Elite Qualifying Points, which includes their 'Earn 5,000 points per stay' package. If you book seven separate one-night stays that have this package included, you'd earn 35,000 bonus points. You'd also earn your standard base points which should total at least 5,000 points (depending on how much you paid for the rooms), which gets you to the 40,000 points needed.
3) Get The IHG Credit Card
This is the easiest way to earn Platinum status as it's an automatic benefit of the credit card. In my opinion, their credit card is a must-have for several reasons which I'll explain another time.
One thing to note is that it can take a few weeks for the status to show up on your IHG Rewards Club account once you've been approved for the card.
4) Receive The Status As A Gift
When members reach IHG's highest status level – Spire Elite – they're given the choice of a couple of different benefits. One of the benefit options is to give the gift of Platinum status to another person.
You just need to a) find a Spire Elite member and b) convince them to gift you Platinum status. Given that their other option is to take 25,000 points for themselves, you'll need to find someone generous enough to forgo the points!
Our Experiences As Platinum Members
We've been Platinum members for most of the time since 2009. We initially qualified by earning enough points but now have maintain status thanks to their credit card.
Our best upgrade came at the Crowne Plaza Hampton, VA. We'd booked a weekend award stay when they were on the PointBreaks list. That meant we only paid 5,000 points per night in the first place, which was an absolute steal.
They upgraded us to a suite with floor-to-ceiling views of the marina, a kitchen, living room and a huge jacuzzi tub. We came back after dinner to be greeted by a plate of chocolate covered strawberries, plus they gave us coupons for a free buffet breakfast both days.
We also received great treatment at the Crowne Plaza in Little Rock, AR. We were only staying one night, but they provided a room upgrade and sent cookies up to our room.
Many hotels have also given us a goody bag at check-in containing bottles of water and snacks.
Summary
Even though IHG Rewards Platinum Elite status is their second highest status level, it's not as generous as other hotel chains like Hilton and Marriott who offer breakfast at all their hotels with their equivalent statuses. Even things like room upgrades aren't guaranteed with IHG.
Having said that, Platinum status is still worth having for the 50% bonus points and perks that some hotels do provide. It's also great that you can earn the status simply by having their credit card.
I try not to expect any upgrades or perks as a Platinum member with IHG. That way, I'm pleasantly surprised when we do receive them! Ultimately, I love IHG Rewards Club because of how easy it is to earn free night stays, not because of how they actually treat us as Platinum members.
Next up, we'll explain IHG's top tier status – Spire Elite.