One of our favorite memories from our 2014 trip to Australia was going on a Hunter Valley wine tour with Kangarrific Tours.
We enjoyed it so much that we decided to take the tour again with Shae's parents on this trip. Our tickets this time round were $139 AUD (~$105 USD) and were worth every penny.
Here's what the tour's like:
Pick-Up
Sam from Kangarrific Tours picked us up at 7:20am outside Sydney Central YHA, a couple of blocks from our Airbnb. There's space for up to 13 guests in the van, although there were only nine people on our tour (including the four of us).
The van's nice and comfortable which is a good thing as it's a bit of a drive out to the Hunter Valley. Once all nine of us were on board, we set out to our first destination. We were also passed a folder with menus containing our lunch options for later on.
Sam's great fun, so we spent a lot of the journey chatting to him. He also gave us some history about the Hunter Valley. Apparently there are ~150 wineries, but only five of them sell wine overseas. A couple of dozen have one or more of their wines sold in store, while the others only sell direct to consumers.
He shared another fascinating piece of trivia to give an idea of how bespoke these wineries are. Yellowtail is Australia's largest wine exporter and produces 5,000 cases an hour. Many of the wineries in the Hunter Valley only produce 5,000 cases a year.
On our way to the Hunter Valley, Sam also asked what kinds of wines we all liked. That meant that he could take us to wineries that best suited our tastes – the wineries you visit on a Kangarrific tour therefore differ from day to day based each group's preferences.
Australia Walkabout Wildlife Park
Our first stop was the Australia Walkabout Wildlife Park. Just before we reached the park, Sam played a song to give us a hint as to where we were (I won't say which one so that I don't spoil it for future tour-goers!)
The wildlife park is home to all kinds of animals – kangaroos, koalas, emus, wallabies and many more.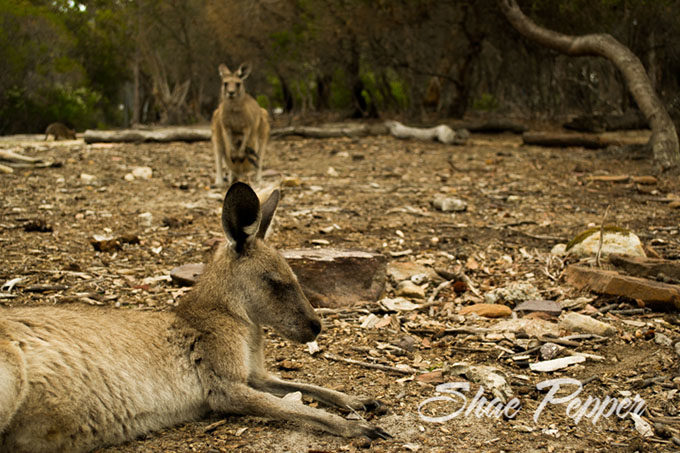 The kangaroos are all incredibly friendly, so you're able to get close enough to pet them. Even this grumpus kanga let Shae pet him.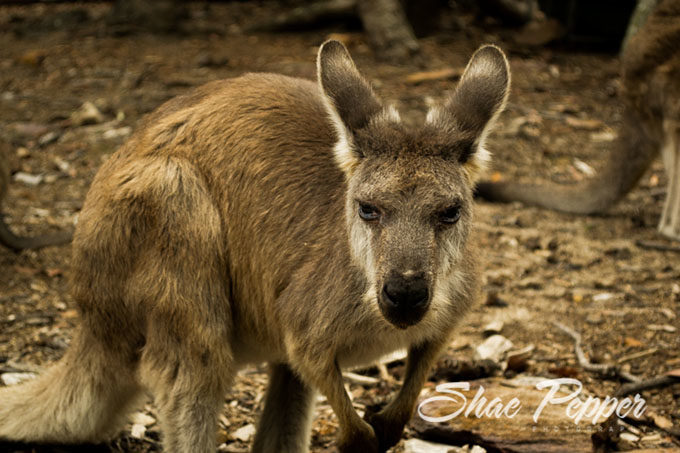 There were even roos with joeys in their pouches.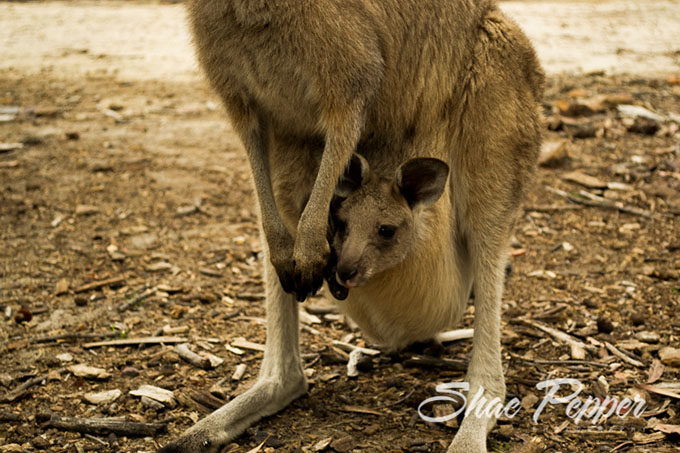 New South Wales in Australia doesn't allow you to hold koalas, but you are allowed to pet them, so we all took it in turns to pet this koala.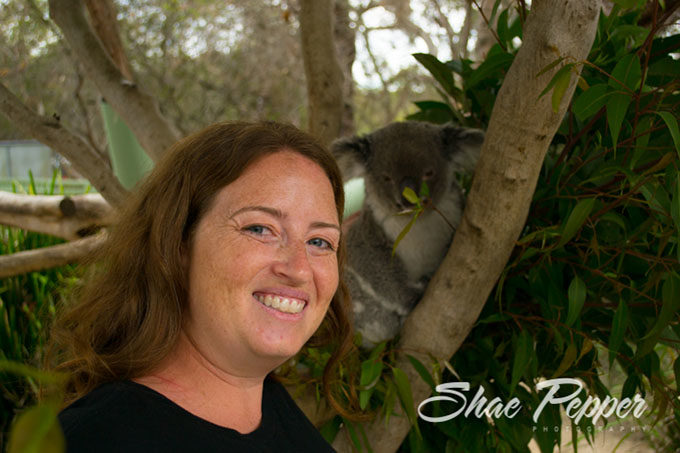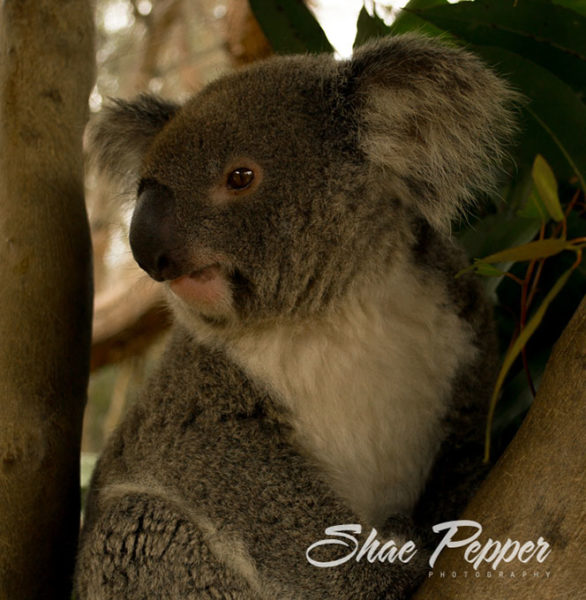 One thing that you can hold if you like is a (non-poisonous) Jungle Python. So we did.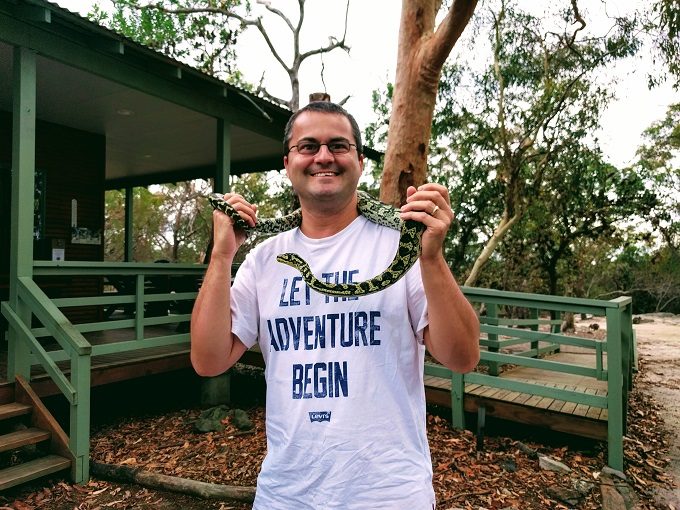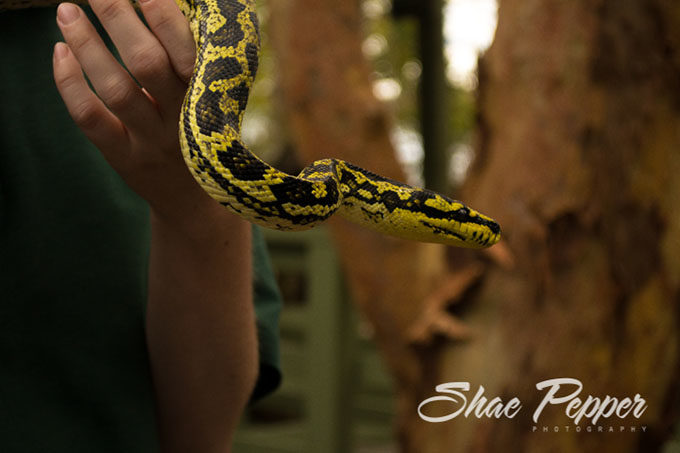 We stayed at the Australia Walkabout Wildlife Park for about 40 minutes. This gave us plenty of time to pet some of the animals, explore a little, take photos and have a cup of tea or coffee.
Once our time was up, it was back in the van for our next stop.
Hunter Valley Chocolate Company
Our second stop of the day was the Hunter Valley Chocolate Company. This is a chocolate store that makes their own chocolate, fudge, etc.
We were greeted by one of their chocolatiers who gave us a free sample – white, milk and dark chocolate buttons and a chocolate-covered coffee bean.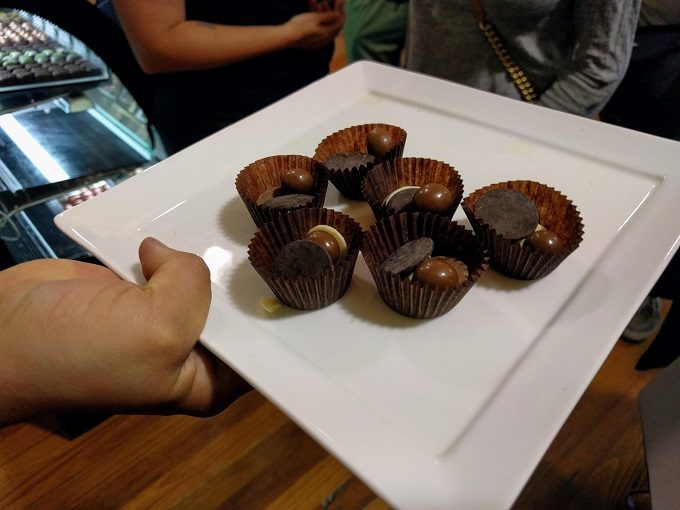 While we looked around, Sam took our lunch orders based on the menus he's passed around on the way to the wildlife park. That meant he could call in our orders so that they'd be ready by the time we arrived.
For some reason the chocolate company doesn't allow photography inside, so here's a photo of some of the truffles we bought.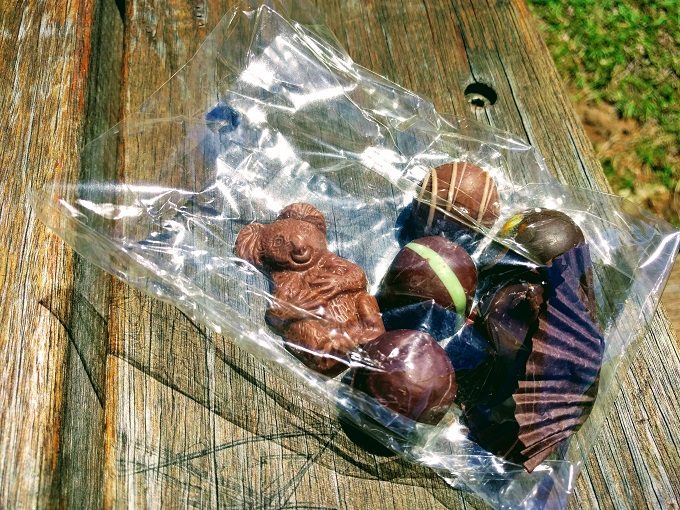 The chocolate stop was fairly short, but that's no bad thing as it meant we were soon on our way to the real reason for the tour…
Gemelli Estate
A short drive brought us to the Gemelli Estate vineyard, our first winery of the day. The name 'Gemelli' means 'twins' and is named this because the current owners have twins.
The vines at Gemelli Estate are 20-30 years old, although the current owners have only owned the winery for the past 7-8 years.
The nice weather that day meant we were able to sit outside for our wine tasting. This was perfect as the winery is beautiful and has stunning landscaping.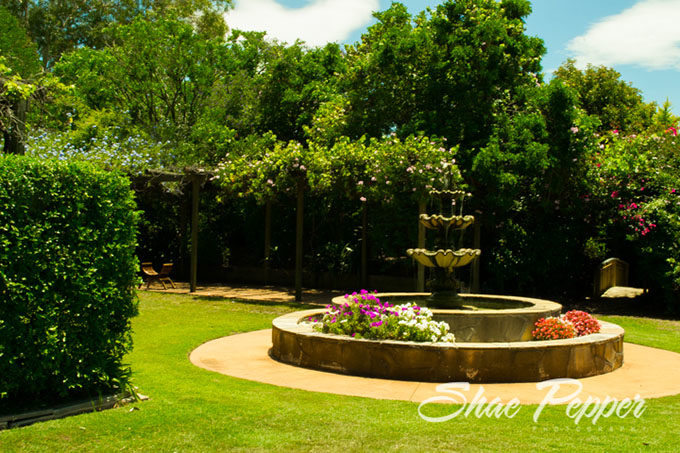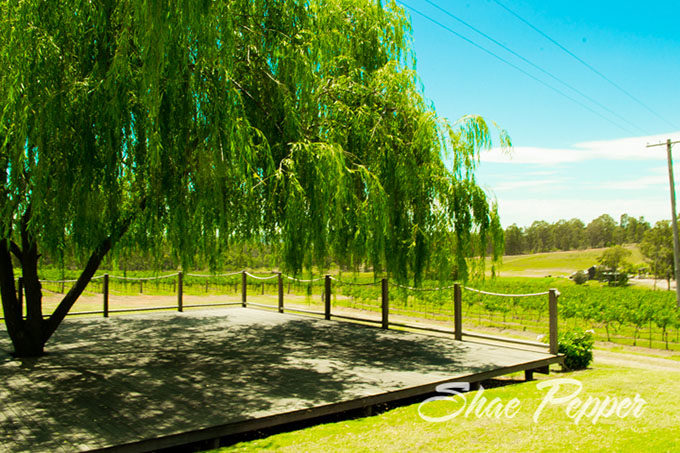 We were seated in two groups, with a wine tasting menu on each table.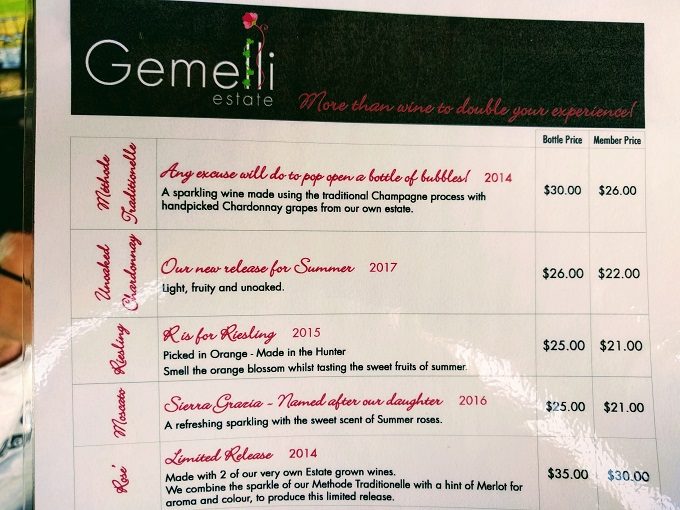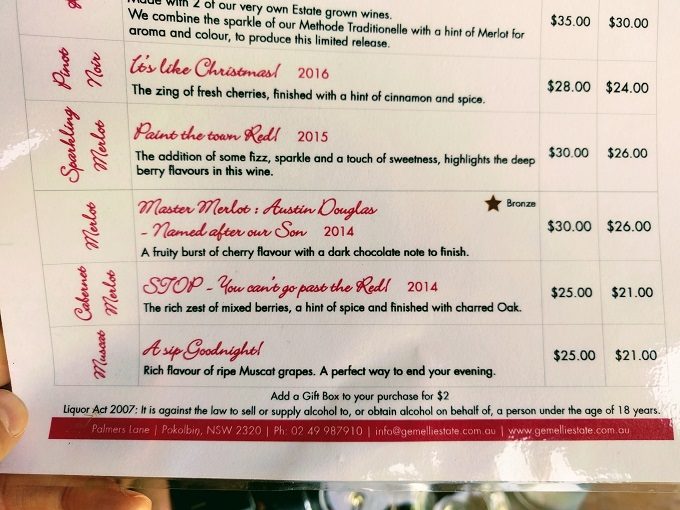 There were ten wines on the menu and to our surprise we got to try nine of them. The only one we missed out on was the Rosé, presumably because it was a limited release.
The first wine – Methode Traditionelle – was a sparkling white wine that was only made three hours before we arrived and was very nice.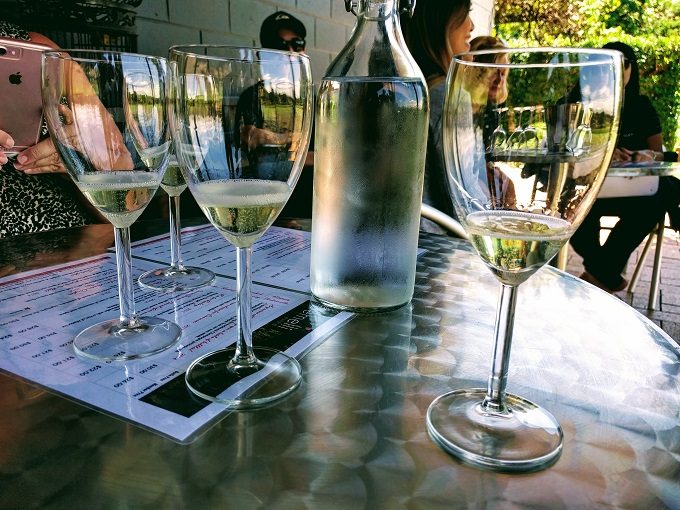 Both Shae and I enjoyed all nine of the wines we tasted. The sparkling Merlot was an interesting sensation as we'd never had a sparkling red wine before – it was deliciously fruity though.
Rebecca from Gemelli Estate provided the tastings and was a lovely host who was extremely friendly.
Once the tasting was over, we were given the chance to buy some of the wine we'd tried. Mine and Shae's mutual favorite was the (non-sparkling) Merlot, so we bought a bottle to take with us.
Hunter Valley Smelly Cheese Shop
Our next stop was just a few kilometers down the road – the Hunter Valley Smelly Cheese Shop. Our group was shown to an alcove in the store where we got to taste five different cheeses.
I say 'we', but I mean everyone else as I don't care for cheese. That suited Shae perfectly fine though, as it meant she got to have my sample each time too! Here are Shae's verdicts on the cheeses:
Cow's feta with pesto – really good, creamy, light but flavorful with the pesto.
Cow's feta mixed with sun-dried tomato and garlic – good but preferred the pesto version. Garlic taste in this one was good though.
Labna with dukkah – good replacement for sour cream. A little bitter at first but really flavorful.
Herb & garlic fromage frais – very light garlicky flavor
Delish blue (served on a pretzel) – very good, light blue flavor
Our tasting was provided by Sharon who was awesome – very personable and incredibly funny. If you ever want to do a tasting there that's not part of the Kangarrific tour, you should definitely see if she's available.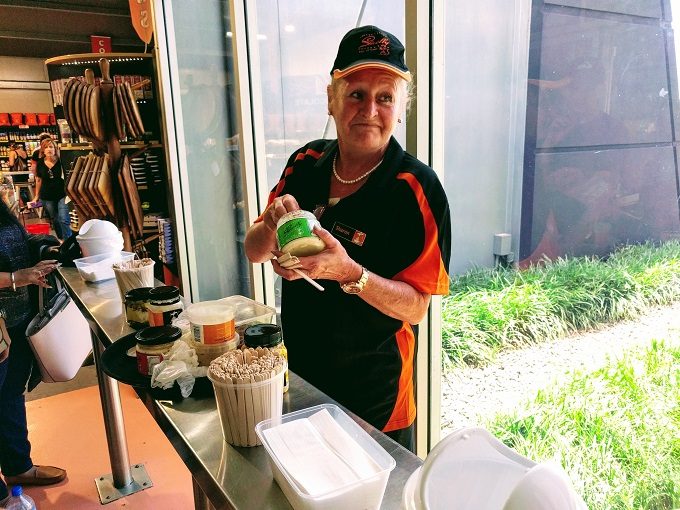 Lunch
Once we were finished with the cheese tasting, it was time for lunch. We didn't have far to go as our lunch options were all in the same place. That's because the Smelly Cheese Shop is located on Roche Estate along with several other eateries.
As I'd mentioned earlier, Sam from Kangarrific Tours had taken our meal orders at the chocolate shop. Shae and I both ordered our lunch from the Smelly Cheese Shop – she got a burger, I ordered the salmon wrap and we shared a side of steak fries.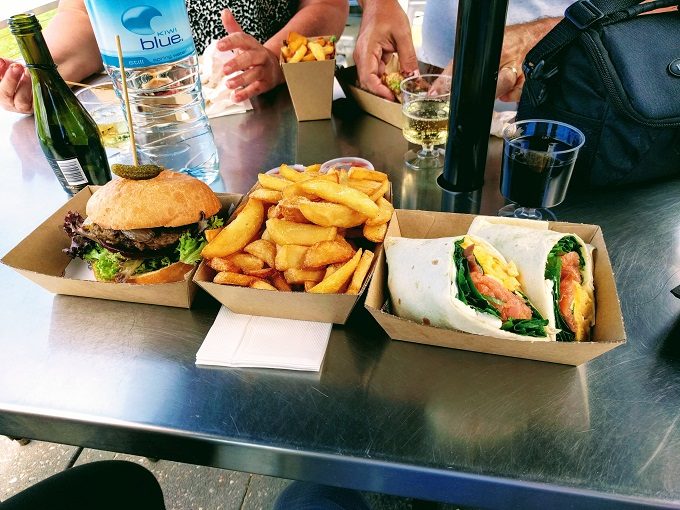 We were also able to get a couple of plastic cups, so we cracked open our bottle of Master Merlot: Austin Douglas we'd bought from Gemelli Estate to enjoy with our lunch.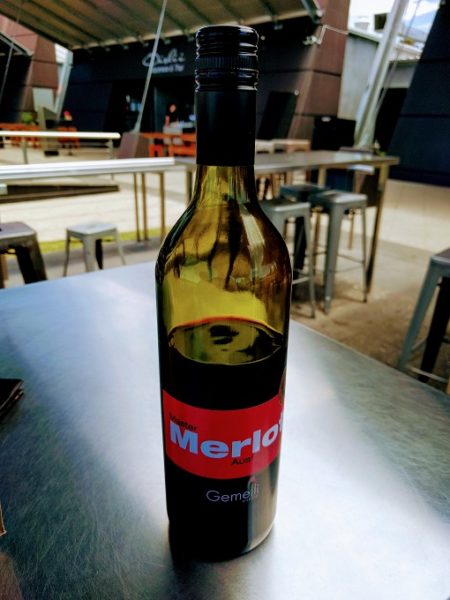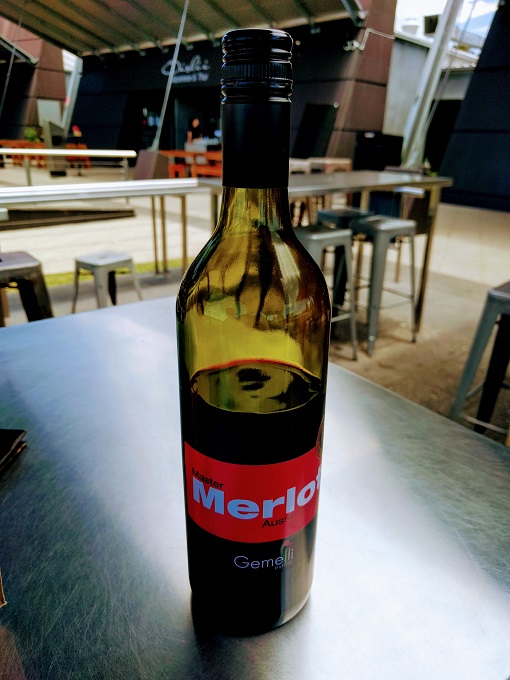 Ernest Hill
Our fifth stop on the Hunter Valley wine tour was Ernest Hill Wines. It was much warmer by the time we got there, so this tasting was conducted inside where there was air-conditioning.
After seating us around a couple of barrels, Lesley from Ernest Hill Wines explained that they produce 6,000 cases a year.
We got to try all six wines listed on the tasting menu: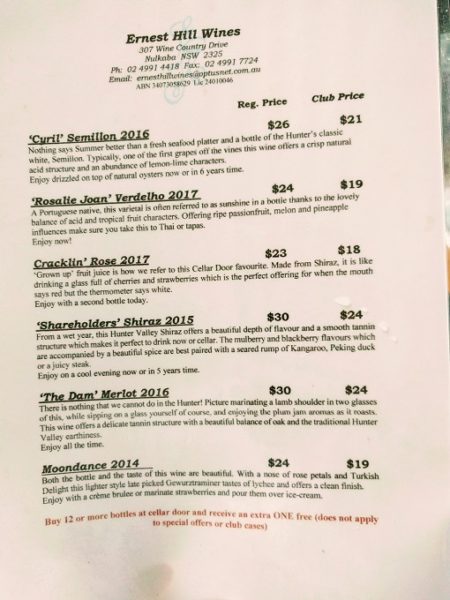 In addition to those wines, we tried two others – Blanc de Blancs which was a sparkling Chardonnay and Luna Spark which was a sweeter dessert wine with 2% carbonation (champagne has 7-10% carbonation). I'm not a dessert wine person, but Luna Spark was surprisingly good and you could ever-so-slightly feel the carbonation in your mouth.
This tasting was a great learning experience as Lesley taught us about some of the methods they use to make the wines. Luna Spark is made sweeter by leaving the grapes on the vine for one month longer as you're not allowed to add sugar to wine in Australia to sweeten it.
The Rosé was picked in 2017 when it was hot and dry which made it darker than in previous years, while Moondance had a clay-based sunblock applied to the vine's leaves to prevent them from getting burned.
Shae and I liked all eight of these wines too, so it was hard to pick which one to buy. Seeing as we'd bought a red from Gemelli Estate, we decided to get the Cracklin' Rose.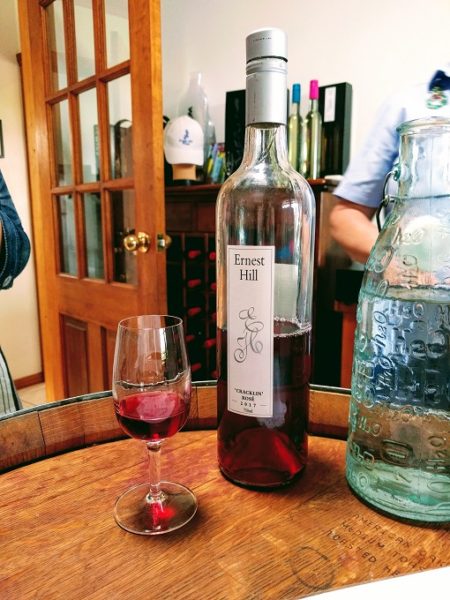 While everyone else was buying their wine, Shae and I had a quick wander around the vines.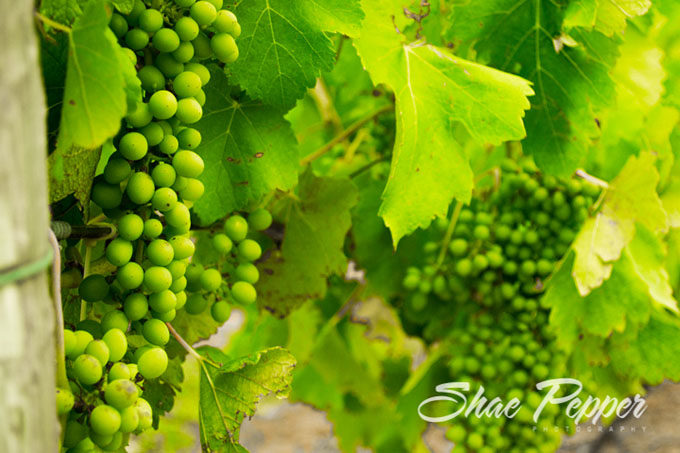 As if that wasn't enough drinking, we still had one more stop to go…
Hunter Beer Co.
Our final stop of the day was a craft brewery tasting at Hunter Beer Co. which is found at Potters Hotel Brewery Resort.
There were ten different craft beers we could choose from: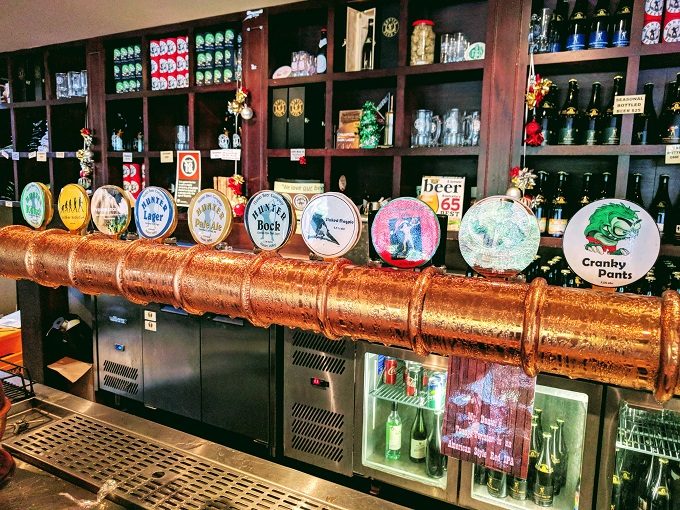 Geordie from Hunter Beer Co. explained some of the flavors and let us know that we could order two servings of 200ml beers for a total of $3 AUD (~$2.30 USD).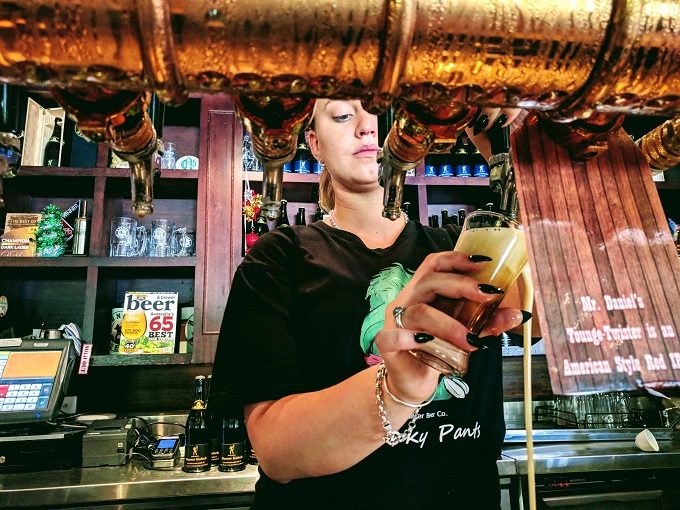 I was most interested in the Slaked Magpie and Christmas Pudding beers. From what I can remember, the Slaked Magpie had coffee, chocolate and vanilla flavors, while the Christmas Pudding beer had Christmas pudding flavors (cinnamon, nutmeg, cloves, fruit, etc.)
I didn't want to miss out on a couple of the other options though, so I ordered those two as well as the Hunter Bock and Daniel's Delectable And Delightfully Rubicund Elixir Infused With Lupulin Goodness (a red IPA).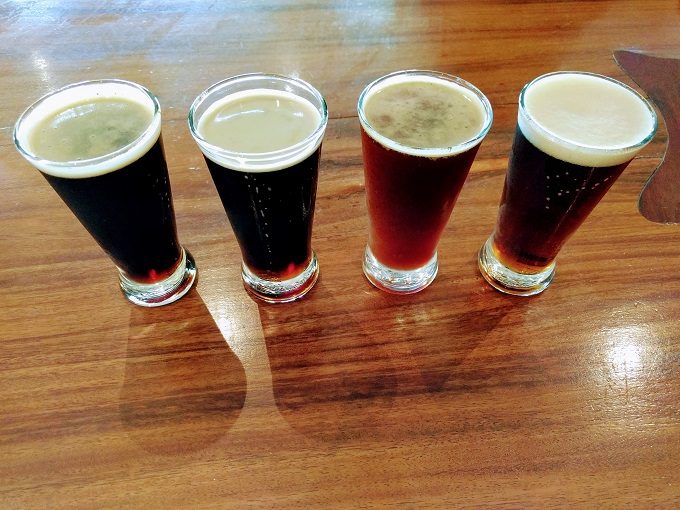 All four of these tasted good, although I think my favorite was the Slaked Magpie. The Christmas Pudding beer was nice, although not quite as Christmas pudding-y as I was expecting.
After polishing off the beers, it was time for a quick photo with Sam before driving back to Sydney.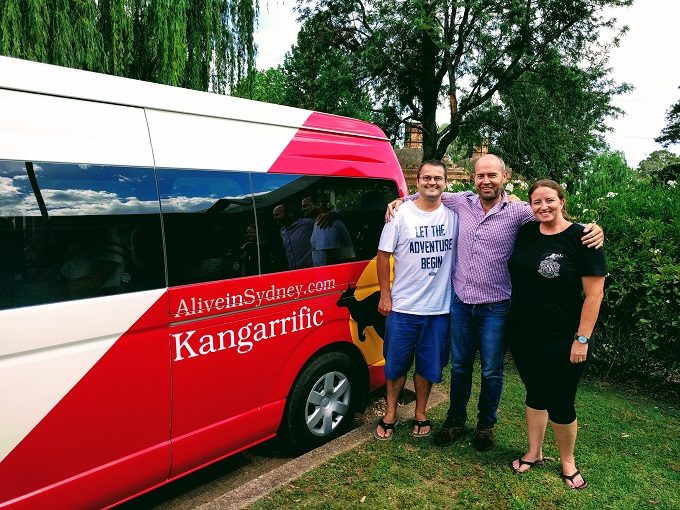 Word of warning – your bladder won't appreciate you drinking four of those beers just before you get back in the bus for the long drive back to Sydney. Apparently my 37 years on earth hadn't taught me that already :/
Final Thoughts
Despite having already done this Hunter Valley wine tour a few years ago, Shae and I enjoyed it just as much this time around.
Tasting 17 wines, four beers, chocolate and cheese and getting to pet kangaroos and koalas makes for an amazing day's adventure where you get to experience some of the best that Australia has to offer.
Sam from Kangarrific Tours enhances the entire experience too. He's friendly, funny, knowledgeable and is excellent at what he does. We therefore highly recommend that you go on his Hunter Valley wine tour if you visit Sydney.
n.b. This isn't a sponsored post – we paid for our tickets and Sam didn't even know we were going to write a review. We've simply enjoyed both our tours with him and so would love for Kangarrific Tours to become even more successful.
Follow Our Entire Trip Down Under
Be sure to also check out all our other posts from our trip to New Zealand and Australia:
Kangas And Vineyards And Beers, Oh My – Our Hunter Valley Wine Tour