This is the first post in a series about the different status levels in the Marriott Rewards loyalty scheme:
If you're planning on booking directly with Marriott, it's definitely worth registering to become a member as it can save you money and earn you valuable rewards. When doing so, you start off with their entry-level Marriott Rewards Member status.
Here's our guide to everything you can expect simply for registering with the Marriott Rewards loyalty scheme for free.
Important Note: You'll only receive these benefits when you book a hotel stay directly with Marriott, either on their website, mobile app or by phone. If you book a stay using an OTA (Online Travel Agency) like Expedia, you're not eligible to receive any of these benefits.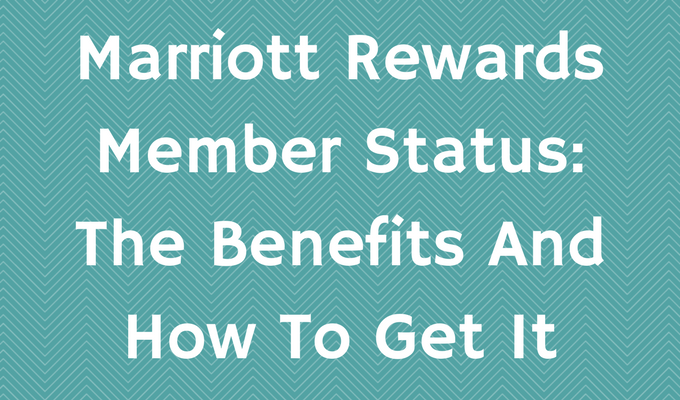 Marriott Rewards Member Status Benefits
1) Collect Points Or Miles
You'll automatically start collecting Marriott Rewards points when joining their loyalty scheme, although you can choose to earn airline miles instead.
You earn 10 points (or 2 miles) per dollar spent at all of their brands with the exception of Residence Inn and TownePlace Suites which earn 5 points (or 1 mile) per dollar.
2) Pay Discounted Rates
If you book directly with Marriott – either on their website, using their mobile app or by calling them – you'll pay a lower rate than you'll find elsewhere. It might not be a huge discount, but it'll still save you money.
For example, a search for a one night stay at the Courtyard by Marriott Spokane shows a member price of $146 per night and a non-member price of $149.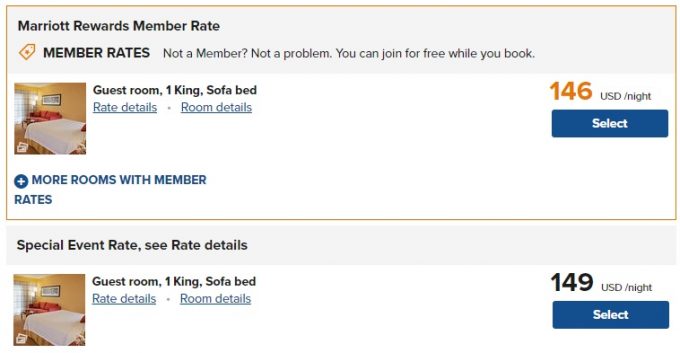 Booking the same room at the same hotel via hotels.com would cost $149 – the same as the non-member rate.

3) Free Internet
Provided you book directly with Marriott rather than an OTA (like Expedia), you'll receive complimentary in-room internet access.
4) Get The Fifth Night Free
When redeeming your Marriott Rewards points, the fifth night is free for every five days you stay. For example, a category 4 hotel requires 20,000 points per night. For a five night stay at a category 4 hotel, you'd therefore only need 80,000 points rather than 100,000.
n.b. The fifth night is only free on reward stays, not paid stays.
5) Reward Nights Count Towards Elite Status
One method of reaching the higher status levels is to stay a certain number of nights per calendar year. Thankfully Marriott make it a little easier by counting reward stays using points as eligible nights.
6) No Blackout Dates
There aren't any blackout dates when using your points to book reward nights. So long as there's standard room availability, you can use your points.
7) Earn Points For Booking Meetings Or Events
Booking meetings or events at one of the Marriott brands has the potential to be very rewarding. You'll earn 3 points per dollar spent, up to 50,000 points per qualifying event.
You'll also earn points for every room night when you book a minimum of 10 nights, as well as 10 Elite nights towards status – enough for Silver status.
How To Get Marriott Rewards Member Status
It's incredibly simple – and free – to get Member status with Marriott's reward scheme. All you need to do is register here and you're good to go.
Next up, we'll explore all the Silver status benefits and how to get it.