This is the fourth post in a series about the different status levels in the Marriott Rewards loyalty scheme:
The highest level of Marriott's loyalty scheme is Platinum status. Although it can be hard to obtain, it offers some additional benefits that you may find worthwhile.
Here's our guide explaining all the benefits of Marriott Rewards Platinum status and how to get it.
Important Note: You'll only receive these benefits when you book a hotel stay directly with Marriott, either on their website, mobile app or by phone. If you book a stay using an OTA (Online Travel Agency) like Expedia, you're not eligible to receive any of these benefits.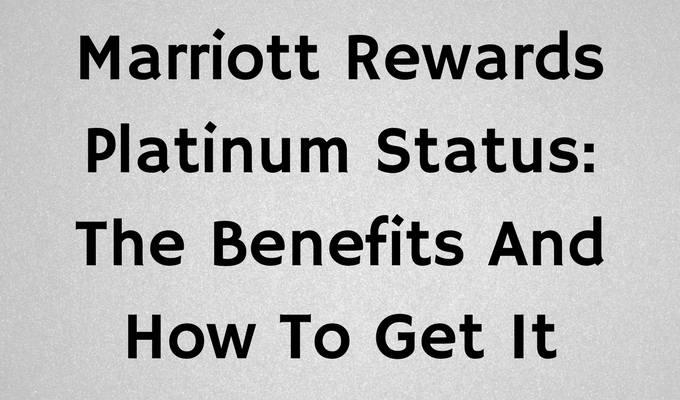 Marriott Rewards Platinum Status Benefits
1) 50% Bonus Points
Gold members receive a 25% bonus on base points, whereas with Platinum status you receive a 50% bonus. Seeing as you earn 10 points per dollar at most of Marriott's brands, this bonus means you earn an additional 5 points per dollar.
2) Arrival Gift
When checking in as a Platinum member, you'll receive the choice of bonus points or a food & beverage amenity as an arrival gift.
The number of points and type of amenity varies by brand, plus there are a few brands that offer points or miles rather than points or food. You can find more details about what each brand offers here.
As this is a guaranteed gift, you'll receive financial compensation if you don't receive the gift. Compensation ranges from $25 to $100, so has the potential to be somewhat lucrative if a hotel fails to provide you with the gift.
3) SPG Platinum Status
As part of Marriott's takeover of Starwood Hotels, their two hotel loyalty schemes are offering a status match. That means that if you earn Marriott Rewards Platinum status, you can match it to SPG Platinum status.
4) 48 Hour Availability Guarantee
Provided you make a reservation at least 48 hours before your arrival, Marriott guarantee that you'll always be able to book a room for a paid stay.
5) United Airlines Premier Silver Status
Once you have Platinum status with Marriott, you can match that status to Premier Silver status with United. Silver status offers complimentary upgrades, one free checked bag, bonus miles, Economy Plus seating access and other benefits.
6) Dedicated Reservation Line
Another benefit you receive is a reservation line that's solely for Platinum members.
These benefits are in addition to all the benefits that Gold members receive:
Collect points or miles
Pay discounted rates
Enhanced internet
Fifth night free on reward stays
Reward nights count towards elite status
No blackout dates
Earn points for booking meetings or events
25% bonus points (superseded by 50% bonus points)
4pm late checkout
Ultimate reservation guarantee
Elite member-only deals
Marriott gift shop discount
Weekend discount
SPG Gold status (superseded by SPG Platinum status)
Complimentary upgrade
Guaranteed lounge access and/or breakfast
Guaranteed room type
How To Get Marriott Rewards Platinum Status
There are a handful of ways to become a Platinum member:
1) Stay 75 Nights In A Calendar Year
These 75 nights can be paid stays, reward nights or a mix of the two.
2) SPG Platinum Status
We mentioned above that one of the benefits of Marriott Platinum status is that you can match it to SPG Platinum. As this status match is reciprocal, if you already have Platinum status with SPG, you can match that to the same status with Marriott.
3) Platinum Challenge
Marriott offer a challenge to earn Gold status and they have a similar challenge to earn Platinum status. To request a challenge, you have to already have Gold status with Marriott Rewards.
To see if you're eligible to apply for this challenge, contact Customer Support by either completing their online form or giving them a call on 1-800-721-7033.
4) Book 8 Meetings Or Events
When you book a meeting or event at one of their hotels, Marriott award you with 10 elite qualifying nights. Seeing as one method of earning Marriott Rewards Platinum status is to "stay" 75 nights, 8 meetings will earn you enough nights.
5) Spend $75,000 On The Ritz-Carlton Credit Card
The Ritz-Carlton Rewards scheme is linked with Marriott, although you can only have membership in one scheme or the other. Your status is honored in hotels in each chain, so if you have Platinum status with The Ritz-Carlton, that status will provide the same benefits during stays at all of Marriott's brands.
One of the ways to earn The Ritz-Carlton Platinum status is to spend $75,000 on their credit card in an account year. I wouldn't recommend this option though as that's a huge opportunity cost given that $75,000 spend could earn you significantly larger benefits when spent on other cards.
Question
Do you know of any other ways to earn Marriott Rewards Platinum status? If so, please let us know in the comments below and we'll update the post.