This is the second post in a series about the different status levels in the Marriott Rewards loyalty scheme:
Once you've registered with their loyalty scheme, it's time to start earning Marriott Rewards Silver status.
This comes with several additional benefits and there are many different ways you can become a Silver member.
Here's our guide to everything you can expect when attaining Silver status with Marriott.
Important Note: You'll only receive these benefits when you book a hotel stay directly with Marriott, either on their website, mobile app or by phone. If you book a stay using an OTA (Online Travel Agency) like Expedia, you're not eligible to receive any of these benefits.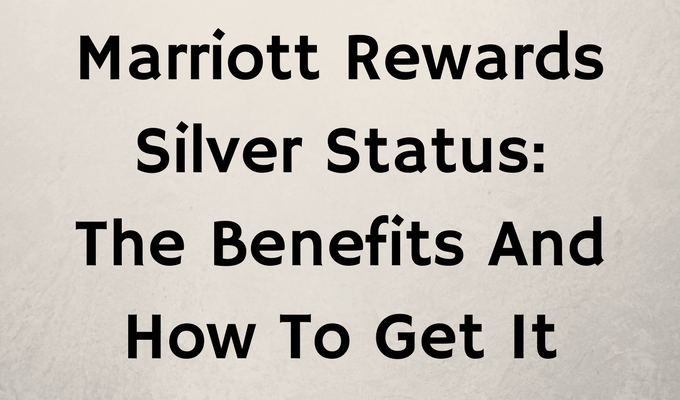 Marriott Rewards Silver Status Benefits
1) 20% Bonus Points
You earn 10 points per dollar spent at most of Marriott's brands. Silver status provides you with a 20% bonus on those base points, meaning you earn 12 points per dollar at most of their brands.
2) Late Checkout
To take advantage of this benefit, you have to call the front desk on the morning of your check out. The benefit's subject to availability, so there's no guarantee that your late checkout request will be granted.
3) Ultimate Reservation Guarantee
If a hotel's overbooked and is unable to accommodate your reservation, they'll pay for you to stay at another hotel nearby and provide you with compensation in the form of both cash and Marriott Rewards points.
4) Elite Member-Only Deals
There are all kinds of deals available at different hotels around the world that are only available to members with Silver status or higher. You can view those offers here.
5) Marriott Gift Shop Discount
If you buy something from a Marriott-operated and managed gift shop, you're eligible for a 10% discount.
6) Weekend Discount
When staying at participating Courtyard and SpringHill Suites hotels, members with Marriott Rewards Silver status are eligible for a 10% discount off the regular rate on Friday and Saturday nights.
7) SPG Preferred Plus Status
Marriott announced the takeover of Starwood Hotels in 2016. As part of this process, it's possible to link your Marriott and SPG accounts to match your status across the loyalty schemes.
Silver status with Marriott Rewards matches to Preferred Plus status with SPG. Preferred Plus offers an enhanced room at check-in and a 4pm late checkout, so it can be useful to have if you'll be staying at any SPG brands.
The above benefits are in addition to all the benefits people with Member status receive:
Collect points or miles
Pay discounted rates
Free internet
Fifth night free on reward stays
Reward nights count towards elite status
No blackout dates
Earn points for booking meetings or events
How To Get Marriott Rewards Silver Status
As I mentioned earlier, there are several different ways to get Silver status with Marriott:
1) Stay 10 Nights In A Calendar Year
Once you stay 10 nights – either paid or reward nights – you'll become a Silver member.
2) Book One Meeting Or Event
If you plan an event or meeting at one of Marriott's brands, you'll receive 10 Elite night credits which automatically gives you Silver status.
3) Marriott Credit Cards
Marriott have two credit cards issued by Chase – one personal and one business – both of which come with 15 Elite night credits. Seeing as you only need 10 nights for Silver, having one of these cards means you have the status by default.
4) SPG Credit Cards
Both the SPG personal and business credit cards come with SPG Preferred Plus status. As mentioned above, that matches to Marriott's Silver status.
5) Ritz-Carlton Silver Status
The Marriott and Ritz-Carlton loyalty schemes are linked, so if you have Silver status with Ritz-Carlton then that'll be honored during Marriott stays.
Next up in the series we'll explore Marriott's Gold status.