One of the first things we did after arriving in Melbourne was head to Healsville Sanctuary. For me, the fact that we were visiting our fourth animal sanctuary in as many weeks wasn't an issue.
I'm not someone who loves animals more than people, but I do LOVE me some animals. I'd been looking forward to this particular experience because I was going to get to pat and play with a wombat! We'd all planned to participate but sadly there was only one slot left which my family generously gave to me.
Before I got to meet my special wombat friend, we had lunch and I celebrated with a wombat-shaped gingerbread cookie. It was all the wombatty, gingerbread goodness. Finally, it was time to go to the encounter.
There were six of us participating in the pat and play with Gem the wombat – a family of three, a couple and myself. While I was sad the rest of my own family wasn't able to join in the fun, I tried to bring the fun with me for these other guests. I mean, we're hanging out with a wombat – what's not to love!?
We arrived at her *new* enclosure and were instructed to ignore her as we went to the small shed to place our bags. Our guide meanwhile spread out a plaid blanket on the ground for us all to sit on. Gem was enjoying hiding under it because it's like the burrows that wombats make for sleeping. She was finally coaxed out and we all settled in with the star of the show in the center.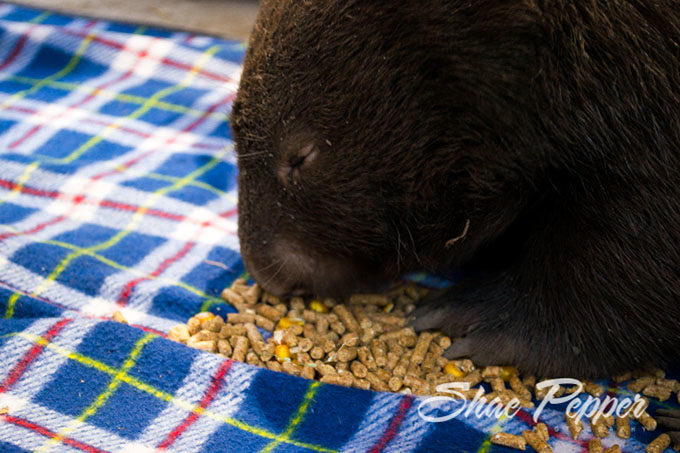 Gem walked in small circles sniffing each of us and letting us pet and pat her. We were under strict instructions not to touch her face or her food, just her back and especially her bum. Who doesn't love a good bum scratch?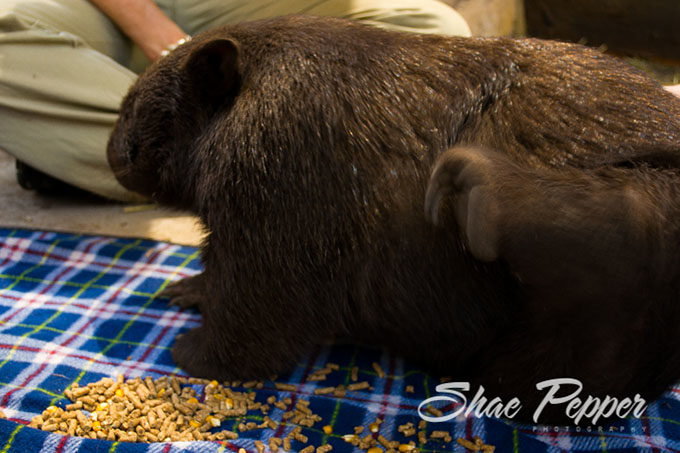 A little food was spread out in front of her and she happily munched and snuggled us in turn. She's quite a fast little mover; in fact wombats have been tracked going 40kph (25mph), so some of my pictures were a little blurry.
One of my favorite moments was when Gem came and snuggled in by my shoe for a little doze. It was a fast doze but she was all tucked in by my foot and was so cute.
After learning all the wombat facts and having all the pets and pats, it was time to say goodbye. I helped everyone get their photos with Gem and then it was my turn. I love all my little wombat photos. But my all time favorite was the selfie I managed to snap with her before I left.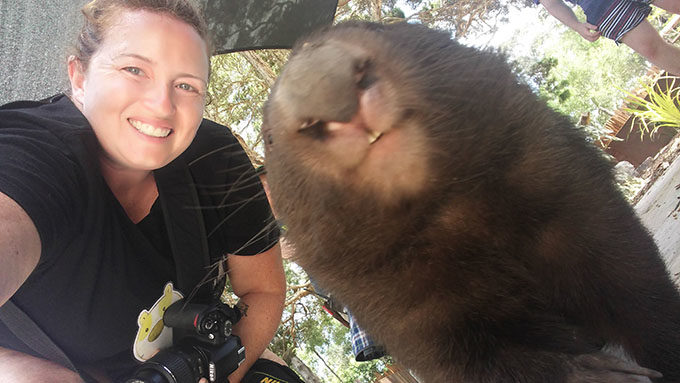 Gem was reluctant to get off her blanket and let us leave, so she was distracted with a bit of veggie so we could make our escape. Once she realized we were leaving she came running after us. It was very hard to leave her behind; in only 15 minutes she'd stolen my heart.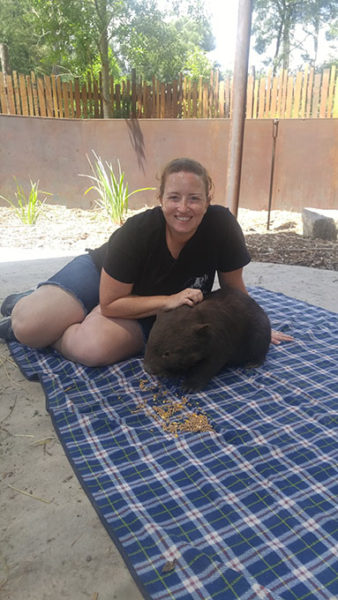 I ended up getting a wombat necklace as a Christmas present from hubs to commemorate my experience. I then went one step further and got a little wombat tattoo as my Christmas present from mom.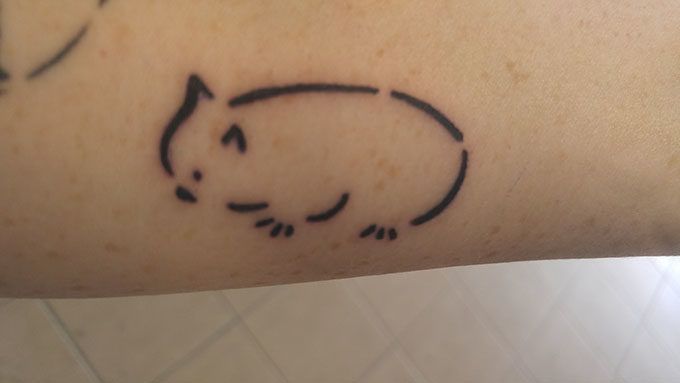 The pat and play encounter with Gem the wombat cost $12 AUD (~$9.25 USD) and was well worth it. I've loved each encounter we've had, both last time in Australia and this time, but this was especially memorable and will stay with me for a long time.
Follow Our Entire Trip Down Under
Be sure to also check out all our other posts from our trip to New Zealand and Australia:
Meeting Gem The Wombat: A Pat & Play For 15 Minutes One Day