Norfolk VA Mini-Trip Report
On The Hunt For Norfolk Mermaids
After checking out of Hilton Norfolk The Main, Shae and I asked the hotel to hold on to our bags. That's because we decided to go out hunting for the Norfolk mermaids.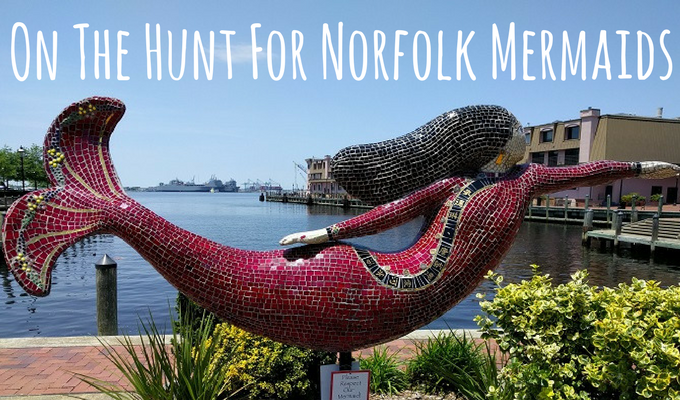 History Of The Norfolk Mermaids
In the summer of 1999, the wife of Peter Decker – a Norfolk attorney – visited Chicago's Cows on Parade exhibit. Inspired by the experience, she suggested to him that a similar initiative should be brought to Norfolk.
A few months later, Decker met with hundreds of local businesses to pitch the idea of Mermaids on Parade. With their support, a sculptor produced more than 100 mermaid castings which were uniquely decorated by artists. The mermaids were then auctioned off for $2,000 each and placed outside the Norfolk businesses that bought them.
The locations of some of the Norfolk mermaids have changed over the years. Apparently some have been vandalized, but others appear to have been moved due to building work. For example, there are meant to be a couple of mermaids by City Hall but they weren't there when we searched for them – presumably because of the construction surrounding the building.
Our Hunt
We went mermaid hunting in downtown Norfolk VA on May 27, 2017, so the location of some of these mermaids might have changed by the time you go looking for them.
Something we found helpful was stopping in at the Norfolk Tourist Information Center at 232 East Main Street. That's because they had a map detailing the locations of all the downtown mermaids which saved us a lot of aimless wandering. There are other mermaids spread out all over the city, but our goal was to find all those within walking distance of downtown.
Here's How We Did
Shae and I ended up finding 20 mermaids in downtown Norfolk. One was hiding in the Norfolk Tourist Information Center, so we're wondering if that's one of the mermaids missing from outside City Hall.
We took photos of all the Norfolk mermaids we found, and noted below where each of them were located. Unfortunately a website issue means some of these photos are no longer viewable (I've italicized those ones) – sorry!
Nauticus mermaid
Town Point Park by Half Moone Center mermaid
Town Point Park mermaid
Norfolk Tourist Information Center mermaid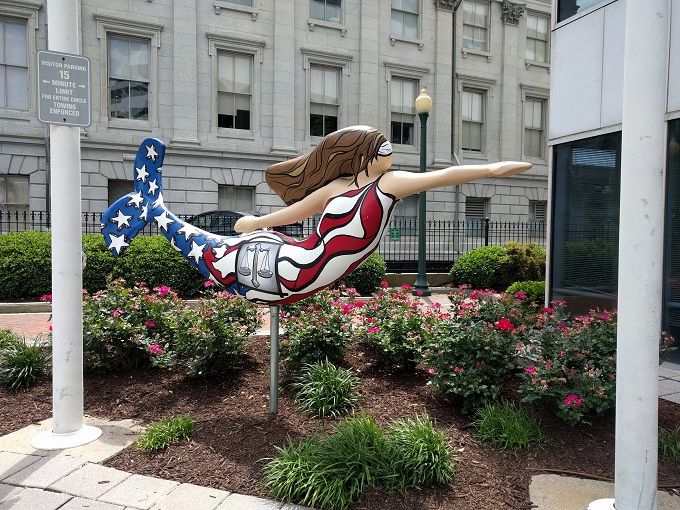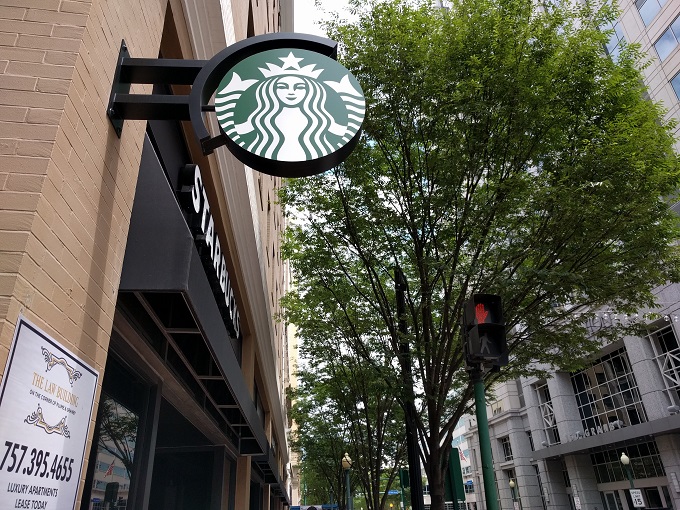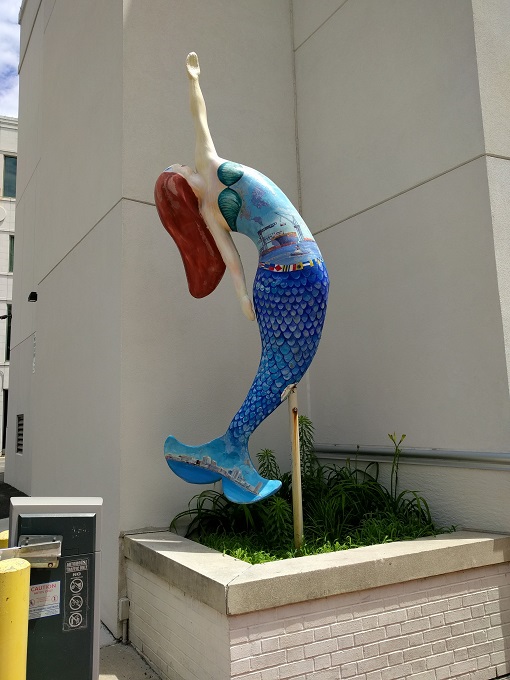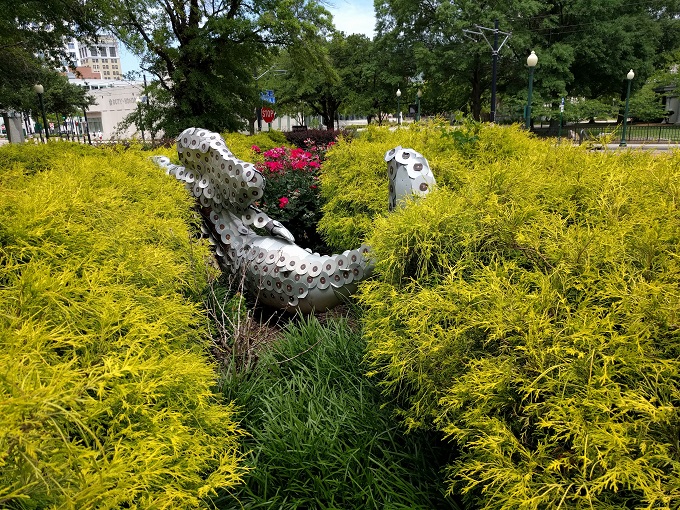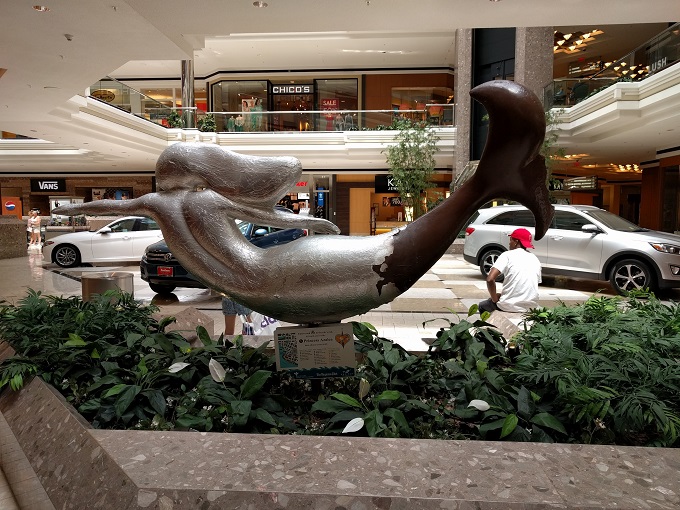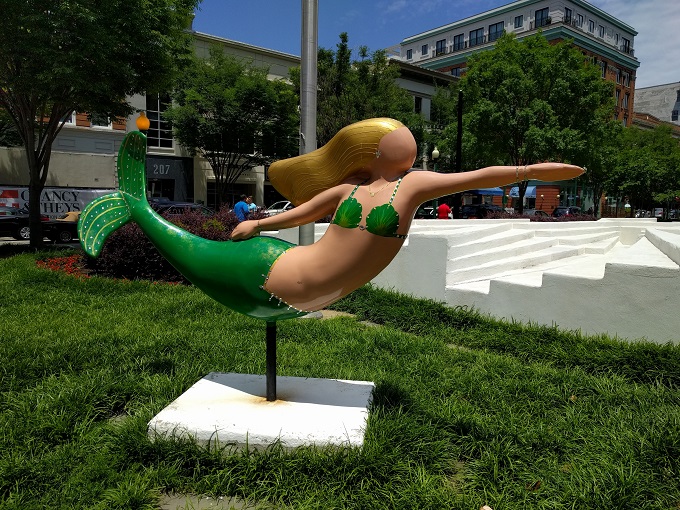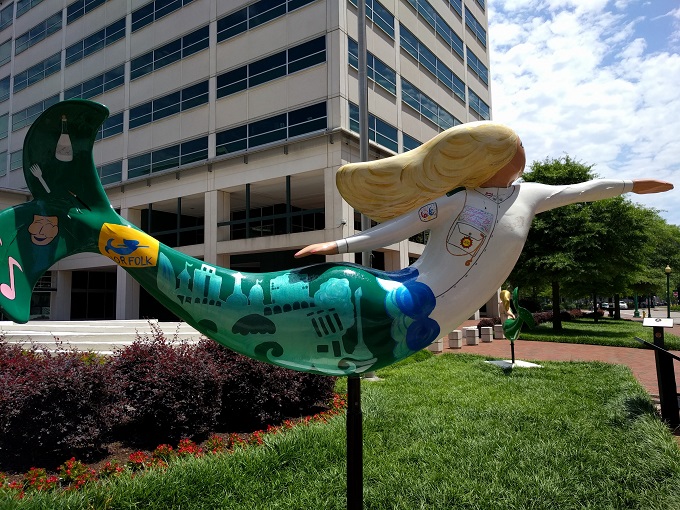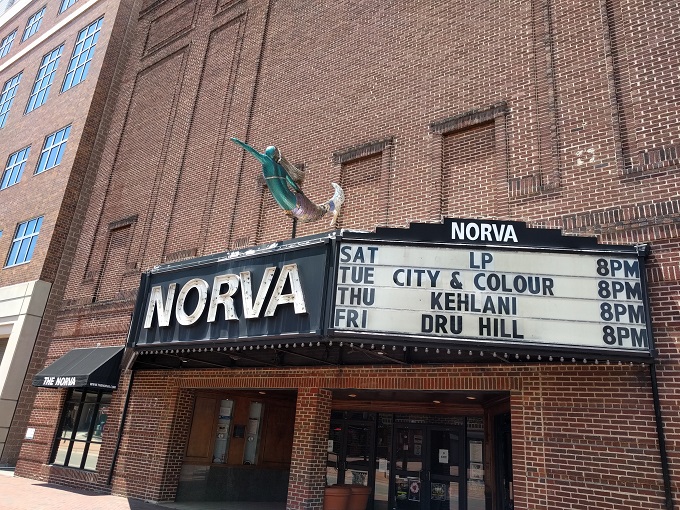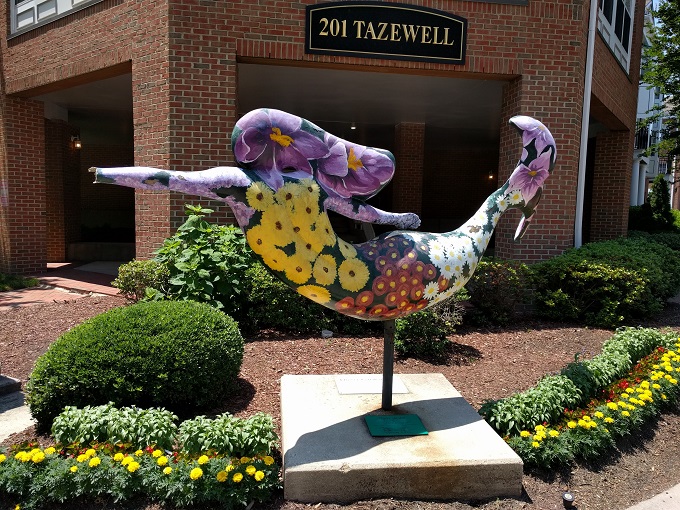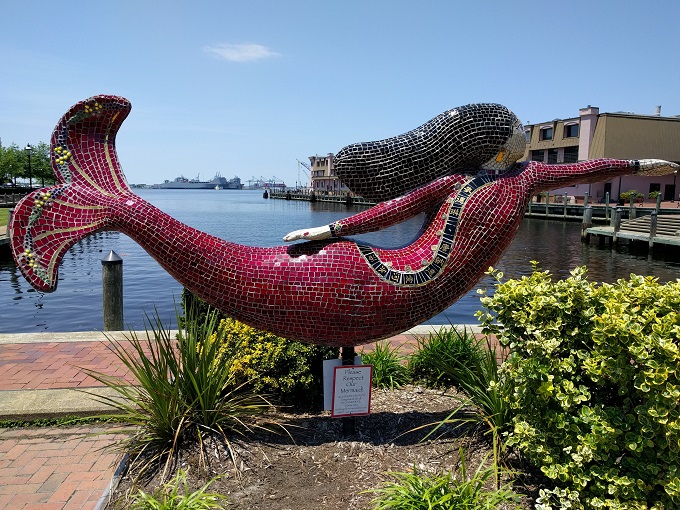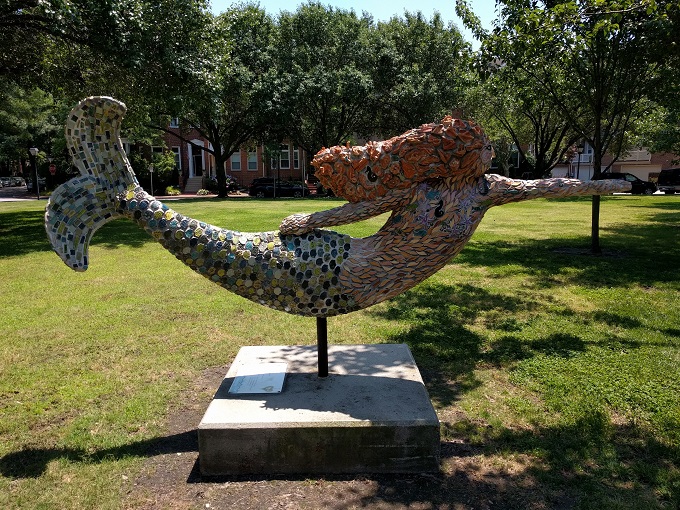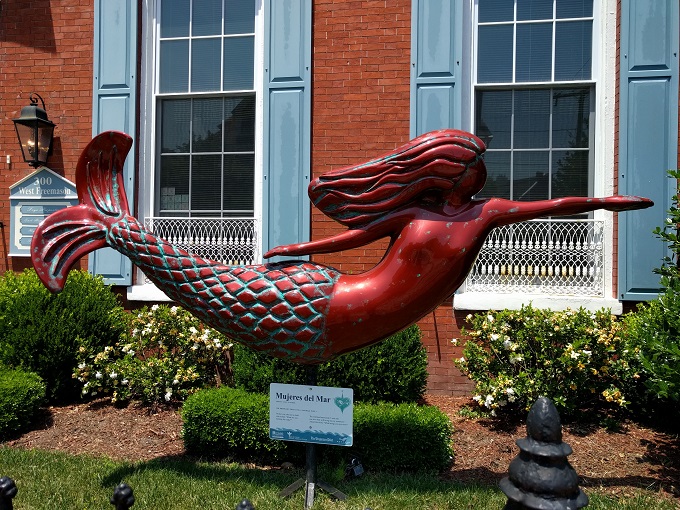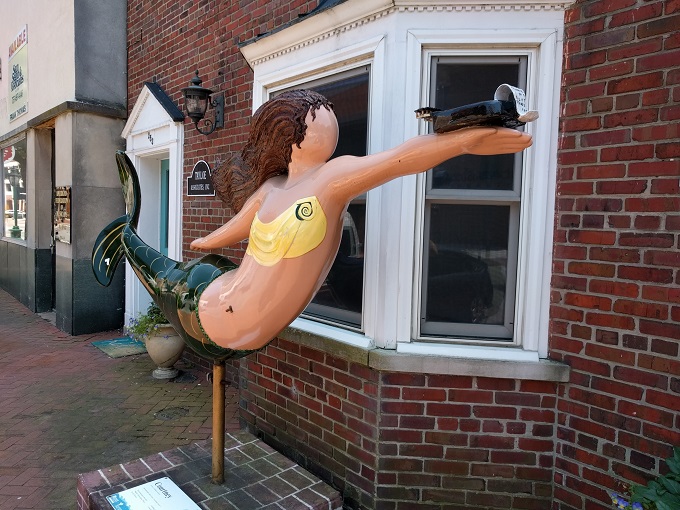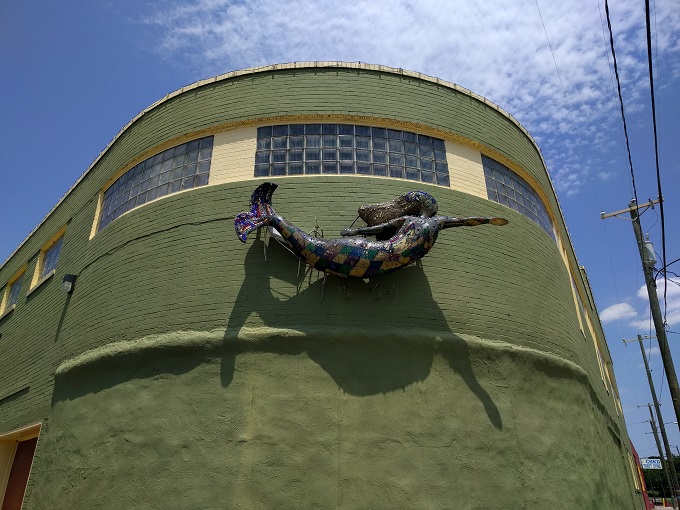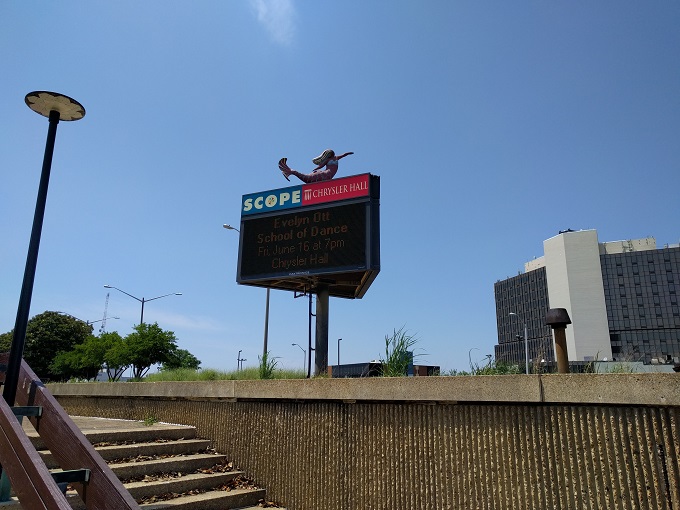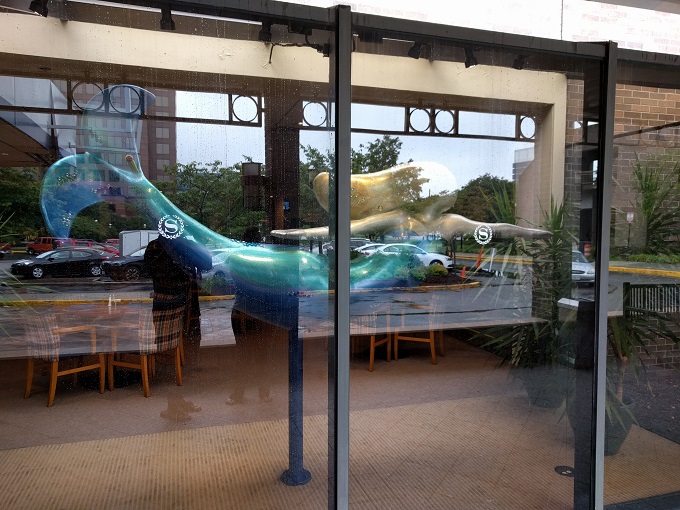 Summary
Hunting for the Norfolk mermaids is a great way for you to explore downtown. You're never far from a coffee shop, bar or restaurant, so you can just take your time wandering around and enjoy all the city has to offer.
If you go mermaid hunting, we recommend stopping by Hummingbird Macarons & Desserts for a macaron ice cream sandwich on your way like we did. Here's a little poem about why you need their macarons and macaron ice cream sandwiches in your life.
(n.b. We don't know the owners of Hummingbird Macarons & Desserts nor were we paid by them for a recommendation. We just happened to stop by and tried their chocolate macaron ice cream sandwich which was freakin' amazing!)