Tomorrow's a significant day in the countdown to our 5 year, 50 state road trip as it's my final day at my job.
It feels like a huge step as it'll be the first time since I was 13 years old that I won't have been employed by someone else.
A lot of our blog posts so far have been on the more technical / informational side of things, so I thought I'd share some of the more personal and behind-the-scenes stuff today.
Where It All Began
Back in 2007, Shae and I were living in Guildford, England. The health insurance company I worked for announced that they'd bought another insurance company in Bournemouth and that they'd be closing the Guildford office.
They offered all employees a choice between a redundancy package or a relocation package down to Bournemouth. I decided to take the redundancy package, although we relocated ourselves to a different seaside town – Brighton.
I contacted a couple of recruitment agencies to see if I could get any interviews at companies down there. As luck would have it, an international health insurance company called ALC Health had an opening.
I got an interview and was really excited about the opportunity as it felt like the perfect fit for me. Thankfully they felt the same way and offered me the job.
Before I even started, I could tell that they'd be a great company to work for because of how they treated their employees. During one of the interviews, they asked how much I was currently earning and how much I was looking to earn.
They offered me more than that.
Seriously. I told them how much I wanted to earn and they offered more.
What The Job Was Like
The next 18 months of working there were very enjoyable. It was a small privately-owned business and I worked with a great group of people. Despite joining during the depths of the credit crunch and Great Recession, we were fortunate enough to keep expanding.
One of the best parts of the role was the autonomy. I'm a hard worker and am very conscientious, but I despise being micro-managed or having someone looking over my shoulder at work. ALC Health simply explained my role, provided good training and let me get on with it.
Moving Overseas
In 2009, Shae and I decided to move to the US to become group home foster parents. While we were waiting for that paperwork to be sorted out, ALC let me continue working for them for a couple of months from overseas which helped both us and them.
After working at the group home for a few months, it became apparent that it wasn't going to work out. I immediately contacted the CEO of ALC Health to see if she'd be happy to have me back – thankfully she was! That meant the day after we left our previous jobs, I was able to start working straight away which saved us financially.
Thanks to this flexibility of working from overseas, later on in 2010 we were able to move to Thailand for six months where Shae was offered a teaching position. Seeing as my role could be done anywhere with an internet connection, we were able to take advantage of that opportunity without any concern about what I'd do while there.
On To 2016…
We moved back to the US in 2011 and have lived here ever since, with me continuing to work for ALC. In 2016, Shae and I made the decision to prepare for our 50 state road trip.
My original plan had been to ask ALC if I could reduce my hours from 7 hours per day to about 3-4 hours per day. When spending more time thinking about it, I realized that this wouldn't leave as much time as I'd like on the road trip for travel, blogging, planning, etc.
When looking at our finances and income from the other websites I'd created, I realized that if we were extremely careful with our money, we should be able to afford to get by. That meant I wouldn't need to be employed by anyone else any longer.
Like I mentioned earlier, that was a huge decision for me as I'd never been self-employed like that. We knew it was the right decision though.
Resigning A Year Early
My consultancy contract with ALC Health stated that I needed to give a three month notice period. They'd been so good to me over the past decade though that I wanted to give them as much notice as possible.
That meant I emailed my resignation in December 2016, advising that my final day would be October 27, 2017 – ten months later. I figured that'd give them plenty of time to find someone to replace me and get them trained up.
As it's a relatively small company, my replacement would need to be able to hit the ground running once I left. It's not like a company with hundreds or thousands of employees where it doesn't matter as much if it takes someone a little longer to get up to speed.
The funny thing is that the person they employed to take over my job is the person whose job I took over when she left back in the day. That's meant that she's been able to pick up everything much more quickly than someone who was completely new to the role. It's been very satisfying knowing that I'm leaving everything in such capable hands.
Counting Down The Days
After we got home from a trip to Richmond in July, there was a surprise waiting for me in our apartment.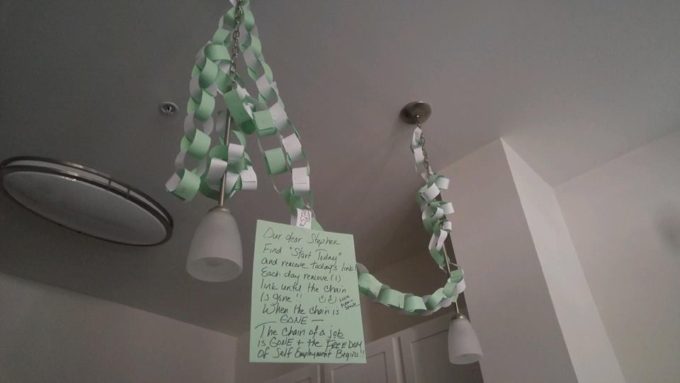 Shae's mom had made me a paperchain. Each link represented one day until the end of my job and the start of what'll hopefully be a life of self-employment.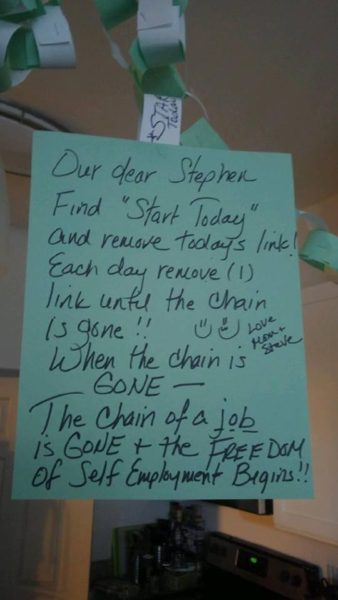 As the note instructed, I've been removing a link every day. After removing today's chain, here's all that's left.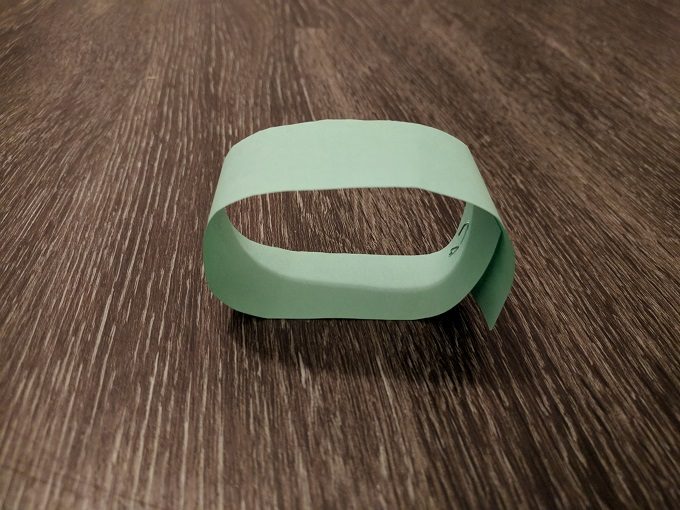 What It's Like Leaving
I've had mixed emotions about leaving ALC Health. They've been such a wonderful company to work for over the years. They've also been a great group of people to work with, even though I've been based thousands of miles away.
I'm therefore sad to be leaving both my colleagues and the company. It'll also feel strange getting up in the morning on Monday and not having to do any work.
This may sound surprising given the adventure Shae and I are about to embark upon, but I'm not much of a risk-taker. It's therefore a little nerve-wracking being solely responsible for earning an income rather than relying on a paycheck from someone else.
Despite that, it's also exciting. We're getting to do something we've dreamed about for years. We'll be traveling full time and both of us will be making use of our talents and strengths.
So tomorrow marks the end of a decade and the start of a new – and huge – chapter of life.
I can't wait to see how it all turns out!