Phillip Island in Melbourne, Australia is the ultimate place to fulfill your childhood dreams.
Chocolate factory – check
Rock pools – check
Penguins – check
Ice cream – check
Beaches – check
Holding starfish – check
We spent a day on Phillip Island with our friends and their children as it's a perfect place for people of all ages. Here's everything we got up to.
Cowes Beach
We started off the day at Cowes Beach which is on the north side of Phillip Island. There's a nice sandy beach and, as we were there during summer, the water was fairly warm.
The beach also has a grassy hillside with plenty of trees, so it's the perfect place for parents to relax in the shade while their kids roll down the hill. At the top of the hill there are several picnic tables, so we ate our packed lunches there.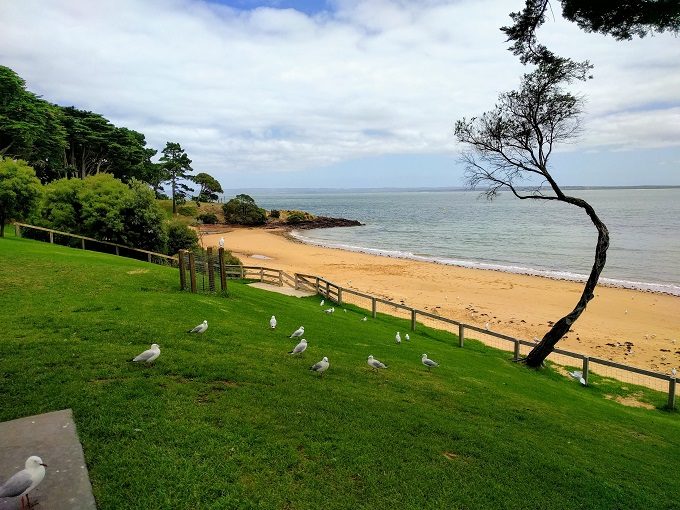 Cowes is also home to The Esplanade and Thompson Ave which have tons of eateries, stores, banks and more. We took a walk up the hill a little later in the afternoon to get ice cream from The Jolly Lolly Trolley. They had a bunch of interesting flavors and I went for toffee apple flavor which was pretty tasty.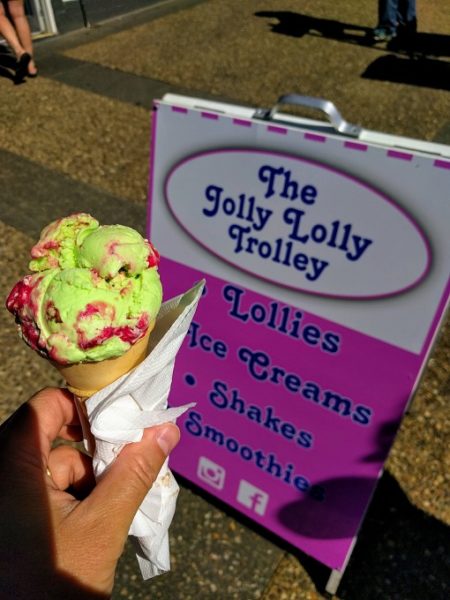 Chocolate Factory
After eating our lunch, we made our way to Phillip Island's chocolate factory – Panny's Amazing World Of Chocolate.
This is a great little place that has so many fun features and activities. There's artwork and sculptures made from chocolate, such as a replica of Michaelangelo's David made of 100% milk chocolate.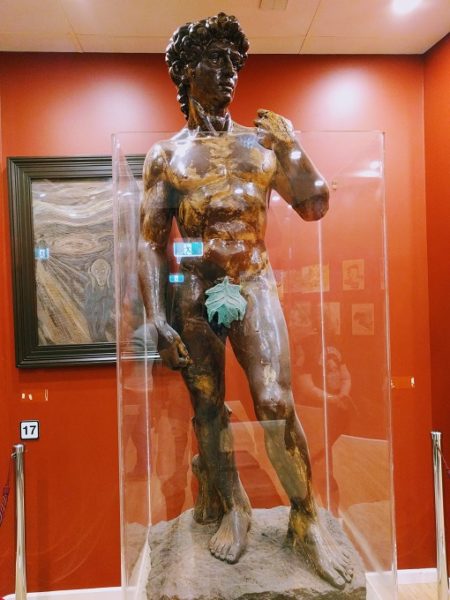 There's a giant cube of chocolate that – quite literally – weighs a ton.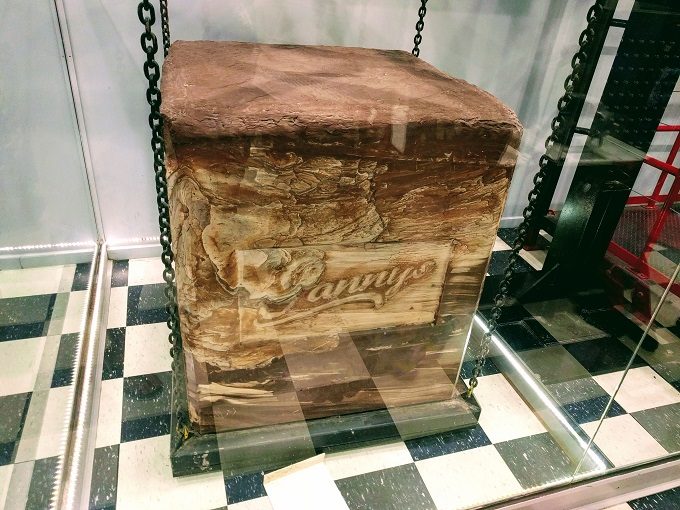 On the other side of this immense chocolate cube is a large, empty scale. You need to gather enough people to stand on the scale to try to counterbalance the one ton chocolate chunk. We managed to get about a dozen people on the scale and voila…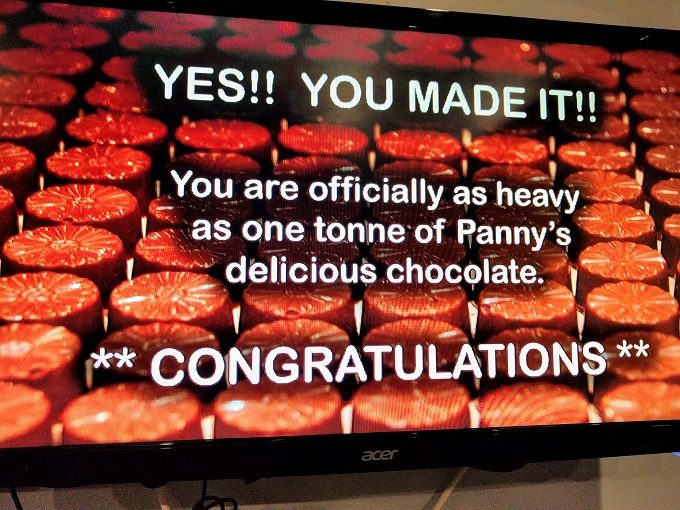 Another feature will transport you to Willy Wonka's chocolate factory. That's because Panny's has a chocolate waterfall which drops 400 kg (almost 900 lbs) of chocolate every few minutes.
There are games you can play to win wooden balls which are exchanged at the end for chocolate balls…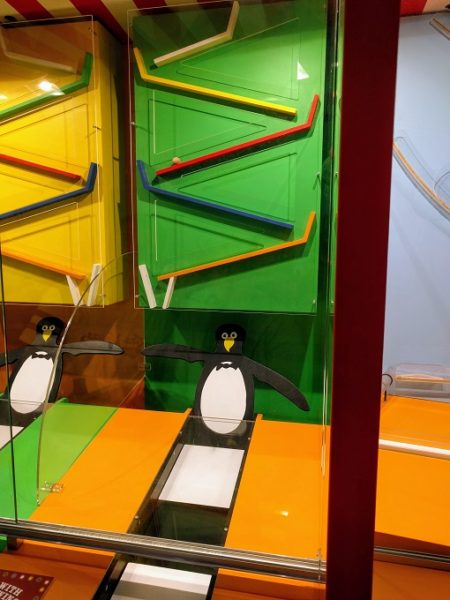 …and my favorite part of the chocolate factory – a chocolate zoetrope. There are two buttons you press – the first gets the disc containing all the chocolate characters spinning. Once it's at full speed, press the second button which sets off some strobe lighting that transforms the display.
My description doesn't do it justice, so check out the video I took below.
**STROBE LIGHTING WARNING**
Ecoboat Tour
While we hung out with our friends, Shae's parents went off on an Ecoboat Tour to view the fur seals on Seal Rocks.
This involved a 90 minute high speed boat ride out to the seals where they also got to see the Nobbies sea cave. They adored the experience and said they'd highly recommend that people do it.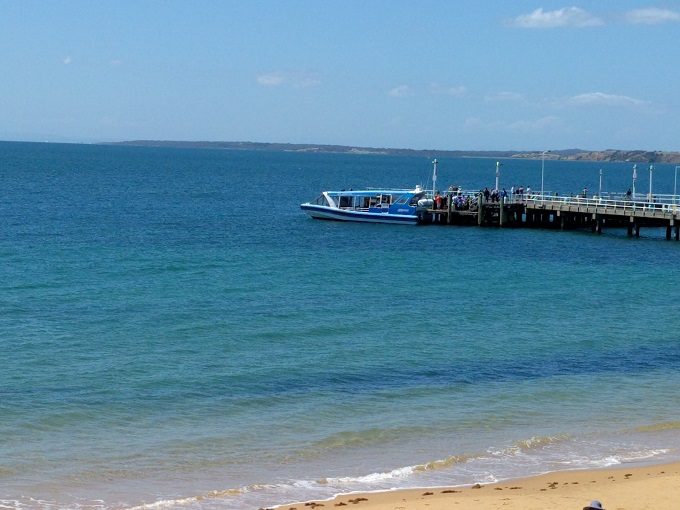 Surf Beach
Once their boat tour was over, we all drove to Surf Beach on the south end of the island.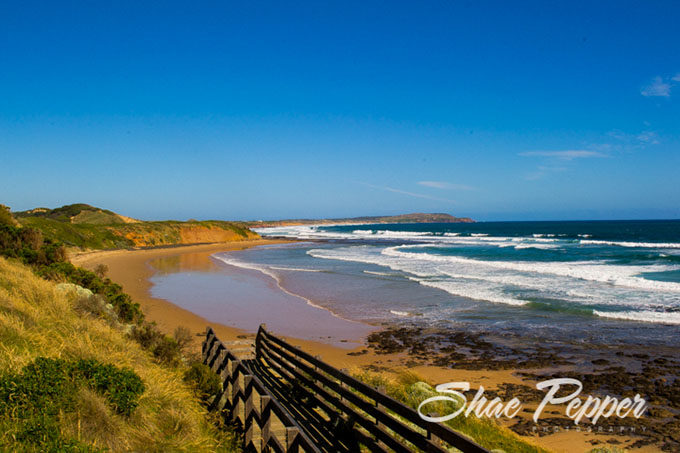 Although the water was much colder here, it did have something going for it – rock pools as far as the eye could see.
These rock pools were filled with sea snails…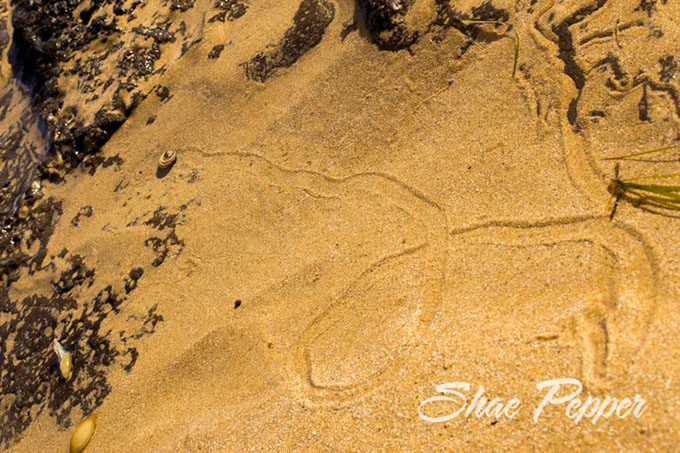 …anemones…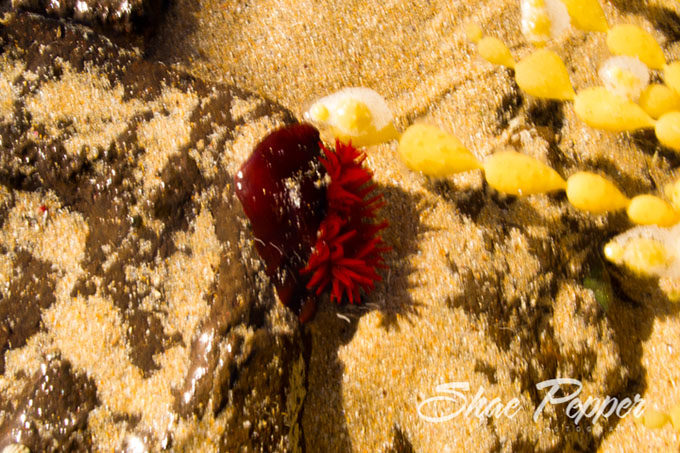 …and these fascinating mini starfish of a kind I'd never seen before.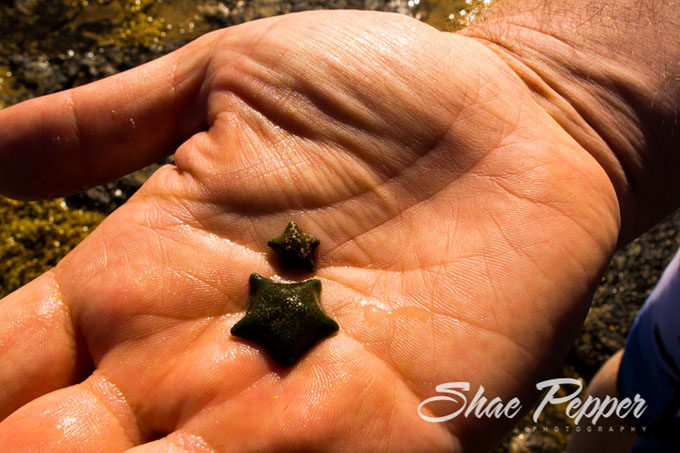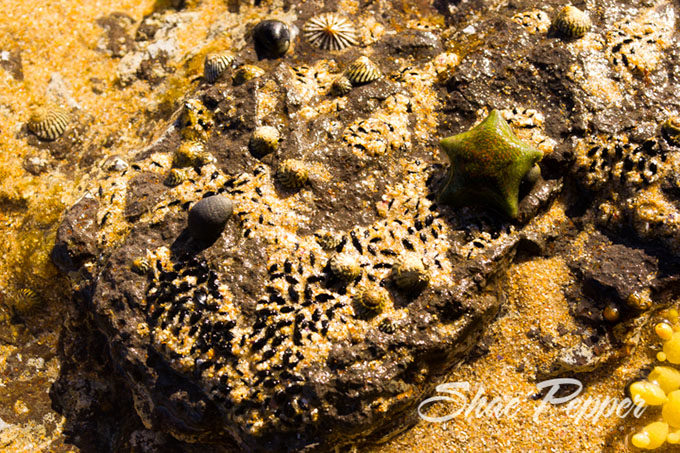 We spent ages with the kids wandering the rock pools, but it was eventually time to get some dinner. After heading back to Cowes to pick up some fish & chips, we made our way to the next activity.
The Nobbies
On the southwestern tip of Phillip Island you'll find The Nobbies. This is a series of boardwalks that provide some beautiful scenic lookouts along the coast and out over Seal Rocks.
We arrived there fairly late in the evening which was shortly before we were due to go on our final activity. We therefore didn't have time to walk along all the boardwalks this time around. This is something we did on our last trip to Phillip Island though and it's well worth doing.
It's sometimes possible to see Little Penguins while walking along and we got lucky in our few minutes there.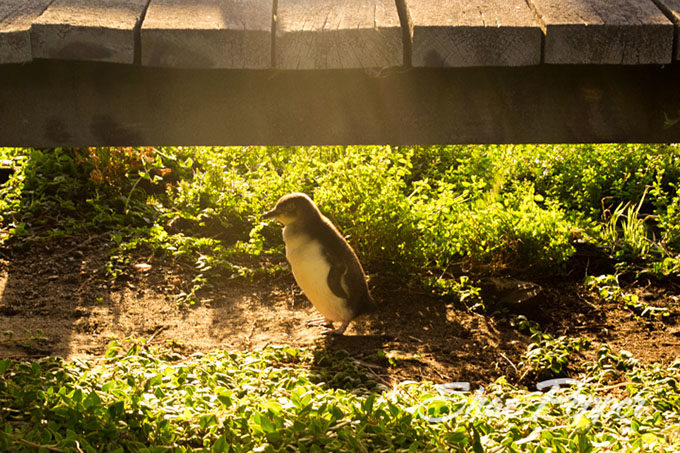 Penguin Parade
The best part about Phillip Island is that every night at sundown there's the opportunity to watch the Penguin Parade.
This is also something we did on our last trip to Australia but wanted to experience it again; we also wanted Shae's parents to have a chance to watch it too.
Tickets cost $25.70 AUD (~$20 USD) for adults which is excellent value (child tickets are half that cost). You arrive at sundown and make your way down the boardwalk to the beach. You can bring towels or blankets to sit on the beach, but there's also plenty of actual seating.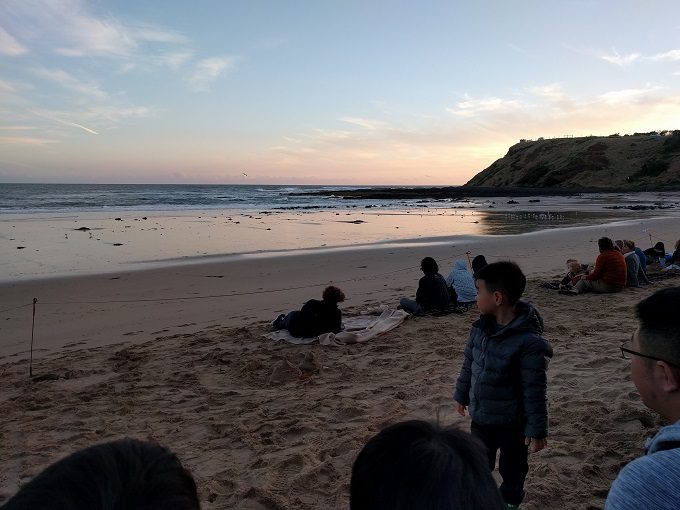 You're not allowed to take any photos of the penguin parade once the sun's gone down, so the photo above is the last one I took. That's because the Little Penguins (also known in Australia as Fairy Penguins) are waiting for darkness out at sea to make their way safely back to their burrows on land.
Once it's dark enough, they swim on to the beach in groups called rafts (there's safety in numbers.) They then waddle slowly up the beach while leaning forward. That's because their backs are black and their tummies are white; leaning forward means any overhead predators will only see their black backs, making them harder to spot in the darkness.
About halfway through the parade, a wallaby appeared out of nowhere on the beach and made its way along the beach, bounding as it went. This freaked out a couple of penguin rafts, so they all waddled back into the water as quickly as possible before returning to the beach a couple of minutes later once the coast was clear.
There were more than 2,000 penguins that ended up making their way up the beach that night. Once the parade's finished, you make your way up the boardwalks where you get to see the penguins in even closer proximity.
The reason for that is because they walk beneath the boardwalks to get to their burrows. You're therefore often only a few feet away from these penguins that aren't kept in captivity – it's awesome!
As we made our way to the car afterwards, we spotted the wallaby again behind the fence and near some penguin burrows. We then had a penguin walk up to the other side of the fence who stood there staring at us. Seeing as he wasn't in danger from predators anymore – and we had our camera flashes turned off – we couldn't resist the opportunity to take a photo.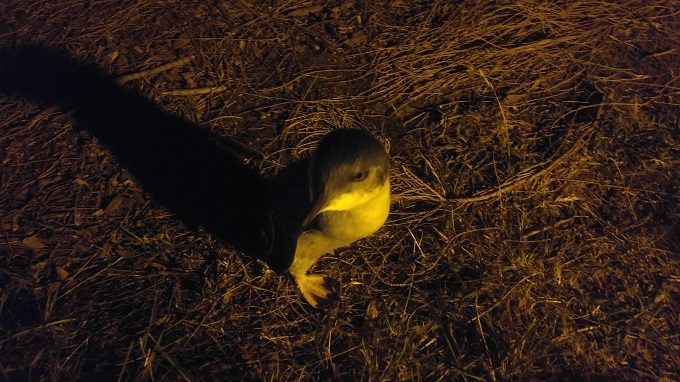 Final Thoughts About Phillip Island
This is all we managed to fit into our day on Phillip Island, but there's even more that you can do there.
We visited the Koala Conservation Centre on our last trip where you can see koalas in their natural habitats. That was great fun too, but we didn't go there this time as we'd already visited Lone Pine Koala Sanctuary earlier on our trip where we'd gotten to hold koalas.
Seeing as it's only a 90 minute drive from Melbourne, Phillip Island is a must-see place for people of any age.
Follow Our Entire Trip Down Under
Be sure to also check out all our other posts from our trip to New Zealand and Australia:
Penguins, Starfish & A Chocolate Factory – A Day Out On Phillip Island