Roanoke VA Mini-Trip Report
Quidditch From The Pages – An Exhibition Match
While in Roanoke for the first annual Roanoke Harry Potter Festival we had the opportunity to watch Quidditch. Confused? Let me help.
Quidditch. /ˈkwɪdɪtʃ/
noun.
an imaginary game in which players fly on broomsticks.
Hmmm… despite being the official dictionary.com pronunciation and definition, it really says nothing useful about the best game in the Wizarding (and now Muggle) world. Let me really break it down for you.
Quidditch. Kw-i-ditch (short i like in 'igloo')
noun.
a fictional game, from the imagination of J.K. Rowling, in which fictional characters put balls through hoops while seated on flying broomsticks (they are Witches and Wizards after all) in the Harry Potter Series of books.
a completely real game which was adapted by a student at Middlebury College for Muggle (people without magical powers) use in which players from colleges, high schools and community teams put balls through hoops while running around with broomsticks between their legs.
Quidditch has some similarities with Muggle sports. It's a bit like soccer, with a rugby feel, including some skills you develop as a child playing tag and it's all played above the ground (in the books) and on the ground in the Muggle world.
Here's a basic outline of the players, equipment and game for you from the Harry Potter series.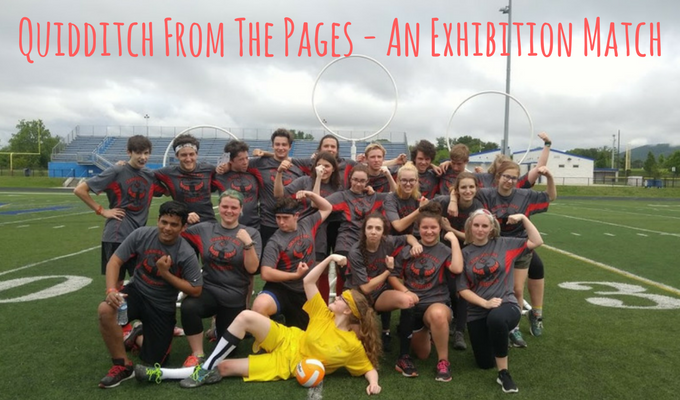 Players
There are seven players on a team:
1 Keeper – They guard three hoops which are worth equal points upon scoring
2 Beaters – They carry small bats (more like baseball bats than cricket bats) to hit balls towards the other team's players and away from their own players in this primarily defensive role in Wizard Quidditch. In Muggle Quidditch, only hands are used.
3 Chasers – They carry a main ball towards the hoops and try to score in this offensive role
1 Seeker – Arguably the most important player on the team, they chase a special ball (or person in Muggle Quidditch) and when it's caught gives extra points to their team and ends the game
In both Wizard and Muggle Quidditch, there are no rules separating male and female teams. There are rules governing Muggle Quidditch to ensure gender equality on all teams.
Balls
There are three different types of balls:
Quaffle – Used for scoring, this ball has no special magical abilities in either Wizard or Muggle Quidditch
Bludger – The balls hit by the Beaters towards the opposing team's Chasers and Seekers or away from their own. They're imbued with magical flying abilities and an aggressive nature in Wizard Quidditch… they're just rubber playground balls in Muggle Quidditch… sigh…
The Golden Snitch – A small gold ball with silver wings that flies incredibly fast and is nearly impossible to see in Wizard Quidditch. When it's caught it gives the team 150 points and ends the game. In Muggle Quidditch, the Snitch is a person (yes, you read that correctly, a person) completely dressed in yellow with a sock tail that dangles from the back of their shorts with a tennis ball in it. They run around the pitch and are chased by the Seekers. The tail has to be removed from the Snitch without touching any other part of the Snitch to count for 30 points and end the game.
Broomsticks
In Wizard Quidditch, players can use any magical broomsticks they like, but there's a preference for top-of-the-line racing brooms like the Nimbus 2000 or the Firebolt (although these are from the late 90s and I'm sure that Harry's sons, James and Albus, play on much more updated broomsticks).
In Muggle Quidditch, the game used to be played on regular broomsticks, but regulations have changed over the last few years. Competitive Quidditch must now be played with bristle-free broomsticks to avoid bristle-burn and twig-related injuries.
Game Play
In Wizard Quidditch, play begins with a whistle and continues until one team's Seeker catches the Golden Snitch. Each goal is worth 10 points. It's played in all weather and can be very brutal.
In Muggle Quidditch, play begins with the teams lining up with their brooms. The Quidijudge (aka referee) shouts "Brooms Down, Eyes Closed… Brooms Up!" and play begins.
There are a few subtle differences for Muggle Quidditch. When a Chaser's hit with a Bludger, they must drop the Quaffle and run back to their goals, touch the post and can then return to play.
The Snitch used to be able to run anywhere during the game as long as it was still on campus (it was started on a college campus). Now they're confined to the pitch but can fight back by trying to take the Seekers' brooms. If those are taken, the Seekers must return to their goals, touch the posts and then return to play.
The game is still ended by 'catching' the Snitch, although it only results in a 30 point score rather than 150 as in Wizard Quidditch.
These are just the basics, you can learn more about Quidditch by reading JK Rowling's Harry Potter Series, her book written for Comic Relief called Quidditch Through the Ages, by watching Mudbloods online (available on Netflix at the time of the post) and by checking out US Quidditch, the national governing body for Quidditch in the US, where you'll find all the information you need to host your own Quidditch match, join a school or community team and order Muggle Quidditch gear and equipment.
The Roanoke Harry Potter Festival Quidditch Match
So, now that you understand the game of Quidditch, here's how our morning went watching our first, live, Muggle Quidditch match.
First of all, let me just say, "excited" is not accurate enough a description for how I was feeling about this event. Earlier in the school year on World Reading Day, I transformed my classroom into Hogwarts Potions Class, had Harry Potter themed fun all day and held Quidditch matches during recess for my middle school students.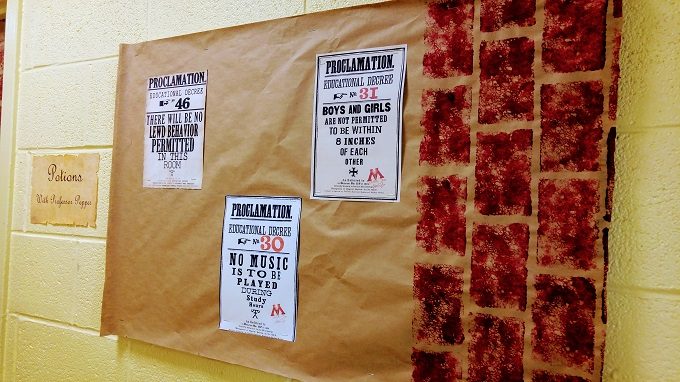 I rounded up 14 brooms from around my house, my mom's house and the school to play. I secured 3 hula-hoops to the basketball goal posts, had a yellow t-shirt for the Snitch AND a yellow towel for the Snitch's tail. It was a blast but I was more excited to see how it worked in a regulated, 'professional' arena.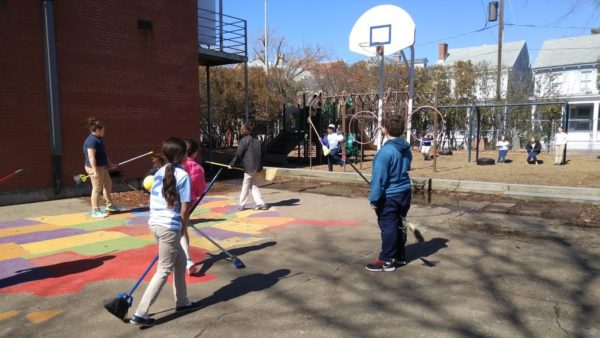 We had tickets to see the only recognized high school Quidditch team in Virginia, the Community High School Dragons, play Quidditch for an hour and a half. As it turned out, they were able to fit three matches in during that time. The game was played at William Fleming High on their football field.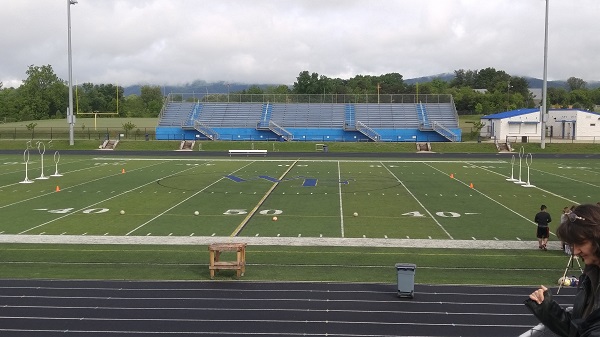 The Dragons actually scrimmage with local college teams to practice and compete. On this day, they divided their team in half and played each other. The gray team wearing their official Quidditch uniforms were the Dragons and they played the Narwhals who were dressed all in black.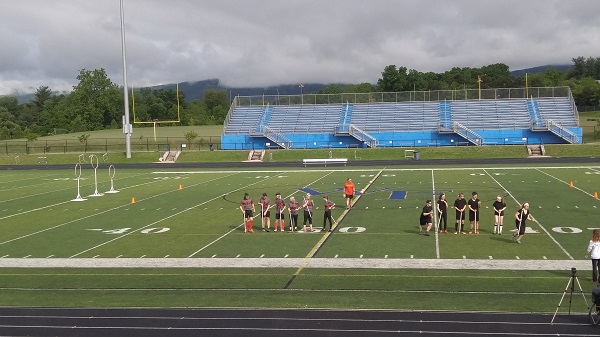 Before play began there were a few team chants. The Captain, Alex, led the crowd in a prose-like poem about each team and worked the teams into a frenzy. The basics of Quidditch were explained.
Just before the match actually began there was a moment of silence for a young woman who died tragically earlier in the school year, who would have graduated from college the day before the match. The game was played in her honor as she was a massive Harry Potter fan and her family and friends were invited to stand with the team during the silence.
The team presented her family with a wand to close out the ceremony honoring her life and memory. It was a beautiful and touching tribute and really speaks to one of the things I love the most about the Harry Potter Fandom: its inclusivity.
Everyone is welcome, everyone is loved and everyone is valued. Yes, even Slytherins (don't make me go into a long speech about RAB and Professor Slughorn to support this assertion.) Even having never met this young woman, it was like losing a member of our Harry Potter family and that was sad.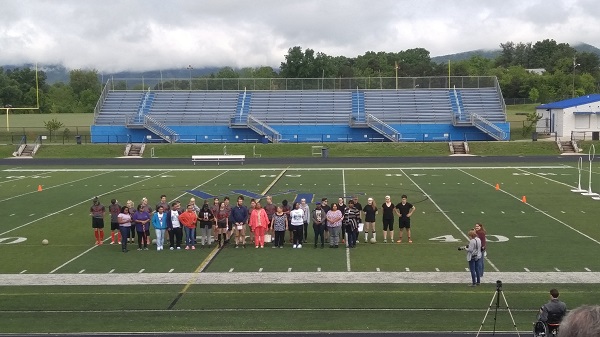 The matches themselves were incredibly fun to watch. I chose to support the Dragons, while some friends watching with us supported the Narwhals (boo!). This created some fun, friendly competition in the stands as well as on the pitch. The first match lasted about 20 minutes, with the Snitch being caught almost as soon as she entered the pitch.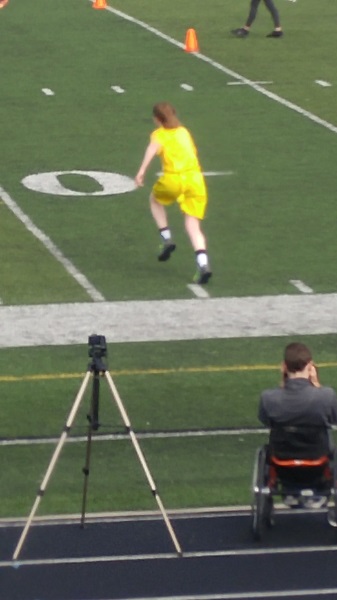 The second match lasted longer – about 45 minutes – with a lot of entertaining moves from the Snitch. She wrestled the Seekers' brooms away from both teams a few times and avoided capture. It's a lot to watch in a Quidditch match, because you're trying to watch the actual scoring and teamwork, but then also the Snitch and Seekers. The Snitch enters the game after about 20 minutes in Muggle Quidditch.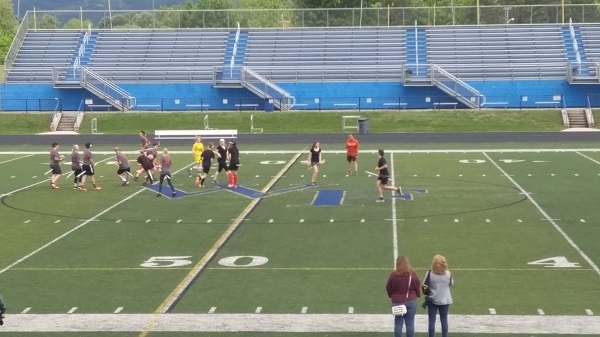 The final match lasted about 15 minutes. Most of the fans had left by then, but there were still a few holdouts like myself and our friends who stayed for the full 90 minutes of Quidditch. In the end, the Narwhals won overall, catching the Snitch twice and scoring an incredible amount of points. The commentator was fun and sweet, trying to pronounce things in a British accent and generally giving a play-by-play of the match.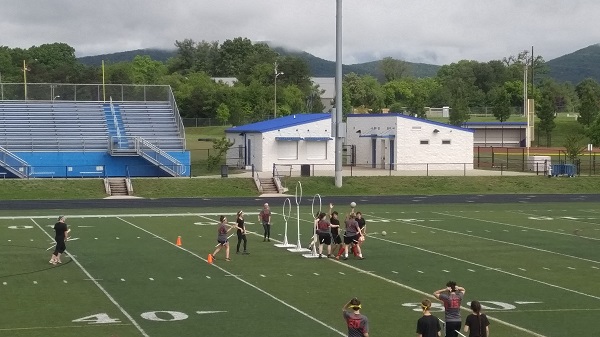 One of my favorite moments was when the second game ended and an elderly woman in front of me was insistent that she could now leave because the yellow tail had been caught. Her husband kept trying to explain (even though he wasn't sure why or how the Snitch worked) that they were playing another match but she wasn't having any of it.
Come to find out, her adult son was the referee. She stayed for the final match under much protest since 'the tail was caught and she was told she could leave when the tail was caught.' She was sweet and funny, and a true survivor of severe illness; it was a pleasure to watch near her and husband.
At the end of the game I went up to the team to ask for a team picture like a groupie. They obliged me and then all their remaining parents came up to get pictures as well. It was a fantastic time and the team cheered for Alex as their captain.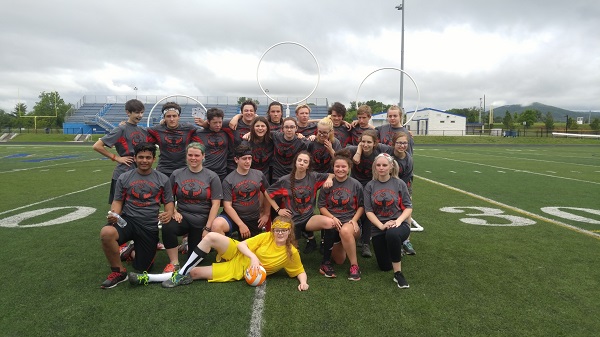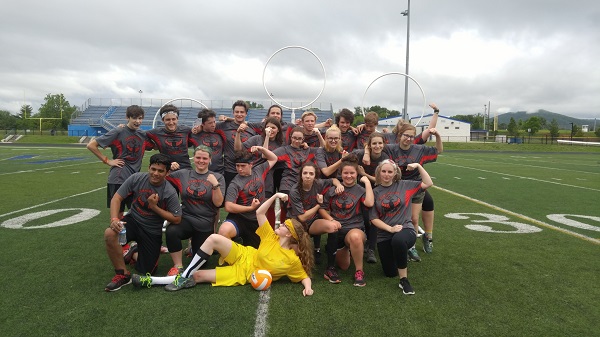 After playing for an hour and a half, some of the students then went to the festival and provided Quidditch exhibitions all day. They taught tons of children the rules and methods of Quidditch and ensured the next generation of geeks will find their (s)niche in the world of sports.
I was incredibly impressed with the exhibition game in the morning, the politeness of the students, their community service in the afternoon at the festival and all their supportive families. It was the highlight of the festival for me and I'm so glad I got to experience it.
I'm looking forward to watching more matches in the future and hope to one day attend the Quidditch World Cup for myself.