Shae and I headed south at Thanksgiving from Virginia to Florida to change our state of domicile ahead of our 50 state road trip.
Seeing as that trip's going to last five years, we thought we'd take the opportunity to spend some time with her Dad, so we brought him and our dog Truffles along for the ride.
We were leaving the afternoon before Thanksgiving, so we didn't feel like driving all the way down to Florida in one fell swoop. As a result, we decided to stay a couple of nights at the pet-friendly Aloft Raleigh NC.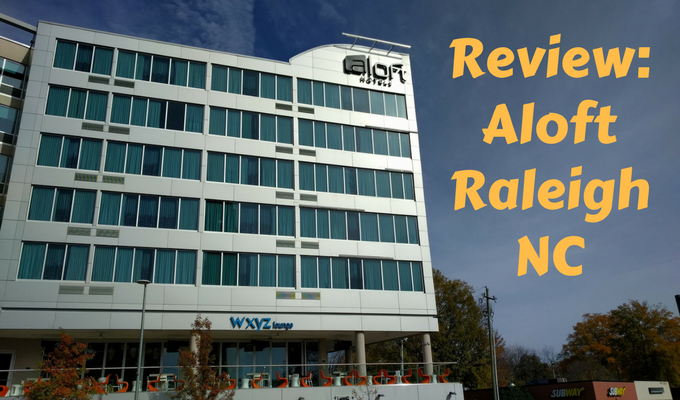 We arrived just before 8pm and unloaded our car in the bay outside the hotel. There's a stylish downstairs lobby area, although the front desk was up on the second floor which you can access by the adjacent stairs or elevator.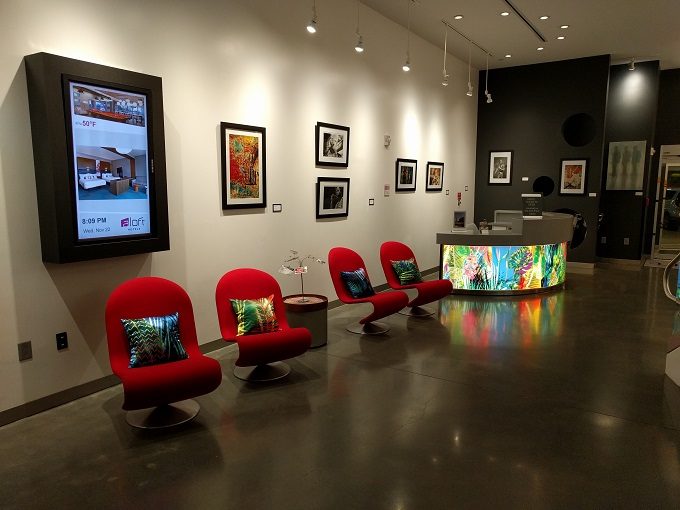 Check-In
Check-in was pretty quick and the front desk agent was very friendly. We completed their pet waiver (there's no pet fee) and were given a door hanger to indicate that there was a dog in the room.
Parking
While checking in, we were also given a sheet of paper to place in our car for parking. The parking entrance is to the left of the hotel and you use your key card to enter.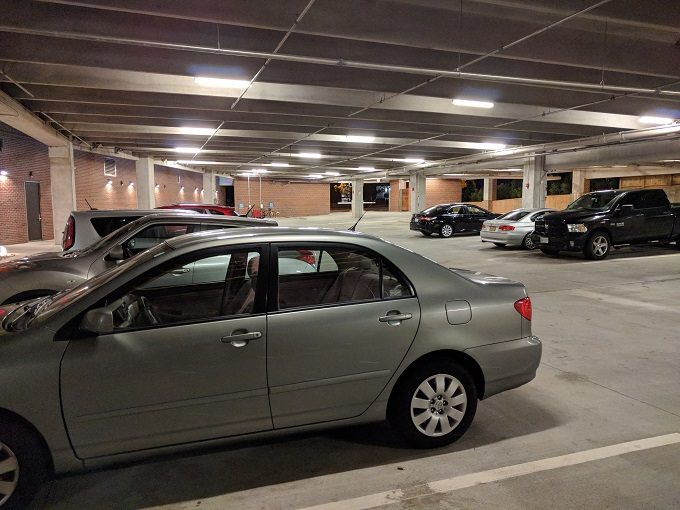 Parking is meant to cost $6 per day and this was also noted on the sheet of paper we were given to place in our car. When checking our bill after we'd checked out though, I noticed that we hadn't been charged for parking. I'm not sure if this was an error on their part, or if members with Gold or Platinum status have the parking fee waived.
The parking lot had several bikes you could borrow to explore downtown Raleigh, as well as what I'm assuming is a bike lock area.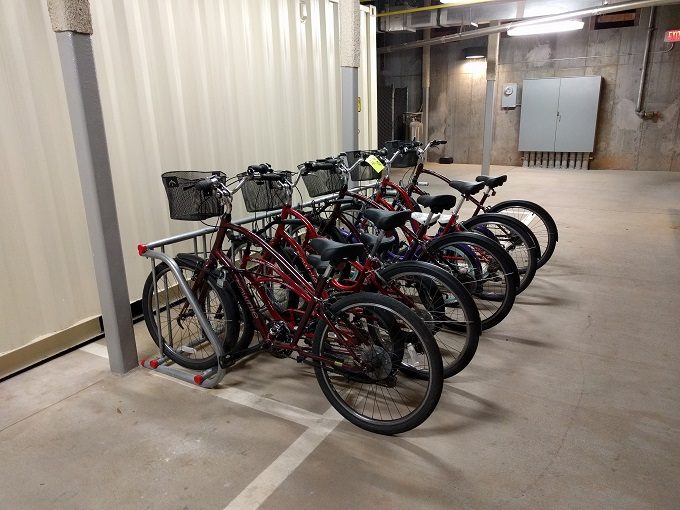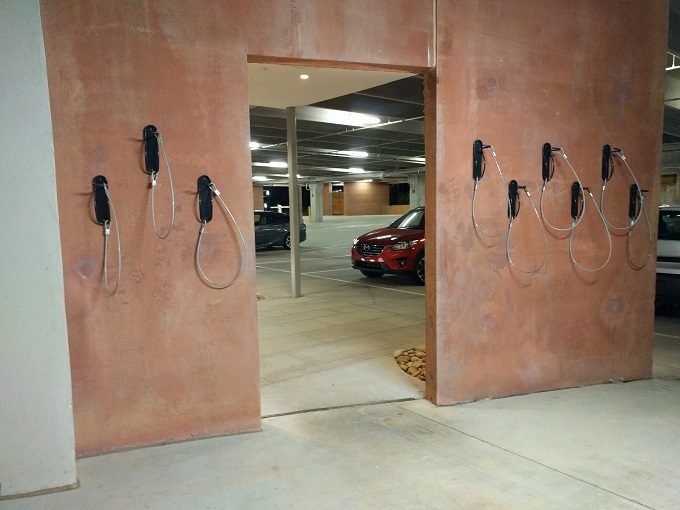 Bedroom
Once I'd parked the car, we made our way up to our room on the sixth floor. As we entered, the bathroom was to the left, a large closet area to the right and the main bedroom area straight ahead.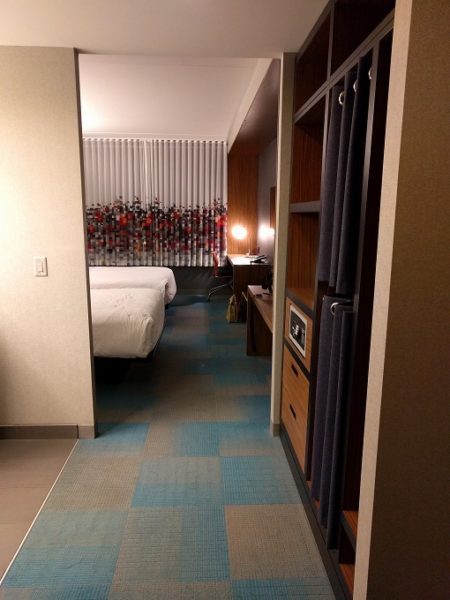 As there were the three of us (and Truffles), we booked a room with two queen beds. The beds were very comfortable and I liked their pillows – soft with cool, crisp pillowcases.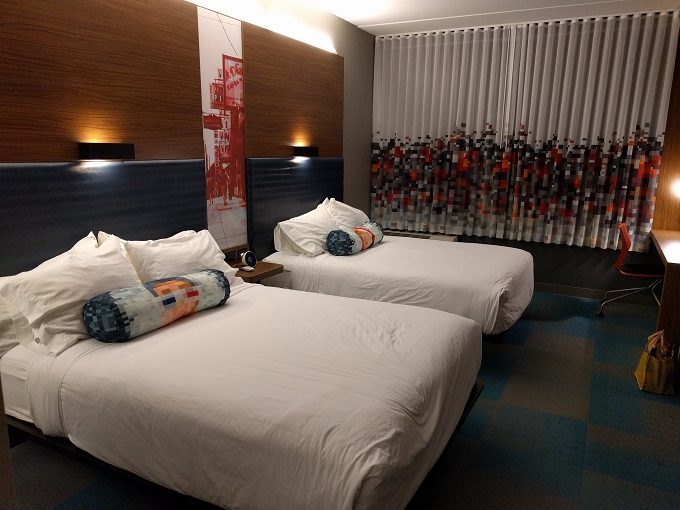 There were two long desks in the room (one of which had an office chair), as well as a low bench. Above the bench was the TV which couldn't be turned to face other parts of the room.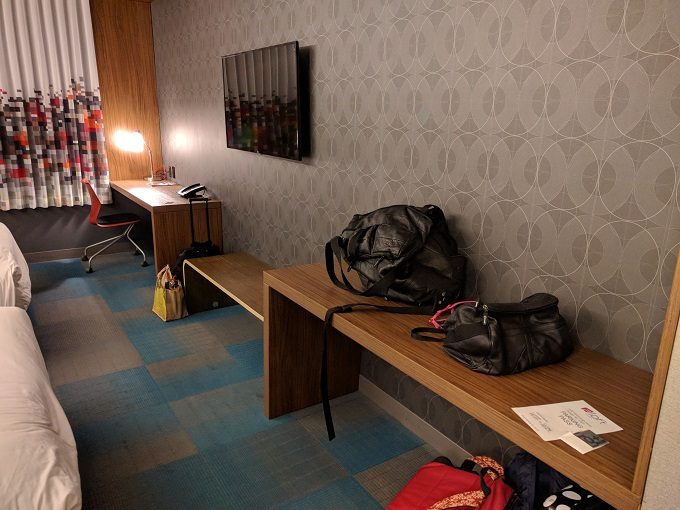 To the right of the desks was a large closet area and I loved its design. It held tea and coffee-making facilities, a safe, an ironing board and iron, shelves and drawers and a couple of rails to hang shirts and pants.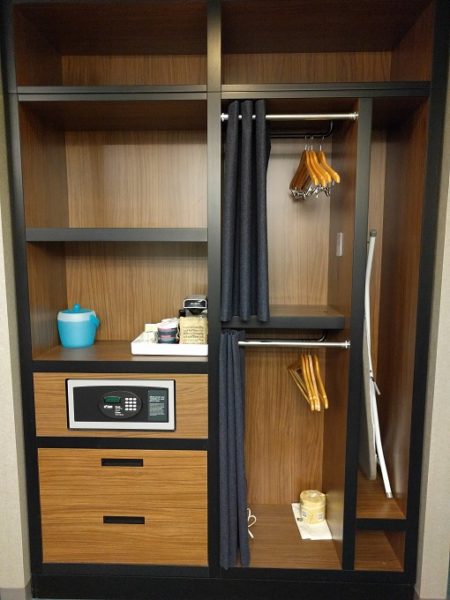 Bathroom
Our two queen bedroom had two parts to the bathroom. There was a sink and large vanity area opposite the closet, with a mini fridge beneath the vanity.
There was a fairly large bar of soap and a small bottle of body lotion, both from Bliss.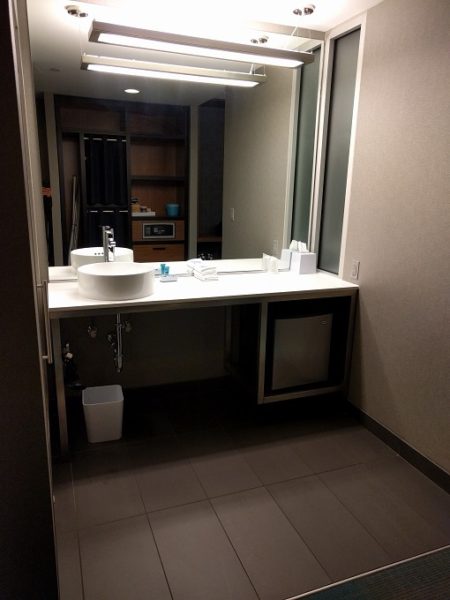 To the left of that area was a sliding door that opened to the shower and toilet. When turning on the light in that area, a quiet extractor fan turned on a few seconds later.
Rather than having small bottles of toiletries, there were wall-mounted shower gel and shampoo/conditioner dispensers.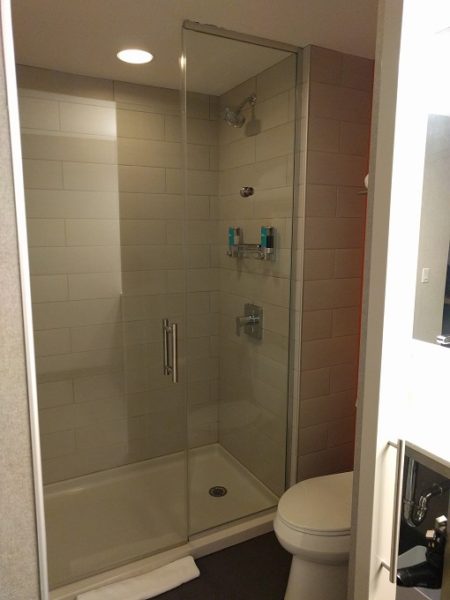 Food & Drink
On the second floor next to the front desk, Aloft Raleigh has re:fuel – an area with snacks and beverages. In the morning, they also serve several different kinds of hot breakfast options which I think are made to order (I didn't get anything from there myself).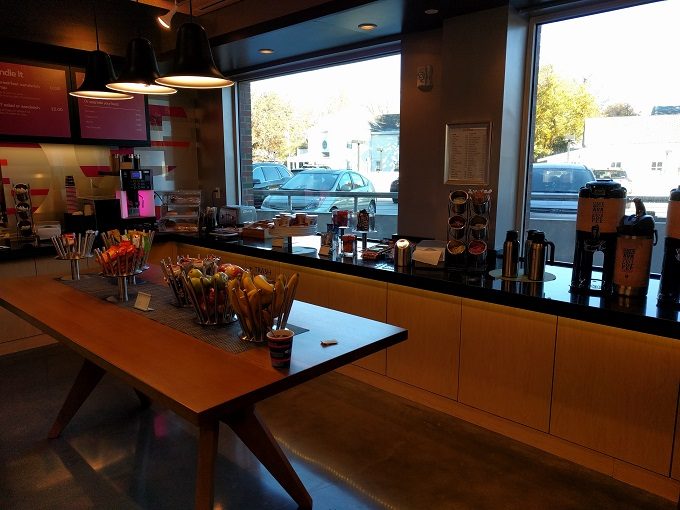 Also on the second floor was WXYZ, a bar area where people seemed to be welcome to hang out even if they weren't drinking.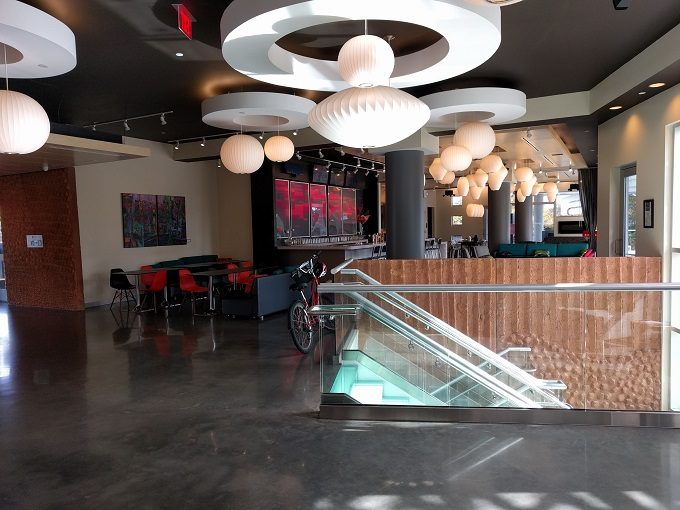 Amenities
This Aloft hotel had a cozy fitness center containing half a dozen different exercise machines, some weights and yoga equipment.
I went for a jog on the Thursday evening to work off some of my Thanksgiving lunch but only lasted 15 minutes as it was far too hot in there. Although there's a thermostat in the fitness center, it seemed to be controlled from elsewhere and couldn't be adjusted by guests.
I probably could've asked the front desk if they could turn the temperature down. My jogging motivation was already low that evening though, so I just went back upstairs to shower.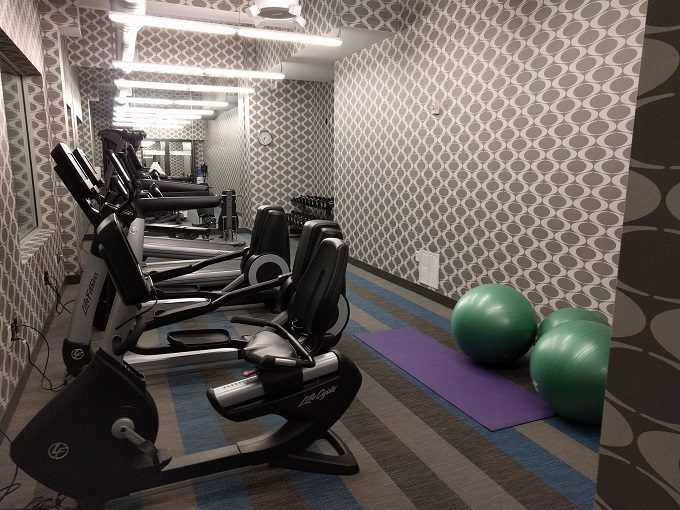 Another great amenity that we sadly didn't use was their outdoor pool. The water was nice and warm even though it was chilly outside that night.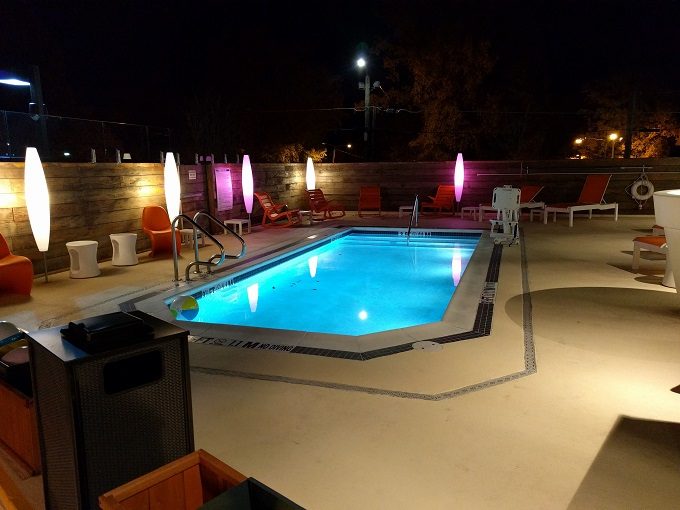 Location
The hotel seemed to be in a great location. It was only a five minute Uber ride to many downtown restaurants and bars (we had dinner at Raleigh Beer Garden), although there were several other eateries within a shorter walking distance.
The Aloft Raleigh is located near several NC State campus buildings and is immediately opposite the Memorial Belltower.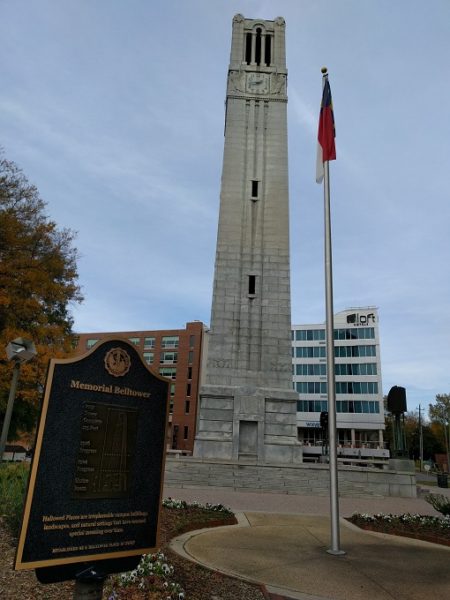 Service
One of the best aspects about our stay at the Aloft Raleigh was the service. We met at least three different front desk agents during our stay and they were all extremely warm and friendly. It didn't appear to be fake service-with-a-smile either – everyone was genuinely welcoming.
Truffles especially enjoyed meeting Mikayla on Thanksgiving Day.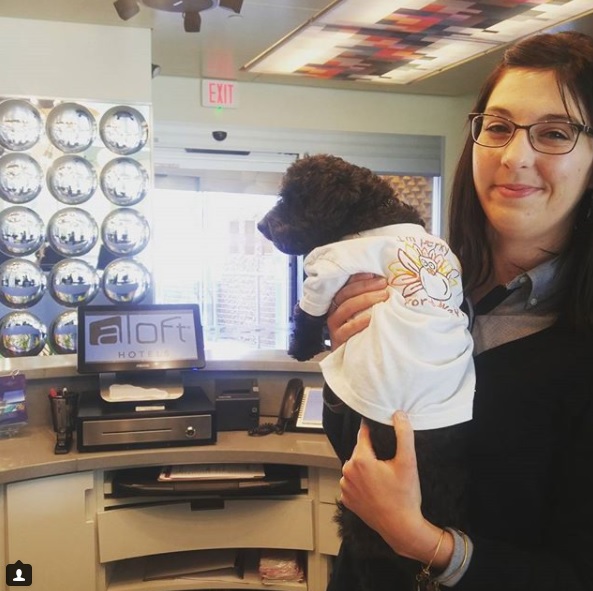 We went for SPG's Make A Green Choice option (more on that below) and so waived housekeeping. We saw the housekeeping staff in the hallway several times during our stay though and they were all very friendly too.
Noise
One thing I was a little concerned about was how noisy the hotel would be. We'd stayed at the Aloft Chesapeake VA a couple of nights before that and there was so much noise – hallway doors slamming, loud talking, banging on walls and ceilings, etc.
The Aloft Raleigh on the other hand was quiet bliss. Part of that might be because we stayed over Thanksgiving and so it wasn't very busy, but we weren't disturbed by any loud noises or other guests during our stay.
Cost
We booked the AAA rate of $145.13 per night (including tax), so a total of $290.26. That's more than we'd usually pay for two nights in a hotel, but it ended up costing less.
That's because we had an Amex Offer on several of our American Express cards for "Spend $300 at SPG hotels and get $60 back." We spent an additional $14 on snacks at re:fuel during our stay which we charged to our room. That meant our final bill was $304.26, so our net cost after the Amex statement credit was $244.26 – a bit more reasonable.
The lowest non-AAA rate when we booked was $152.30 per night, so we saved $7.17 per night. The Aloft Raleigh is a category 3 hotel, so it would've cost us 7,000 points per night if we'd wanted to use points.
Points Earned
We got a pretty decent points return on our stay:
500 points – from their current promotion offering 500 points for each stay at an Aloft (1,000 points at other brands)
500 points – from their Make A Green Choice program (i.e. declining housekeeping)
125 points – welcome gift due to having Gold status
538 points – 2x points per dollar spent based on the pre-tax room rate and re:fuel snacks
269 points – 1x extra point per dollar spent for having Gold status
489 points – 2x points by putting the spend on an SPG credit card (these points are calculated after the $60 statement credit was deducted)
That meant the total points earned for our two night stay was 2,421 Starpoints. That's almost enough for a free weekend night in a category 2 SPG hotel – not too shabby!
We also earned two stay credits and four night credits thanks to Shae being targeted for an additional SPG promotion which doubled both her stay and night credits during the promotion period. Those stay credits have helped her earn Platinum status from all our recent stays.
Final Thoughts
We loved our stay at the Aloft Raleigh NC. The design of the hotel was stylish, the bedroom was spacious, it was quiet and all of their staff were fantastic.
We'll be visiting Raleigh again on our 50 state road trip, so this'll definitely be a contender for where we'll stay.
Truffles Approval Rating

Truffles gives the Aloft Raleigh four paws out of four – pawfection!
She (and we!) loved that this hotel was pet-friendly and didn't charge a fee for her to stay. It was quiet and so she didn't feel the need to woof at anyone disturbing our sleep.
There were also plenty of grassy areas across the road where Truffles could walk and get some exercise.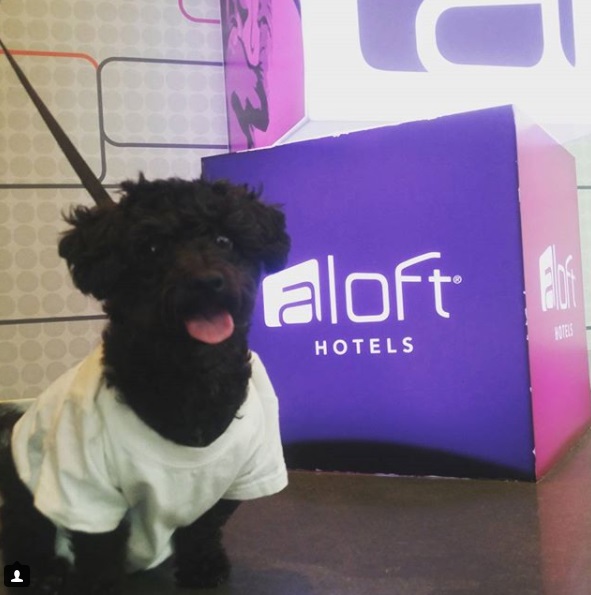 Our Rating
Room = 4.6 / 5
Hotel Amenities = 4.3 / 5
Food = N/A (we only bought packaged snacks from re:fuel)
Location = 4.5 / 5
Service = 4.9 / 5
Overall Value = 4.6 / 5
Total = 4.58 / 5
Address
Aloft, 2100 Hillsborough St, Raleigh, NC 27607